This website uses cookies to ensure you get the best experience while browsing it. By clicking 'Got It' you're accepting these terms.
New Yorkers Join Global Frackdown to Support a Ban on Fracking
Sep. 21, 2012 11:54AM EST
Climate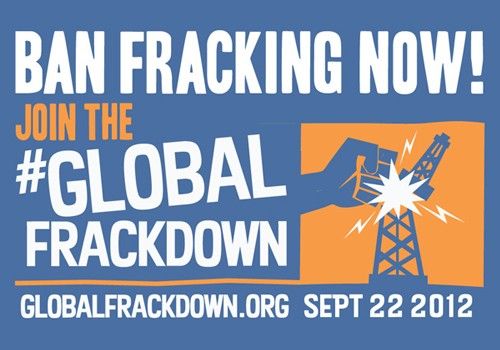 On Sept. 22, 11 cities and towns across New York (including two in the Southern Tier) and organizations including New Yorkers Against Fracking, Food & Water Watch, Frack Action and New York Public Interest Research Group (NYPRIG), are poised to take part in the Global Frackdown, a series of more than 100 actions taking place around the world in an international day of action to ban hydraulic fracturing, or fracking. A recent poll showed that more people in Upstate New York oppose fracking than support it.
"We hope that Governor Cuomo and the [New York State Department of Environmental Conservation] (DEC) will do what the science says—and protect New Yorkers from the dangerous effects of fracking," said Alex Beauchamp from Food & Water Watch. "There is no question—the more New Yorkers learn about fracking, the more scared they become."
Accidents and spills at drilling and fracking sites contaminate land, risking farmland and streams.[i] Contamination of underground sources of drinking water with methane and other hydrocarbon gases is a common problem.[ii] Local air pollution also accompanies drilling and fracking, and there are numerous reports of mysterious health problems linked to such pollution.[iii] Intense truck traffic destroys roads and increases the likelihood of dangerous accidents and spills.[iv]
"As I raise my infant child, I implore Governor Cuomo to protect the air, water and NY food he needs to grow up healthy. I implore Governor Cuomo to ban fracking," said Logan Adsit, from the town of Pharsalia in Chenango County.
"Governor Cuomo must take heed of the rapidly growing and unwavering opposition to fracking not only across New York State but also across the country. We urge him to be a pioneering leader by banning fracking and leading the country in renewable energy," said John Armstrong of Frack Action.
Initiated by the consumer advocacy organization Food & Water Watch, the Global Frackdown will highlight the environmental and public health risks associated with this increasingly controversial energy extraction method. Through the process of blasting millions of gallons of water and carcinogenic chemicals underground to release natural gas and oil from tight rock formations, drilling and fracking has been linked to water contamination and climate change. To date, over 250 communities around the world have taken action against fracking.
Visit EcoWatch's FRACKING page for more related news on this topic.
--------

[i] Olson, Laura. "Chesapeake says Bradford County fluid and gas leak is under control." Pittsburgh Post-Gazette. April 22, 2011; Aaron, G. Jeffrey. "Pa. fracking blowout spews fluid onto state forest lands." The Ithaca Journal. Jan. 25, 2011; Warco, Kathie O. "Fracking truck runs off road; contents spill." Observer-Reporter (Washington and Greene Counties, Pennsylvania). Oct. 21, 2010; York, Kate and Brad Bauer. "Fracking wastewater leaked onto Ohio roads." The Marietta Times (Ohio). Dec. 24, 2011; "Waste from Marcellus shale drilling in Cross Creek Park kills fish." Pittsburgh Post-Gazette. June 5, 2009; Whong, Jason. "Police probe fracking fluid spill in Bradford County." Star-Gazette (Elmira, New York). Jan. 11, 2012; Maykuth, Andrew. "Pa. suspends gas drilling at Marcellus rupture site." The Philadelphia Inquirer. June 7, 2010; Schneyer, Joshua and Selam Gebrekidan. "Denbury plugs North Dakota oil well leak." Reuters. Sept. 3, 2010; Winter, Deena. "Welcome to boomtown: oil production raises health concerns." Great Plains Examiner (Bismarck, North Dakota). Jan. 10, 2012.
[ii] "Tests: Pa. gas drilling town's water still fouled." Associated Press. Oct. 15, 2011; Lustgarten, Abrahm. "So, is Dimock's water really safe to drink?" ProPublica. March 20, 2012; Osborn, Stephen G. et al. "Methane contamination of drinking water accompanying gas-well drilling and hydraulic fracturing." Proceedings of the National Academy of Sciences, Vol. 108, No. 20. May 17, 2011 at 8172 to 8173; Urbina, Ian. "A tainted water well, and concern there may be more." The New York Times. Aug. 3, 2011; United States Environmental Protection Agency, Office of Research and Development, National Risk Management Research Laboratory. "Investigation of Ground Water Contamination near Pavillion, Wyoming." Draft. (EPA 600/R-00/000.) December 2011 at xi and xiii; Pennsylvania Department of Environmental Protection. [Press Release]. "DEP reaches agreement with Cabot to prevent gas migration, restore water supplies in Dimock Township." Nov. 4, 2009.
[iii] McKenzie, Lisa M. et al. "Human health risk assessment of air emissions from development of unconventional natural gas resources." Science of the Total Environment, vol. 424. May 2012 at 79 to 87; Bamberger, Michelle and Robert E. Oswald. "Impacts of gas drilling on human and animal health." New Solutions, Scientific Solutions, vol. 22, iss. 1. January 2012 at 51 to 77; Lustgarten, Abrahm and Nicholas Kusnetz. "Science lags as health problems emerge near gas fields." ProPublica. Sept. 16, 2011; Wolf Eagle Environmental. "Town of DISH, Texas Ambient Air Monitoring Analysis: Final Report." Sept. 15, 2009 at 6; Steingraber, Sandra. Ithaca College. Testimony on Health Impacts of Hydraulic FracturingTechniques. Assembly Standing Committee on Environmental Conservation and Health. New York State Assembly. May 26, 2011 at 11, 12, 18 and 19; Colborn, Theo et al. "Natural Gas Operations from a Public Health Perspective." International Journal of Human and Ecological Risk Assessment, Vol. 17, Iss. 5. September 2011 at 1039 to 1056.
[iv] Reppert, Julie. "Collision spills fracking fluid on state route."  Williamsport Sun-Gazette (Pennsylvania). Dec. 27, 2011; Efstathiou, Jim. "Taxpayers pay as fracking trucks overwhelm rural cow paths." Bloomberg News. May 15, 2012.
EcoWatch Daily Newsletter
Ryan Hagerty / USFWS
It's become a familiar story with the Trump administration: Scientists write a report that shows the administration's policies will cause environmental damage, then the administration buries the report and fires the scientists.
A coalition of some of the largest environmental groups in the country joined forces to file a lawsuit in federal court challenging the Trump administration's maneuver to weaken the Endangered Species Act.
beyond foto / Getty Images
By Kimberly Holland
Children who eat a lot of gluten in their earliest years may have an increased risk of developing celiac disease and gluten intolerance, according to a new study published in JAMATrusted Source.
Joe Raedle / Getty Images
By Jake Johnson
Calling the global climate crisis both the greatest threat facing the U.S. and the greatest opportunity for transformative change, Sen. Bernie Sanders unveiled today a comprehensive Green New Deal proposal that would transition the U.S. economy to 100 percent renewable energy and create 20 million well-paying union jobs over a decade.
The Parties to CITES agreed to list giraffes on Appendix II of the Convention on International Trade in Endangered Species (CITES) today at the World Wildlife Conference or CoP18 in Geneva. Such protections will ensure that all giraffe parts trade were legally acquired and not sourced from the poached giraffes trade and will require countries to make non-detriment findings before allowing giraffe exports. The listing will also enable the collection of international trade data for giraffes that might justify greater protections at both CITES and other venues in the future.

The WHO stressed that more research is needed on the potential health risks of microplastic ingestion. luchschen / iStock / Getty Images Plus
The UN's health agency on Thursday said that microplastics contained in drinking water posed a "low" risk at their current levels.
However, the World Health Organization (WHO) — in its first report on the potential health risks of microplastic ingestion — also stressed more research was needed to reassure consumers.
Brazil's right-wing President Jair Bolsonaro is giving President Trump a run for his money in the alternative facts department.
Washington Gov. Jay Inslee, who made solving the climate crisis the center of his presidential campaign, is dropping out of the 2020 Democratic primary race.