New Yorkers Deliver Unprecedented 200K+ Comments on Cuomo's Fracking Rules
Jan. 11, 2013 04:24PM EST
Energy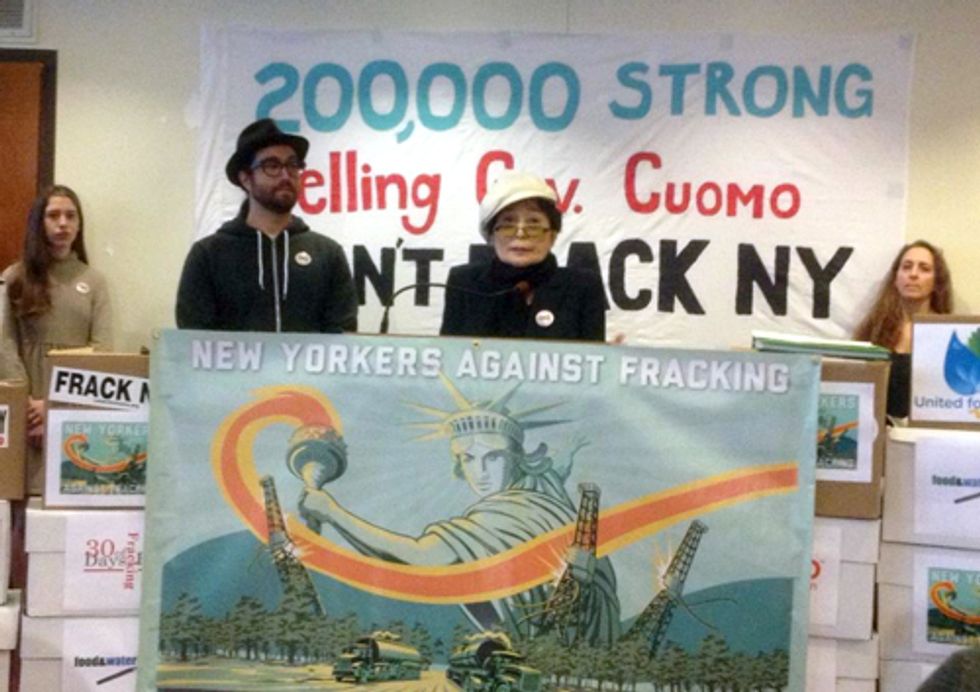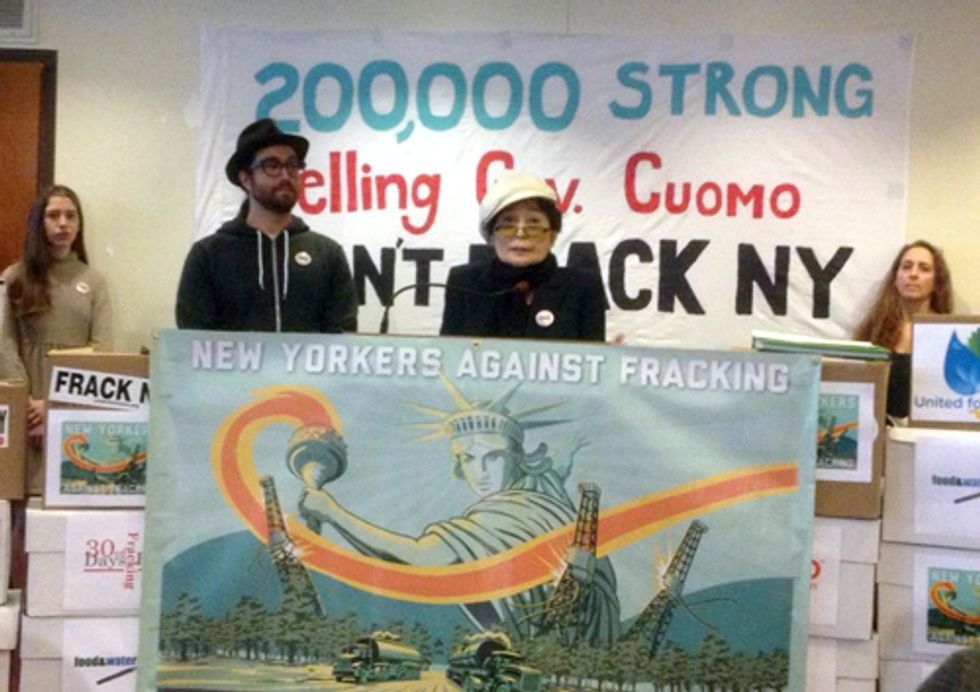 On the final day of the 30-day public comment period on the Cuomo administration's proposed fracking rules, a coalition of New Yorkers and organizations opposed to fracking—including Yoko Ono and Sean Lennon of Artists against Fracking—delivered an unprecedented 200,000-plus public comments to the state's DEC.
On the final day of the 30-day public comment period on the Cuomo administration's proposed fracking rules, a coalition of New Yorkers and organizations opposed to fracking—including Yoko Ono and Sean Lennon of Artists against Fracking—delivered an unprecedented 200,000-plus public comments to the state's DEC. The more than 200,000 comments on the Cuomo administration's draft regulations are more than three times higher than the record-setting 66,000-plus comments received during the last comment period, which was four times longer—120 days between September 2011 and January 2012.
"I am here in Albany today on behalf of Artists Against Fracking because there is no way to make fracking safe for our water, land, air or climate," said Yoko Ono. "This week Governor Cuomo announced truly important efforts for clean energy and reducing greenhouse gases. We truly applaud these efforts of his—they are outstanding. With clean energy development, and by saving energy as the Governor has outlined, there is no reason to risk the dirty energy of fracking. We praise the Governor for his climate initiatives and call on him to make the moratorium on fracking permanent. We repeat our request for our artists and expert engineers to meet with the Governor to show him that fracking cannot be made safe for New York or the planet. Thank you."
The overwhelming response by New Yorkers represents the significant concerns residents of the state have about the dangerous natural gas extraction process. Among the millions of New Yorkers opposed to fracking, those submitting comments have done so under protest because evidence suggests that no amount or type of regulations can prevent the dangers the process poses, and they disagree with the Cuomo administration's decision to release draft fracking regulations before its own health review has been completed and made public. New Yorkers have been consistently and vocally expressing their opposition to fracking, with thousands protesting outside of the Governor's State of the State address on Wednesday and hundreds demonstrating outside of his birthday fundraiser in New York City on Monday. Dozens of New Yorkers, including health professionals, also testified about the economic, environmental and health concerns fracking would bring to New York at a New York State Assembly hearing on the regulations Thursday.
"Our movement of New Yorkers from across this state, opposed to the dangerous process of fracking, only continues to grow," said Alex Beauchamp, regional director of the consumer group Food & Water Watch. "The more we learn about fracking, the deeper and stronger our opposition becomes with greater numbers of our neighbors joining this movement. We expect Governor Cuomo to protect our state from the economic, environmental and health disasters of fracking and we will hold him responsible if he ushers in an era of catastrophes by allowing it here."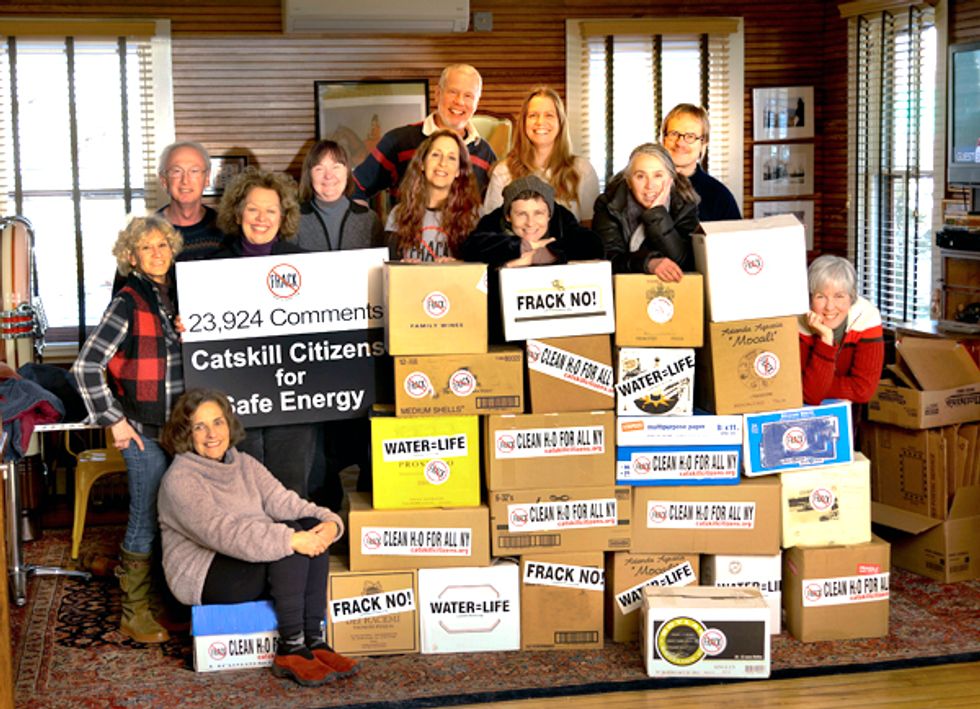 Catskill Citizen volunteers with 24,000 letters boxed up for delivery to the New York Department of Environmental Conservation. Photo by Dana Duke
Governor Cuomo is weighing whether or not to allow fracking, but did not address it in his State of the State address, with Cuomo's director of state operations attributing its absence to the ongoing health review. Rather than undertake a comprehensive health impact assessment of fracking, the Cuomo administration announced in September it would review its own study of the health impact of fracking. It hired outside experts to evaluate its review but has shut the public and transparency out of the process, even placing a gag-order on the experts paid with taxpayer money. It released its latest fracking regulations before the evaluation's completion, guaranteeing the public would not see the review's results before commenting on the regulations.
"The Cuomo administration has failed to conduct a true health assessment, failed to account for the health impacts in its regulations, and failed to include the public whose health would be impacted by fracking," said biologist Sandra Steingraber of Concerned Health Professionals of NY. "It's perfectly reasonable for New Yorkers to ask for the gold standard and transparency in any study on how allowing fracking in our state will damage public health. Yet the Cuomo administration has rejected our calls for transparency and due diligence and shut us out, making this not only a public health issue but also a human rights issue. New Yorkers today are resoundingly saying no to fracking, no to Governor Cuomo's regulations, and no to the secrecy of this process that is serving no one but the gas industry."
Since fracking began in states outside of New York, there have been numerous reports of water contamination with studies linking fracking-related activities to contaminated groundwater, air pollution, illness, death and reproductive problems in cows, horses and wildlife, and human health problems. Concerns about the exaggerated economic benefits touted by the gas industry and the faulty economic analysis of the New York State Department of Environmental Conservation (DEC) have also been raised by New Yorkers and economists.
The gas industry has poured millions of dollars into New York to influence state government through campaign contributions to elected officials and lobbying. In July, a Freedom of Information Act request by Environmental Working Group revealed gas industry lobbyists were given preferential access to draft regulations by DEC, allowing them to lobby for changes before the regulations were released to the public. A few weeks ago, Common Cause released an analysis of campaign contributions of pro-fracking interests during the 2012 election cycle. It showed pro-fracking interest contributed nearly $400,000 to candidates for state legislature and county executive in New York's Southern Tier. In some races, contributions from pro-fracking interests were more than 20 percent of a candidate's total fundraising.
"In the wake of Superstorm Sandy, over 75,000 CREDO members, including over 20,000 New York state voters, are calling on Gov. Cuomo to abandon his dangerous plans to frack New York, and accelerate climate change," said Zack Malitz, Campaign Manager for CREDO. "It's time for Governor Cuomo to stand up and be a leader to protect New Yorkers and bring a better future—not help gas companies reap huge profits with their plan to bring us dozens more Sandys."
"Gathering comments decrying the proposed regulations has been a terrific collaborative effort and Catskill Citizens for Safe Energy is proud to deliver more than 23,000 comments collected on behalf of our members," said Jill Wiener of Catskill Citizens for Safe Energy.
A coalition of civic, environmental and progressive organizations—as well as businesses and faith organizations—from around the state have participated in grassroots efforts to encourage New Yorkers to express their concerns about the Cuomo administration's fracking regulations by submitting comments. Almost 200 coalition organizations participated in comment-generating actions such as holiday writing parties, phone banks and community meetings.
"New Yorkers don't want fracking in our state and don't believe Governor Cuomo's regulations will protect us from its dangers," said Beauchamp. "The opposition displayed by the overwhelming and unprecedented number of comments we are submitting displays how deeply impassioned opposition is to sacrificing our state to the gas industry."
 Visit EcoWatch's FRACKING page for more related news on this topic.
-------
Sign the petition today, telling President Obama to enact an immediate fracking moratorium:

EcoWatch Daily Newsletter