New Yorkers Celebrate One-Year Anniversary of Fracking Ban
Dec. 18, 2015 02:42PM EST
Energy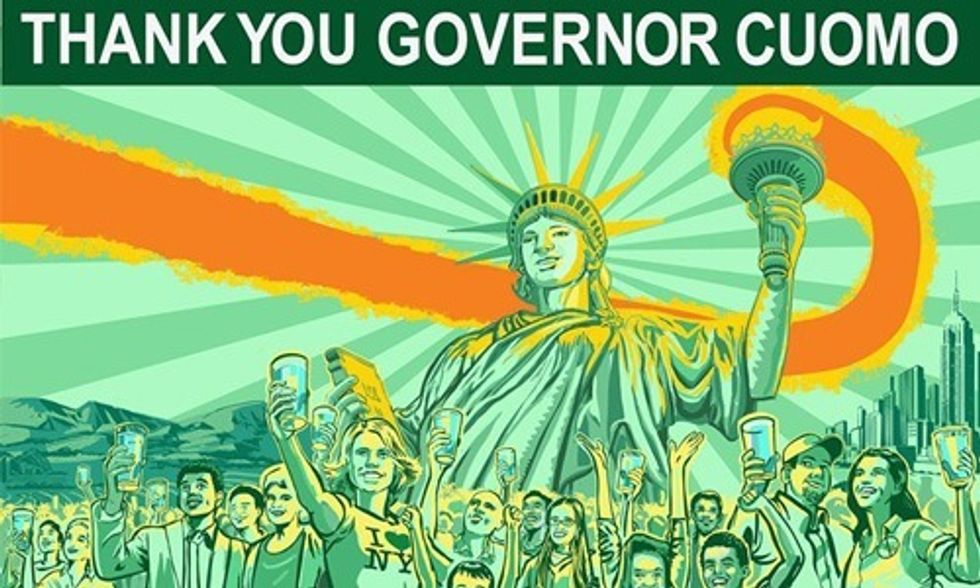 Thursday marked the one-year anniversary of the announcement by Gov. Cuomo, the Department of Health and the Department of Environmental Conservation that New York would ban high-volume fracking given its serious public health and environmental risks.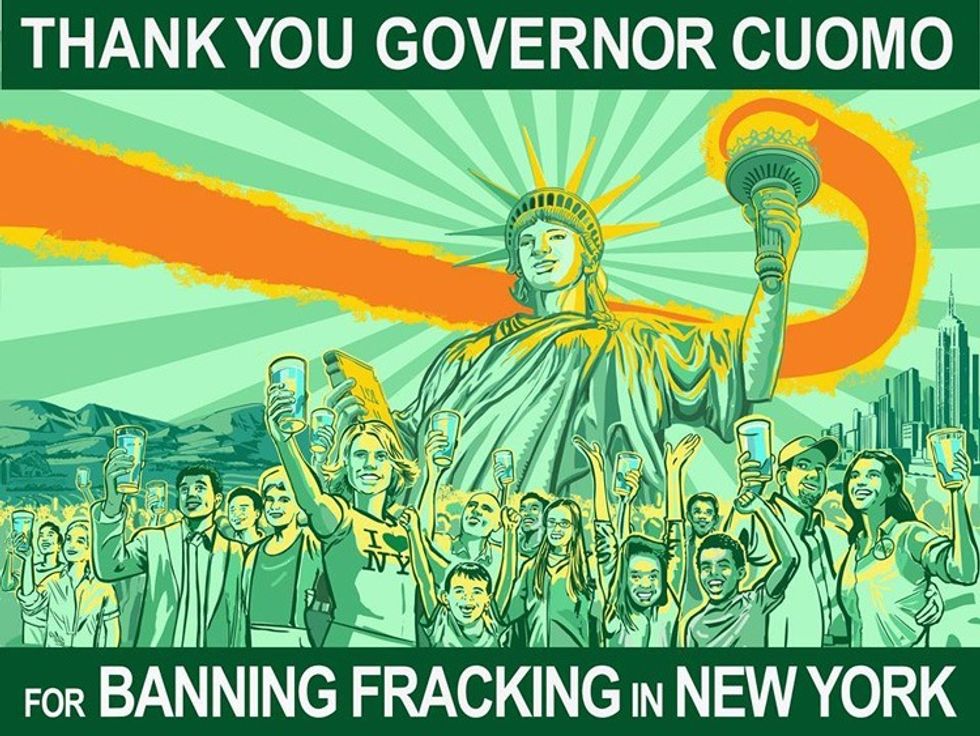 New Yorkers and the many organizations that worked to ban fracking are reflecting on the ban that occurred one year ago and the anti-fracking movement overall, noting its importance nationally and internationally.
"I will always remember this as the day that Governor Cuomo became a climate leader and put New York at the forefront of the climate movement," actor Mark Ruffalo, advisory board member of the New Yorkers Against Fracking, said. "He listened to the science and the experts in protecting New Yorkers public health, environment and climate. He said no to dirty, dangerous fossil fuel extraction and put New York on a path to a healthy, renewable energy future. We need more governors and leaders to show that type of leadership. As the world turned its attention to the climate conference in Paris last week, the need is crystal clear to leave fossil fuels in the ground and boldly build the 100 percent renewable energy future."
Natalie Merchant, musician and advisory board member of New Yorkers Against Fracking, agrees. "As a life-long New Yorker, I'm grateful to Governor Cuomo and the good people of New York State who worked to ban fracking," she said. "New York is a precedent setting state and what happens here is felt across the country and around the world. On this one year anniversary of the fracking ban, we should all be proud to be New Yorkers."
Since the ban, more and more science has shown that it was the right decision. Following the UN climate conference in Paris, leaders and groups note the significance of Gov. Cuomo and New York's climate leadership in keeping fossil fuels in the ground and scaling up renewable energy. Groups also highlight that Maryland followed New York's lead as well as various communities and other countries including Ireland, where today a fracking ban bill is being introduced in the Irish Parliament.
"People across Ireland are looking to New York's ban on fracking and Governor Cuomo's leadership as we work to follow their lead by banning fracking," Dr. Aedin McLoughlin, director of Good Energies Alliance of Ireland, said. "We hold New York State very dear to our hearts, and as we face the threat of fracking we are so thankful for New York's ban. Governor Cuomo and New York's anti-fracking movement have inspired a fracking ban bill that is being introduced today in the Irish Parliament."
Maryland followed New York's lead in early 2015 by passing a two and a half year moratorium on fracking. More and more, health experts and citizens are calling on the legislature and the governor to turn the moratorium into a ban. A renewed effort and rapidly growing movement in Pennsylvania, including the coalition Pennsylvanians Against Fracking, is calling on Pennsylvania Gov. Wolf to stop fracking in light of New York's findings, evidence of serious health impacts, hundreds of cases of water contamination and a range of other problems.
The campaign to ban fracking in California has seen immense growth as Gov. Jerry Brown has faced mounting pressure to follow Gov. Cuomo's lead. Communities in a number of states have taken actions to ban fracking. Internationally, Ireland has embraced a moratorium on fracking and is pursuing a health review inspired by New York's. In a watershed moment, Lancashire, England denied fracking.
"New York State's fracking ban has inspired and empowered local citizens' groups and elected officials across the nation and around the world to ban fracking," Wenonah Hauter, executive director of Food & Water Watch, said. "Maryland and hundreds of communities have taken action to stop fracking, and momentum to stop fracking everywhere is quickly growing. In California, citizens are demanding a fracking ban and calling out Governor Jerry Brown for promoting himself as an environmental climate leader while increasing drilling and fracking in the middle of a drought and climate crisis. It's time for Governor Brown and others to follow the leadership of Governor Cuomo and New York State and ban fracking now!"
The groups noted that the scientific evidence that has emerged in the past year further shows that the decision to ban fracking was right. In the first six months of 2015, more than 100 new peer-reviewed studies came out, overwhelmingly showing risks and adverse impacts.
This October, the Nobel Peace Prize-winning Physicians for Social Responsibility partnered with Concerned Health Professionals of New York to release the third edition of the Compendium of Scientific, Medical, and Media Findings Demonstrating Risks and Harms of Fracking, which demonstrates that the evidence is increasingly revealing more and worse risks and harms from fracking.
In a letter to President Obama and the Surgeon General, Physicians for Social Responsibility and Concerned Health Professionals of New York pointed to New York State's leadership and urged them to acknowledge the health impacts, and urged other state's governors to stop fracking.
"Governor Cuomo and his Administration rightly followed the science and protected public health by banning fracking," Larysa Dyrszka, MD, of Concerned Health Professionals of NY, said. "A year later, well over a hundred more studies continue to reveal impacts includinginfant health issues and increased hospitalization rates. The ban on fracking is an example of excellent public policy based on science, which more governors and governments should follow."
In the past year, the anti-fracking movement has focused on a number of issues, including: advancing renewable energy through local solar programs, engaging in the REV proceedings, and advocating for state policies. Many have worked to stop a range of gas infrastructure projects including the Port Ambrose LNG facility which Gov. Cuomo vetoed, pipelines, compressor stations and gas storage, all of which pose various threats to public health and safety. Many have worked tirelessly to help residents affected by fracking in Pennsylvania, stop fracking and address climate change nationally, while also aiding international efforts. Notably, New York helped to inspire and build the national anti-fracking movement, which is getting bigger and stronger. The Americans Against Fracking coalition has delivered more than 600,000 comments calling for a ban of fracking on public lands.
YOU MIGHT ALSO LIKE
Confirmed: 4.6-Magnitude Earthquake in British Columbia Caused by Fracking (Likely World's Largest)
How Fracking is Driving Gas Prices Below $2 Per Gallon
Portland Bans Fossil Fuel Export
Gov. Cuomo Vetoes Port Ambrose Liquefied Natural Gas Project
Scientists are studying barley, the key ingredient in beer. Ridofranz / Getty Images
Researchers at UC-Riverside are investigating how barley, a key ingredient in beer, survives in such a wide variety of climates with hopes of learning what exactly makes it so resilient across climates.
Barley was first grown domestically in Southwest Asia about 10,000 year ago and is grown around the world, from Egypt to Minnesota.
Barley's prime growing regions have shifted northward in recent decades as global temperatures have risen due to climate change caused by human extraction and combustion of fossil fuels.
Chuck Skypeck, technical brewing projects manager for the Brewers Association located in Boulder, Colorado, told E&E climate change's effects are impacting the brewing industry.
"Certainly dynamic growing conditions, water scarcity, extreme weather events, growers' planting decisions can all affect both pricing and availability of brewers' supply of malted barley," he told E&E News.
For a deeper dive:
For more climate change and clean energy news, you can follow Climate Nexus on Twitter and Facebook, sign up for daily Hot News, and visit their news site, Nexus Media News.
EcoWatch Daily Newsletter
Air France airplanes parked at the Charles de Gaulle/Roissy airport on March 24, 2020. SAMSON / AFP via Getty Images
France moved one step closer this weekend to banning short-haul flights in an attempt to fight the climate crisis.
A bill prohibiting regional flights that could be replaced with an existing train journey of less than two and a half hours passed the country's National Assembly late on Saturday, as Reuters reported.
"We know that aviation is a contributor of carbon dioxide and that because of climate change we must reduce emissions," Industry Minister Agnes Pannier-Runacher told Europe 1 radio, according to Reuters.
The measure now has to pass the French Senate, then return to the lower house for a final vote. It would end regional flights between Paris's Orly airport and cities like Nantes and Bordeaux, The Guardian explained. It would not, however, impact connecting flights through Paris's Charles de Gaulle/Roissy airport.
The bill is part of a legislative package which aims to reduce France's emissions by 40 percent of 1990 levels by 2030, Reuters reported. It is a watered-down version of a proposal suggested by France's Citizens' Convention on Climate, BBC News explained. This group, which was formed by President Emmanuel Macron in 2019 and included 150 ordinary citizens, had put forward a ban on flights that could be replaced with an existing train journey of under four hours.
However, the journey length was lowered after protests from KLM-Air France, which had suffered heavy losses due to the coronavirus pandemic, and regions who were concerned about being left out of national transit networks, as The Guardian explained.
"We have chosen two and a half hours because four hours risks isolating landlocked territories including the greater Massif Central, which would be iniquitous," transport minister Jean-Baptiste Djebbari said, as The Guardian reported.
However, some environmental and consumer groups objected to the changes. The organization UFC-Que Choisir compared plane routes with equivalent train journeys of under four hours and found that the plane trips emitted an average of 77 times more carbon dioxide per passenger than the train journeys. At the same time, the train alternatives were cheaper and only as much as 40 minutes longer.
"[T]he government's choice actually aims to empty the measure of its substance," the group said, according to The Guardian.
The new measure also opens the French government to charges of hypocrisy. It bailed out Air France-KLM to the tune of a seven-billion euro loan last year, though it did require the airline to drop some domestic routes as a condition. Then, days before the measure passed, it more than doubled its stake in the airline, BBC News reported. However, Pannier-Runacher insisted to Europe 1 radio that it was possible to balance fighting climate change and supporting struggling businesses.
"Equally, we must support our companies and not let them fall by the wayside," she said, as Reuters reported.
This is not the first time that climate measures and aviation bailouts have coincided in the wake of the coronavirus pandemic. Austrian Airlines replaced its Vienna-Salzburg flight with additional train service after it received government money dependent on cutting greenhouse gas emissions, BBC News reported.
The number of flights worldwide declined almost 42 percent in 2020 when compared with 2019. It is expected that global aviation may not fully recover until 2024, according to Reuters.
A woman looks at a dead gray whale on the beach in the SF Bay area on May 23, 2019; a new spate of gray whales have been turning up dead near San Francisco. Justin Sullivan / Getty Images
Four gray whales have washed up dead near San Francisco within nine days, and at least one cause of death has been attributed to a ship strike.
A small tourist town has borne the brunt of a cyclone which swept across the West Australian coast.
ABC News (Australia) / YouTube
A general view shows the remains of a dam along a river in Tapovan, India, on February 10, 2021, following a flash flood caused by a glacier break on February 7. Sajjad Hussain / AFP / Getty Images
By Rishika Pardikar
Search operations are still underway to find those declared missing following the Uttarakhand disaster on 7 February 2021.
This story originally appeared in Eos and is republished here as part of Covering Climate Now, a global journalism collaboration strengthening coverage of the climate story.