This website uses cookies to ensure you get the best experience while browsing it. By clicking 'Got It' you're accepting these terms.
New Yorkers Call on Gov. Cuomo to Save Seneca Lake from LPG Fracking
Sep. 26, 2012 04:43PM EST
Energy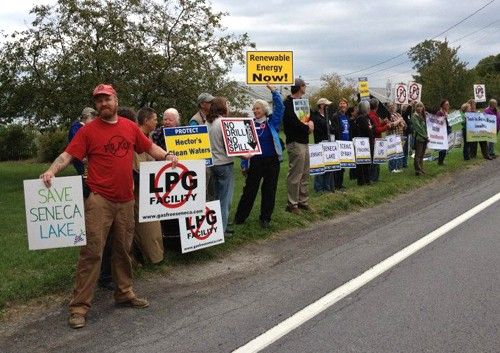 More than 100 people and close to a dozen businesses came together to celebrate the Seneca Lake Scenic Byway today, while also bringing attention to the fact that fracking and Inergy's proposed natural gas and NGL (natural gas liquids) storage facility threaten the Scenic Byway and local tourism. 
Participants held a press conference calling on Gov. Cuomo, the NY Department of Environmental Conservation (DEC) and State Legislature to protect the Scenic Byway and surrounding region from the economic and health threats posed by Inergy's facility and fracking. Citizens lined the road with signs saying "Celebrate the Scenic Byway, No Fracking—No LPG."
 
Inergy's gas storage and transport facility and fracking threaten the area with massive truck traffic, noise and visual impairments. It will impact local air quality and threaten water contamination in the region, and drive away tourism.
 
"Sometimes it's necessary to state the obvious:  drill rigs are not scenic. Fleets of tanker trucks hauling explosive gases do not belong on byways," said Sandra Steingraber, acclaimed author, biologist and scholar in residence at Ithaca College. "Leaf-peeping drives through the countryside are not made more enjoyable by flaming flare stacks or the roar of diesel engines. The Finger Lakes region of New York is facing a Lady or the Tiger choice:  we can live in a land of scenic byways lined with world-class wineries or we can be fracked. I choose the Lady."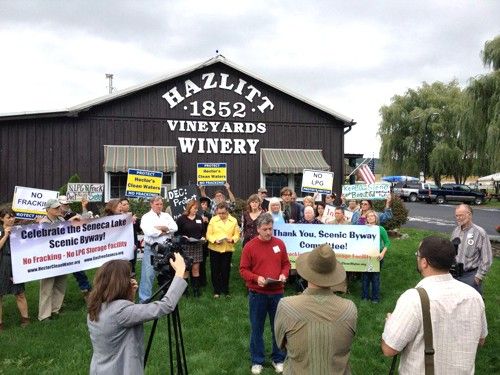 Local business leaders pointed to how the region's economy is dependent on tourism and agriculture, and said that fracking and the LPG facility would jeopardize the region's future success.
 
"Our business has grown to where it is today because of tourism in the Finger Lakes. We feel that our business would be threatened but the negative effects of fracking and LPG storage," said Doug Hazlitt, owner of Hazlitt Winery.
 
Jacqueline Leidenfrost owner of Rustic Log Cabins said, "This designation officially establishes this area as unique, exceptionally beautiful and economically valuable to our community and the state of New York. As residents who enjoy the country lifestyle of a small community with the clean air we breathe and clean water we drink and swim in, we must be ever mindful how precarious these natural resources are."
 
Two local organizations, Hector Clean Waters and Gas Free Seneca, expressed their gratitude for all those who worked hard to establish the Seneca Lake Scenic Byway.
Joseph Campbell of Gas Free Seneca said, "Our part of the Finger Lakes region is a precious resource renowned for its beauty, culture, fertile farms, orchards and vineyards. Visitors come from all over to explore our lakes and gorges and sample our fine wines, delicious healthy produce and dairy products. We come here to honor those who worked to celebrate this, but also to voice our fervent opposition to a practice which will destroy this beautiful landscape and our way of life—shale gas exploitation."
 
The local organizations called on Gov. Cuomo and the State DEC to deny Inergy its permit for the proposed facility. "Part of the shale hydrofracking nightmare, this huge facility threatens the pure water of Seneca Lake with petroleum gas and salt pollution, would burn off excess gas with a towering flare stack, produce air pollution, and be a visual and noisy blight along this gorgeous lake. Worst of all would be the constant risk of gas explosions," said Campbell.
Visit EcoWatch's FRACKING page for more related news on this topic.
EcoWatch Daily Newsletter
Artist's conception of solar islands in the open ocean. PNAS
Millions of solar panels clustered together to form an island could convert carbon dioxide in seawater into methanol, which can fuel airplanes and trucks, according to new research from Norway and Switzerland and published in the Proceedings of the National Academy of Sciences journal, PNAS, as NBC News reported. The floating islands could drastically reduce greenhouse gas emissions and dependence on fossil fuels.
Marcos Alves / Moment Open / Getty Images
More than 40 percent of insects could go extinct globally in the next few decades. So why did the U.S. Environmental Protection Agency (EPA) last week OK the 'emergency' use of the bee-killing pesticide sulfoxaflor on 13.9 million acres?
EcoWatch teamed up with Center for Biological Diversity via EcoWatch Live on Facebook to find out why. Environmental Health Director and Senior Attorney Lori Ann Burd explained how there is a loophole in the The Federal Insecticide, Fungicide, and Rodenticide Act under section 18, "that allows for entities and states to request emergency exemptions to spraying pesticides where they otherwise wouldn't be allowed to spray."
Simple swaps that cut down on kitchen trash.
Sponsored
By Kayla Robbins
Along with the bathroom, the kitchen is one of the most daunting areas to try and make zero waste.
View of downtown Miami, Florida from Hobie Island on Feb. 2, 2019.
Michael Muraz / Flickr
The Democratic candidates for president descended upon Miami for a two-night debate on Wednesday and Thursday. Any candidate hoping to carry the state will have to make the climate crisis central to their campaign, as The New York Times reported.
By Sharon Kelly
On Monday, the Wall Street Journal featured a profile of Scott Sheffield, CEO of Pioneer Natural Resources, whose company is known among investors for its emphasis on drawing oil and gas from the Permian basin in Texas using horizontal drilling and hydraulic fracturing, or fracking.
Pexels
By Craig K. Chandler
The federal government has available to it, should it choose to use them, a wide range of potential climate change management tools, going well beyond the traditional pollution control regulatory options. And, in some cases (not all), without new legislative authorization.
Denis Poroy / Getty Images
By Dan Gray
Processed foods, in their many delicious forms, are an American favorite.
But new research shows that despite increasing evidence on just how unhealthy processed foods are, Americans have continued to eat the products at the same rate.
By Sarah Steffen
With a profound understanding of their environmental surroundings, indigenous communities around the world are often cited as being pivotal to tackling climate change.