New Yorkers Call on Gov. Cuomo to Protect Thriving Tourism Industry from Fracking
May. 08, 2013 05:38PM EST
Energy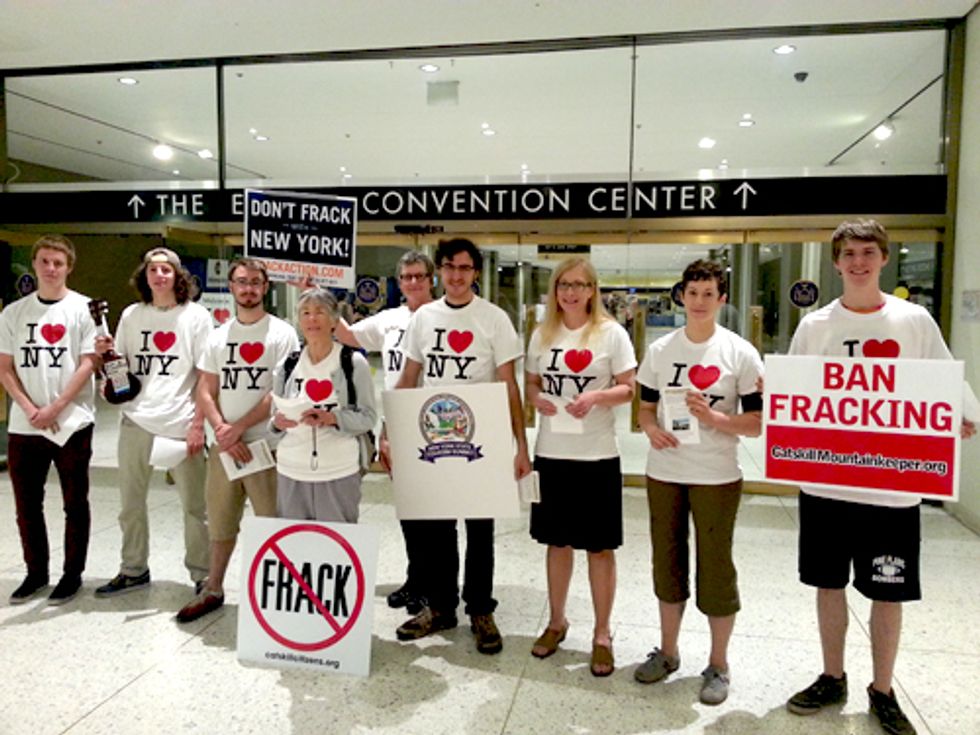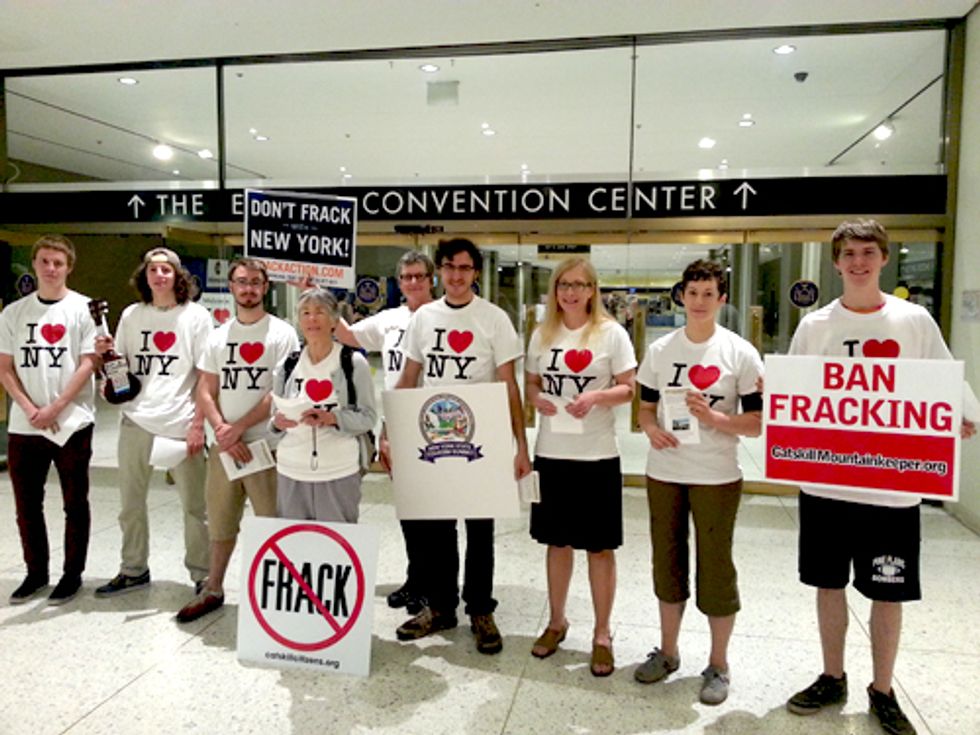 On the day of Governor Cuomo's tourism summit, New York bed-and-breakfasts, wineries and other tourism-related businesses highlighted fracking's incompatibility with upstate tourism and called on the governor to protect the state's tourism industry by banning fracking. New Yorkers Against Fracking also announced a radio ad running in Albany, emphasizing the risks that fracking poses to the state's rural tourism industry. Dozens of citizens wore iconic "I (Heart) New York" t-shirts and handed out literature to participants as they entered the summit.
"If Governor Cuomo is serious about creating a thriving tourist industry that continues to grow our economy and upstate jobs then he will realize that fracking is incompatible with that future," said Julia Walsh of New Yorkers Against Fracking. "Fracking will drive away tourists from New York who will fear their health will be compromised from a visit to the Empire State."
Last week the Finger Lakes was named by Yahoo! as a location for "Lakeside vacations that have it all." The Finger Lakes were recognized for their more than 100 wineries that line the shores of its 11 lakes, wine tours, the beautiful village of Skaneateles, the Corning Glass Museum and the Watkins Glen State Park where you can climb past 19 waterfalls. For years, winery owners in the Finger Lakes have been asking Governor Cuomo for a meeting to discuss their concerns about fracking. A letter requesting a meeting signed by more than 50 wineries never received a response from the Governor's office.
"A major part of the sustainable economy of the Finger Lakes is tourism. Hydrofracking here would permanently destroy many more long term jobs than it could ever create. Once the fracking trucks start rolling in an area, the tourism economy there will grind to a halt, killing nearly every tourism related job," said Art Hunt, owner of Hunt Country Vineyards near Keuka Lake. "Currently, the Finger Lakes has fertile soil, clean air and abundant clean water. As the western US runs out of reliable water, the Finger Lakes will become vital to the food production of this country. We cannot afford to lose any more farmland to any type of development."
"After seeing the impact of this industrial activity in Pennsylvania, I have no doubt that it would irreparably damage all the work we have done to portray the Finger Lakes as a pristine, beautiful place to visit. The heavy truck traffic we could expect on our country roads will be similar to that in major cities. This will definitely keep tourists away. If there are spills and accidents as there have been in PA, tourists will stay away if they think there might be health hazards," said Pete Saltonstall, owner King Ferry Winery on Cayuga Lake.
The Baseball Hall of Fame has also expressed opposition to fracking through a statement in support of the Cooperstown Chamber of Commerce resolution against fracking.
The Baseball Hall of Fame issued the following statement in 2011:
"As an American treasure, and the cornerstone to this region since 1939, the Museum and county would undoubtedly suffer repercussions in the event of problems from hydrofracking—or even the perception thereof… A significant drop in visitorship could severely impact the Hall of Fame on many fronts, from day-to-day operations to staffing levels, while also leading to a significant decrease in tourism-related revenue for the village, county and state. Like the Chamber of Commerce and virtually every other area business, the Museum concludes that hydrofracking could present an unacceptable risk to the local environment, the economy and the quality of life for both local residents and tourists."
More than 100 tourism-related businesses from New York have already joined the more than 1,000 businesses across the state calling for a statewide ban of fracking, as well as 150+ prominent chefs.
"The tourist industry in the Finger Lakes region of New York state is over a 3 billion dollar industry, with one of the main centerpieces being the wine industry. This is a renewable sustainable industry that we can pass on to future generations. The wine industry to some degree is in its infancy and will see nothing but growth over the next few decades, if we help it. Vineyards, wineries and tourism all depend on a fragile ecosystem that needs our help," said Louis Damiani, owner of Damiani Wine Cellars.
"To develop this area as a fracking and industrialized area can negatively impact this if not altogether ruin it for short term gains. If we develop fracking in areas close to the Finger Lakes it will still spill over and harm us. I implore Governor Andrew Cuomo to reconsider his position and do the right thing not the political right thing but the smarter, more ethical, more sustainable and yes, the better economical move and ban fracking in New York state," said Damiani.
"Governor Cuomo, the tourism industry is bringing in enormous revenue, the fifth leading revenue producer in NY. Our coalition of accommodation owners agrees that a clean, green New York is the direction that our tourism industry needs to take to have sustained growth. We believe that the fracking industry is in opposition to what we would like to see, which is for New York State to be the first green state in the Union," said Alicia Alexander, owner of Amazing Grace Bed & Breakfast
As the fifth largest employment sector in New York state, the tourism industry provided nearly 700,000 jobs and approximately $17 billion in wages in 2011. Tourism is also a major source of revenue for New York, generating more than $7 billion for the state. The tourism industry depends on clean air and water, as well as an environmental quality of life that fracking would disrupt. Toxic byproducts from the fracking process often pollute the watershed and damage agriculture, putting growing tourism industries at risk.
In the Southern Tier, where fracking interests are targeting politicians with intense lobbying and political spending, visitors spent more than $239 million and the tourism industry generated $31 million in tax revenue and more than 4,600 jobs.
In other areas where fracking already exists, the arrival of gas workers has strained short-term accommodations during peak tourism season, since busy season for drilling occurs in the warmer months. It has created conflicts for tourism planners and officials and can paradoxically undercut the hotel room tax rate that is crucial to revenues that fund tourism services in the Southern Tier, because gas workers would likely stay in hotels long enough to avoid paying the tax.
In the Central Catskills, outdoor recreational activities attracted a total of nearly 2.5 million visitors to the region, creating an economic impact of more than $114 million.
EcoWatch Daily Newsletter