New Yorkers Call for Renewables at Anti-Fracking Rally During Cuomo Fundraiser
Jul. 12, 2013 04:18PM EST
Energy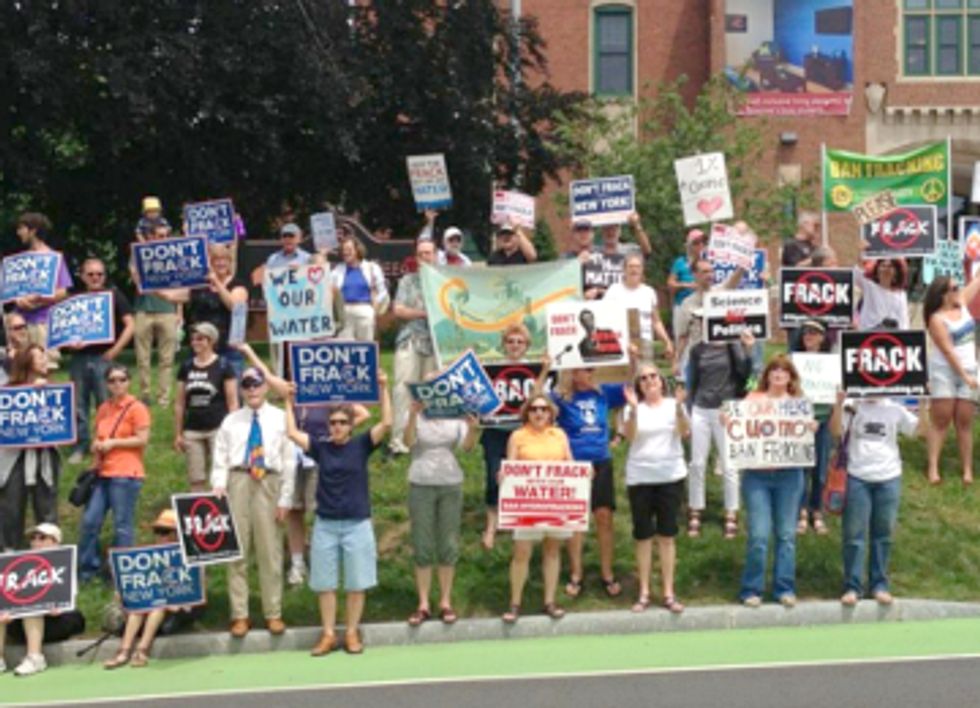 Residents gathered today to rally against fracking and for renewable energy outside of Gov. Cuomo's (D-NY) fundraiser in Syracuse, NY. The concerned residents urged the Governor not to put New York's clean water, air, environment and economy at risk by allow fracking. Further, they urged the Governor to aggressively invest in renewable energy, which would bring sustainable, good jobs and economic development to New York State without jeopardizing people's health and existing jobs.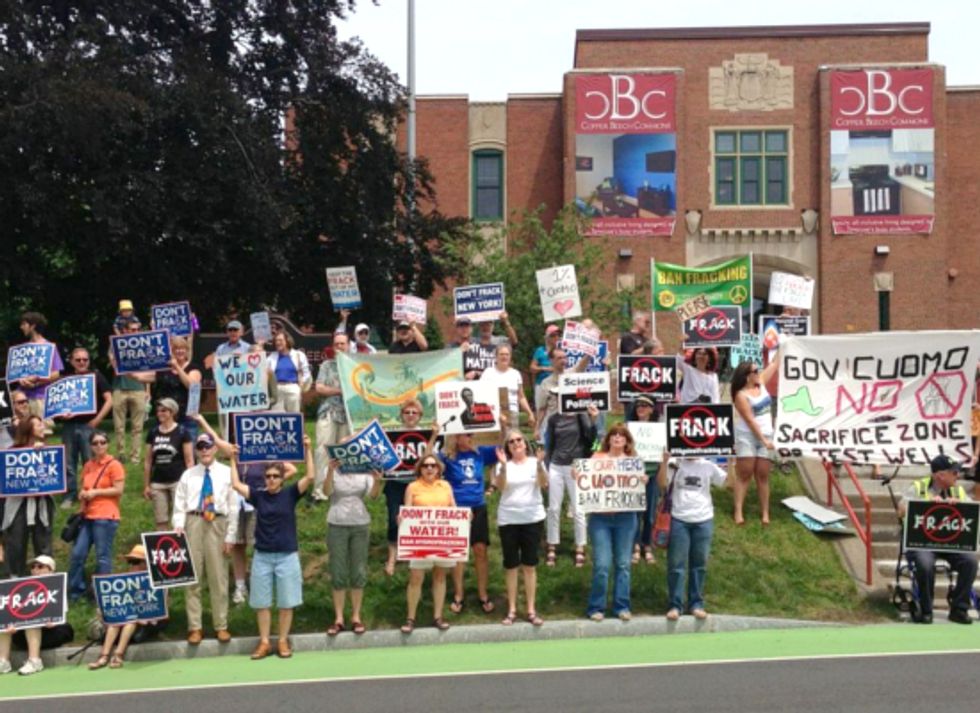 "Governor Cuomo must listen to the science and ban fracking, which contaminates water, poisons air and puts our health at risk," said Renee Vogelsang of Frack Action, and a Syracuse resident.
"An overwhelming number of New Yorkers are standing up against fracking because they know it would only bring pollution and ruin to communities across New York State. Governor Cuomo should pioneer a renewable energy economy that will create long-term, safe jobs for New Yorkers," said Vogelsang.
"If Governor Cuomo cares about the future of our state, then he will reject hydrofracking," said Ursula Rozum, a Syracuse resident with the Syracuse Peace Council. "Science overwhelmingly shows that hydrofracking cannot be done safely, that it would only lead to polluted water and poisoned communities, like it has in Pennsylvania and many other states. Fracked methane gas is not a bridge fuel—it's a dirty fossil fuel and a source of climate disrupting greenhouse gasses. Governor Cuomo needs to decide, is he with the people or with the gas industry?"
Gov. Cuomo was in Syracuse for a fundraiser at the Genesee Grand Hotel. The rally began outside of the event at 11:30.
"Fracking poses a serious threat to the health of both our natural and social environments," said Emily Coralyne, a Syracuse resident. "Historically in New York, we have made agreements to maintain stewardship of this land with our native neighbors. If New York State were to allow hydrofracking, they are yet again, breaking promises made to the original people of this land to care for what has been shared with us."
Independent observers have noted that the gas industry cannot be trusted when it describes fracking as safe. A recent investigation by the Times Tribune in Pennsylvania revealed many cases of water contamination from fracking.  And a recent study showed that fracking emits significant amounts of methane—a major contributor to climate change. A recent peer-reviewed study by Duke University in the renowned Proceedings of the National Academy of Sciences linked fracking with water contamination in Pennsylvania.
The latest Siena Poll showed that upstate New Yorkers oppose fracking 52-38 percent. On June 17, 3,000 New Yorkers rallied in Albany to demand that Gov. Cuomo reject fracking and instead aggressively pioneer a renewable energy economy.
A recent peer-reviewed study detailed a plan for New York State to get to 100 percent renewable energy by 2030.
Visit EcoWatch's FRACKING page for more related news on this topic.
——–

EcoWatch Daily Newsletter