This website uses cookies to ensure you get the best experience while browsing it. By clicking 'Got It' you're accepting these terms.
New York City Soon to Be Home to World's First Underground Park
Dec. 23, 2015 09:07AM EST
Business
An abandoned trolley terminal in New York City will soon be home to the world's first underground park. The Lowline, a lush underground forest powered by advanced solar technology, is "one step closer to becoming a reality," The Verge reported.
The ambitious project sits one story below Delancey St. and directly adjacent to the existing JMZ subway track at the Essex St. subway stop. It will be the size of a football field when complete.
Spearheaded by co-founders James Ramsey and Dan Barasch, the Lowline will host trees and plants such as philodendrons, dwarf snake plants, spiderworts, nettles and Spanish moss.
The coolest part? The flora will thrive off of actual sunlight in this underground arboretum thanks to solar technology designed by Ramsey's firm, Raad Studio.
"The proposed solar technology of the Lowline involves the creation of a remote skylight, whereby sunlight passes through a glass shield above a parabolic collector, is reflected and gathered at one focal point, and directed underground," the creators explained on their website.
"Sunlight is transmitted onto a reflective surface on the distributor dish underground, transmitting that sunlight into the space. This technology would transmit the necessary wavelengths of light to support photosynthesis, enabling plants and trees to grow."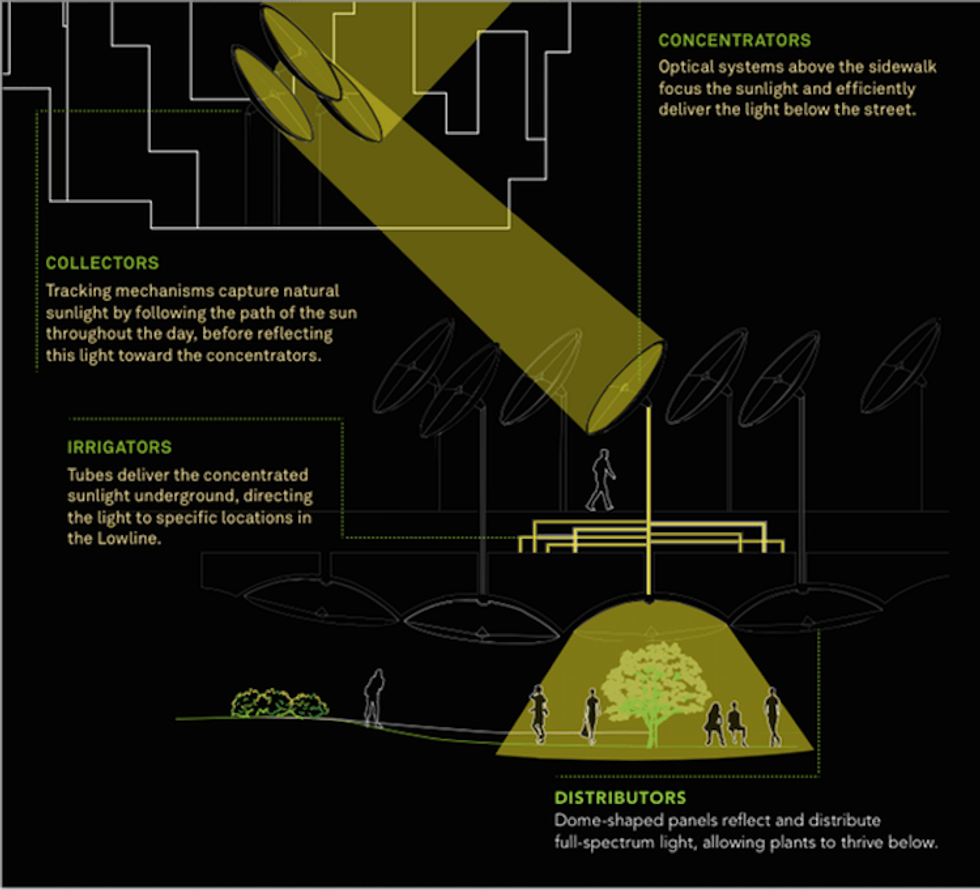 Ramsey and Barasch came up with the idea of a subterranean oasis in 2009 and made many headlines soon after. Ramsey, who is also an ex-NASA engineer, first conceptualized this design while building satellites for the space agency, The Verge reported.
The park was given a similar moniker to New York City's Highline, a linear park built on a disused railroad. The Lowline makes use of a site that has unused for the past six decades and brings much-needed green space New York City dwellers, especially during in the city's typically harsh winters.
"The site itself is located at the very heart of the Lower East Side, and today, it still remains one of the most crowded neighborhoods in the city," as Barasch, a former Google strategist, said in his TEDTalk last year. "New York City has two-thirds the green space per resident as other big cities and this neighborhood has one-tenth of the green space."
According to the project's timeline, the Lowline team is currently negotiating with the MTA and the city to build and operate the underground park. After negotiations are finalized, a capital campaign to support construction will be launched.
The Verge reported that the founders are also working out certain kinks such as making the city's "request for expressions of interest" Feb. 1 deadline and figuring out details for concessions and hours of operation, as well as raising funds for the expensive project. The Lowline is reportedly expected to cost between $44 million and $77 million to build, and $2 million to $4 million annually to operate.
The project completed a successful $223,506 Kickstarter campaign in October to construct their Lowline Lab, which is currently a research space for lighting and horticulture experiments, and is now open to the public for visits and community events.
The underground park is planned to open by 2020.
YOU MIGHT ALSO LIKE 
World's First Off-Grid EcoCapsule Runs Entirely on Renewable Energy
Couple Builds Greenhouse Around Home to Grow Food and Keep Warm
Brad Pitt's Nonprofit Delivers LEED Platinum Homes to Fort Peck Reservation
EcoWatch Daily Newsletter
Germany reached an agreement Thursday that will allow it to stop burning coal by 2038.
This photograph shows green photosynthetic cyanobacteria growing and mineralizing in the sand-hydrogel framework. The living material has similar strength to cement-base mortar. College of Engineering and Applied Science at Colorado University Boulder /
EurekAlert!
Cement is a remarkable building material; it's cheap, durable and readily available. However, its production is a leading source of carbon dioxide emissions, coughing up 2.8 gigatons of emissions every year, as Advanced Science News reported.
Internal documents from the Department of Homeland Security reveal that non-violent demonstrators targeting the oil industry were classified as "extremists," with some organization members listed alongside known white supremacists, as The Guardian reported.
An additional 2,100 deaths from fatal injuries may occur in the U.S. every year from a 2 C rise in temperatures, which could have grave implications for global changes associated with the climate crisis.