New York City Bans Styrofoam Food Containers
The Center for Oceanic Awareness, Research and Education (COARE), applauds the New York City Council for its decision yesterday to ban food service expanded polystyrene (EPS) within city limits. EPS is commonly referred to as "styrofoam."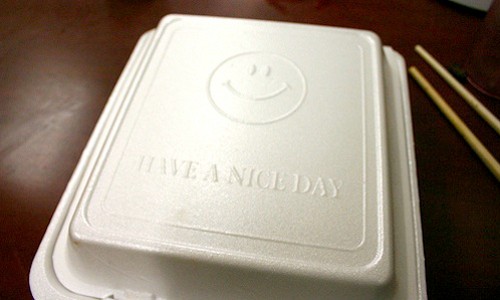 Since its inception, COARE has been actively addressing plastic pollution and attempting to reduce single-use plastic consumption in the U.S. and worldwide.
"With this bill we can move into the future," said Councilmember Lewis Fidler, primary sponsor of the bill. "The technologies and the materials of the past will not hold us back from doing so."
With an overwhelming 51-0 unanimous vote, the City Council of New York made a clear statement making NYC the largest in the world to ban foam foodware. Comprising more than 8.3 million people, New York is the most populous city in the U.S., and an estimated 23,000 tons of foam is thrown away in New York City each year.
"This is a tremendous decision, and grand victory for us all," said Christopher Chin, COARE's executive director. "Future generations will see this as the obvious choice, but this vote today makes a strong stand and proves that New York is truly ready to make a difference."  
"Today's decision sets a firm example for similar efforts across the nation and around the world," Chin continued. "The message is loud and clear—we're telling the world that we've had enough single-use foam."
Through its "Enough with the plastic already!" campaign, COARE seeks to reduce the amount of oceanbound waste by helping people become more aware of how their habits affect the world around them. COARE raises public awareness of some very commonly overlooked sources of trash, and encourages people everywhere to examine their choices.
Visit EcoWatch's BIODIVERSITY page for more related news on this topic.

www.facebook.com
Keep reading...
Show less
Scott Pruitt testifies during his Senate confirmation hearing for EPA administrator, January 2017.
The U.S. Environmental Protection Agency's (EPA) chief of staff pressured the leader of its Board of Scientific Counselors to change her congressional testimony to downplay the impact of the agency's mass dismissal of scientists from the board, the New York Times reports.
Keep reading...
Show less
By Jason Mark
Sequoiadendron giganteum. That's the scientific name for the giant sequoia: the mammoth trees found in California's Sierra Nevada that are the largest organisms on Earth, and among the longest-lived. Biologists estimate that about half of all sequoias live in Giant Sequoia National Monument, a 328,000-acre preserve in the Southern Sierra Nevada established by President Clinton in 2000.
Now that national monument is in jeopardy.
Keep reading...
Show less
By Andy Rowell
Donald Trump this week is launching an "energy week," pushing the argument that the U.S. will become a net exporter of oil and gas.
The president and his cronies are talking about a new era of "U.S. energy dominance," which could stretch for decades to come. However, no one believes the president anymore.
Keep reading...
Show less
UN
By Colleen Curry
The United Nations has designated 23 new sites around the world to its World Network of Biosphere reserves—stunning natural landscapes that balance environmental and human concerns and strive for sustainability.
The forests, beaches and waterways were added to the list this year at the International Coordinating Council of the Man and the Biosphere Programme meeting in Paris earlier this month.
Keep reading...
Show less
Jun. 26, 2017 01:48PM EST
www.elysee.fr
By Andy Rowell
There is a growing feeling within European capitals that a quiet, but deeply positive, revolution is happening under Emmanuel Macron in France.
Macron's opinion poll rating is high, especially boosted in how the young French president has reacted to Donald Trump on the international stage.
Keep reading...
Show less
Jun. 26, 2017 12:32PM EST
www.facebook.com
Keep reading...
Show less
Jun. 26, 2017 02:46PM EST
Keep reading...
Show less
Jun. 26, 2017 03:34PM EST
www.youtube.com
According to Bloomberg, "SeaWorld Entertainment Inc. received a subpoena earlier this month from regulators investigating disclosures and public statements by executives, including comments about the Blackfish documentary that caused a public backlash against the confinement of orcas.
Keep reading...
Show less


Get EcoWatch in your inbox