This website uses cookies to ensure you get the best experience while browsing it. By clicking 'Got It' you're accepting these terms.
New Years Eve Earthquake Hits Youngstown While Public Pressure Halts Fracking Wastewater Injection Well Site
Dec. 31, 2011 08:04PM EST
Fracking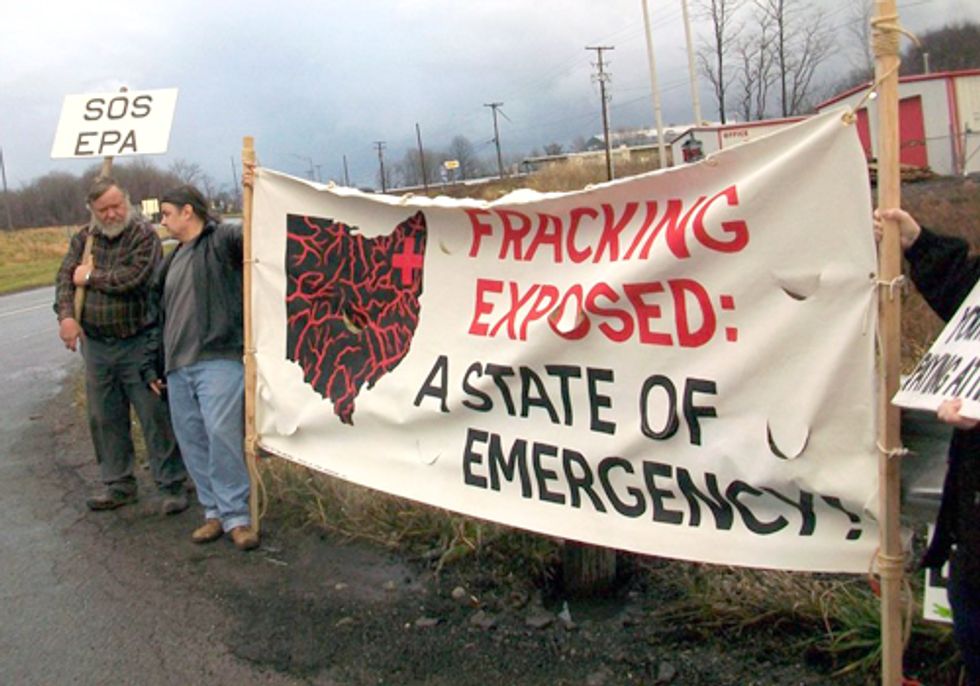 By Ben Shapiro and Jonathan Sidney
On the heels of an announcement by the Ohio Division of Natural Resources (ODNR), as reported in The Vindicator on Dec. 30, that ordered D&L Energy Inc to cease operations at a nearby brine-injection well—a storage site for toxic fracking wastewater—due to ten earthquakes since March 17 in close proximity to the well site in Youngstown, Ohio, another earthquake on Dec. 31 at 3:05 p.m., this one an unprecedented magnitude 4.0 recorded by the U.S. Geologic Society, was reported.
Susie Beiersdorfer, an instructor of geology at Youngstown State University, was downtown during today's quake. She said, "Everyone felt it. Shutting down an injection well is not like turning off a light switch, the pressure is still there. If more pressure needs to be equalized it's going to keep happening." Beiersdorfer went on to say "we are elated that the well has been shut down. None too soon. Because of the history of earthquakes and the history of epicenters around the injection well, it's only prudent to shut it down until it's ruled out as being a cause, nor should any injection wells be permitted or used."
The D&L well has been the subject of widespread community outrage. Youngstown area residents have attended township meetings, staged protests, sung anti-fracking carols outside the mayor's office and even blockaded entrances to the D&L injection site to put a stop to the toxic earthquakes in the absence of regulatory intervention. Beiersdorfer feels that the "hard work and constant pressure is paying off. It's in the news, it's raising people's awareness. That's what I'm looking forward to in 2012."
Though residents are excited by the temporary closure of the well, they remain concerned about the 170+ injection wells that remain active throughout Ohio. John Williams, a Youngstown resident, urges communities to remain vigilant, stating that while "we won this battle, the war is far from over. D&L has no regard for the long term safety of our communities or water. They'll just try to shift their dirty business from one well to another and think we won't notice." D&L is constructing yet another injection well in Hubbard, about two miles east of the recently closed site.
More than a dozen protesters attended an ODNR informational meeting. Steve Beck, a local farmer spoke at the meeting saying, "there's no way it's safe," while holding up a sign reading SOS EPA. "They make promises that give us a false sense of security. But common sense will tell you it's not 100 percent safe."
Residents lack confidence in the ability of local and state regulatory agencies. Beiersdorfer and other concerned citizens attended a November Coitsville Township meeting and were shocked to find out that public officials didn't even know about the D&L injection wells until the land was cleared. ODNR geologist Tom Tomastik admited to angry residents that spills have occurred. "One of the trucks overflowed one of the drilling-mud tanks," Tomastik explained to The Vindicator. "It spilled out on the ground and into a ditch."
While citizens are thankful for the temporary closure of the injection well site, it is clear, especially after today's earthquake and the other active well sites, that community members will need to continually ramp up pressure in order to put a  stop to the epidemic of new injection wells that threatens Ohio's drinking water and seismic stability. The statewide struggle against injection wells continued on Dec. 31 at #OccupyMansfield's In Memory of Mansfield, Casualty of Fracking.
We need to keep building momentum in the movement against fracking across Ohio, the Utica and Marcellus shale regions, and around the world.  Your involvement in the fight is crucial—consider seeking a local ban on fracking and signing the Anti-Fracking Pledge of Resistance. The tireless organizers in Youngstown have shown that working together makes us strong.
For more information, click here.
EcoWatch Daily Newsletter
Pixabay
Purple cabbage, also referred to as red cabbage, belongs to the Brassica genus of plants. This group includes nutrient-dense vegetables, such as broccoli, Brussels sprouts, and kale.
Pexels
By Lauren Wolahan
For the first time ever, the UN is building out a roadmap for curbing carbon pollution from agriculture. To take part in that process, a coalition of U.S. farmers traveled to the UN climate conference in Madrid, Spain this month to make the case for the role that large-scale farming operations, long criticized for their outsized emissions, can play in addressing climate change.
Pexels
In recent years, acai bowls have become one of the most hyped-up health foods on the market.
They're prepared from puréed acai berries — which are fruits grown in Central and South America — and served as a smoothie in a bowl or glass, topped with fruit, nuts, seeds, or granola.
Investing in grid infrastructure would enable utilities to incorporate modern technology, making the grid more resilient and flexible. STRATMAN2 / FLICKR
By Elliott Negin
The Royal Swedish Academy of Sciences' recent decision to award the 2019 Nobel Prize in Chemistry to scientists who developed rechargeable lithium-ion batteries reminded the world just how transformative they have been. Without them, we wouldn't have smartphones or electric cars. But it's their potential to store electricity generated by the sun and the wind at their peak that promises to be even more revolutionary, reducing our dependence on fossil fuels and protecting the planet from the worst consequences of climate change.
Two Javan rhinos deep in the forests of Ujung Kulon National Park, the species' last habitat on Earth. Sugeng Hendratno / WWF
The global population of the critically endangered Javan rhinoceros has increased to 72 after four new calves were spotted in the past several months.