This website uses cookies to ensure you get the best experience while browsing it. By clicking 'Got It' you're accepting these terms.
New Years Eve Earthquake Hits Youngstown While Public Pressure Halts Fracking Wastewater Injection Well Site
Dec. 31, 2011 08:04PM EST
Fracking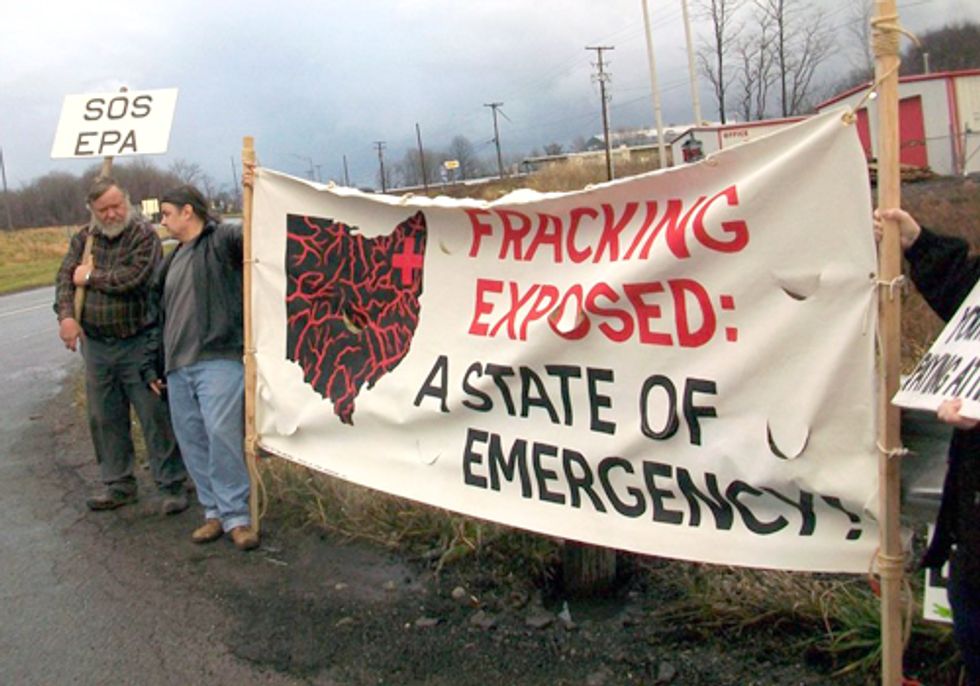 By Ben Shapiro and Jonathan Sidney
On the heels of an announcement by the Ohio Division of Natural Resources (ODNR), as reported in The Vindicator on Dec. 30, that ordered D&L Energy Inc to cease operations at a nearby brine-injection well—a storage site for toxic fracking wastewater—due to ten earthquakes since March 17 in close proximity to the well site in Youngstown, Ohio, another earthquake on Dec. 31 at 3:05 p.m., this one an unprecedented magnitude 4.0 recorded by the U.S. Geologic Society, was reported.
Susie Beiersdorfer, an instructor of geology at Youngstown State University, was downtown during today's quake. She said, "Everyone felt it. Shutting down an injection well is not like turning off a light switch, the pressure is still there. If more pressure needs to be equalized it's going to keep happening." Beiersdorfer went on to say "we are elated that the well has been shut down. None too soon. Because of the history of earthquakes and the history of epicenters around the injection well, it's only prudent to shut it down until it's ruled out as being a cause, nor should any injection wells be permitted or used."
The D&L well has been the subject of widespread community outrage. Youngstown area residents have attended township meetings, staged protests, sung anti-fracking carols outside the mayor's office and even blockaded entrances to the D&L injection site to put a stop to the toxic earthquakes in the absence of regulatory intervention. Beiersdorfer feels that the "hard work and constant pressure is paying off. It's in the news, it's raising people's awareness. That's what I'm looking forward to in 2012."
Though residents are excited by the temporary closure of the well, they remain concerned about the 170+ injection wells that remain active throughout Ohio. John Williams, a Youngstown resident, urges communities to remain vigilant, stating that while "we won this battle, the war is far from over. D&L has no regard for the long term safety of our communities or water. They'll just try to shift their dirty business from one well to another and think we won't notice." D&L is constructing yet another injection well in Hubbard, about two miles east of the recently closed site.
More than a dozen protesters attended an ODNR informational meeting. Steve Beck, a local farmer spoke at the meeting saying, "there's no way it's safe," while holding up a sign reading SOS EPA. "They make promises that give us a false sense of security. But common sense will tell you it's not 100 percent safe."
Residents lack confidence in the ability of local and state regulatory agencies. Beiersdorfer and other concerned citizens attended a November Coitsville Township meeting and were shocked to find out that public officials didn't even know about the D&L injection wells until the land was cleared. ODNR geologist Tom Tomastik admited to angry residents that spills have occurred. "One of the trucks overflowed one of the drilling-mud tanks," Tomastik explained to The Vindicator. "It spilled out on the ground and into a ditch."
While citizens are thankful for the temporary closure of the injection well site, it is clear, especially after today's earthquake and the other active well sites, that community members will need to continually ramp up pressure in order to put a  stop to the epidemic of new injection wells that threatens Ohio's drinking water and seismic stability. The statewide struggle against injection wells continued on Dec. 31 at #OccupyMansfield's In Memory of Mansfield, Casualty of Fracking.
We need to keep building momentum in the movement against fracking across Ohio, the Utica and Marcellus shale regions, and around the world.  Your involvement in the fight is crucial—consider seeking a local ban on fracking and signing the Anti-Fracking Pledge of Resistance. The tireless organizers in Youngstown have shown that working together makes us strong.
For more information, click here.
EcoWatch Daily Newsletter
Trump leaves after delivering a speech at the Congress Centre during the World Economic Forum annual meeting in Davos on Jan. 21, 2020. JIM WATSON / AFP via Getty Images
Warning: The video above may be upsetting to viewers.
An amusement park in China came under fire on social media this weekend for forcing a pig off a 230 foot-high bungee tower.
Participants at the tree-planting event in Ankazobe district, Madagascar, on Jan. 19. Valisoa Rasolofomboahangy / Mongabay
By Malavika Vyawahare, Valisoa Rasolofomboahangy
Madagascar has embarked on its most ambitious tree-planting drive yet, aiming to plant 60 million trees in the coming months. The island nation celebrates 60 years of independence this year, and the start of the planting campaign on Jan. 19 marked one year since the inauguration of President Andry Rajoelina, who has promised to restore Madagascar's lost forests.
A pedestrian wearing a mask walks in a residential area in Beijing on Jan. 21, 2020. The number of people in China infected by a new SARS-like virus jumped to 291, according to authorities. WANG ZHAO / AFP via Getty Images
New pine trees grow from the forest floor along the North Fork of the Flathead River on the western boundary of Glacier National Park on Sept. 16, 2019 near West Glacier, Montana. Chip Somodevilla / Getty Images