This website uses cookies to ensure you get the best experience while browsing it. By clicking 'Got It' you're accepting these terms.
New Website Focuses on Mississippi River Delta Restoration
Nov. 28, 2011 02:42PM EST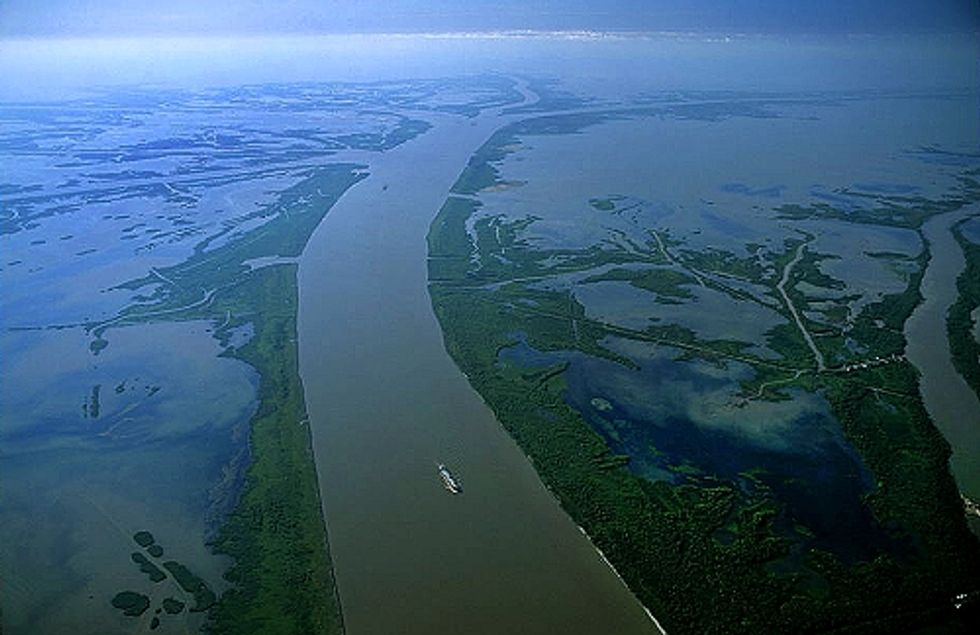 Conservation groups launched a new website Nov. 28, www.MississippiRiverDelta.org, focused on restoring one of America's greatest natural resources, the Mississippi River Delta. The site houses scientific information, public policy analysis, cultural and historical summaries, and Delta Dispatches, a news blog about restoration efforts in the delta.
"MississippiRiverDelta.org is a one-stop shop for news, analysis, and solutions for delta restoration," said Kevin Chandler, Mississippi River Delta restoration campaign communications coordinator. "You'll want to subscribe to our feed and come back often."
The campaign and the site are a collaborative effort by the Coalition to Restore Coastal Louisiana, Environmental Defense Fund, Lake Pontchartrain Basin Foundation, National Audubon Society and National Wildlife Federation.
The Mississippi River Delta contributes tens of billions of dollars to the U.S. economy every year and supports millions of jobs. The delta sustains the following:
Commercial trade routes that connect America's heartland to the rest of the world, critical and extensive energy infrastructure, and fisheries that produce 25 percent of American seafood, all valued at hundreds of billions of dollars. Read more about the economics of the delta.
Wildlife habitat for hundreds of species, including endangered mammals and reptiles, commercially important seafood species, migratory waterfowl and other birds from across the hemisphere.
Jobs and ways of life for approximately 2 million people living in or near the delta, including fishermen, boat captains and restaurant owners.
Unfortunately, the delta and Louisiana lose one football field of land on average every hour, amounting to more than 16.5 square miles of land lost per year, mainly due to the leveeing and channelization of the Mississippi River and the construction of thousands of miles of channels and canals through the delta's fragile wetlands. The delta also is struggling to recover from last year's British Petroleum (BP) oil disaster. MississippiRiverDelta.org provides updates on action to restore the delta, including a bipartisan bill introduced in both the House and Senate—the RESTORE Act—that would dedicate 80 percent of the BP oil spill penalties to restoring the delta and the rest of the Gulf Coast.
"Science tells us that we can begin reversing the delta's land loss to protect and restore natural resources that sustain critical shipping and energy infrastructure, millions of jobs and globally important wildlife habitat," Chandler concluded. "MississippiRiverDelta.org tells that story and will fast become a resource for anyone with an interest in delta restoration."
For more information, click here.
EcoWatch Daily Newsletter
European Commission President Ursula von der Leyen delivers a press statement on the European Green Deal at the EU headquarters in Brussels, Belgium on Dec. 11, 2019. Xinhua / Zheng Huansong via Getty Images
The European Commission introduced a plan to overhaul the bloc's economy to more sustainable, climate-conscious policies and infrastructure, with the goal of being carbon-neutral by 2050, according to CNBC.
Young activists shout slogans on stage after Greta Thunberg (not in the picture) took part in the plenary session during the COP25 Climate Conference on Dec. 11 in Madrid, Spain. Pablo Blazquez Dominguez / Getty Images
By Andrea Germanos
Young activists took over and occupied the main stage at the COP25 climate conference in Madrid, Spain Wednesday and demanded world leaders commit to far more ambitious action to address the ecological emergency.
A NASA image showing the ozone hole at its maximum extent for 2015. NASA Goddard Space Flight Center
The Montreal Protocol, a 1987 international treaty prohibiting the production of chlorofluorocarbons (CFCs) to save the ozone layer, was the first successful multilateral agreement to successfully slow the rate of global warming, according to new research. Now, experts argue that similar measures may lend hope to the climate crisis.
Police in Wales are in the midst of an unusual investigation: the sudden death of more than 200 starlings.
Donald Trump Jr. killed an argali sheep like this one on a hunting trip in Mongolia. powerofforever/ iStock / Getty Images Plus
During a hunting trip in Mongolia this August, Donald Trump Jr. shot and killed an endangered argali sheep, and received a permit only after the fact.