New Website Exposes NY Fracking Scandal
Feb. 11, 2013 04:14PM EST
Energy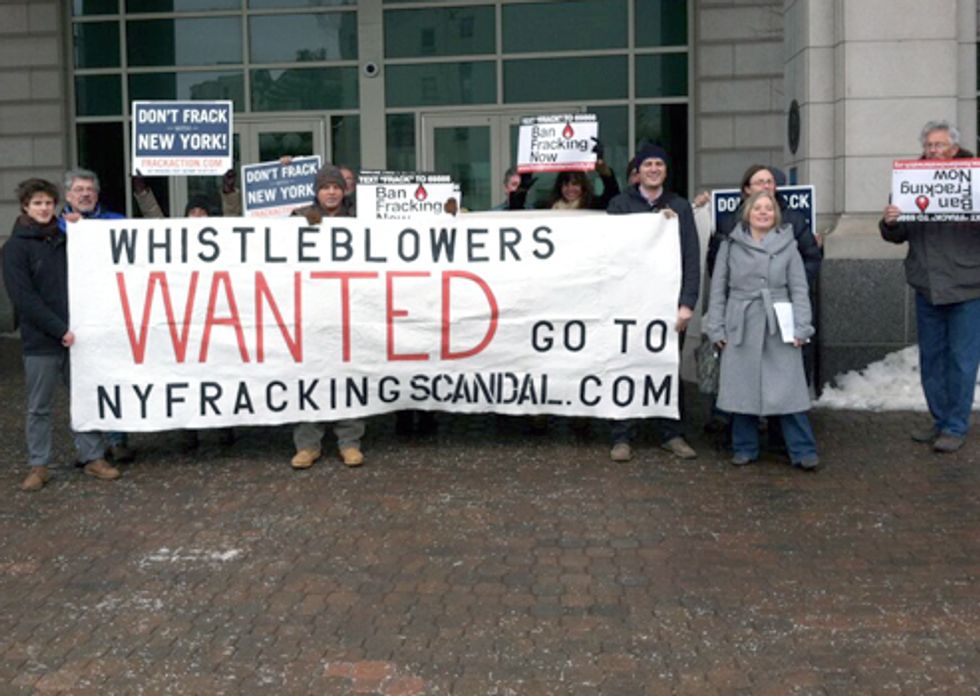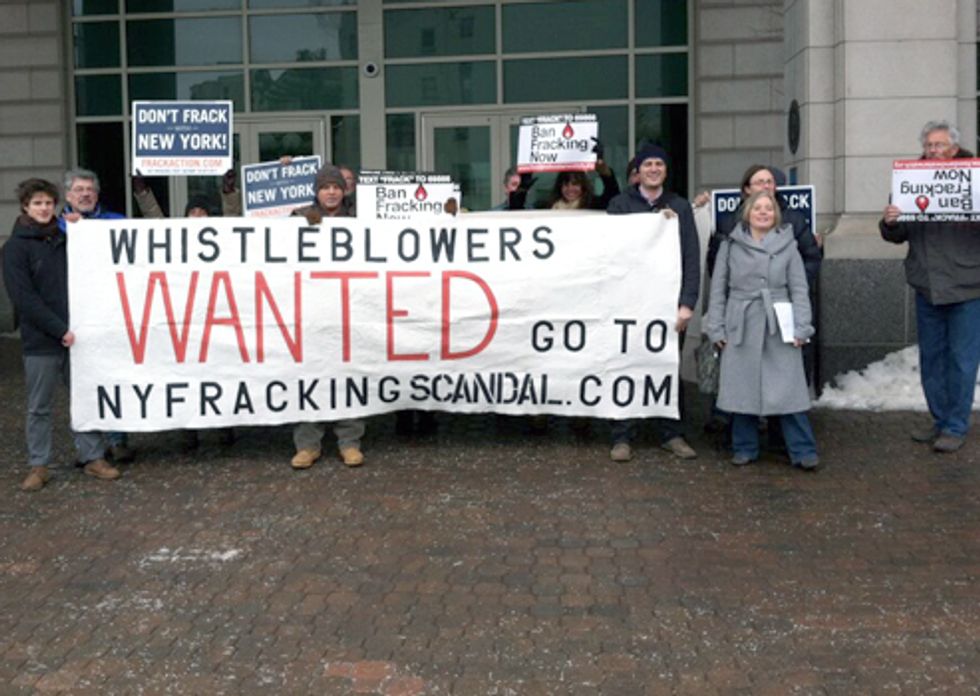 New Freedom of Information Law (FOIL) documents indicate that Larry Schwartz, Secretary to Governor Andrew M. Cuomo and one of the governor's closest advisors, has a conflict of interest due to his stock investments over his role in New York's decision on whether to allow fracking. Documents also indicate that New York Deputy Secretary for Energy and Environment Robert Hallman has failed to make specific financial disclosures. Groups including Public Citizen, Food & Water Watch, Frack Action and Catskill Citizens for Safe Energy released a letter to Albany County District Attorney David Soares that details concerns and calls on DA Soares to investigate.
 
Schwartz has reported stock investments in several drilling companies with interests in shale gas including a company that he lists as "Mobile Exon" apparently a reference to Exxon Mobil, the nation's largest natural gas producer with a direct interest in the outcome of New York's debate over hydraulic fracturing due to its recent $41 billion purchase of XTO, a subsidiary with 43,000 acres of natural gas leases in New York.
Documents show that Schwartz invested in Exxon Mobil for the first time in 2010, just after Exxon purchased XTO and acquired a direct interest in the outcome of New York's debate over hydraulic fracturing. Recently-obtained documents from the Cuomo administration also show that XTO directly lobbied Schwartz last year about the state's shale gas drilling plan when Schwartz may still have held Exxon stock (2012 financial disclosures do not come out until later this spring).
 
Schwartz has also reported financial interests in a firm he identified as "Williams Co.," apparently a reference to "The Williams Companies Inc.," an oil and gas pipeline firm that has an interest in the Marcellus Shale formation, particularly given with the Williams Companies recent $750 million "Constitution Pipeline" that would go through the Southern Tier and connect with existing pipelines in Schoharie County.
 
"This information raises questions about whether Mr. Schwartz has a conflict of interest between his public duties and his private investments," said John Armstrong of Frack Action. "We want to ensure that New York's decision regarding high volume hydraulic fracturing for shale gas is impartial, transparent and science-based in accordance with the high standards that Gov. Cuomo has set for this process. While the review process has already suffered from a lack of transparency and has fallen short of these standards, we believe that evidence recently brought to light about two of the governor's top aides raises additional serious concerns."
The timing of Schwartz's apparent investment in Exxon raises further concern. After leaving Westchester County to go to a high ranking position in NYS, rather than divesting, Schwartz added investments.
 
Concerns about Robert Hallman stem from the fact that he has failed to adequately disclose his investments on his state financial disclosure forms. The vague terms that he has used on these forms to describe his investments such as "various corporate stock" without naming any specific stocks, prevent the public from assessing whether Hallman might also have a conflict of interest or at least the appearance of a conflict of interest.
 
Alex Beauchamp Northeast region director of Food & Water Watch said, "We are outraged to discover that Governor Cuomo's top aide is so heavily invested in oil and gas companies and further that he made these investments during the very timeframe this administration has been considering whether to allow fracking in New York. Clearly, this administration must not allow fracking to move forward under this cloud of scandal." Food & Water Watch is a national watchdog group that works to ensure high standards of impartiality and transparency in government officials.
 
Jill Wiener of Catskill Citizens said, "We are asking for this investigation because elected officials and their appointed personnel are entrusted with working for the public good. It is essential that their own financial/personal interests are properly disclosed and that those interests have no influence or decision making power that would raise even a whiff of impropriety. The decision on whether to allow shale gas extraction [fracking] into New York is too critical to be in the hands of anyone who may have financial interests that may cloud their judgment."
 
A new website was launched, www.NYFrackingScandal.com, detailing a string of problems in the state's review of fracking, ranging from conflicts of interest to a lack of transparency. The website, which will serve as the staple of a social media campaign to publicize the failures of the state's review, also features a timeline of improprieties. The site hosts the background materials for the call for DA Soares to investigate Schwartz and Hallman. It also features a number of documents related to fracking that have been revealed through FOIL requests, but have been heavily redacted. Those redacted documents appear to be notes of meetings with drilling industry representatives during critical time periods.
Julia Walsh of Frack Action said, "NYFrackingScandal.com serves to put all of the worst offenses in the state's review of fracking in one place. When you put it all together, it paints a pretty bad picture. We believe that Governor Cuomo is being misled and misinformed on the science and facts about fracking as well as the process. Those who are pushing to open New York State's doors to fracking are not serving the governor well and the citizens of New York."
The groups call on the governor to listen to the concerned voices of his constituents, meet with them, and bring transparency and public participation to the fracking review process.
Visit EcoWatch's FRACKING page for more related news on this topic.
——–
Sign the petition today, telling President Obama to enact an immediate fracking moratorium:

EcoWatch Daily Newsletter
Related Articles from EcoWatch
Recent Stories from EcoWatch