New Web Tool Exposes ALEC's Top Corporate Ties
Dec. 22, 2015 12:59PM EST
Climate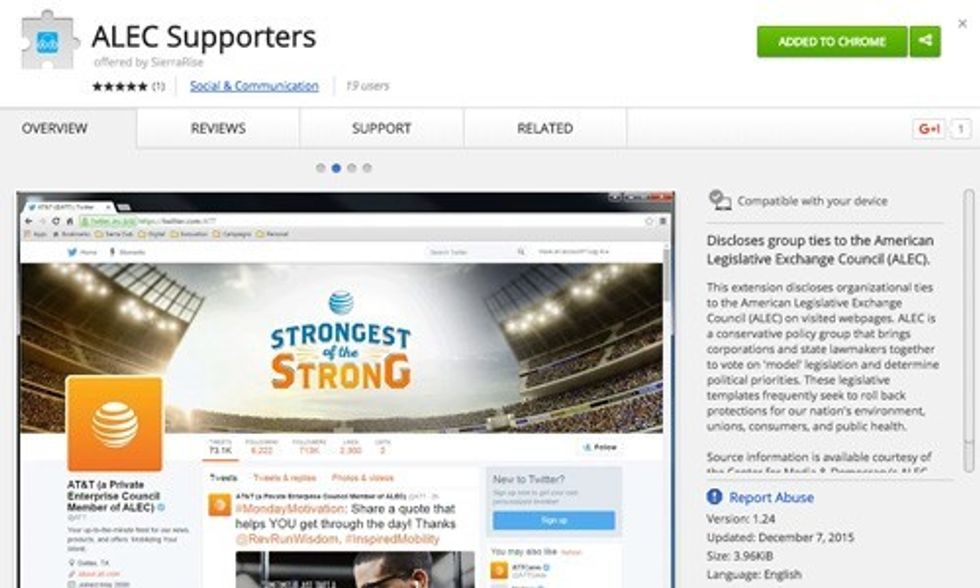 The Sierra Club released a new web tool, ALEC Supporters, which tells users in real time whether the companies they come across online are tied to the extreme agenda of the American Legislative Exchange Council (ALEC). Some of the organizations which the app highlights include UPS, State Farm and Pfizer (a Private Enterprise Council Member of ALEC) (a Private Enterprise Council Member of ALEC).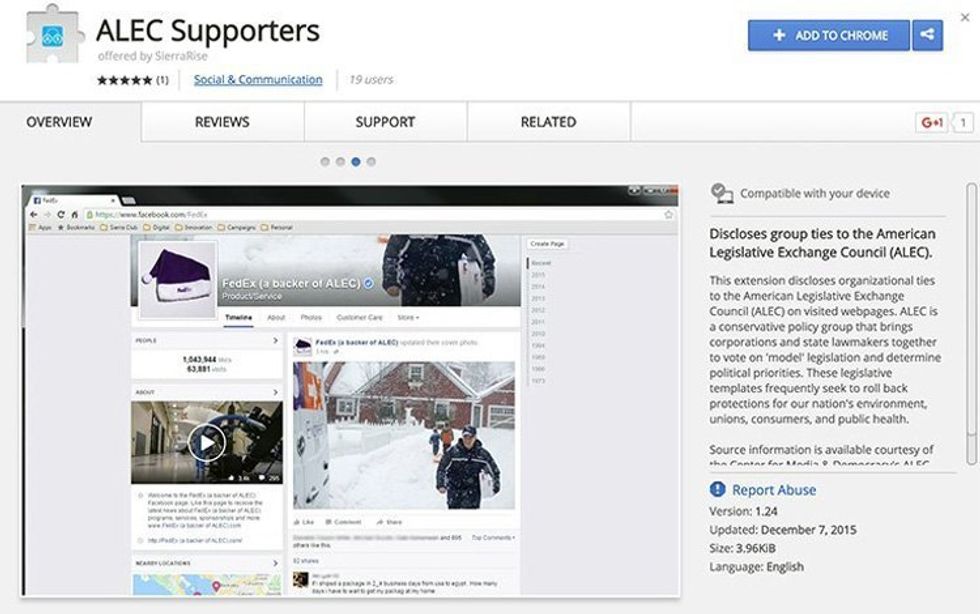 ALEC is a highly controversial right-wing policy organization that promotes policies and legislation designed to thwart the growth of clean energy and climate action at the state level and at times disguised as free-market initiatives.
These legislative templates are often designed to gut existing protections for our nation's environment, unions, consumers and public health. Some of the safeguards under threat include the U.S. Environmental Protection Agency's Clean Power Plan, which ALEC has consistently attacked.
Given ALEC's poor record on climate change, renewable energy and public health standards, it is important for consumers, investors and concerned citizens to understand who is affiliated with the organization.
"ALEC is determined to thwart or eliminate essential environmental safeguards that protect clean air, clean water and our climate," Melinda Pierce, Sierra Club legislative director, said. "This new web tool educates users, including consumers, investors and concerned citizens, about which major corporations are standing in the way of public health and progress to tackle the climate crisis by affiliating with ALEC."
Chrome extensions are add-on software programs that allow individuals to customize their internet browsing experience. The ALEC Supporters extension utilizes JavaScript to search for the names of ALEC's corporate funders and advisory council members who haven't publicly announced a halt to their support of ALEC. If a user has enabled the extension, relevant company names and keywords will have a short phrase added to disclose their relationship.
You can download the extension here.
YOU MIGHT ALSO LIKE 
Erin Brockovich: Porter Ranch Gas Leak Is Worst Environmental Disaster Since BP Oil Spill
Washington Post Writer Finally Discloses He's a Shill for Fossil Fuel Industry
Santa Arrested at Gates of Crestwood Saying No to Dirty Energy, Yes to Renewables
Elon Musk Signs Open Letter Proposing Radical Fix to VW's Emission Scandal
EcoWatch Daily Newsletter
Related Articles from EcoWatch
Recent Stories from EcoWatch