This website uses cookies to ensure you get the best experience while browsing it. By clicking 'Got It' you're accepting these terms.
New Wave of GMO Crops Poised for Approval Despite Public Outcry
Aug. 08, 2014 02:51PM EST
Food
Reposted with permission from Rodale News.
Despite its own admission that it will cause an up to seven-fold increase in chemical pesticide use, the U.S. Department of Agriculture (USDA) is poised to approve a new type of genetically engineered seed built to resist one of the most toxic weedkillers on the market.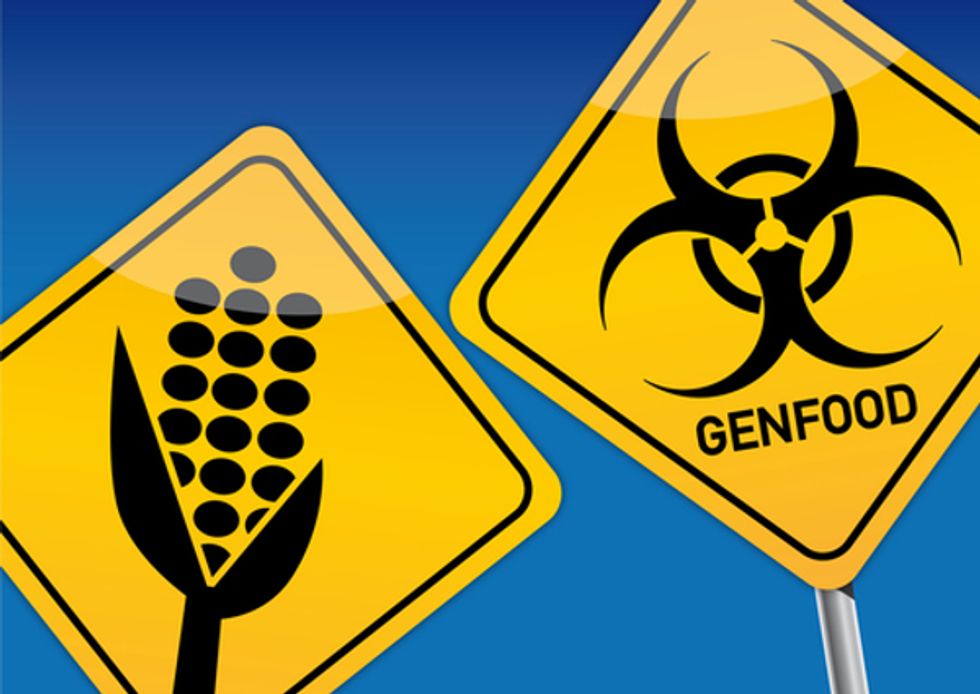 USDA suggests approval of new GMO corn and soy seeds. Photo courtesy of Shutterstock
Now, total approval hinges on the U.S. Environmental Protection Agency. If that federal body approves the new genetically modified organism (GMO), farmers will be free to plant corn and soy seeds genetically manipulated to live through sprayings of Dow's Enlist Duo herbicide, a chemical cocktail containing both glyphosate and the antiquated, toxic chemical 2,4-D. Ironically, in the '90s, chemical companies said the development of GMOs would eliminate the need to use older, more dangerous chemicals like 2,4-D. But as GMO use ramped up over the last few decades, chemical use increased, and many weeds are no longer responding to glyphosate, the main ingredient in Roundup, and the current chemical of choice for GMO farmers. This has created a "superweed" crisis, creating millions of acres of U.S. fields infested with hard-to-kill weeds.
With this week's USDA final Environmental Impact Statement (EIS) suggesting approval of the new GMO, many public food and safety experts say the American public faces unprecedented risks. After all, current chemical use is so high that foods now actually contain "extreme" levels of glyphosate. Because it's systemic, it actually winds up inside of food. Adding 2,4-D to the mix is even more concerning, given its ties to cancer.
"USDA's announcement is an outrageous abdication of USDA's responsibility to protect our health and our food supply. The Obama Administration has ignored the interests and demands of millions of Americans, Members of Congress, and scientists, farmers and health professionals," says Andrew Kimbrell, executive director of Center for Food Safety.
Farmers are upset about the decision, too. "Weed resistance is a major problem for farmers and we need a solution. This decision shows that the only options USDA is willing to consider are ones that lead to increased profits for chemical companies. We need to get off the pesticide treadmill, not increase the speed," says George Naylor, Center for Food Safety board member and Iowa corn and soybean farmer.
Suggested approval comes despite USDA's acknowledgment that Dow's crops will trigger a three- to seven-fold increase in agricultural use of 2,4-D, foster 2,4-D resistance in weeds and inhibit farmers' use of non-chemical weed control methods. "USDA's decision represents a huge setback for farmers and sustainable agriculture. Independent scientists have linked 2,4-D to cancer, Parkinson's disease and other maladies," says Bill Freese, science policy analyst at Center for Food Safety. "Introduction of 2,4-D- resistant corn and soybeans will dramatically increase use of this toxic herbicide, leading to more disease, environmental harm and increasingly intractable weeds for farmers."
The adoption of this new generation of GMOs also threatens farmer's market favorites like tomatoes, peppers, grapes (and wine!) and potaotes. Any 2,4-D drift could cause these crops to become mangled and deformed, or even outright kill them.
For more reasons to reject GMOs, check out the biggest GMO myths, busted.
You Might Also Like
Monsanto Supersizes Farmers' Weed Problem, But Science Can Help
5 Reasons Monsanto's 'Science' Doesn't Add Up
Fight Continues Over Moratorium of GMO Crops on Hawaii's Big Island
EcoWatch Daily Newsletter
Coca-Cola says it will not phase out its plastic bottles. Roberto Machado Noa / LightRocket / Getty Images
Myakka River State Park outside of Sarasota, Florida on Dec. 30, 2016. The park is a small preserve of rare protected habitat along Florida's Gulf Coast, a region that has seen intense development and population growth. Andrew Lichtenstein / Corbis via Getty Images
Today, the Trump administration will finalize its replacement for the Obama-era Waters of the United States (WOTUS) rule in a move that will strip protections from more than half of the nation's wetlands and allow landowners to dump pesticides into waterways, or build over wetlands, for the first time in decades.
"It would be great to see all the candidates join Elizabeth Warren in taking the No Big Ag Money Pledge," said Citizens Regeneration Lobby's Alexis Baden-Mayer.
Peter Blanchard
/ Flickr / ric (CC BY 2.0)
Food system justice and environmental advocates on Wednesday urged all Democratic presidential hopefuls to follow in the footsteps of Sen. Elizabeth Warren in signing a pledge rejecting campaign cash from food and agribusiness corporations.
A new study shows the impact Native Americans had on landscapes was "small" compared to what followed by Europeans. The findings provide important takeaway for
conservation
in New England today, seen above in a view of areas surrounding Rangeley Lakes in Maine. Cappi Thompson / Moment / Getty Images
There's a theory going around that Native Americans actively managed the land the lived on, using controlled burns to clear forests. It turns out that theory is wrong. New research shows that Native Americans barely altered the landscape at all. It was the Europeans who did that, as ZME Science reported.