New Video Explains Climate Threat from Keystone XL Tar Sands Pipeline
Jan. 28, 2013 01:03PM EST
Energy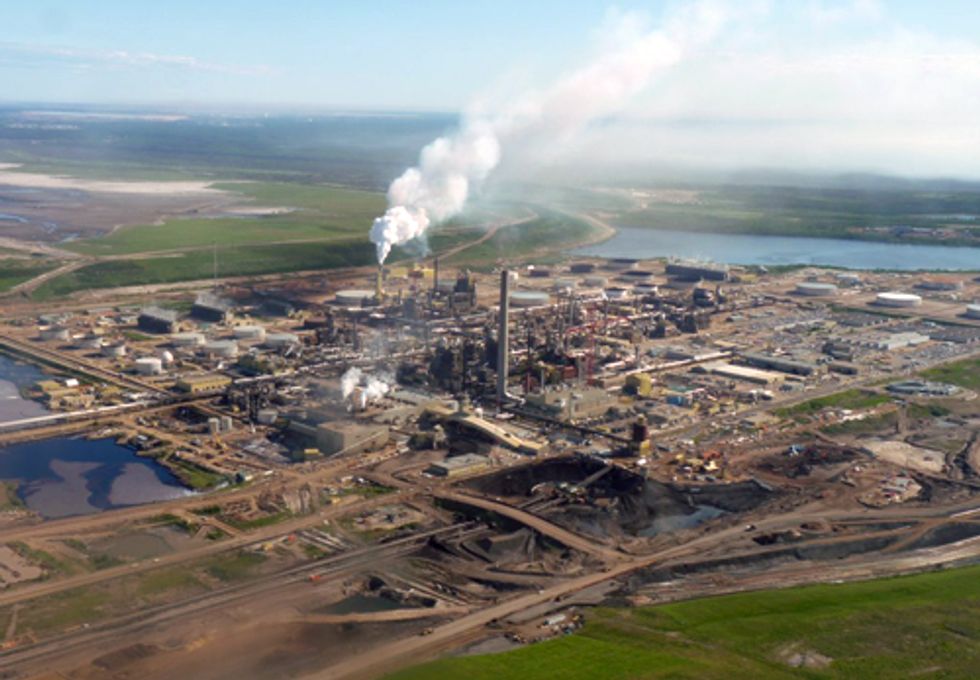 A new video released by Natural Resources Defense Council (NRDC) and 350.org explains how the Keystone XL tar sands pipeline is a lynchpin enabling the climate intensive tar sands industry to grow unimpeded. The video discusses cutting edge research from Oil Change International showing how tar sands oil causes more carbon pollution than originally estimated.
Recently, four energy experts and climate scientists from Canada and the U.S. traveled to Washington DC with an urgent message:  if we are to truly respond to climate change which is causing extreme life-threatening weather, we must reject the Keystone XL tar sands pipeline. Watch the video and join tens of thousands of others on Feb. 17 for the Forward on Climate rally in Washington DC. Join us and send a message to the Obama administration that we need a comprehensive response to the threat of climate change. And one key ingredient of this plan will be for the U.S. to say No to the Keystone XL tar sands pipeline.
The video co-released by the NRDC and 350.org today brings the message from these four experts.
It features Dr. Danny Harvey, professor at the University of Toronto who noted that "The human race is in big trouble. There is overwhelming scientific evidence that climate change is real. If Keystone is approved, we're locking in several more decades of fossil fuels and higher levels of carbon dioxide and global warming."
Dr. John Abraham, an associate professor at the University of St. Thomas said the exploitation of tar sands will significantly worsen the climate. "Climate change is the story related to Keystone. The drought and heat wave in Texas cost Texans $5.2 billion. Hurricane Sandy cost us $70 billion. Some people say it's too expensive to develop clean energy. I say it's too expensive not to. We can choose to expand clean energy or make the crazy choice to extract and use the dirtiest of the dirty."
Lorne Stockman, Research Director for Oil Change International announced new research that shows that the emissions from tar sands oil are worse than originally believed. This is because the climate emissions from a byproduct of tar sands, petroleum coke which is made in the refinery process and is used in coal-fired power plants, have not been previously considered. 
Nathan Lemphers, a senior policy analyst with the Pembina Institute talks about how Keystone XL is a critical ingredient to significant expansion of tar sands. He dispels the myth being promoted by the tar sands oil industry that tar sands development is inevitable with our without Keystone XL. 
These experts also counter the notion that the climate impacts of the Keystone XL pipeline are small compared to total U.S. global greenhouse gas emissions. In short, approving Keystone XL would open the gateway to dramatic new development of tar sands oil and far more harm to our climate. Continuing to enable the expansion of tar sands in the face of catastrophic climate change is precisely a step in the wrong direction. 
As Dr. Harvey best said, "There is no better time to say no to further expansion [of tar sands], to say no to business as usual, and to begin the process of turning things around. If we don't say no now, when will we say no?"
Visit EcoWatch's TAR SANDS and  KEYSTONE XL pages for more related news on this topic.
——–
Click here to tell Congress to Expedite Renewable Energy.

EcoWatch Daily Newsletter