This website uses cookies to ensure you get the best experience while browsing it. By clicking 'Got It' you're accepting these terms.
New Uncovered Corporate Documents Show #ExxonKnew Much Earlier Than Previously Reported
Apr. 27, 2016 09:25AM EST
Climate
Throughout Exxon's global operations, the company knew that CO2 was a harmful pollutant in the atmosphere years earlier than previously reported.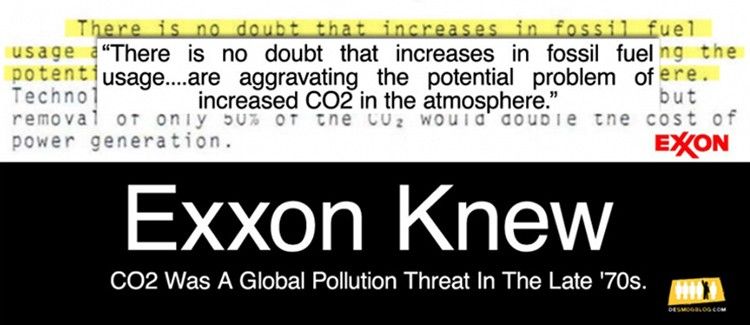 DeSmog has uncovered Exxon corporate documents from the late 1970s stating unequivocally "there is no doubt" that CO2 from the burning of fossil fuels was a growing "problem" well understood within the company.
"It is assumed that the major contributors of CO2 are the burning of fossil fuels … There is no doubt that increases in fossil fuel usage and decreases of forest cover are aggravating the potential problem of increased CO2 in the atmosphere. Technology exists to remove CO2 from stack gases but removal of only 50% of the CO2 would double the cost of power generation." [emphasis added]
Those lines appeared in a 1980 report, Review of Environmental Protection Activities for 1978-1979, produced by Imperial Oil, Exxon's Canadian subsidiary:


A distribution list included with the report indicates that it was disseminated to managers across Exxon's international corporate offices, including in Europe.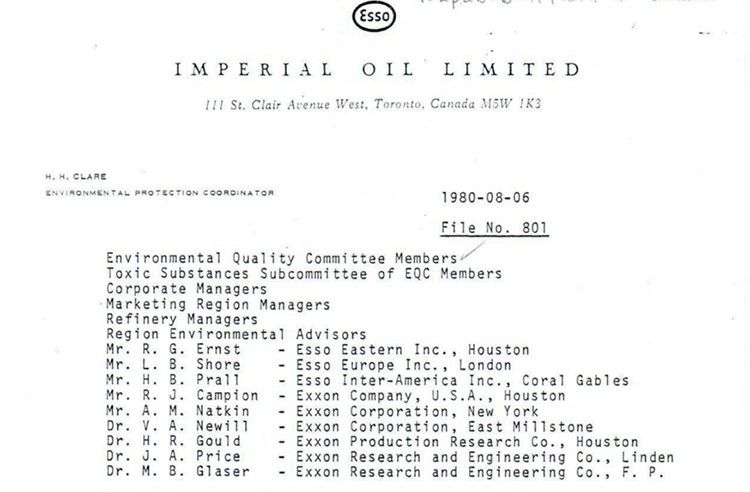 The next report in the series, Review of Environmental Protection Activities for 1980-81, noted in an appendix covering "Key Environmental Affairs Issues and Concerns" that: CO2 / GREENHOUSE EFFECT RECEIVING INCREASED MEDIA ATTENTION: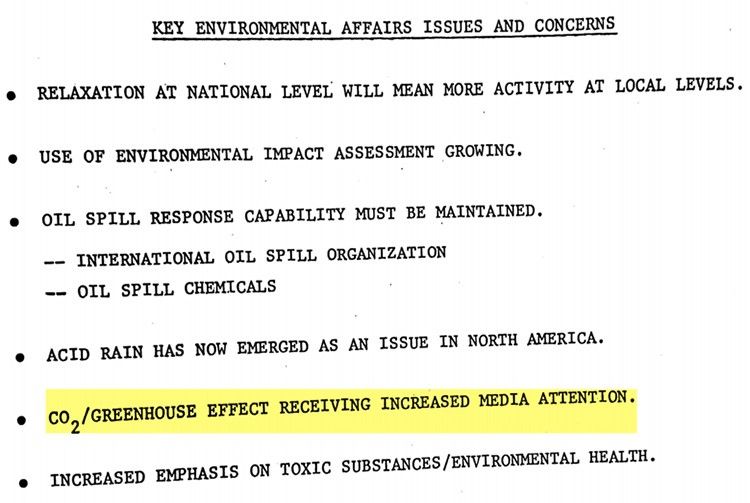 InsideClimate News unveiled much new information in its Exxon: The Road Not Taken series clearly demonstrating the depth of climate science knowledge among Exxon's U.S. operations. Additional revelations about the company's early climate research were published by the Los Angeles Times in collaboration with the Columbia School of Journalism.
A 1980 Exxon report explained the company's plans:
"CO2 Greenhouse Effect: Exxon-supported work is already underway to help define the seriousness of this problem. Such information is needed to assess the implications for future fossil fuel use. Government funding will be sought to expand the use of Exxon tankers in determining the capacity of the ocean to store CO2."
Now DeSmog's research confirms that the knowledge of the carbon dioxide pollution threat was indeed global across Exxon's worldwide operations, earlier than previously known and considered a major challenge for the company's future operations. The new documents revealed Tuesday were found by DeSmog researchers in an Imperial Oil (TSE:IMO) archival collection housed at the Glenbow Museum in Calgary, Alberta. We first learned of the existence of the collection in one of the articles published in the Los Angeles Times in collaboration with the Columbia School of Journalism.
"Since Pollution Means Disaster…"
A document discovered by DeSmog reveals that Exxon was aware as early as the late 1960s that global emissions of CO2 from combustion was a chief pollution concern affecting global ecology.
Those details were found in a 1970 report, Pollution Is Everybody's Business, authored by H.R. Holland, a Chemical Engineer responsible for environmental protection in Imperial Oil's engineering division.
Holland wrote:
"Since pollution means disaster to the affected species, the only satisfactory course of action is to prevent it—to maintain the addition of foreign matter at such levels that it can be diluted, assimilated or destroyed by natural processes—to protect man's environment from man."

Included in Holland's report is a table of the "Estimated Global Emissions of Some Air Pollutants." One of those "air pollutants" on the table is carbon dioxide with the listed sources as "oxidation of plant and animal matter" and "combustion."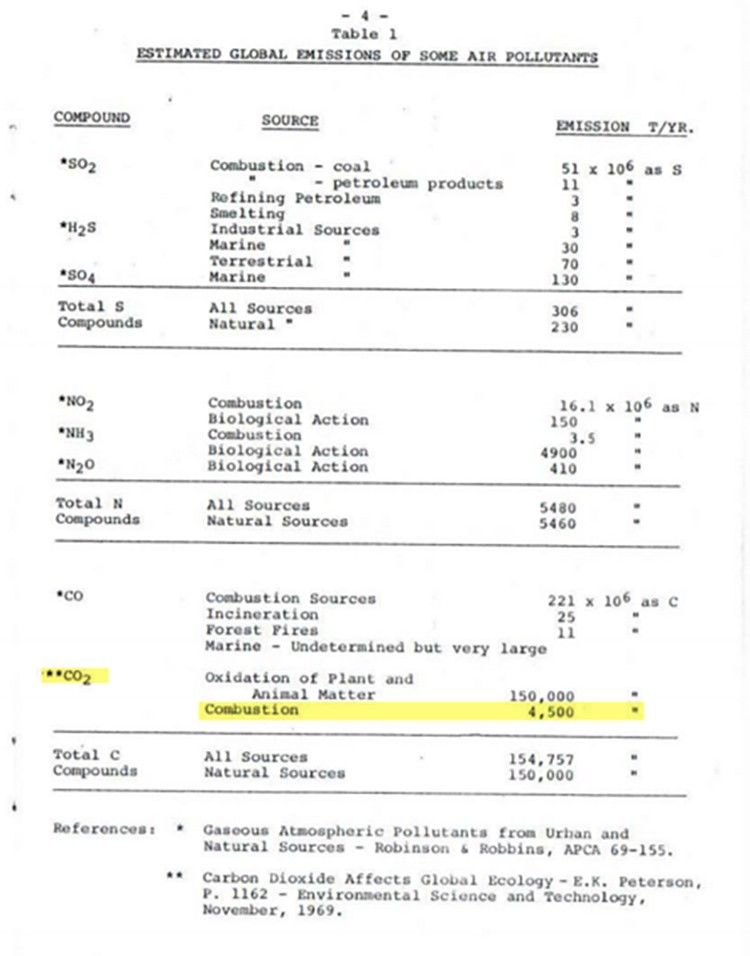 The double asterisks beside CO2 in Holland's list of pollutants refer to a citation for a 1969 scientific study, Carbon Dioxide Affects Global Ecology, in which the author explains the connections between the burning of fossil fuels, the rise in CO2 in the atmosphere and the potential effects this will have on future weather patterns and global temperatures.
Holland emphasized the need to control all forms of pollution through regulatory action, noting that "a problem of such size, complexity and importance cannot be dealt with on a voluntary basis." Yet the fossil fuel industry has long argued that its voluntary programs are sufficient and that regulations are unneeded.
Exxon Understood Climate Science, Yet Funded Decades of Climate Science Denial
Despite Exxon's advanced scientific understanding of the role of CO2 pollution from fossil fuel burning causing atmospheric disruption, the company shelved its internal concerns and launched a sophisticated, global campaign to sow doubt and create public distrust of climate science. This included extensive lobbying and advertising activities, publishing weekly op-eds in The New York Times for years and other tactics.
Exxon and Mobil were both founding members of the Global Climate Coalition (GCC), an industry front group created in 1989 to sow doubt—despite the GCC's internal understanding of the certainty.
While the GCC distributed a "backgrounder" to politicians and media in the early 1990s claiming "The role of greenhouse gases in climate change is not well understood," a 1995 GCC internal memo drafted by Mobil Oil (which merged with Exxon in 1998) stated that: "The scientific basis for the Greenhouse Effect and the potential impact of human emissions of greenhouse gases such as CO2 on climate is well established and cannot be denied."
And the most obvious evidence of Exxon's pervasive efforts to attack science and pollution control regulations lies in the more than $30 million traced by Greenpeace researchers to several dozen think tanks and front groups working to confuse the public about the need to curb CO2 pollution.
From the DeSmog Research Database: ExxonMobil's Funding of Climate Science Denial
As the science grew stronger, Exxon's embrace of its global, multi-million dollar denial campaign grew more intense.
Imperial Oil's Public Denial Grew Stronger In 1990s Despite Its Own Prior Scientific Certainty
Imperial Oil, Exxon's Canadian subsidiary, as these documents demonstrate, had a clear understanding of the environmental and climate consequences of CO2 pollution from fossil fuel combustion, yet its public denial of these links grew stronger throughout the 1990s.
Imperial Oil chairman and CEO Robert Peterson wrote in A Cleaner Canada in 1998: "Carbon dioxide is not a pollutant but an essential ingredient of life on this planet."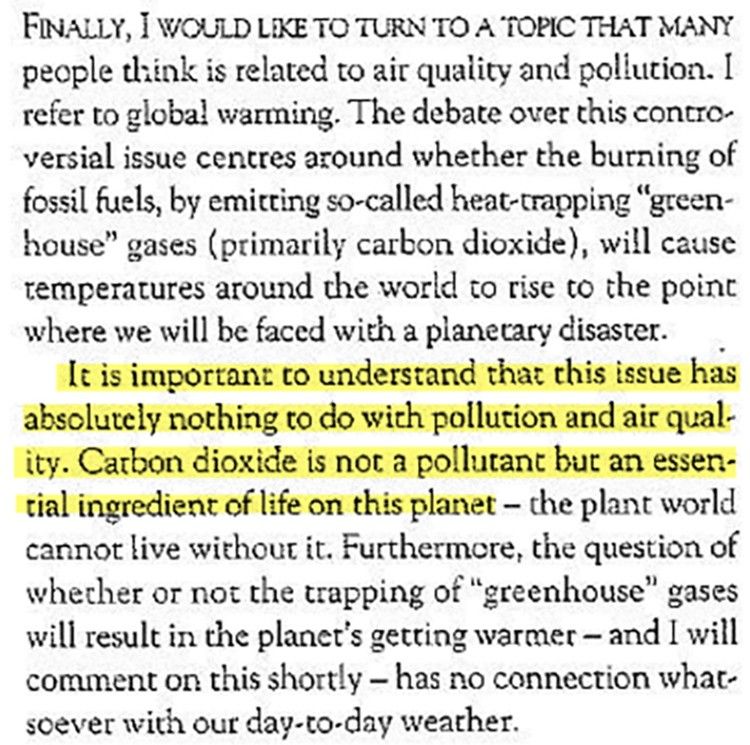 (DeSmog will take a deeper look at Imperial Oil's conflicting CO2 positioning in public vs. its internal communications in future coverage).
Reached for comment, Imperial Oil did not respond by press time. ExxonMobil media relations manager Alan Jeffers provided the following response:
"Your conclusions are inaccurate but not surprising since you work with extreme environmental activists who are paying for fake journalism to misrepresent ExxonMobil's nearly 40-year history of climate research. To suggest that we had reached definitive conclusions, decades before the world's experts and while climate science was in an early stage of development, is not credible."
Legal Implications of Fossil Fuel Industry's Knowledge of CO2 Pollution and Climate Impacts
Calls are growing louder to hold Exxon and other fossil fuel interests accountable for funding climate denial campaigns given their advanced understanding of climate science and the implications of CO2 pollution for the atmosphere going back many decades.
In multiple U.S. states and territories—including New York, California, Massachusetts and the Virgin Islands—state Attorneys General are investigating Exxon's depth of knowledge regarding the climate impacts of burning fossil fuels and whether the company broke the law by fueling anti-science campaigns through corporate contributions to organizations and individuals working to sow doubt and confusion about global warming. [DeSmog coverage: State Investigations Into What Exxon Knew Double, and Exxon Gets Defensive]
Climate activists and even presidential candidate Hillary Clinton are urging the Department of Justice and other relevant government agencies to investigate the fossil fuel industry's deliberate efforts to delay policy action to address the climate threat.
Democratic U.S. Senators Sheldon Whitehouse (RI), Ed Markey (MA) and Brian Schatz (HI) introduced an amendment to the energy bill expressing Congress's disapproval of the use of industry-funded think tanks and misinformation tactics aimed at sowing doubt about climate change science. But it remains to be seen what action Congress might take to hold the fossil fuel industry accountable for delaying policy solutions and confusing the public on this critical issue.
Imagine where the world would be had Exxon continued to pursue and embrace its advanced scientific understanding of climate change decades ago, rather than pivoting antagonistically against the science by funding decades of denial?
YOU MIGHT ALSO LIKE
Panama Papers Prove America Has the Money to Transition to 100% Clean Energy
CNN Viewers See Far More Fossil Fuel Advertising Than Climate Reporting
Exxon Using Tobacco's Failed Free Speech Defense for Decades of Deception on Climate Change
Gov. Cuomo Rejects the Constitution Pipeline, Huge Win for the Anti-Fracking Movement
EcoWatch Daily Newsletter
MStudioImages / E+ / Getty Images
Backpacking is an exciting way to explore the wilderness or travel to foreign countries on a budget.
Tim P. Whitby / 21st Century Fox / Getty Images
The beauty products we put on our skin can have important consequences for our health. Just this March, the U.S. Food and Drug Administration (FDA) warned that some Claire's cosmetics had tested positive for asbestos. But the FDA could only issue a warning, not a recall, because current law does not empower the agency to do so.
Michelle Pfeiffer wants to change that.
The actress and Environmental Working Group (EWG) board member was spotted on Capitol Hill Thursday lobbying lawmakers on behalf of a bill that would increase oversight of the cosmetics industry, The Washington Post reported.
By Collin Rees
We know that people power can stop dangerous fossil fuel projects like the proposed Line 3 tar sands oil pipeline in Minnesota, because we've proved it over and over again — and recently we've had two more big wins.

Scientists released a study showing that a million species are at risk for extinction, but it was largely ignored by the corporate news media. Danny Perez Photography / Flickr / CC
By Julia Conley
Scientists at the United Nations' intergovernmental body focusing on biodiversity sounded alarms earlier this month with its report on the looming potential extinction of one million species — but few heard their calls, according to a German newspaper report.
DoneGood
By Cullen Schwarz
Ethical shopping is a somewhat new phenomenon. We're far more familiar with the "tried and tested" methods of doing good, like donating our money or time.
Pixabay
Summer is fast approaching, which means it's time to stock up on sunscreen to ward off the harmful effects of sun exposure. Not all sunscreens are created equally, however.
Mark Wallheiser / Getty Images
The climate crisis is a major concern for American voters with nearly 40 percent reporting the issue will help determine how they cast their ballots in the upcoming 2020 presidential election, according to a report compiled by the Yale Program on Climate Change Communication.
Of more than 1,000 registered voters surveyed on global warming, climate and energy policies, as well as personal and collective action, 38 percent said that a candidate's position on climate change is "very important" when it comes to determining who will win their vote. Overall, democratic candidates are under more pressure to provide green solutions as part of their campaign promises with 64 percent of Democrat voters saying they prioritize the issue compared with just 34 percent of Independents and 12 percent of Republicans.
Flooding in Winfield, Missouri this month. Jonathan Rehg / Getty Images
President Donald Trump has agreed to sign a $19.1 billion disaster relief bill that will help Americans still recovering from the flooding, hurricanes and wildfires that have devastated parts of the country in the past two years. Senate Republicans said they struck a deal with the president to approve the measure, despite the fact that it did not include the funding he wanted for the U.S.-Mexican border, CNN reported.
"The U.S. Senate has just approved a 19 Billion Dollar Disaster Relief Bill, with my total approval. Great!" the president tweeted Thursday.