New Study Traces Two-Thirds of Industrial Carbon Emissions to Just 90 Institutions
New peer-reviewed research has found that just 90 entities are responsible for extracting most of the fossil fuels that have been burned over the past 150 years. These "carbon majors" include 50 investor-owned companies, such as ChevronTexaco and Exxon-Mobil, 31 state-owned companies, such as Saudi Aramco and Pemex, and nine government-run industries in the former Soviet Union, China and other countries.
Emissions from burning these fuels total nearly two-thirds of all the carbon that has been emitted into the atmosphere during the industrial era.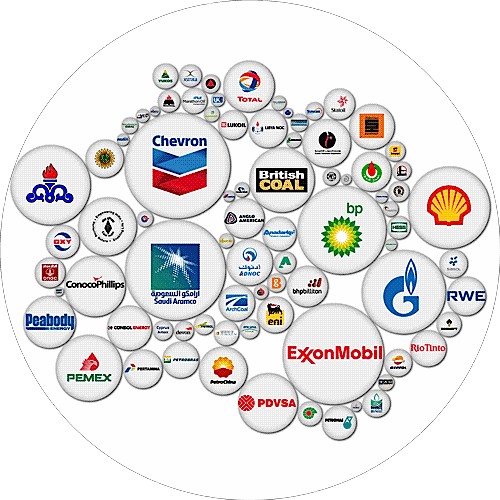 Researcher Rick Heede spent eight years combing through the publicly available data at the heart of the analysis. A paper was just published in the journal Climatic Change.
"This opens the books on where the industrial sources of carbon dioxide in our atmosphere ultimately came from," Heede said. "This is the most complete picture we have of which institutions extracted coal, oil and natural gas and when. These are the companies and institutions that have created the products— used as intended—by billions of consumers that have led to persistently higher levels of atmospheric carbon dioxide and methane."
In many cases, multinational companies have extracted more than most countries. The top ten carbon majors include ChevronTexaco, Exxon-Mobil, BP and Royal Dutch Shell, along with government-run industries in the former USSR, China and Poland, as well as the nationally owned Saudi Aramco, Gazprom and the National Iranian Oil Company.
Investor owned entities comprised 315 gigatonnes of carbon dioxide equivalent, while government-run industries, contributed 312 gigatonnes. State-owned companies produced 288 gigatonnes.
The largest investor-owned producers weigh heavily in the analysis. The top 20 produced fuels that comprised 29.5 percent of emissions, while the top 10 account for 15.8 percent. Five "oil majors," ChevronTexaco, ExxonMobil, BP, Shell and ConocoPhillips account for a total of 181 gigatonnes of carbon dioxide over the past 130 years, amounting to 12.5 percent of total carbon emitted to the atmosphere.
Most of the top producers primarily extract oil. Coal producers Coal India and Peabody Energy rank eleventh and twelfth, respectively. The list also includes a handful of cement producers.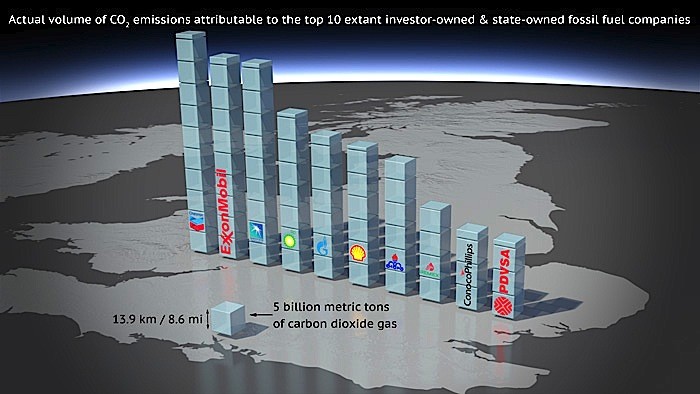 "When you can trace the lion's share of humanity's carbon emissions from fossil fuel use since the invention of the steam engine to a few dozen companies that have produced those carbon fuels, the story becomes more powerful than just looking at emissions on a country-by-country basis," Heede explained. "You can look at this as coming from seven billion people or two hundred countries, or you can look at it as coming from these institutions, the heads of which could all fit on a bus together."
Heede's analysis accounts for the complicated partnerships, mergers and changes in ownership that have occurred over the past century and a half. Heede says he also had to be careful to avoid double-counting extraction since companies often rely on subsidiaries or contractors to drill and produce fuels. Further, the study only counted carbon from entities that extracted enough fuel to produce eight megatons worth of potential emissions in a given year.
Heede's data could open up new opportunities to investigate the impacts that burning these fuels have had—and will continue to have—on the climate.
"Scientists could use this data to zoom in on the relationship between extracting fuels and changing the climate," said Dr. Michael MacCracken, chief scientist for climate change programs at the Climate Institute. "That's an exciting prospect since most current studies necessarily have to take a broad brush view of emissions by country."
Harvard science historian Naomi Oreskes noted that Heede's research points to an evolving trend in climate science. "Many people argue that 'we are all responsible for climate change.' But this research shows that's a misleading statement, because some of us have used and profited from fossil fuels much more than others," Oreskes said. "This study gives us some data to jump-start a discussion that more accurately addresses the responsibility issue."
Heede has previously published emissions inventories for non-governmental organizations, universities and businesses. He holds a master's degree in geography from the University of Colorado.
Heede's research was initially supported by Friends of the Earth and has received additional support from the Climate Justice Programme, Greenpeace International and the Union of Concerned Scientists. Heede's full methodology report, which Climatic Change did not have space for, is available on his website.
Visit EcoWatch's ENERGY page for more related news on this topic.

A coalition of conservation groups and others announced Thursday that a historic number of comments and petitions of support have been submitted to the U.S. Department of the Interior in support of Bears Ears National Monument. Despite the entirely inadequate 15-day comment period ending on May 26, more than 685,000 comments in support of Bears Ears National Monument have been collected.
Keep reading...
Show less
Rink Glacier in western Greenland, with a meltwater lake visible center. NASA/OIB
Scientists have had their eyes on Greenland as its iconic glaciers have begun disappearing due to a warming climate. But, what they didn't expect to see was a whole new type of melting.
Keep reading...
Show less
Mountain View Fire
By Lena Moffitt
An oil tanker in Mead, Colorado exploded, killing one and injuring three on Thursday. Authorities are continuing to investigate the cause of the explosion.
Keep reading...
Show less
Banner created by Alliance for Climate Education
Keep reading...
Show less
Twenty-two GOP senators sent a letter Thursday urging Donald Trump to pull out of the Paris agreement. They argued remaining in the deal could "upend" the administration's ability "to fulfill its goal of rescinding the Clean Power Plan."
Keep reading...
Show less
By Cheryl Johncox
The Federal Energy Regulatory Commission (FERC) rejected on Thursday Energy Transfer Partners' request to resume horizontal directional drilling at two sites for its Rover fracked gas pipeline. This rejection comes after numerous leaks into Ohio's wetlands, and Clean Air and Clean Water act violations. FERC has halted the process at only eight locations of the 32 where drilling is taking place under Ohio's wetlands and streams.
Keep reading...
Show less
By Nadia Prupis
A majority of people in eight countries say they are ready to change their lifestyles if it would prevent climate catastrophe, a survey on global threats released Wednesday found.
Keep reading...
Show less
May. 25, 2017 01:55PM EST
Bill Maher is sick of billionaires' obsession with Mars, more like "Mars-a-Lago," he said.
In a new animation produced by ATTN:, the popular talk show host of Real Time, discusses the perils of our planet, including how "climate change is killing us."
Keep reading...
Show less