New Study Raises Concerns About Health Impacts from Yellow Dyes Found in Common Household Products
The dye used to make yellow clothing, newspapers, paint and much more could contain a banned chemical that is suspected of causing birth defects, cancer and irritation to the nose and lungs by leaking potentially harmful toxins into the air.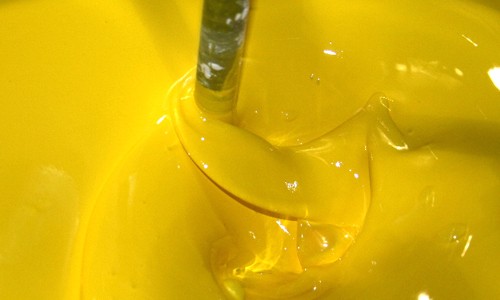 The chemical, known as PCB-11, has made its way back into yellow goods due to a major loophole in the Toxic Substances Control Act, which states PCBs are allowed in consumer products as long as their production is unintentional. Oftentimes, PCBs are byproducts of chemical processes, according to the Safer Chemicals, Healthy Food blog. 
Congress passed the Toxic Substances Control Act in 1979 banning PCBs after the chemical began showing up in fish and wildlife. But lawmakers realized it was difficult to regulate the inadvertent production of the chemical and created the legal loophole to permit its accidental production, reports ABC News.

ABC Entertainment News|ABC Business News
One process that generates an inordinate amount of PCBs is the production of pigments, which are used in paints and printing inks.
Researchers at the University of Iowa tested batches of paint pigments and found a wide range of PCBs in them. Students at Rutgers, the State University of New Jersey, have been testing consumer products and found that newspapers, magazines, napkins, plastic bags, and even children's and adult clothing all contained PCBs.
"PCBs cause a whole range of really worrisome health problems," said Rutgers University Associate Professor Lisa Rodenburg in a Feb. 23 interview with Good Morning America. "There is enough evidence that there could be health effects from this specific kind of PCB that we should investigate further."
Yet to avoid widespread alarm Rodenburg added, "I don't think that people should be, you know, terrified of this, but i think it's important to be aware of what's going on."
Michelle Noehren, founder of the Connecticut Working Moms blog, told ABC Newss it's concerning because there's virtually no way to fully weed out the color yellow when shopping. 
Rodenburg said the best option is to thoroughly wash new yellow clothing and to simply be mindful of what you're purchasing and its potential impact. 
Researchers say further studies need to be conducted to find out just how harmful PCB-11 is to the public. 
Visit EcoWatch's FOOD and TIPS pages for more related news on this topic.

By Sydney Robinson
President Trump has no doubt been given a long list of extravagant, elaborate gifts in his lifetime, but the gift given to him today by Pope Francis may not make it on his most favorite list.
Keep reading...
Show less
By John Rogers
Maybe it's because I first started working on clean energy while serving in the Peace Corps he founded, or maybe it's my years of working on these issues from his home state. But I can't help thinking about the 100th anniversary of John F. Kennedy's birth, and connecting his stirring rhetoric to the energy challenges of our times.
Here's what our 35th president might have said about the challenges of energy transition and the opportunities in clean energy:
"Change is the law of life. And those who look only to the past or present are certain to miss the future."
Keep reading...
Show less
Keep reading...
Show less
The Brooks Range in the Arctic National Wildlife Refuge. Hillebrand / U.S. Fish and Wildlife Service
By Andy Rowell
"Disruption" is one of the buzzwords of the energy market right now as plummeting costs of renewables is changing the way we heat our homes and drive our automobiles.
Some of the biggest names in the energy business spoke Wednesday on that very topic in London at the Financial Times' Energy Transition Strategies Summit, at the panel Rethinking Energy in a Time of Disruption.
Keep reading...
Show less
Chris Kick / Twitter
Keep reading...
Show less
Shaahina Ali
Keep reading...
Show less
The federal government is providing extensive support for fossil fuel production on public lands and waters offshore, through a combination of direct subsidies, enforcement loopholes, lax royalty collection, stagnant lease rates and other advantages to the industry, a report released Wednesday found.
Keep reading...
Show less
By Elgie Holstein
The federal budget that the president proposes annually and Congress votes on is more than a collection of numbers. It tells us who the president is, what he stands for and what he cares about.
Keep reading...
Show less


Get EcoWatch in your inbox