This website uses cookies to ensure you get the best experience while browsing it. By clicking 'Got It' you're accepting these terms.
New Study Links Diesel Exhaust to Elevated Cancer Risk
Mar. 02, 2012 09:42AM EST
Energy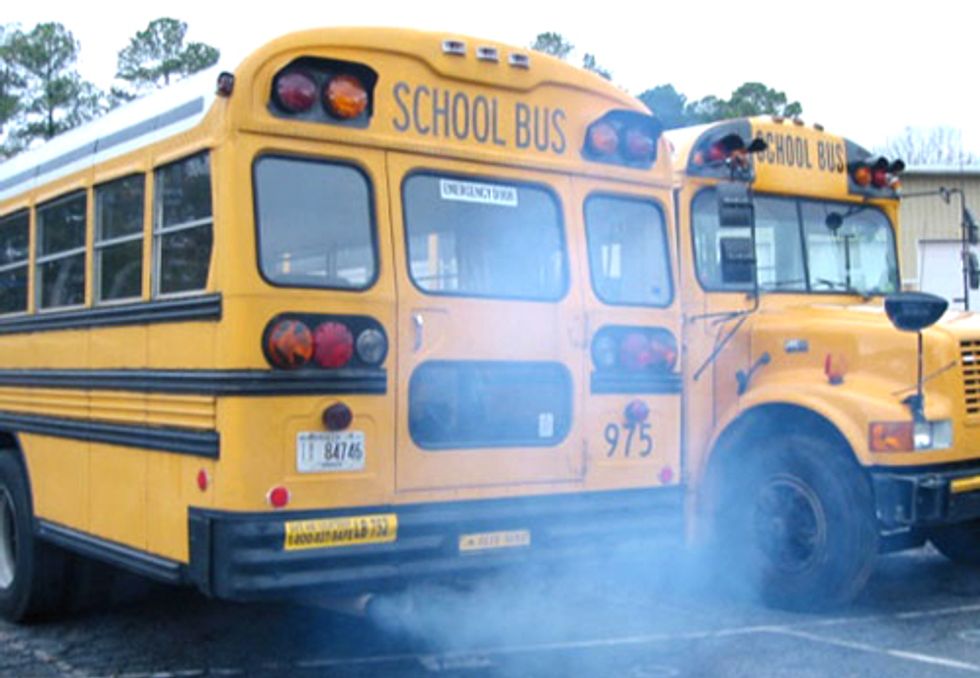 In a study of non-metal miners in the U.S., federal government scientists reported that heavy exposure to diesel exhaust increased risk of death from lung cancer. The study was carried out by researchers from the National Cancer Institute (NCI), part of the National Institutes of Health, and the National Institute for Occupational Safety and Health (NIOSH), part of the Centers for Disease Control and Prevention, both parts of Health and Human Services (HHS). The results were distributed in two papers on March 2 from the Journal of the National Cancer Institute and they will be posted to the JNCI website on March 5,
The research, all part of the Diesel Exhaust in Miners Study, was designed to evaluate cancer risk from diesel exhaust, particularly as it may relate to lung cancer, among 12,315 workers at eight non-metal mining facilities. The facilities were located in Missouri (1 limestone mine), New Mexico (3 potash mines), Ohio (1 salt mine), and Wyoming (3 trona mines, which process an ore used in soda ash).
The investigators selected underground mines for their study setting because the heavy equipment used in these mines frequently runs on diesel fuel. In the fairly enclosed environments of these mines, exhaust builds up in the air to levels considerably higher than those found in other occupational settings—like trucking depots or shipyards—and many times higher than the air inhaled by the general population. The investigators selected only non-metal mines because of their characteristically low levels of other exposures that may be related to lung cancer risk, such as radon, silica, and asbestos.
Health outcomes associated with exposure to diesel exhaust were reported in two complementary papers. The first documented the risk of dying from any cause, with an emphasis on lung cancer, using data from the full study population (the cohort study). The second (the case-control study) reported on the lung cancer deaths in the cohort study. In the case-control study, investigators obtained detailed information on lung cancer risk factors, including smoking, employment in other high-risk jobs, and history of other respiratory diseases. Both papers reported an exposure-response relationship with higher risks at increased exposure levels.
"It was vitally important to undertake a large study of diesel exhaust and lung cancer based on a quantitative assessment of historical exposure, taking into account smoking and other potentially relevant factors in order to estimate lung cancer risk," said lead author of the case-control study, Debra T. Silverman, Sc.D., chief of the Occupational and Environmental Epidemiology Branch in the Division of Cancer Epidemiology and Genetics (DCEG) at NCI.
To quantify exposure for each worker, the investigators collected thousands of measurements of constituents of diesel exhaust in the air at each mine and combined those data with historical exposure information. Importantly, diesel exhaust levels were quantified by measurements and estimates of one of its key components, respirable elemental carbon, which is considered the best index of diesel exhaust in underground mining. The same exposure measurements were used in both the cohort and case-control analyses. The methods for this effort were published previously in four papers in the Annals of Occupational Hygiene in 2010. A fifth paper—an evaluation of the exposure assessment—was published March 2012 in the same journal.
Michael D. Attfield, Ph.D., who led the cohort study while at NIOSH, found that the risk of lung cancer among heavily exposed underground workers was five times the risk observed among workers in the lowest exposure category.
Turning to the case-control study, it confirmed the lung cancer findings from the cohort study. When the investigators took into account smoking and other lung cancer risk factors, the data showed a three-fold risk of lung cancer death overall and about a five-fold risk for heavily exposed underground workers, which is consistent with the cohort analysis.
For never smokers, risk of lung cancer death increased with increasing diesel exhaust exposure. "These data are especially revealing as they show the effect of diesel exhaust in the absence of smoking," said Silverman. Although based on small numbers, non-smokers with the highest level of diesel exposure were seven times more likely to die from lung cancer than non-smokers in the lowest exposure category.
"This landmark study has informed on the lung cancer risks for underground mine workers, but the findings suggest that the risks may extend to other workers exposed to diesel exhaust in the United States and abroad, and to people living in urban areas where diesel exhaust levels are elevated," said Joseph F. Fraumeni, Jr., M.D., director, Division of Cancer Epidemiology and Genetics.
For more information on the Diesel Exhaust in Miners Study, see Questions & Answers by clicking here.
For more information, click here.
—————
References:
Silverman DT, Samaniac CM, Lubin JH, et al. The diesel exhaust in miners study: a nested case-control study of lung cancer and diesel exhaust. J Natl Cancer Inst. March 2, 2012. doi:10.1093/jnci/djs034.
Attfield MD, Schlieff PL, Lubin JH, et al. The diesel exhaust in miners study: a cohort mortality study with emphasis on lung cancer. J Natl Cancer Inst. March 2, 2012. doi:10.1093/jnci/djs035.
EcoWatch Daily Newsletter
By Fino Menezes
Everyone adores dolphins. Intelligent, inquisitive and playful, these special creatures have captivated humans since the dawn of time. But dolphins didn't get to where they are by accident — they needed to develop some pretty amazing superpowers to cope with their environment.
Protesters face off against security during the Dakota Access Pipeline protests. ROBYN BECK / AFP / Getty Images
In just two weeks, three states have passed laws criminalizing protests against fossil fuel infrastructure.
Donald Trump and Anthony Fauci, director of the National Institute of Allergy and Infectious Diseases, listen to White House coronavirus response coordinator Deborah Birx speak in the Rose Garden for the daily coronavirus briefing at the White House on March 29, 2020 in Washington, DC. Tasos Katopodis / Getty Images
President Donald Trump has bowed to the advice of public health experts and extended social distancing measures designed to slow the spread of the new coronavirus till at least April 30.
Pexels
By Charli Shield
At unsettling times like the coronavirus outbreak, it might feel like things are very much out of your control. Most routines have been thrown into disarray and the future, as far as the experts tell us, is far from certain.
Pie Ranch in San Mateo, California, is a highly diverse farm that has both organic and food justice certification. Katie Greaney
By Elizabeth Henderson
Farmworkers, farmers and their organizations around the country have been singing the same tune for years on the urgent need for immigration reform. That harmony turns to discord as soon as you get down to details on how to get it done, what to include and what compromises you are willing to make. Case in point: the Farm Workforce Modernization Act (H.R. 5038), which passed in the House of Representatives on Dec. 11, 2019, by a vote of 260-165. The Senate received the bill the next day and referred it to the Committee on the Judiciary, where it remains. Two hundred and fifty agriculture and labor groups signed on to the United Farm Workers' (UFW) call for support for H.R. 5038. UFW President Arturo Rodriguez rejoiced: