This website uses cookies to ensure you get the best experience while browsing it. By clicking 'Got It' you're accepting these terms.
New Study Exposes Flood of Dark Money Feeding Climate Change Denial
Dec. 23, 2013 10:09AM EST
A new study conducted by Drexel University environmental sociologist Robert J. Brulle, PhD, exposes the organizational underpinnings and funding behind the powerful climate change countermovement. This study marks the first peer-reviewed, comprehensive analysis ever conducted of the sources of funding that maintain the denial effort.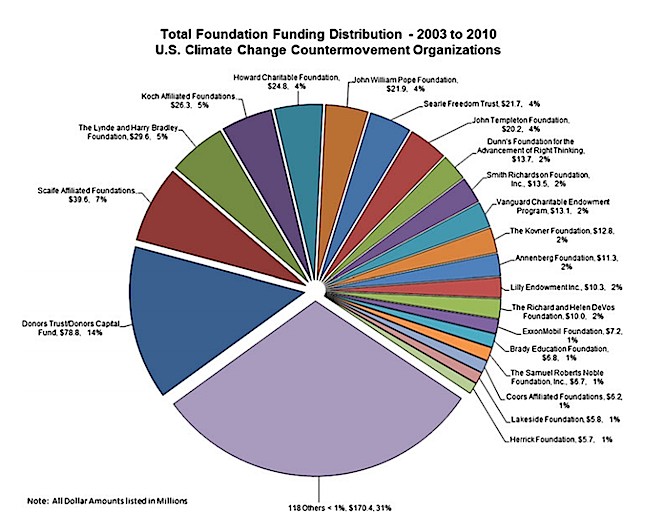 Through an analysis of the financial structure of the organizations that constitute the core of the countermovement and their sources of monetary support, Brulle found that, while the largest and most consistent funders behind the countermovement are a number of well-known conservative foundations, the majority of donations are "dark money," or concealed funding.
The data also indicates that Koch Industries and ExxonMobil, two of the largest supporters of climate science denial, have recently pulled back from publicly funding countermovement organizations. Coinciding with the decline in traceable funding, the amount of funding given to countermovement organizations through third party pass-through foundations like Donors Trust and Donors Capital, whose funders cannot be traced, has risen dramatically.
Brulle, a professor of sociology and environmental science in Drexel's College of Arts and Sciences, conducted the study during a year-long fellowship at Stanford University's Center for Advanced Study in the Behavioral Sciences. The study was published Friday in Climatic Change, one of the top 10 climate science journals in the world.
The climate change countermovement is a well-funded and organized effort to undermine public faith in climate science and block action by the U.S. government to regulate emissions. This countermovement involves a large number of organizations, including conservative think tanks, advocacy groups, trade associations and conservative foundations, with strong links to sympathetic media outlets and conservative politicians.
"The climate change countermovement has had a real political and ecological impact on the failure of the world to act on the issue of global warming," said Brulle. "Like a play on Broadway, the countermovement has stars in the spotlight—often prominent contrarian scientists or conservative politicians—but behind the stars is an organizational structure of directors, script writers and producers, in the form of conservative foundations. If you want to understand what's driving this movement, you have to look at what's going on behind the scenes."
To uncover how the countermovement was built and maintained, Brulle developed a listing of 118 important climate denial organizations in the U.S. He then coded data on philanthropic funding for each organization, combining information from the Foundation Center with financial data submitted by organizations to the Internal Revenue Service.
The final sample for analysis consisted of 140 foundations making 5,299 grants totaling $558 million to 91 organizations from 2003 to 2010. The data shows that these 91 organizations have an annual income of just more than $900 million, with an annual average of $64 million in identifiable foundation support. Since the majority of the organizations are multiple focus organizations, not all of this income was devoted to climate change activities, Brulle notes.
Key findings include:
Conservative foundations have bank-rolled denial. The largest and most consistent funders of organizations orchestrating climate change denial are a number of well-known conservative foundations, such as: the Searle Freedom Trust, the John William Pope Foundation, the Howard Charitable Foundation and the Sarah Scaife Foundation. These foundations promote ultra-free-market ideas in many realms.
Koch and ExxonMobil have recently pulled back from publicly visible funding. From 2003 to 2007, the Koch Affiliated Foundations and the ExxonMobil Foundation were heavily involved in funding climate-change denial organizations. But since 2008, they are no longer making publicly traceable contributions.
Funding has shifted to pass through untraceable sources. Coinciding with the decline in traceable funding, the amount of funding given to denial organizations by the Donors Trust has risen dramatically. Donors Trust is a donor-directed foundation whose funders cannot be traced. This one foundation now provides about 25 percent of all traceable foundation funding used by organizations engaged in promoting systematic denial of climate change.
Most funding for denial efforts is untraceable. Despite extensive data compilation and analyses, only a fraction of the hundreds of millions in contributions to climate change denying organizations can be specifically accounted for from public records. Approximately 75 percent of the income of these organizations comes from unidentifiable sources.
"The real issue here is one of democracy. Without a free flow of accurate information, democratic politics and government accountability become impossible," said Brulle. "Money amplifies certain voices above others and, in effect, gives them a megaphone in the public square. Powerful funders are supporting the campaign to deny scientific findings about global warming and raise public doubts about the roots and remedies of this massive global threat. At the very least, American voters deserve to know who is behind these efforts."
This study is part one of a three-part project by Brulle to examine the climate movement in the U.S. at the national level. The next step in the project is to examine the environmental movement or the climate change movement. Brulle will then compare the whole funding flow to the entire range of organizations on both sides of the debate.
Brulle has authored numerous articles and book chapters on environmental science, and is a frequent media commentator on climate change. He co-edited Power, Justice and the Environment: A Critical Appraisal of the Environmental Justice Movement (2005) with David Pellow, and is the author of Agency, Democracy, and Nature: U.S. Environmental Movements from a Critical Theory Perspective (2000).
Brulle previously served as a commissioned officer in the U.S. Coast Guard for two decades. He received a doctorate in sociology from George Washington University, a master of science degree in natural resources from the University of Michigan, a master of arts degree in sociology from the New School for Social Research and a bachelor of science degree in marine engineering from the U.S. Coast Guard Academy.
Visit EcoWatch's CLIMATE CHANGE page for more related news on this topic.

EcoWatch Daily Newsletter
Offutt Air Force Base after flooding on March 17. U.S. Air Force / TSgt. Rachelle Blake
A regenerating stand of rainforest in northern Costa Rica. Matthew Fagan / CC BY-ND
By Matthew Fagan, Leighton Reid and Margaret Buck Holland
Tropical forests globally are being lost at a rate of 61,000 square miles a year. And despite conservation efforts, the global rate of loss is accelerating. In 2016 it reached a 15-year high, with 114,000 square miles cleared.
At the same time, many countries are pledging to restore large swaths of forests. The Bonn Challenge, a global initiative launched in 2011, calls for national commitments to restore 580,000 square miles of the world's deforested and degraded land by 2020. In 2014 the New York Declaration on Forests increased this goal to 1.35 million square miles, an area about twice the size of Alaska, by 2030.
Compassion Over Killing
By Cheryl Leahy
Do you think almond milk comes from a cow named Almond? Or that almonds lactate? The dairy industry thinks you do, and that's what it's telling the Food and Drug Administration (FDA).
For years, the dairy industry has been flexing its lobbying muscle, pressuring states and the federal government to restrict plant-based companies from using terms like "milk" on their labels, citing consumer confusion.
By Jeremy Deaton
A driver planning to make the trek from Denver to Salt Lake City can look forward to an eight-hour trip across some of the most beautiful parts of the country, long stretches with nary a town in sight. The fastest route would take her along I-80 through southern Wyoming. For 300 miles between Laramie and Evanston, she would see, according to a rough estimate, no fewer than 40 gas stations where she could fuel up her car. But if she were driving an electric vehicle, she would see just four charging stations where she could recharge her battery.
d3sign / Moment / Getty Images
Common sense should not be taken for granted when people are discussing nutrition.
A fire erupted Sunday at a petrochemical plant in Deer Park, Texas.
NowThis News / YouTube screenshot
By Andrea Germanos
A petrochemical plant near Houston continued to burn for a second day on Monday, raising questions about the quality and safety of the air.

The Deer Park facility is owned by Intercontinental Terminals Company (ITC), which said the fire broke out at roughly 10:30 a.m. Sunday. Seven tanks are involved, the company said, and they contain naptha, xylene, "gas blend stocks" and "base oil."
"It's going to have to burn out at the tank," Ray Russell, communications officer for Channel Industries Mutual Aid, which is aiding the response effort, said at a news conference. It could take "probably two days" for that to happen, he added.
The hillsides dyed orange with poppies may look like something out of a dream, but for the Southern California town of Lake Elsinore, that dream quickly turned into a nightmare.
The town of 66,000 people was inundated with around 50,000 tourists coming to snap pictures of the golden poppies growing in Walker Canyon as part of a superbloom of wildfires caused by an unusually wet winter, BBC News reported. The visitors trampled flowers and caused hours of traffic, The Guardian reported.
The Humane Society of the United States uncovered a one-year pesticide test on 36 beagles contracted by Dow AgroSciences at a Michigan lab.
The Humane Society of the United States / YouTube screenshot
A controversial pesticide test that would have resulted in the deaths of 36 beagles has been stopped, the Humane Society of the United States (HSUS) and the company behind the test announced Monday. The announcement comes less than a week after HSUS made the test public when it released the results of an investigation into animal testing at Charles River Laboratories in Michigan.
"We have immediately ended the study that was the subject of attention last week and will make every effort to rehome the animals that were part of the study," Corteva Agriscience, the agriculture division of DowDupont, said in a statement announcing its decision.