New Studies Confirm Pesticide Exposure Major Contributor to Declining Honey Bee Populations
Researchers at the U.S. Department of Agriculture (USDA) and University of Maryland have found that low levels of pesticide exposure from crop pollination make honey bees more susceptible to the deadly gut parasite Nosema ceranae, contributing to declines in bee populations.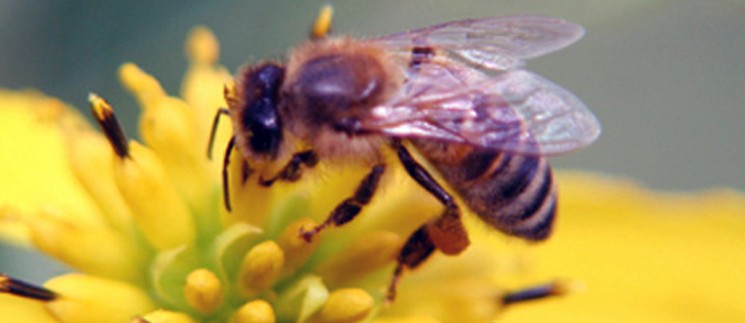 The study's findings, released July 24 in the journal PLoSONE, expand on a recent report released by the USDA that found parasites, disease, genetics, poor nutrition and pesticide exposure as synergistic factors in the observable nationwide honey bee decline, but focused on technological stopgap measures without questioning the sustainability of widespread systemic neonicotinoid pesticide use. Adding urgency to USDA's research, another study released July 22 in the Proceedings from the National Academy of Sciences shows that pollinator losses can have a detrimental effects on plant reproduction.
Pesticide Exposure and Susceptibility to Disease
The newest USDA research adds to the growing body of evidence that shows pesticide exposure weakens honey bees' immune system making them more susceptible to parasites and pathogens. Researchers took pollen samples from crops that honey bees are known to pollinate including apples, watermelons, pumpkins, cucumbers, blueberries and cranberries to determine exposure levels and Nosema infection.
In sum, researchers found 35 different pesticides in pollen, with samples containing, on average, nine different pesticides ranging  in classes from oxadiazines, neonicotinoids, carbamates, cyclodienes, formamidines, organophosphates and pyrethroids. Of these, the report links eight pesticides as increasing the risk of Nosema gut parasite infestations. Researchers most frequently found fungicides in pollen samples, particularly chlorothanlonil, which is a broad spectrum fungicide ubiquitously used on apples and other crops. The presence of fungicides is of particular concern. Not only do fungicides increase risks of infection with deadly Nosema parasites, but they also generally do not carry warning labels to tell farmers to refrain from application while crops are blossoming and bees are foraging, that is, when bees are most susceptible to pesticide poisoning.
Lead researcher Jeff Pettis, PhD at the Bee Research Laboratory in Beltsville, MD explained that honey bees that were fed pollen containing the fungicide chlorothalonil and collected at the hive entrance were almost three times more likely to become infected when exposed to the parasite Nosema, compared with control bees, which were not fed contaminated pollen.
The study shows that honey bees cannot sustain regular exposure to the vast array of agricultural chemical combinations that weaken honey bee immune systems and make them more susceptible to Nosema infestation. The majority of studies up to this point have examined honey bee exposure to only one chemical at a time.
Surprisingly, researchers also found that pesticides were evident in every single pollen sample, even those that were collected from nearby wildflowers that were not sprayed. Co-author Dennis vanEngelsdorp, PhD at the University of Maryland explained "It could be drift from when they sprayed their crop, but it also could be that the bees are picking it up and contaminating the pollen on the forage trip." Whatever the cause, he continued, we "need to better understand how pesticides are getting into the hive. Clearly it is not just from collecting pollen from the crops that bees are being used to pollinate."
Pollinator Loss and Impacts on Plant Populations
Adding to the growing body of research on pollinator declines, another study published last week shows that the decline of a single pollinator species significantly impairs plant reproduction. The study, Single pollinator species losses reduce floral fidelity and plant reproductive function, was published in the Proceedings of the National Academy of Sciences, out of the Rocky Mountain Biological Laboratory in Crested Butte, CO.
Researchers examined 20 plots of meadow in the region, removing the most populous bumblebee species out of each plot, and patrolling them regularly to determine whether other pollinator species could fill the shortage for wildflower pollination. Instead, researchers found that in the absence of bumblebees, pollinator species foraged more widely, becoming less devoted to one flower species. Researchers specifically focused on the purple larkspur wildflower, and found that with broader foraging patterns, larkspurs were less likely to receive pollen from the same species, which is required for successful pollination. Because of changes to pollinator assemblages, larkspurs then produced 30 percent fewer seeds. These results demonstrate the wider consequences that loss of pollinators to pesticides can have on plant reproduction as well as ecosystem health.
Background
Since 2006, honey bees nationwide have suffered ongoing and rapid population declines, from hive abandonment and bee die-off in a phenomenon known as colony collapse disorder (CCD). The causes are numerous, however, recent scientific evidence points to the role of a systemic class of pesticides, neonicotinoids, which contaminate pollen, nectar and the wider environment, causing lethal exposure to honey bees and threatening our food systems. An extensive overview of the major studies showing the effects of neonicotinoids on pollinator health can be found on Beyond Pesticides' What the Science Shows.
In response to massive pollinator declines, recent legislation proposed by Reps. John Conyers (D-MI) and Earl Blumenauer (D-OR), H.R. 2692, The Save America's Pollinators Act, has called upon the U.S. Environmental Protection Agency to suspend the use of neonicotinoids and to conduct a full review of scientific research before allowing the entry of other neonicotinoids into the market. Tell your Representative to Save America's Pollinators.
Visit EcoWatch's BIODIVERSITY page for more related news on this topic.

——–
Bill Maher is sick of billionaires' obsession with Mars, more like "Mars-a-Lago," he said.
In a new animation produced by ATTN:, the popular talk show host of Real Time, discusses the perils of our planet, including how "climate change is killing us."
Keep reading...
Show less
Dr. Benjamin D. Santer, research scientist
A group of prominent climate scientists have written a study explicitly refuting statements made by the U.S. Environmental Protection Agency Administrator Scott Pruitt on climate data. During his Senate confirmation hearing, Pruitt claimed in a written response that satellite data shows a "leveling off" of warming over the past two decades.
Keep reading...
Show less
By David Pomerantz
The Nevada Assembly passed a bill Wednesday that would dramatically increase the growth of renewable energy in the state, but Sheldon Adelson, the casino magnate and major donor to Donald Trump, is attempting to prevent the bill from becoming law.
Keep reading...
Show less
Matt Crossick
By Yosola Olorunshola
Whether it's through fashion or protest, Vivienne Westwood is not a woman afraid of making a statement.
On May 23, she rocked up to the residence of the Archbishop of Canterbury in London with a special guest—the Grim Reaper—to issue a strong statement on the Church of England's position on fracking.
Keep reading...
Show less
By Paul Brown
The food industry and big agricultural concerns are driving climate change and at the same time threatening to undermine efforts to feed the world's growing population, according to GRAIN, an organization that supports small farmers.
Particularly singled out for criticism are the large chemical fertilizer producers that have gained access to the United Nations talks on climate change. GRAIN accuses them of behaving like the fossil fuel companies did in the 1990s, pushing false information in the hope of delaying real action on climate change.
Keep reading...
Show less
By Sydney Robinson
President Trump has no doubt been given a long list of extravagant, elaborate gifts in his lifetime, but the gift given to him today by Pope Francis may not make it on his most favorite list.
Keep reading...
Show less
By John Rogers
Maybe it's because I first started working on clean energy while serving in the Peace Corps he founded, or maybe it's my years of working on these issues from his home state. But I can't help thinking about the 100th anniversary of John F. Kennedy's birth, and connecting his stirring rhetoric to the energy challenges of our times.
Here's what our 35th president might have said about the challenges of energy transition and the opportunities in clean energy:
"Change is the law of life. And those who look only to the past or present are certain to miss the future."
Keep reading...
Show less
May. 24, 2017 01:47PM EST
Keep reading...
Show less


Get EcoWatch in your inbox