This website uses cookies to ensure you get the best experience while browsing it. By clicking 'Got It' you're accepting these terms.


The best of EcoWatch, right in your inbox. Sign up for our email newsletter!
New Studies Confirm Pesticide Exposure Major Contributor to Declining Honey Bee Populations
Jul. 29, 2013 10:13AM EST
Researchers at the U.S. Department of Agriculture (USDA) and University of Maryland have found that low levels of pesticide exposure from crop pollination make honey bees more susceptible to the deadly gut parasite Nosema ceranae, contributing to declines in bee populations.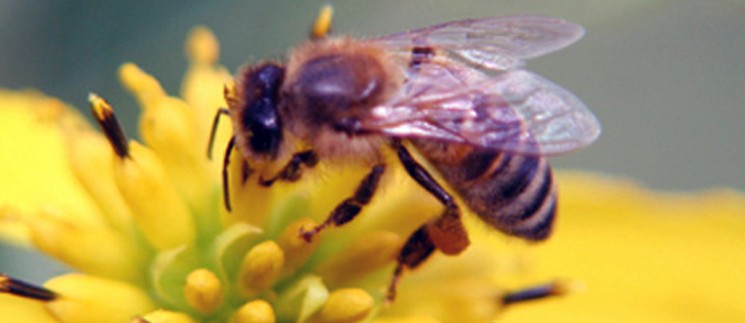 The study's findings, released July 24 in the journal PLoSONE, expand on a recent report released by the USDA that found parasites, disease, genetics, poor nutrition and pesticide exposure as synergistic factors in the observable nationwide honey bee decline, but focused on technological stopgap measures without questioning the sustainability of widespread systemic neonicotinoid pesticide use. Adding urgency to USDA's research, another study released July 22 in the Proceedings from the National Academy of Sciences shows that pollinator losses can have a detrimental effects on plant reproduction.
Pesticide Exposure and Susceptibility to Disease
The newest USDA research adds to the growing body of evidence that shows pesticide exposure weakens honey bees' immune system making them more susceptible to parasites and pathogens. Researchers took pollen samples from crops that honey bees are known to pollinate including apples, watermelons, pumpkins, cucumbers, blueberries and cranberries to determine exposure levels and Nosema infection.
In sum, researchers found 35 different pesticides in pollen, with samples containing, on average, nine different pesticides ranging  in classes from oxadiazines, neonicotinoids, carbamates, cyclodienes, formamidines, organophosphates and pyrethroids. Of these, the report links eight pesticides as increasing the risk of Nosema gut parasite infestations. Researchers most frequently found fungicides in pollen samples, particularly chlorothanlonil, which is a broad spectrum fungicide ubiquitously used on apples and other crops. The presence of fungicides is of particular concern. Not only do fungicides increase risks of infection with deadly Nosema parasites, but they also generally do not carry warning labels to tell farmers to refrain from application while crops are blossoming and bees are foraging, that is, when bees are most susceptible to pesticide poisoning.
Lead researcher Jeff Pettis, PhD at the Bee Research Laboratory in Beltsville, MD explained that honey bees that were fed pollen containing the fungicide chlorothalonil and collected at the hive entrance were almost three times more likely to become infected when exposed to the parasite Nosema, compared with control bees, which were not fed contaminated pollen.
The study shows that honey bees cannot sustain regular exposure to the vast array of agricultural chemical combinations that weaken honey bee immune systems and make them more susceptible to Nosema infestation. The majority of studies up to this point have examined honey bee exposure to only one chemical at a time.
Surprisingly, researchers also found that pesticides were evident in every single pollen sample, even those that were collected from nearby wildflowers that were not sprayed. Co-author Dennis vanEngelsdorp, PhD at the University of Maryland explained "It could be drift from when they sprayed their crop, but it also could be that the bees are picking it up and contaminating the pollen on the forage trip." Whatever the cause, he continued, we "need to better understand how pesticides are getting into the hive. Clearly it is not just from collecting pollen from the crops that bees are being used to pollinate."
Pollinator Loss and Impacts on Plant Populations
Adding to the growing body of research on pollinator declines, another study published last week shows that the decline of a single pollinator species significantly impairs plant reproduction. The study, Single pollinator species losses reduce floral fidelity and plant reproductive function, was published in the Proceedings of the National Academy of Sciences, out of the Rocky Mountain Biological Laboratory in Crested Butte, CO.
Researchers examined 20 plots of meadow in the region, removing the most populous bumblebee species out of each plot, and patrolling them regularly to determine whether other pollinator species could fill the shortage for wildflower pollination. Instead, researchers found that in the absence of bumblebees, pollinator species foraged more widely, becoming less devoted to one flower species. Researchers specifically focused on the purple larkspur wildflower, and found that with broader foraging patterns, larkspurs were less likely to receive pollen from the same species, which is required for successful pollination. Because of changes to pollinator assemblages, larkspurs then produced 30 percent fewer seeds. These results demonstrate the wider consequences that loss of pollinators to pesticides can have on plant reproduction as well as ecosystem health.
Background
Since 2006, honey bees nationwide have suffered ongoing and rapid population declines, from hive abandonment and bee die-off in a phenomenon known as colony collapse disorder (CCD). The causes are numerous, however, recent scientific evidence points to the role of a systemic class of pesticides, neonicotinoids, which contaminate pollen, nectar and the wider environment, causing lethal exposure to honey bees and threatening our food systems. An extensive overview of the major studies showing the effects of neonicotinoids on pollinator health can be found on Beyond Pesticides' What the Science Shows.
In response to massive pollinator declines, recent legislation proposed by Reps. John Conyers (D-MI) and Earl Blumenauer (D-OR), H.R. 2692, The Save America's Pollinators Act, has called upon the U.S. Environmental Protection Agency to suspend the use of neonicotinoids and to conduct a full review of scientific research before allowing the entry of other neonicotinoids into the market. Tell your Representative to Save America's Pollinators.
Visit EcoWatch's BIODIVERSITY page for more related news on this topic.

——–
EcoWatch Daily Newsletter
PhotoAlto / Laurence Mouton / Getty Images
By Ana Reisdorf, MS, RD
You've probably heard the buzz around collagen supplements and your skin by now. But is the hype really that promising? After all, research has pointed to both the benefits and downsides of collagen supplements — and for many beauty-conscious folk, collagen isn't vegan.
Pixabay
By Marlene Cimons
Neil Pederson's introduction to tree rings came from a "sweet and kindly" college instructor, who nevertheless was "one of the most boring professors I'd ever experienced," Pederson said. "I swore tree rings off then and there." But they kept coming back to haunt him.
Aerial view of the explosion site of a chemical factory on March 22 in Yancheng, Jiangsu Province of China. Caixin Media / VCG / Getty Images)
At least 47 people have died in an explosion at a plant in Yancheng, China Thursday run by a chemical company with a history of environmental violations, Sky News reported.
A fishmonger in Elmina, a fishing port in the Central Region of Ghana. Environmental Justice Foundation
By Daisy Brickhill
Each morning, men living in fishing communities along Ghana's coastline push off in search of the day's catch. But when the boats come back to shore, it's the women who take over.
Pexels
By Sam Nickerson
Links between excess sugar in your diet and disease have been well-documented, but new research by Harvard's School of Public Health might make you even more wary of that next soda: it could increase your risk of an early death.
The study, published this week in the American Heart Association's journal Circulation, found that drinking one or two sugar-sweetened beverages (SSBs) each day — like sodas or sports drinks — increases risk of an early death by 14 percent.
Tyson Foods is recalling approximately 69,093 pounds of frozen chicken strips because they may have been contaminated with pieces of metal, the U.S. Department of Agriculture (USDA) Food Safety and Inspection Service (FSIS) announced Thursday.
The affected products were fully-cooked "Buffalo Style" and "Crispy" chicken strips with a "use by" date of Nov. 30, 2019 and an establishment number of "P-7221" on the back of the package.
"FSIS is concerned that some product may be in consumers' freezers," the recall notice said. "Consumers who have purchased these products are urged not to consume them. These products should be thrown away or returned to the place of purchase."
Environmental exposure to pesticides, both before birth and during the first year of life, has been linked to an increased risk of developing autism spectrum disorder, according to the largest epidemiological study to date on the connection.
The study, published Wednesday in BMJ, found that pregnant women who lived within 2,000 meters (approximately 1.2 miles) of a highly-sprayed agricultural area in California had children who were 10 to 16 percent more likely to develop autism and 30 percent more likely to develop severe autism that impacted their intellectual ability. If the children were exposed to pesticides during their first year of life, the risk they would develop autism went up to 50 percent.