This website uses cookies to ensure you get the best experience while browsing it. By clicking 'Got It' you're accepting these terms.
New Studies Confirm Pesticide Exposure Major Contributor to Declining Honey Bee Populations
Jul. 29, 2013 10:13AM EST
Researchers at the U.S. Department of Agriculture (USDA) and University of Maryland have found that low levels of pesticide exposure from crop pollination make honey bees more susceptible to the deadly gut parasite Nosema ceranae, contributing to declines in bee populations.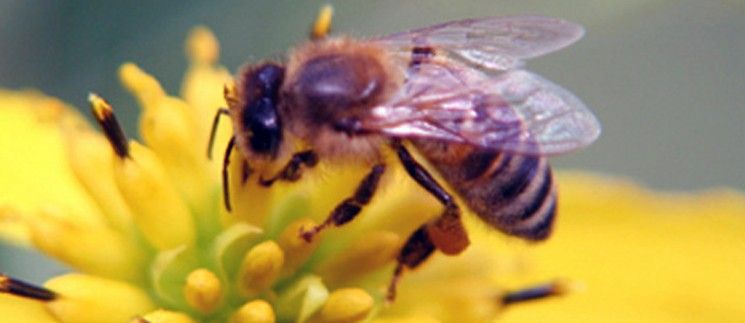 The study's findings, released July 24 in the journal PLoSONE, expand on a recent report released by the USDA that found parasites, disease, genetics, poor nutrition and pesticide exposure as synergistic factors in the observable nationwide honey bee decline, but focused on technological stopgap measures without questioning the sustainability of widespread systemic neonicotinoid pesticide use. Adding urgency to USDA's research, another study released July 22 in the Proceedings from the National Academy of Sciences shows that pollinator losses can have a detrimental effects on plant reproduction.
Pesticide Exposure and Susceptibility to Disease
The newest USDA research adds to the growing body of evidence that shows pesticide exposure weakens honey bees' immune system making them more susceptible to parasites and pathogens. Researchers took pollen samples from crops that honey bees are known to pollinate including apples, watermelons, pumpkins, cucumbers, blueberries and cranberries to determine exposure levels and Nosema infection.
In sum, researchers found 35 different pesticides in pollen, with samples containing, on average, nine different pesticides ranging  in classes from oxadiazines, neonicotinoids, carbamates, cyclodienes, formamidines, organophosphates and pyrethroids. Of these, the report links eight pesticides as increasing the risk of Nosema gut parasite infestations. Researchers most frequently found fungicides in pollen samples, particularly chlorothanlonil, which is a broad spectrum fungicide ubiquitously used on apples and other crops. The presence of fungicides is of particular concern. Not only do fungicides increase risks of infection with deadly Nosema parasites, but they also generally do not carry warning labels to tell farmers to refrain from application while crops are blossoming and bees are foraging, that is, when bees are most susceptible to pesticide poisoning.
Lead researcher Jeff Pettis, PhD at the Bee Research Laboratory in Beltsville, MD explained that honey bees that were fed pollen containing the fungicide chlorothalonil and collected at the hive entrance were almost three times more likely to become infected when exposed to the parasite Nosema, compared with control bees, which were not fed contaminated pollen.
The study shows that honey bees cannot sustain regular exposure to the vast array of agricultural chemical combinations that weaken honey bee immune systems and make them more susceptible to Nosema infestation. The majority of studies up to this point have examined honey bee exposure to only one chemical at a time.
Surprisingly, researchers also found that pesticides were evident in every single pollen sample, even those that were collected from nearby wildflowers that were not sprayed. Co-author Dennis vanEngelsdorp, PhD at the University of Maryland explained "It could be drift from when they sprayed their crop, but it also could be that the bees are picking it up and contaminating the pollen on the forage trip." Whatever the cause, he continued, we "need to better understand how pesticides are getting into the hive. Clearly it is not just from collecting pollen from the crops that bees are being used to pollinate."
Pollinator Loss and Impacts on Plant Populations
Adding to the growing body of research on pollinator declines, another study published last week shows that the decline of a single pollinator species significantly impairs plant reproduction. The study, Single pollinator species losses reduce floral fidelity and plant reproductive function, was published in the Proceedings of the National Academy of Sciences, out of the Rocky Mountain Biological Laboratory in Crested Butte, CO.
Researchers examined 20 plots of meadow in the region, removing the most populous bumblebee species out of each plot, and patrolling them regularly to determine whether other pollinator species could fill the shortage for wildflower pollination. Instead, researchers found that in the absence of bumblebees, pollinator species foraged more widely, becoming less devoted to one flower species. Researchers specifically focused on the purple larkspur wildflower, and found that with broader foraging patterns, larkspurs were less likely to receive pollen from the same species, which is required for successful pollination. Because of changes to pollinator assemblages, larkspurs then produced 30 percent fewer seeds. These results demonstrate the wider consequences that loss of pollinators to pesticides can have on plant reproduction as well as ecosystem health.
Background
Since 2006, honey bees nationwide have suffered ongoing and rapid population declines, from hive abandonment and bee die-off in a phenomenon known as colony collapse disorder (CCD). The causes are numerous, however, recent scientific evidence points to the role of a systemic class of pesticides, neonicotinoids, which contaminate pollen, nectar and the wider environment, causing lethal exposure to honey bees and threatening our food systems. An extensive overview of the major studies showing the effects of neonicotinoids on pollinator health can be found on Beyond Pesticides' What the Science Shows.
In response to massive pollinator declines, recent legislation proposed by Reps. John Conyers (D-MI) and Earl Blumenauer (D-OR), H.R. 2692, The Save America's Pollinators Act, has called upon the U.S. Environmental Protection Agency to suspend the use of neonicotinoids and to conduct a full review of scientific research before allowing the entry of other neonicotinoids into the market. Tell your Representative to Save America's Pollinators.
Visit EcoWatch's BIODIVERSITY page for more related news on this topic.

——–
EcoWatch Daily Newsletter

georgeclerk / E+ / Getty Images
By Jennifer Molidor
One million species are at risk of extinction from human activity, warns a recent study by scientists with the United Nations. We need to cut greenhouse gas pollution across all sectors to avoid catastrophic climate change — and we need to do it fast, said the Intergovernmental Panel on Climate Change.
This research should serve as a rallying cry for polluting industries to make major changes now. Yet the agriculture industry continues to lag behind.
Edwin Remsburg / VW Pics / Getty Images
Botswana, home to one third of Africa's elephants, announced Wednesday that it was lifting its ban on the hunting of the large mammals.
"The Ministry of Environment, Natural Resources Conservation and Tourism wishes to inform the public that following extensive consultations with all stakeholders, the Government of Botswana has taken a decision to lift the hunting suspension," the government announced in a press release shared on social media.
Pxhere
By Richard Denison
Readers of this blog know how concerned EDF is over the Trump EPA's approval of many dozens of new chemicals based on its mere "expectation" that workers across supply chains will always employ personal protective equipment (PPE) just because it is recommended in the manufacturer's non-binding safety data sheet (SDS).
By Grant Smith
From 2009 to 2012, Gregory Jaczko was chairman of the Nuclear Regulatory Commission, which approves nuclear power plant designs and sets safety standards for plants. But he now says that nuclear power is too dangerous and expensive — and not part of the answer to the climate crisis.
A lake in Rocky Mountain National Park. Brett Walton / Circle of Blue
By Brett Walton
When Greg Wetherbee sat in front of the microscope recently, he was looking for fragments of metals or coal, particles that might indicate the source of airborne nitrogen pollution in Rocky Mountain National Park. What caught his eye, though, were the plastics.
Gabriele Holtermann Gorden / Pacific Press / LightRocket / Getty Images
In a big victory for animals, Prada has announced that it's ending its use of fur! It joins Coach, Jean Paul Gaultier, Giorgio Armani, Versace, Ralph Lauren, Vivienne Westwood, Michael Kors, Donna Karan and many others PETA has pushed toward a ban.
This is a victory more than a decade in the making. PETA and our international affiliates have crashed Prada's catwalks with anti-fur signs, held eye-catching demonstrations all around the world, and sent the company loads of information about the fur industry. In 2018, actor and animal rights advocate Pamela Anderson sent a letter on PETA's behalf urging Miuccia Prada to commit to leaving fur out of all future collections, and the iconic designer has finally listened.
Amer Ghazzal / Barcroft Media / Getty Images
If people in three European countries want to fight the climate crisis, they need to chill out more.
That's the conclusion of a new study from think tank Autonomy, which found that Germany, the UK and Sweden all needed to drastically reduce their workweeks to fight climate change.
Amazon Employees for Climate Justice held a press conference after the annual shareholder meeting on May 22. Amazon Employees for Climate Justice