This website uses cookies to ensure you get the best experience while browsing it. By clicking 'Got It' you're accepting these terms.
New Satellite Maps Show World's Major Ice Caps Melting at Unprecedented Rate
Sep. 01, 2014 08:43AM EST
Climate
German researchers have established the height of the Greenland and Antarctic ice caps with greater precision than ever before. And the new maps they have produced show that the ice is melting at an unprecedented rate.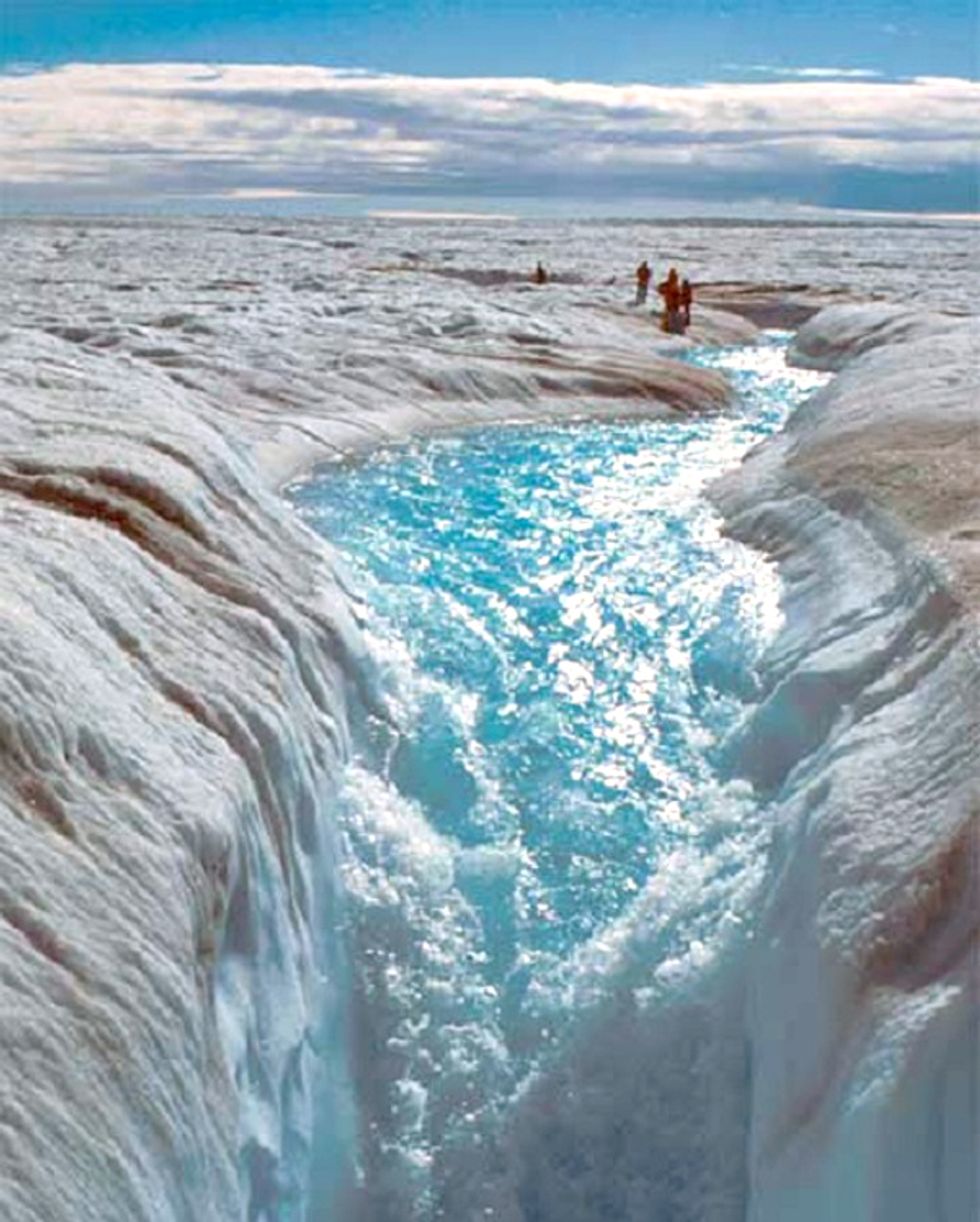 The maps, produced with a satellite-mounted instrument, have elevation accuracies to within a few metres. Since Greenland's ice cap is more than 2,000 metres thick on average, and the Antarctic bedrock supports 61 percent of the planet's fresh water, this means that scientists can make more accurate assessments of annual melting.
Dr Veit Helm and other glaciologists at the Alfred Wegener Institute's Helmholtz Centre for Polar and Marine Research in Bremerhaven, Germany, report in the journal The Cryosphere that, between them, the two ice sheets are now losing ice at the unprecedented rate of 500 cubic kilometers a year.
Big picture
The measurements used to make the maps were taken by an instrument aboard the European Space Agency's orbiting satellite CryoSat-2. The satellite gets closer to the poles—to 88° latitude—than any previous mission and traverses almost 16 million sq km of ice, adding an area of ice the size of Spain to the big picture of change and loss in the frozen world.
CryoSat-2's radar altimeter transmitted 7.5 million measurements of Greenland and 61 million of Antarctica during 2012, enabling glaciologists to work with a set of consistent measurements from a single instrument.
Over a three-year period, the researchers collected 200 million measurements in Antarctica and more than 14 million in Greenland. They were able to study how the ice sheets changed by comparing the data with measurements made by NASA's ICESat mission.
More complex
Greenland's volume of ice is being reduced at the rate of 375 cubic km a year. In Antarctica, the picture is more complex as the West Antarctic ice sheet is losing ice rapidly, but is growing in volume in East Antarctica.
Overall, the southern continent—98 percent of which is covered with ice and snow—is losing 125 cubic km a year. These are the highest rates observed since researchers started making satellite observations 20 years ago.
"Since 2009, the volume loss in Greenland has increased by a factor of about two, and the West Antarctic ice sheet by a factor of three," said Angelika Humbert, one of the report's authors.
YOU ALSO MIGHT LIKE
'Irreversible' Damage to Planet From Climate Change Says Leaked IPCC Report
Bill McKibben on Democracy Now!: Obama's Nonbinding Climate Deal, IPCC Report, People's Climate March
Leonardo DiCaprio Narrates Climate Change Films Urging Shift From Fossil Fuels to Renewables
EcoWatch Daily Newsletter
A new report spotlights a U.N. estimate that at least 275 million people rely on healthy coral reefs. A sea turtle near the Heron Island in the Great Barrier Reef is seen above. THE OCEAN AGENCY / XL CATLIN SEAVIEW SURVEY
In a new report about how the world's coral reefs face "the combined threats of climate change, pollution, and overfishing" — endangering the future of marine biodiversity — a London-based nonprofit calls for greater global efforts to end the climate crisis and ensure the survival of these vital underwater ecosystems.
Half of the extracted resources used were sand, clay, gravel and cement, seen above, for building, along with the other minerals that produce fertilizer. Cavan Images / Cavan / Getty Images
The world is using up more and more resources and global recycling is falling. That's the grim takeaway from a new report by the Circle Economy think tank, which found that the world used up more than 110 billion tons, or 100.6 billion metric tons, of natural resources, as Agence France-Presse (AFP) reported.
By Gero Rueter
Heating with coal, oil and natural gas accounts for around a quarter of global greenhouse gas emissions. But that's something we can change, says Wolfgang Feist, founder of the Passive House Institute in the western German city of Darmstadt.

By George Citroner
Recent research finds that official government figures may be underestimating drug deaths by half.
Researchers estimate that 142,000 people died due to drug use in 2016.
Drug use decreases life expectancy after age 15 by 1.4 years for men and by just under 1 year for women, on average.
Government records may be severely underreporting how many Americans die from drug use, according to a new study by researchers from the University of Pennsylvania and Georgetown University.
Water coolers in front of shut-off water fountains at Center School in Stow, MA on Sept. 4, 2019 after elevated levels of PFAS were found in the water. David L. Ryan / The Boston Globe via Getty Images
In a new nationwide assessment of drinking water systems, the Environmental Working Group found that toxic fluorinated chemicals known as PFAS are far more prevalent than previously thought.