This website uses cookies to ensure you get the best experience while browsing it. By clicking 'Got It' you're accepting these terms.
New Satellite Data Confirms Major Arctic Ice Loss
Feb. 19, 2013 09:13AM EST
Climate
Dr. Jeff Masters
The stunning loss of Arctic sea ice extent in recent years is undeniable—satellite measurements have conclusively shown that half of the Arctic sea ice went missing in September 2012, compared to the average September during 1979 - 2000. But the extent of ice cover is not the best measure of how the fire raging in Earth's attic is affecting sea ice—the total volume of the ice is more important.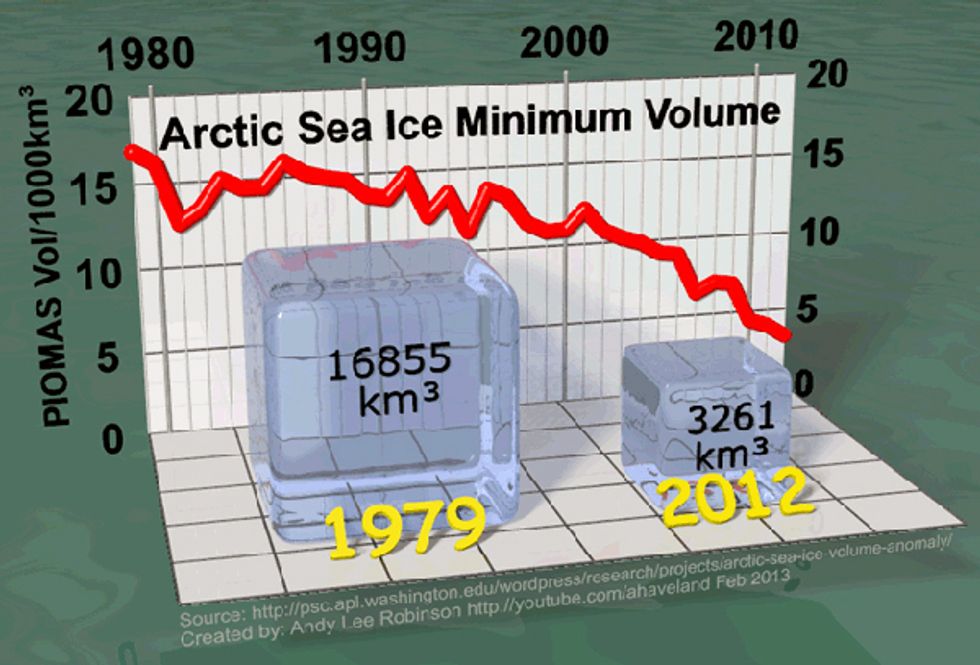 But up until 2010, we didn't have the measurements needed to say how the total volume of ice in the Arctic might be changing. Scientists relied on the University of Washington PIOMAS model, which suggested that the loss of Arctic sea ice volume during September might be approaching 75 to 80 percent. The model results were widely criticized by climate change skeptics as being unrealistic.
However, in April 2010, a new satellite called Cryostat-2 was launched, which can measure ice volume by beaming pulses of microwave energy off of the ice. With two years of data to Cryosat-2 data to analyze, the results of the PIOMAS model have now been confirmed by a study published on-line in February 2013 in Geophysical Research Letters.
In a University of Washington news release, co-author Axel Schweiger said, "people had argued that 75 to 80 percent ice volume loss was too aggressive. What this new paper shows is that our ice loss estimates may have been too conservative, and that the recent decline is possibly more rapid."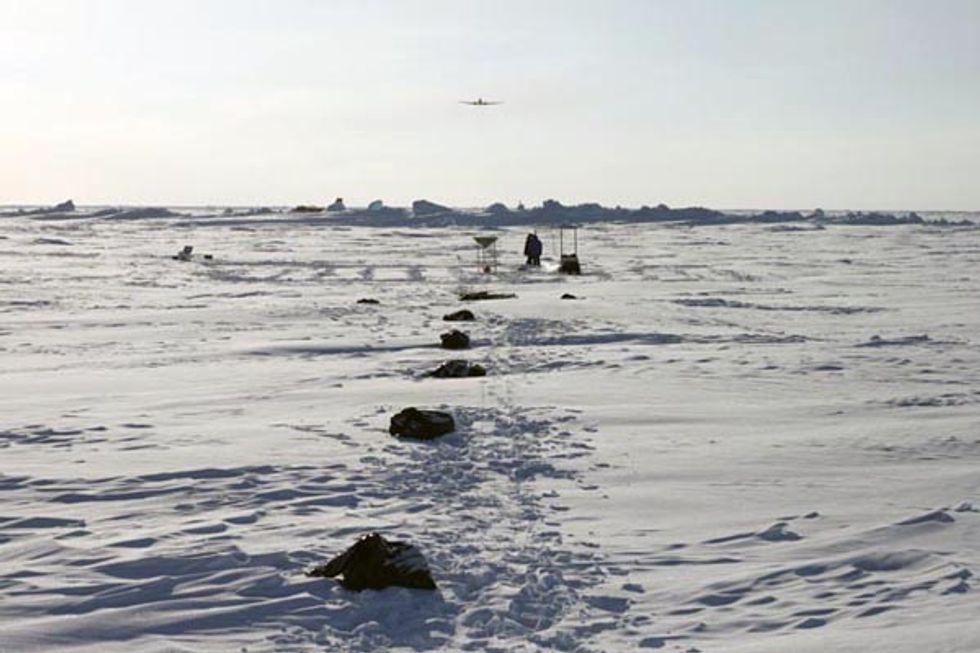 The U.K.'s Natural Environmental Research Council reported that the team of scientists found that from 2003 to 2012, the volume of Arctic sea ice declined 36 percent in the autumn and 9 percent in the winter. The measure of sea ice volume is a good indicator of how the Arctic's most stable, "multi-year" ice is fairing. As the multi-year ice declines, sea ice extent, the total area covered by sea ice, in an "Arctic death spiral." The new study shows that thick, multi-year ice has disappeared in areas north of Greenland, around the Canadian Archipelago, and to the northeast of Svalbard, Norway.
Why care about Arctic sea ice loss?
If you remove an area of sea ice 43 percent the size of the contiguous U.S. from the ocean, like occurred in September 2012, it is guaranteed to have a significant impact on weather and climate. The extra heat and moisture added to the atmosphere as a result of all that open water over the pole may already be altering jet stream patterns in fall and winter, bringing an increase in extreme weather events. The record sea ice loss in 2012 also contributed to an unprecedented melting event in Greenland. Continued sea ice loss will further increase melting from Greenland, contributing to sea level rise and storm surge damages. Sea ice loss will also continue to crank up the thermostat over Arctic permafrost regions. This will potentially release a significant fraction of the vast amounts of carbon currently locked in the permafrost, further accelerating global warming
Visit EcoWatch's CLIMATE CHANGE page for more related news on this topic.
——–
SIGN PETITION TODAY!
EcoWatch Daily Newsletter
picture alliance / dpa / F. Rumpenhorst
By Arthur Sullivan
When was the last time you traveled by plane? Various researchers say as little as between 5 and 10 percent of the global population fly in a given year.
A Starbucks barista prepares a drink at a Starbucks Coffee Shop location in New York. Ramin Talaie / Corbis via Getty Images
By Cathy Cassata
Are you getting your fill of Starbucks' new Almondmilk Honey Flat White, Oatmilk Honey Latte, and Coconutmilk Latte, but wondering just how healthy they are?
By Sharon Kelly
Back in April last year, the Trump administration's Environmental Protection Agency decided it was "not necessary" to update the rules for toxic waste from oil and gas wells. Torrents of wastewater flow daily from the nation's 1.5 million active oil and gas wells and the agency's own research has warned it may pose risks to the country's drinking water supplies.
Swedish climate activist Greta Thunberg takes part in a "Friday for Future" youth demonstration in a street of Davos on Jan. 24, 2020 on the sideline of the World Economic Forum annual meeting. FABRICE COFFRINI / AFP via Getty Images
Treasury Secretary Steven Mnuchin pretended not to know who Greta Thunberg is, and then he told her to get a degree in economics before giving world leaders advice, as The Guardian reported.
The Visible Infrared Imaging Radiometer Suite on the Suomi NPP satellite acquired this image of forest fire smoke hovering over North America on Aug. 15, 2018. NASA Earth Observatory
New York City isn't known for having the cleanest air, but researchers traced recent air pollution spikes there to two surprising sources — fires hundreds of miles away in Canada and the southeastern U.S.