New Research Shows Tree Roots Regulate CO2, Keep Climate Stable
Feb. 19, 2014 09:30AM EST
Climate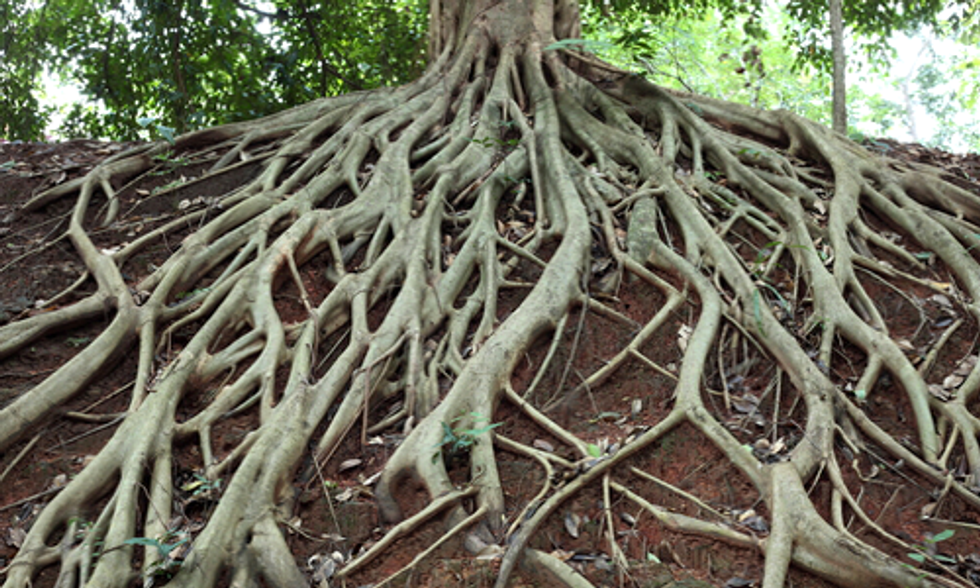 By Tim Radford
Trees have become a source of continuous surprise. Only weeks after researchers demonstrated that old forest giants actually accumulate more carbon than younger, fast-growing trees, British scientists have discovered that the great arbiters of long-term global temperatures may not be the leaves of an oak, pine or eucalyptus, but the roots.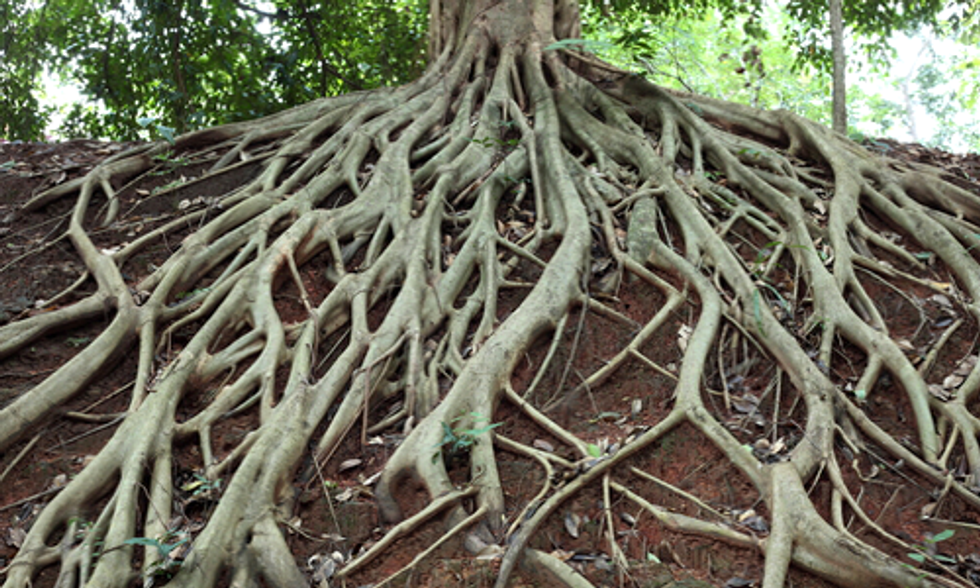 Photo courtesy of Shutterstock
The argument, put forward by a team from Oxford and Sheffield Universities in the journal Geophysical Research Letters, begins with temperature. Warmer climates mean more vigorous tree growth and more leaf litter, and more organic content in the soil. So the tree's roots grow more vigorously, said Dr. Christopher Doughty of Oxford and colleagues.
They get into the bedrock, and break up the rock into its constituent minerals. Once that happens, the rock starts to weather, combining with carbon dioxide. This weathering draws carbon dioxide out of the atmosphere, and in the process cools the planet down a little. So mountain ecosystems—mountain forests are usually wet and on conspicuous layers of rock—are in effect part of the global thermostat, preventing catastrophic overheating.
The tree is more than just a sink for carbon, it is an agency for chemical weathering that removes carbon from the air and locks it up in carbonate rock.
That mountain weathering and forest growth are part of the climate system has never been in much doubt: the questions have always been about how big a forest's role might be, and how to calculate its contribution.
Keeping climate stable
U.S. scientists recently studied the rainy slopes of New Zealand's Southern Alps to begin to put a value on mountain ecosystem processes. Dr. Doughty and his colleagues measured tree roots at varying altitudes in the tropical rain forests of Peru, from the Amazon lowlands to 3,000 meters of altitude in the higher Andes.
They measured the growth to 30 cm below the surface every three months and did so for a period of years. They recorded the thickness of the soil's organic layer, and they matched their observations with local temperatures, and began to calculate the rate at which tree roots might turn Andean granite into soil.
Then they scaled up the process, and extended it through long periods of time. Their conclusion: that forests served to moderate temperatures in a much hotter world 65 million years ago.
"This is a simple process driven by tree root growth and the decomposition of organic material. Yet it may contribute to the Earth's long-term climate stability," Dr. Doughty said. "It seems to act like a thermostat, drawing more carbon dioxide out of the atmosphere when it is warm and less when it is cooler."
If forests cool the Earth, however, they might also warm it up. A team from Yale University in the U.S. has reported in Geophysical Research Letters that forest fires might have had an even greater impact on global warming during the Pliocene epoch about three million years ago than carbon dioxide.
Rapid rise expected
Dr. Nadine Unger, an atmospheric chemist, and a colleague have calculated that the release of volatile organic compounds, ozone and other products from blazing trees could have altered the planet's radiation balance, by dumping enough aerosols into the atmosphere to outperform carbon dioxide as a planet-warmer.
In fact, the Pliocene was at least two or three degrees Celsius warmer than the pre-industrial world. The Pliocene is of intense interest to climate scientists: they expect planetary temperatures to return to Pliocene levels before the end of the century, precisely because humans have cleared and burned the forests, and pumped colossal quantities of carbon dioxide into the atmosphere. The greater puzzle is why a rainy, forested and conspicuously human-free world should have been so much warmer.
"This discovery is important for better understanding climate change through Earth's history, and has enormous implications for the impacts of deforestation and the role of forests in climate protection strategies," Dr. Unger said.
All this scholarship is concerned with the natural machinery of ancient climate change, and the Yale research was based on powerful computer simulations of long-vanished conditions that could not be replicated in a laboratory.
Meanwhile, ironically, forest scientists have had a chance to test the levels of volatile organic discharges from blazing forests because freakish weather conditions in Norway have seen unexpected wild fires in tracts of mountain forest. December was one of Norway's warmest winter months ever. In one blaze, 430 residents were forced to evacuate.
Visit EcoWatch's CLIMATE CHANGE and BIODIVERSITY pages for more related news on this topic.

A recent study focused on regions in Ethiopia, Africa's largest coffee-producing nation. Edwin Remsberg / Getty Images
Climate change could make it harder to find a good cup of coffee, new research finds. A changing climate might shrink suitable areas for specialty coffee production without adaptation, making coffee taste blander and impacting the livelihoods of small farms in the Global South.
EcoWatch Daily Newsletter
In "Weather," Jenny Offill tells the story of a librarian named Lizzie who prepares for a climate apocalypse. Andrew Merry / Getty Images
By Suzanne Cords
One day Lizzie, the first-person narrator of the novel, receives an old book as a gift, with a dedication wishing the reader to be among the survivors. Like the preppers who build bunkers and stockpile supplies in remote areas to be ready for the end of the world, Lizzie is convinced that the end of the world is definitely near in times of a threatening climate disaster.
Lizzie, who lives in New York with her husband and son, is a university campus librarian. She worries about almost everything: her brother, an ex-junkie, or her dental insurance and the future in the face of the apocalypse. She is obsessed with reading reference books and articles about climate change.
She also devours words of wisdom, including about Buddhist spirituality: "A visitor once asked the old monks on Mount Athos what they did all day, and was told: We have died and we are in love with everything." But nothing can lift her spirits.
'Lizzie Is Just Like Us'
Lizzie observes rich New Yorkers plan their move to regions that are less threatened by climate change, something she simply cannot afford. Sometimes she watches disaster movies, which lead her to worry even more.
Above all, she is a gifted observer of her fellow human beings. "Young person worry: What if nothing I do matters? Old person worry: What if everything I do, does?"
Lizzie, the U.S. author told DW, is a bit like the rest of us — well aware of the climate crisis, but because she cares and worries about so many other things, that awareness falls by the wayside. That's how she felt herself, Jenny Offill said, but the more she looked into the issue, the more she saw a need for action on her part, too.

"I also was trying to see if there was a way to make it funny, because, you know, so much of the world of prepping and imagining disaster is actually sort of strangely funny."
The novel was shortlisted for the 2020 UK's Women's Prize for Fiction and has now been released in German translation.
Climate Activist With a Vision
But then, there is also this serious, scientifically based concern about what climate change means. In the past, says Offill, artists were the ones who would predict disasters; today it's the experts, as well as the students she teaches. In the end, their fears and their justified anger motivated her to take a closer look at the issue. Today, she is a climate activist herself, and is involved in initiatives along with many other artists.
Lizzie, the heroine of Weather, hasn't gotten that far. But she voices her fears, and that's a start. "Of course, the world continues to end," says Sylvia, a mentor of Lizzie's, at one point — and commences to water her garden. There is hope after all.
Reposted with permission from Deutsche Welle.
A Shell oil drilling rig off the coast of Alaska in the Chukchi Sea on May 21, 2015. Orjan F. Ellingvag / Corbis via Getty Images
By Jake Johnson
A federal appeals court on Tuesday dealt the final blow to former President Donald Trump's attempt to open nearly 130 million acres of territory in the Arctic and Atlantic Oceans to oil and gas drilling.
Electric vehicles are the cars of the future. sl-f / Getty Images
By 2035, every new car and truck sold in the U.S. could be an EV, a new report says.
Accelerations in technology and especially battery affordability, paired with new policy, mean the dramatic transition would save American drivers $2.7 trillion by 2050, an average savings of $1,000 per household per year.
The ramp up in EV production would also create 2 million new jobs by 2035. Battery prices have fallen 74% since 2014, and their unexpectedly rapid fall is a key driver of the cost savings.
EVs are far simpler mechanically, and more efficient, than internal combustion engine (ICE) vehicles, which translates to reduced climate pollution and lower costs for consumers.
Strengthened vehicle efficiency standards and investment in fast charging infrastructure are needed to accelerate the transition, which would prevent 150,000 premature deaths and save $1.3 trillion in health environmental costs by 2050.
For a deeper dive:

The Guardian, Fast Company, E&E, Morning Consult, Canary Media

For more climate change and clean energy news, you can follow Climate Nexus on Twitter and Facebook, sign up for daily Hot News, and visit their news site, Nexus Media News.
The Gowanus Canal in Brooklyn, New York, a polluted nearly 2 mile-long waterway that is an EPA Superfund site. Jonathan Macagba / Moment / Getty Images
Thousands of Superfund sites exist around the U.S., with toxic substances left open, mismanaged and dumped. Despite the high levels of toxicity at these sites, nearly 21 million people live within a mile of one of them, according to the U.S. Environmental Protection Agency (EPA).