This website uses cookies to ensure you get the best experience while browsing it. By clicking 'Got It' you're accepting these terms.
New Reports Show Impact of Man-Made Global Warming
Jul. 11, 2012 11:05AM EST
Climate
The influence of man-made global warming on the climate system continues to grow, with human fingerprints identified in more than two dozen climate "indicators" examined by an international research team—from air temperatures to ocean acidity—for a comprehensive annual State of the Climate report released July 10.
In a related study also released on July 10, climate researchers said man-made global warming is already shifting the probability of many extreme weather and climate events, making heat waves, droughts and other events more likely to occur in some parts of the world.
Together, the two reports amount to a comprehensive accounting of the present state of the climate system, over which mankind is now exerting a greater impact than ever before.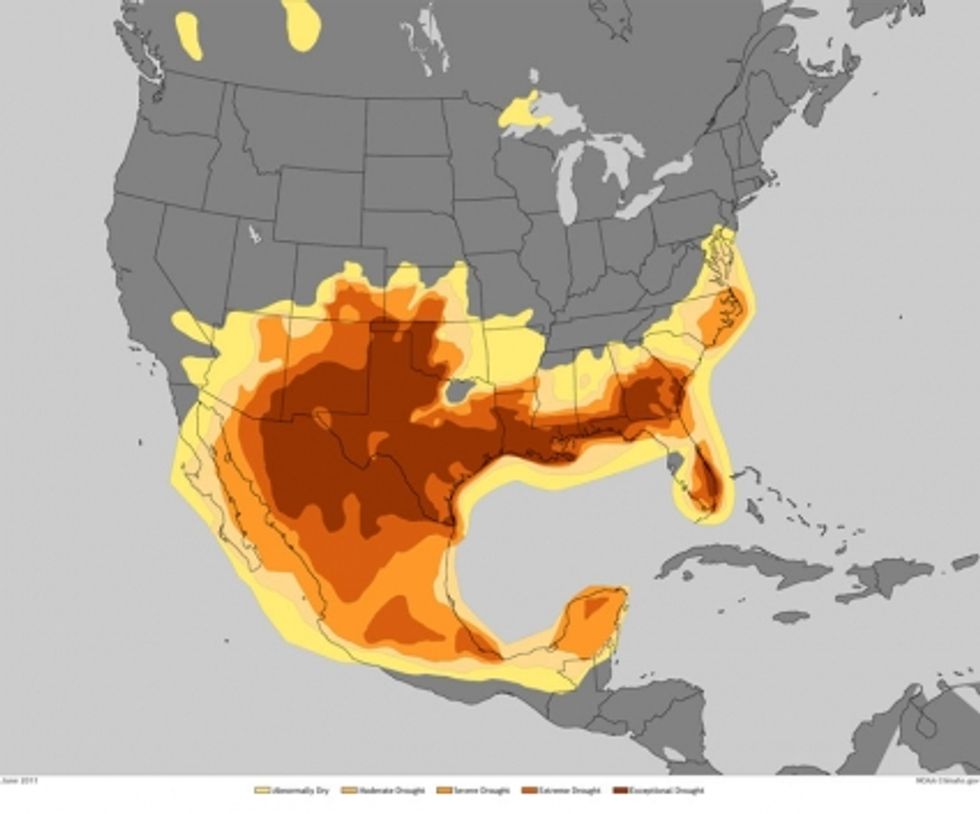 Drought map from June 2011, showing the intensifying drought in Texas and northern Mexico. Credit: NOAA.
The State of the Climate 2011 report, published by the National Oceanic and Atmospheric Administration (NOAA) and the American Meteorological Society (AMS), presents a peer reviewed tour through the weather and climate events of 2011. The overriding theme that emerges from the report is that the effects of human activities are readily evident, be it in the form of rising concentrations of greenhouse gases in the atmosphere—global carbon dioxide concentrations hit a new all-time high of 390 parts per million last year, and will cross the 400 ppm threshold worldwide by 2016—to the inexorable increase in ocean heat content.
The report shows that a La Nina event, characterized by cooler-than-average sea surface temperatures, helped keep global average surface temperatures down compared to 2010, but it was one of the warmest La Nina years on record.
In the Arctic, which has been warming at twice the rate of the rest of the globe, 2011 had the second-lowest sea ice extent on record. Barrow, Alaska, located above the Arctic Circle, experienced a record 86 straight days when the temperature failed to drop below freezing.
The report also contains evidence from ocean salinity measurements that the global water cycle is intensifying. "The dry regions are getting drier and the wet regions are getting wetter," Kate Willet, a senior scientist at the U.K. Met Office said on a conference call with reporters.
The other climate assessment, which was also released by NOAA and the AMS, represents a step forward in efforts to decipher how man-made global warming is influencing specific extreme weather and climate events.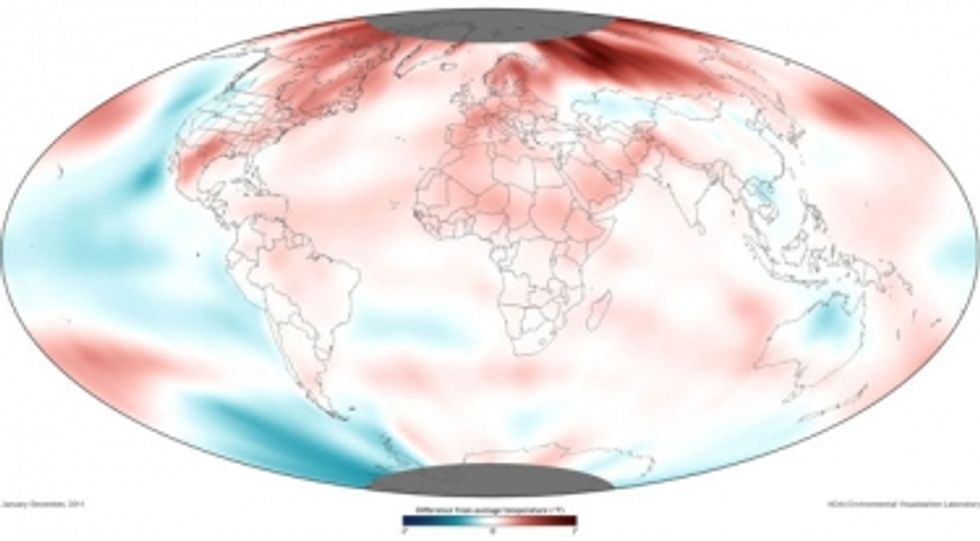 Global average surface temperature departures from average during 2011. Credit: NOAA.
"Every weather event that happens now takes place in the context of a changing global environment," said deputy NOAA administrator Kathryn D. Sullivan in a press release.
Researchers used different approaches to analyze a half-dozen extreme weather and climate events that occurred last year, from the brutal Texas drought and heat wave to the deadly Thailand floods.
The report notes that global warming has already been playing a role in shifting the odds for several of these extreme events, including the Texas drought. The 2011 growing season was by far the warmest and driest in Texas history, and the drought was the worst one-year drought on record there as well, costing billions in agricultural losses.
The study concluded that, due to man-made global warming, La Nina-related heat waves are now 20 times more likely to occur in Texas than they were 50 years ago.
Weather patterns during La Nina years naturally tend to favor warmer and drier conditions in the Lone Star State. According to Peter Stott, who leads the Climate Monitoring and Attribution team at the U.K.'s Met Office, since man-made global warming is boosting average temperatures, it makes it more likely that certain thresholds will be reached or exceeded when a La Nina occurs. "You're [now] much more likely to have exceptional warmth," in Texas during a La Nina year, he said.
Other researchers looked at international events and came to different conclusions depending on the questions researchers asked and the specific event in question. For example, scientists looked into the shifting odds for two unusual months that the U.K. experienced in 2010 and 2011. The U.K. had a very warm November of 2011, and rare cold during December 2010, during which time much of Britain experienced a white Christmas.
The study found that, because of man-made global warming and other factors, cold Decembers are now half as likely to occur as they were 50 years ago, and warm Novembers are 62 times more likely to take place.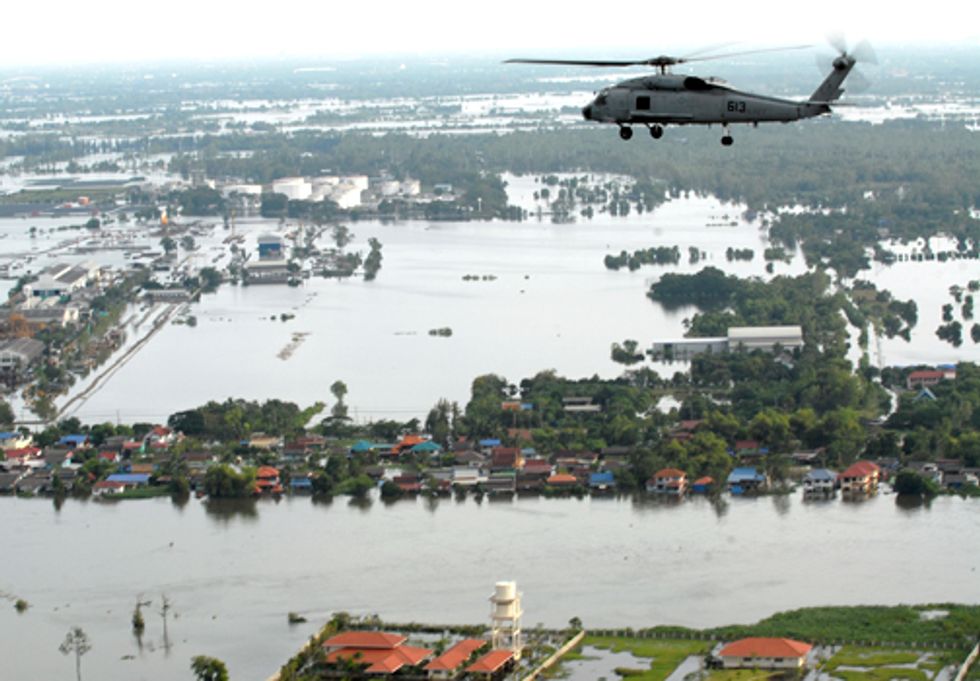 Other experts in the burgeoning field of "extreme-event attribution" took on the challenge of determining whether there was a global warming influence on the record Thailand floods of last year.
The floods were the worst to occur there since 1942, with some areas remaining submerged by 6 feet of water for more than two months, according to NOAA. The floodwaters damaged or destroyed many high tech manufacturing centers, leading to delays in shipping equipment such as laptop computers.
In this case, the researchers found evidence that the floods were man-made, but not because of climate change. The study concluded that the rainfall amounts were not actually unprecedented or that unusual for Thailand, and that industrial development, reservoir management policies and other trends on the ground contributed to the flooding.
"The flooding was unprecedented but the rainfall that produced it was not," Stott said.
Stott is working with an international team of scientists to advance extreme-event assessments, and has raised the possibility of eventually being able to conduct them in near-real time if the science advances far enough.
Visit EcoWatch's CLIMATE CHANGE page for more related news on this topic.
EcoWatch Daily Newsletter
An iguana is seen on a tree branch on November 22, 2019 in Marathon Island, Florida. LUDOVIC MARIN / AFP / Getty Images
An unusual weather report made waves this week as meteorologists warned residents of Florida to be aware of "raining iguanas."
Coca-Cola says it will not phase out its plastic bottles. Roberto Machado Noa / LightRocket / Getty Images
Myakka River State Park outside of Sarasota, Florida on Dec. 30, 2016. The park is a small preserve of rare protected habitat along Florida's Gulf Coast, a region that has seen intense development and population growth. Andrew Lichtenstein / Corbis via Getty Images
Today, the Trump administration will finalize its replacement for the Obama-era Waters of the United States (WOTUS) rule in a move that will strip protections from more than half of the nation's wetlands and allow landowners to dump pesticides into waterways, or build over wetlands, for the first time in decades.
"It would be great to see all the candidates join Elizabeth Warren in taking the No Big Ag Money Pledge," said Citizens Regeneration Lobby's Alexis Baden-Mayer.
Peter Blanchard
/ Flickr / ric (CC BY 2.0)
Food system justice and environmental advocates on Wednesday urged all Democratic presidential hopefuls to follow in the footsteps of Sen. Elizabeth Warren in signing a pledge rejecting campaign cash from food and agribusiness corporations.