This website uses cookies to ensure you get the best experience while browsing it. By clicking 'Got It' you're accepting these terms.
New Report Uncovers Land Grab in Uganda
Apr. 23, 2012 07:30AM EST
Released on the eve of a World Bank Conference on land and poverty1 to be held April 24, a new report reveals widespread violations of people's rights and environmental destruction from a land grab initially funded by the World Bank in Uganda.2
The Friends of the Earth Uganda report provides first-hand accounts from communities forced to give up their livelihoods, food supply and access to water.
The World Bank had historically provided millions of dollars in funding and technical support to palm oil expansion in forested islands off the coast of Lake Victoria in Kalangala, Uganda.
Nearly 10,000 hectares have already been planted, covering almost a quarter of the land area of the islands.3 While the Bank has since disassociated itself from the project, the land grabs continue.
Palm oil plantations have come at the expense of local food crops and rainforests. Local people have been prevented from accessing water sources and grazing land. Despite promises of employment, locals have lost their means of livelihood and are struggling to make ends meet.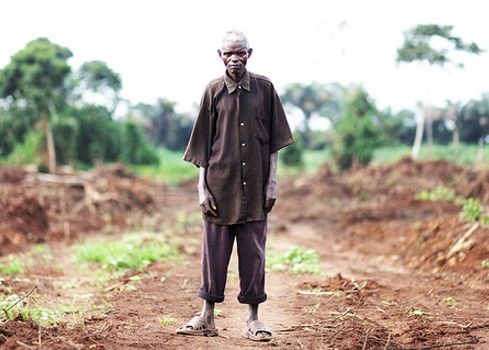 "People's rights to land are being demolished despite protection for them under the Ugandan Constitution," said David Kureeba from the National Association of Professional Environmentalists (NAPE)/Friends of the Earth Uganda. "Small scale farming and forestry that protected unique wildlife, heritage and food of Uganda is being converted to palm oil wastelands that only profit agribusinesses. The Ugandan Government must prioritise small scale ecological farming and protect people's land rights."
John Muyiisha, a farmer from Kalangala, tells of how he woke up one morning to find bulldozers destroying his crops. He had been on the land for 34 years. Other community members were contracted to plant palm oil and then forced to sell their land because of debts, low income from palm oil and no food crops.
"These Ugandan testimonies show the fallacy of trying to make land grabbing work for communities or the environment," said Kirtana Chandrasekaran, Friends of the Earth International food sovereignty coordinator. "Decades of policies to privatise land and promote industrial farming from the World Bank have set the stage for a massive global land grab."
"Governments around the world need to stop land grabbing, not just try to mitigate its worst impacts," Chandrasekaran added. "Governments must abide by their human rights obligations on land and drastically reducing demand for commodities such as palm oil from the West."
The project is a joint venture between global agrofuels giant Wilmar International and BIDICO, one of the largest oilseeds companies in Eastern Africa with start-up funding and policy support from International Financial institutions such as the World Bank and the Ugandan Government.4
For more information, click here.
—————
1. The agenda of the April 24-26 Annual World Bank Conference on land and poverty is focussed on how communities can benefit from land acquisitions rather than on how they can retain access to land. http://www.landandpoverty.com/agenda/index.html
2. The report, photo essay and video are available for media preview—and under embargo until 23 April at http://www.foei.org/media/landgrab
3. Kalangala islands cover 432.1 square kilometres or 43,210 hectares http://en.wikipedia.org/wiki/Kalangala_District
4. The project is funded with $120 Million from private finance, $10 Million from the International Finance Corporation and World Bank, $19.9 Million from the International Fund for Agriculture and Development and $12 Million from the Ugandan Government
EcoWatch Daily Newsletter
Variety of fermented food korean traditional kimchi cabbage and radish salad. white and red sauerkraut in ceramic plates over grey spotted background. Natasha Breen / REDA&CO / Universal Images Group / Getty Image
Even if you've never taken probiotics, you've probably heard of them.
These supplements provide numerous benefits because they contain live microorganisms, such as bacteria or yeast, which support the healthy bacteria in your gut (1, 2, 3, 4).
Pexels
Singapore will become the first country in the world to place a ban on advertisements for carbonated drinks and juices with high sugar contents, its health ministry announced last week. The law is intended to curb sugar consumption since the country has some of the world's highest diabetes rates per capita, as Reuters reported.
A typical adult takes around 20,000 breaths per day. If you live in a megacity like Beijing, with many of those lungfuls you're likely to inhale a noxious mixture of chemicals and pollutants.
Fred Stone holds his brown swiss cow Lida Rose at his Arundel dairy farm on March 18 after a press conference where he spoke about PFAS chemical contamination in his fields. Gregory Rec / Portland Portland Press Herald via Getty Images
By Susan Cosier
First there was Fred Stone, the third-generation dairy farmer in Maine who discovered that the milk from his cows contained harmful chemicals. Then came Art Schaap, a second-generation dairy farmer in New Mexico, who had to dump 15,000 gallons of contaminated milk a day.
Protesters attend the 32nd annual Fur-Free Friday demonstration on Nov. 23, 2018 in Beverly Hills, California. Ella DeGea / Getty Images
California Governor Gavin Newsom signed into law a bill that that bans the sale and manufacture of fur products in the state. The fur ban, which he signed into law on Saturday, prohibits Californians from selling or making clothing, shoes or handbags with fur starting in 2023, according to the AP.
By Simon Evans
During the three months of July, August and September, renewables generated an estimated total of 29.5 terawatt hours (TWh), compared with just 29.1TWh from fossil fuels, the analysis shows.
A demonstrator waves an Ecuadorian flag during protests against the end of subsidies to gasoline and diesel on Oct. 9 in Quito, Ecuador. Jorge Ivan Castaneira Jaramillo / Getty Images
Protesters block the road outside Mansion House in London during an XR climate change protest. Gareth Fuller / PA Images via Getty Images