This website uses cookies to ensure you get the best experience while browsing it. By clicking 'Got It' you're accepting these terms.
New Report Shows 'Natural Gas Increasingly Becoming an Unnecessary Bridge to Nowhere'
Apr. 28, 2016 09:13AM EST
By SUN DAY Campaign
Setting a new lopsided quarterly record, renewable sources (i.e., wind, solar, biomass and hydropower) outpaced—in fact, swamped—natural gas by a factor of more than 70:1 for new electrical generating capacity placed in-service during the first three months of calendar year 2016.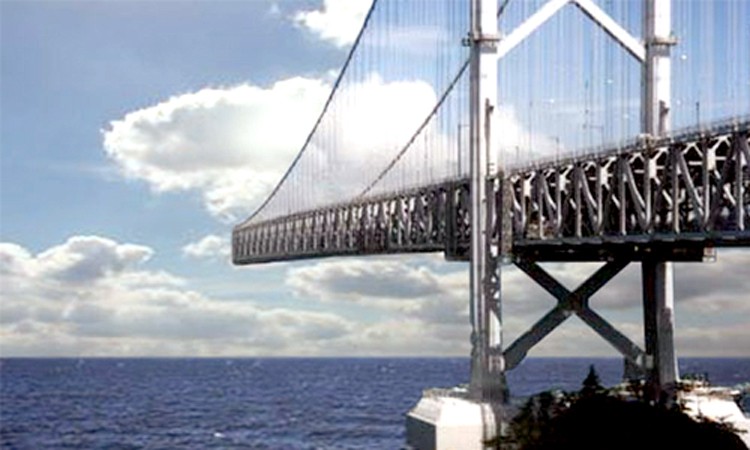 According to the latest just-released monthly Energy Infrastructure Update report from the Federal Energy Regulatory Commission's (FERC) Office of Energy Projects, nine new "units" of wind provided 707 megawatts (MW), followed by 44 units of solar (522 MW), 9 units of biomass (33 MW) and 1 unit of hydropower (29 MW). By comparison, only two new units of natural gas (18 MW) came on line. There was no new capacity reported for the quarter from coal, oil, nuclear power or geothermal steam.
Further, solar (75 MW), wind (72 MW) and biomass (33 MW) accounted for 100 percent of new generating capacity reported by FERC for just the month of March. Solar and wind were the only sources of new capacity in January as well.
Renewable energy sources now account for 18.11 percent of total available installed generating capacity in the U.S.: water—8.58 percent, wind—6.39 percent, biomass—1.43 percent, solar—1.38 percent and geothermal steam—0.33 percent. For perspective, when FERC issued its very first "Energy Infrastructure Update" in December 2010, renewable sources accounted for just 13.71 percent.
Moreover, the share of total available installed generating capacity now provided by non-hydro renewables (9.53 percent) not only exceeds that of conventional hydropower (8.58 percent) but is also greater than that from either nuclear power (9.17 percent) or oil (3.83 percent).*
"While often touted as being a 'bridge fuel,' natural gas is increasingly becoming an unnecessary bridge to nowhere," noted Ken Bossong, executive director of the SUN DAY Campaign. "As renewables continue to rapidly expand their share of the nation's electrical generation, it's becoming clear that natural gas will eventually join coal, oil and nuclear power as fuels of the past."
* Note that generating capacity is not the same as actual generation. Electrical production per MW of available capacity (i.e., capacity factor) for renewables is often lower than that for fossil fuels and nuclear power. According to the most recent data provided by the U.S. Energy Information Administration (EIA), actual net electrical generation from utility-scale renewable energy sources totaled about 14.3 percent of total U.S. electrical production as of January 31, 2016 (see: http://www.eia.gov/electricity/monthly). However, this figure understates renewables' actual contribution because neither EIA nor FERC fully accounts for all electricity generated by distributed, smaller-scale renewable energy sources such as rooftop solar (e.g., FERC acknowledges that its data just reflect "plants with nameplate capacity of 1 MW or greater").
YOU MIGHT ALSO LIKE
10 States Blocking the Power of the Sun
Panama Papers Prove America Has the Money to Transition to 100% Clean Energy
Billionaire Climate Activist to Spend $25 Million to Register Millennial Voters
KarinaKnyspel / iStock / Getty Images
2018 saw a number of studies pointing to the outsized climate impact of meat consumption. Beef has long been singled out as particularly unsustainable: Cows both release the greenhouse gas methane into the atmosphere because of their digestive processes and require a lot of land area to raise. But for those unwilling to give up the taste and texture of a steak or burger, could lab-grown meat be a climate-friendly alternative? In a first-of-its-kind study, researchers from the Oxford Martin School set out to answer that question.
Three scissor-tailed flycatcher fledglings in a mesquite tree in Texas. Texas Eagle / CC BY-NC 2.0
By Gary Paul Nabhan
President Trump has declared a national emergency to fund a wall along our nation's southern border. The border wall issue has bitterly divided people across the U.S., becoming a vivid symbol of political deadlock.
PeopleImages / E+ / Getty Images
By Daniel Ross
Hurricane Florence, which battered the U.S. East Coast last September, left a trail of ruin and destruction estimated to cost between $17 billion and $22 billion. Some of the damage was all too visible—smashed homes and livelihoods. But other damage was less so, like the long-term environmental impacts in North Carolina from hog waste that spilled out over large open-air lagoons saturated in the rains.
Hog waste can contain potentially dangerous pathogens, pharmaceuticals and chemicals. According to the state's Department of Environmental Quality, as of early October nearly 100 such lagoons were damaged, breached or were very close to being so, the effluent from which can seep into waterways and drinking water supplies.
This picture taken on May 21, 2018 shows discarded climbing equipment and rubbish scattered around Camp 4 of Mount Everest. Decades of commercial mountaineering have turned Mount Everest into the world's highest rubbish dump as an increasing number of big-spending climbers pay little attention to the ugly footprint they leave behind. DOMA SHERPA / AFP / Getty Images
China has closed its Everest base camp to tourists because of a buildup of trash on the world's tallest mountain.