This website uses cookies to ensure you get the best experience while browsing it. By clicking 'Got It' you're accepting these terms.
New Report Shows 'Natural Gas Increasingly Becoming an Unnecessary Bridge to Nowhere'
Apr. 28, 2016 09:13AM EST
Energy
By SUN DAY Campaign
Setting a new lopsided quarterly record, renewable sources (i.e., wind, solar, biomass and hydropower) outpaced—in fact, swamped—natural gas by a factor of more than 70:1 for new electrical generating capacity placed in-service during the first three months of calendar year 2016.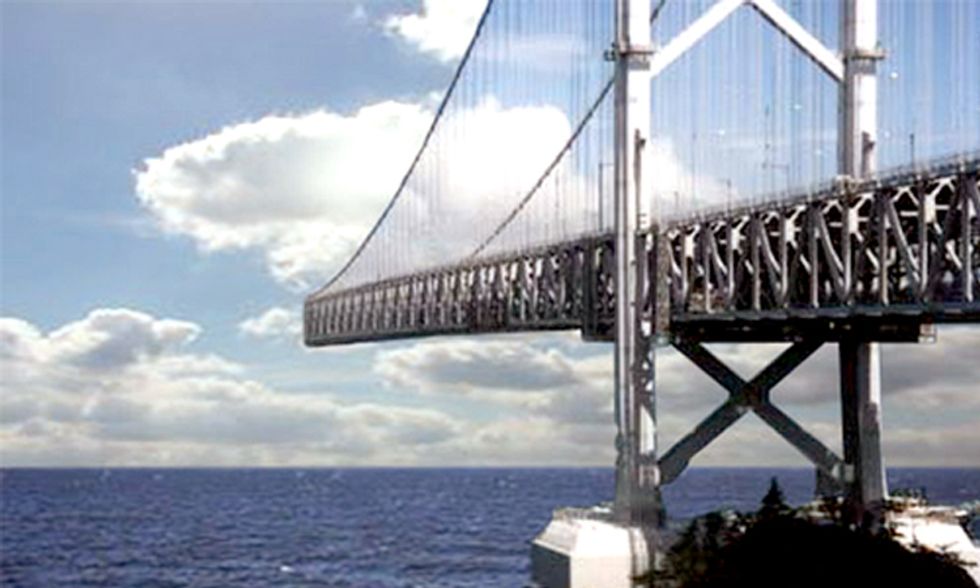 According to the latest just-released monthly Energy Infrastructure Update report from the Federal Energy Regulatory Commission's (FERC) Office of Energy Projects, nine new "units" of wind provided 707 megawatts (MW), followed by 44 units of solar (522 MW), 9 units of biomass (33 MW) and 1 unit of hydropower (29 MW). By comparison, only two new units of natural gas (18 MW) came on line. There was no new capacity reported for the quarter from coal, oil, nuclear power or geothermal steam.
Further, solar (75 MW), wind (72 MW) and biomass (33 MW) accounted for 100 percent of new generating capacity reported by FERC for just the month of March. Solar and wind were the only sources of new capacity in January as well.
Renewable energy sources now account for 18.11 percent of total available installed generating capacity in the U.S.: water—8.58 percent, wind—6.39 percent, biomass—1.43 percent, solar—1.38 percent and geothermal steam—0.33 percent. For perspective, when FERC issued its very first "Energy Infrastructure Update" in December 2010, renewable sources accounted for just 13.71 percent.
Moreover, the share of total available installed generating capacity now provided by non-hydro renewables (9.53 percent) not only exceeds that of conventional hydropower (8.58 percent) but is also greater than that from either nuclear power (9.17 percent) or oil (3.83 percent).*
"While often touted as being a 'bridge fuel,' natural gas is increasingly becoming an unnecessary bridge to nowhere," noted Ken Bossong, executive director of the SUN DAY Campaign. "As renewables continue to rapidly expand their share of the nation's electrical generation, it's becoming clear that natural gas will eventually join coal, oil and nuclear power as fuels of the past."
* Note that generating capacity is not the same as actual generation. Electrical production per MW of available capacity (i.e., capacity factor) for renewables is often lower than that for fossil fuels and nuclear power. According to the most recent data provided by the U.S. Energy Information Administration (EIA), actual net electrical generation from utility-scale renewable energy sources totaled about 14.3 percent of total U.S. electrical production as of January 31, 2016 (see: http://www.eia.gov/electricity/monthly). However, this figure understates renewables' actual contribution because neither EIA nor FERC fully accounts for all electricity generated by distributed, smaller-scale renewable energy sources such as rooftop solar (e.g., FERC acknowledges that its data just reflect "plants with nameplate capacity of 1 MW or greater").
YOU MIGHT ALSO LIKE
10 States Blocking the Power of the Sun
Panama Papers Prove America Has the Money to Transition to 100% Clean Energy
Billionaire Climate Activist to Spend $25 Million to Register Millennial Voters
EcoWatch Daily Newsletter
We need our government to do everything it can to stop PFAS contamination and exposure from wreaking havoc in communities across the country. LuAnn Hun /
Unsplash
By Genna Reed
The EPA announced last week that it is issuing a preliminary regulatory determination for public comment to set an enforceable drinking water standard to two of the most common and well-studied PFAS, PFOA and PFOS.
This decision is based on three criteria:
PFOA and PFOS have an adverse effect on public health
PFOA and PFOS occur in drinking water often enough and at levels of public health concern;
regulation of PFOA and PFOS is a meaningful opportunity for reducing the health risk to those served by public water systems.
Charging EVs in Stockholm: But where does a dead battery go? Ranjithsiji / Wikimedia Commons
By Kieran Cooke
Driving an electric-powered vehicle (EV) rather than one reliant on fossil fuels is a key way to tackle climate change and improve air quality — but it does leave the old batteries behind as a nasty residue.
U.S. Secretary of the Treasure Steven Mnuchin arrives for a welcome dinner at the Murabba Palace in Riyadh, Saudi Arabia on Feb. 22, 2020 during the G20 finance ministers and central bank governors meeting. FAYEZ NURELDINE / AFP via Getty Images
Finance ministers from the 20 largest economies agreed to add a scant mention of the climate crisis in its final communiqué in Riyadh, Saudi Arabia on Sunday, but they stopped short of calling it a major economic risk, as Reuters reported. It was the first time the G20 has mentioned the climate crisis in its final communiqué since Donald Trump became president in 2017.
Aerial view of Parque da Cachoeira, which suffered the January 2019 dam collapse, in Brumadinho, state of Minas Gerais, Brazil — one of the country's worst industrial accidents that left 270 people dead. Millions of tons of toxic mining waste engulfed houses, farms and waterways, devastating the mineral-rich region. DOUGLAS MAGNO / AFP / Getty Images
Participants of the climate demonstration Fridays for Future walk through Hamburg, Germany on Feb. 21, 2020. Axel Heimken / picture alliance via Getty Images