New Report Shows Monsanto A Major Culprit in Record Decline of Monarch Butterflies
By Larissa Walker
We hate to be the bearer of bad news, again, but the 2013-2014 overwintering population numbers for Monarch butterflies in Mexico were just released yesterday, confirming our bleak predictions from a few months ago: the situation is worsening. Last year's overwintering numbers were an all-time low, with monarchs occupying 1.19 hectares. The area occupied by monarchs this year is a frightening 0.67 hectares—a 44 percent decline in just the past year.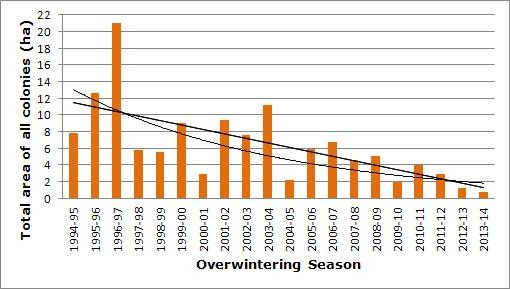 So what does that number actually mean for the population size of monarchs? An average estimate of about 50 million butterflies per hectare would mean there are roughly 33.5 million monarchs—a huge drop from just one year ago. Another way to visualize this downward spiral is to look at the trend of declining overwintering numbers in Mexico throughout the past two decades, as the graph shows above.
These data points and trends, compiled by World Wildlife Fund Mexico, clearly illustrate North American Monarch butterfly populations are in serious trouble, and it's only going to continue to get worse unless we make some big changes to our agricultural system.
While there are a handful of factors that affect monarch populations from year to year, such as climate extremes and illegal logging in Mexico, the loss of milkweed plants at the expense of recent changes in industrial agriculture now poses the greatest threat to monarchs. The use of the herbicide glyphosate (the active ingredient in Monsanto's best-selling product, Roundup) on genetically engineered (GE) corn and soybeans has absolutely decimated milkweed plants in North America.
Milkweed used to grow in abundance in Midwestern crop fields of North America, but now that the almost all corn and soybean varieties are engineered to withstand heavy applications of glyphosate, milkweed has little chance of survival in these vital monarch breeding grounds. For example, researchers now estimate that the number of milkweeds in Iowa corn and soybean fields has decreased by 98.7 percent between 1999 and 2012.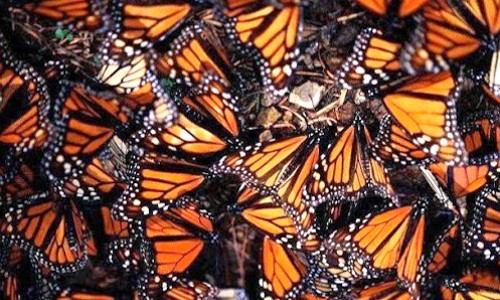 So where do we go from here? Omar Vidal, the director general of WWF Mexico, which reports the monarch overwintering numbers, really hit the nail on the head at this morning's press conference when he said it's time for the U.S. to do its part to protect this struggling species. In fact, he exclaimed that "Mexico must 'energetically demand' that the U.S. reform its agricultural policy with an eye toward preserving milkweed."

Precisely. More milkweed equals more monarch habitat; and gaining more milkweed will require less of Monsanto's Roundup sprayed on our fields. These critical plants are the sole breeding grounds for Monarch butterflies and the only source of food for their larvae. We enthusiastically agree with Vidal—it is prime time for the U.S. to take action and protect Monarch butterflies. We can't sit back and watch their population numbers consistently drop to new all-time lows.
Over the coming months, Center for Food Safety will be working with Members of Congress to introduce legislation to preserve and restore milkweed and protect the iconic Monarch butterflies they nurture, and we'll also be considering legal actions to ensure our government is doing everything it should be to safeguard Monarchs. Additionally, we are putting direct pressure on President Obama and federal agencies to make the changes needed to protect our Monarchs.
We face an historic choice as Americans: Monsanto or Monarchs. If we keep planting their pesticide-promoting crops at the rate we have been, our Monarchs will vanish. We need to make it clear to federal decision-makers that if we want to save Monarch butterflies in North America, we must prevent their critical habitat from being destroyed by Monsanto's Roundup Ready GE crops, and the unsustainable, pesticide-intensive industrial agriculture system promoted by such crops. You can help by signing our petition to the EPA, USDA and President Obama to tell them that it's time to stop approving pesticide-promoting crops.
Visit EcoWatch's BIODIVERSITY page for more related news on this topic.

Glyphosate, the main ingredient in Monsanto's widely used herbicide Roundup, will be added July 7 to California's list of chemicals known to the state to cause cancer, according to a Reuters report Tuesday. This news comes after the company's unsuccessful attempt to block the listing in trial court and requests for stay were denied by a state appellate court and California's Supreme Court.
California's Office of Environmental Health Hazard Assessment (OEHHA) announced the designation on Monday under the Safe Drinking Water and Toxic Enforcement Act of 1986, or Proposition 65.
Keep reading...
Show less
www.facebook.com
Keep reading...
Show less
Researchers from the Marine Animal Response Society examine one of the dead right whales. Marine Animal Response Society
Canadian government officials and marine biologists are investigating the mysterious deaths of six North American right whales. The endangered animals all turned up dead between June 6 and June 23 in the Gulf of St. Lawrence, off Canada's southeastern coast.
North Atlantic right whales are the rarest of all large whale species and among the rarest of all marine mammal species, with only about 450 right whales in the North Atlantic.
Keep reading...
Show less
Scott Pruitt testifies during his Senate confirmation hearing for EPA administrator, January 2017.
The U.S. Environmental Protection Agency's (EPA) chief of staff pressured the leader of its Board of Scientific Counselors to change her congressional testimony to downplay the impact of the agency's mass dismissal of scientists from the board, the New York Times reports.
Keep reading...
Show less
By Jason Mark
Sequoiadendron giganteum. That's the scientific name for the giant sequoia: the mammoth trees found in California's Sierra Nevada that are the largest organisms on Earth, and among the longest-lived. Biologists estimate that about half of all sequoias live in Giant Sequoia National Monument, a 328,000-acre preserve in the Southern Sierra Nevada established by President Clinton in 2000.
Now that national monument is in jeopardy.
Keep reading...
Show less
By Andy Rowell
Donald Trump this week is launching an "energy week," pushing the argument that the U.S. will become a net exporter of oil and gas.
The president and his cronies are talking about a new era of "U.S. energy dominance," which could stretch for decades to come. However, no one believes the president anymore.
Keep reading...
Show less
UN
By Colleen Curry
The United Nations has designated 23 new sites around the world to its World Network of Biosphere reserves—stunning natural landscapes that balance environmental and human concerns and strive for sustainability.
The forests, beaches and waterways were added to the list this year at the International Coordinating Council of the Man and the Biosphere Programme meeting in Paris earlier this month.
Keep reading...
Show less
Jun. 26, 2017 01:48PM EST
www.elysee.fr
By Andy Rowell
There is a growing feeling within European capitals that a quiet, but deeply positive, revolution is happening under Emmanuel Macron in France.
Macron's opinion poll rating is high, especially boosted in how the young French president has reacted to Donald Trump on the international stage.
Keep reading...
Show less
Jun. 26, 2017 12:32PM EST
www.facebook.com
Keep reading...
Show less