This website uses cookies to ensure you get the best experience while browsing it. By clicking 'Got It' you're accepting these terms.
New Report Reveals Two-Thirds of European Honeybee Pollen Contaminated By Dozens of Pesticides
Apr. 17, 2014 02:15PM EST
More than two-thirds of the pollen that honeybees collect from European fields is contaminated by a cocktail of up to 17 different toxic pesticides. These are the shocking findings of a new study released yesterday.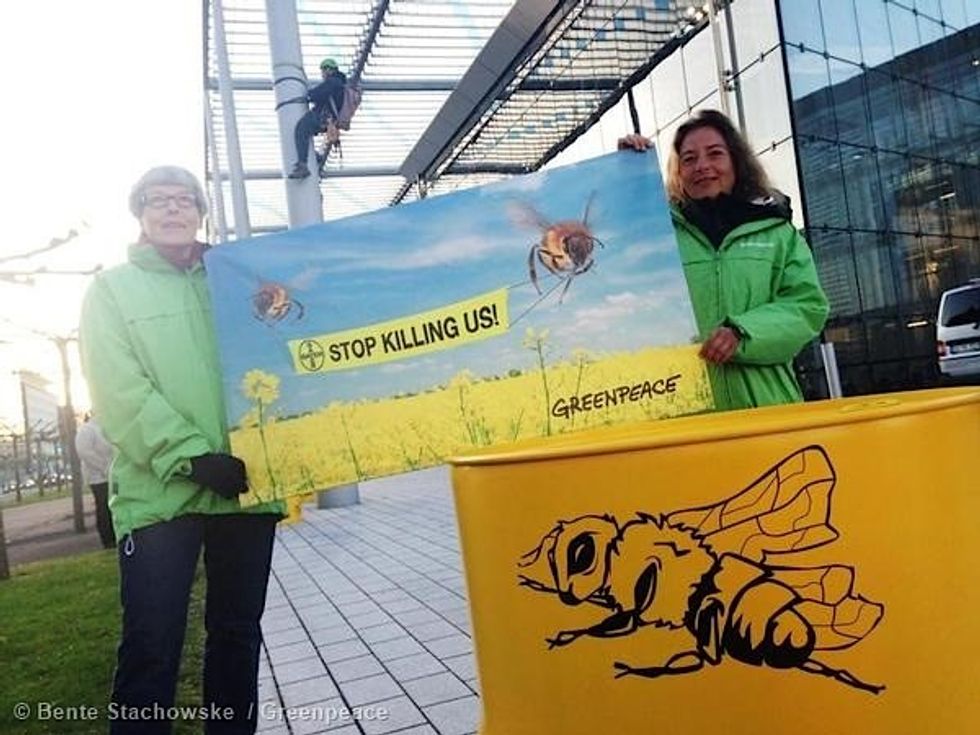 In addition to pesticides-related chemicals, the report also identifies substances used in insecticides, acaricides, fungicides and herbicides, produced by agrochemical companies like Bayer, Syngenta and BASF. To mark the release of the report and protest against the chemical industry's role in bee decline, more than 20 activists unfurled a giant banner outside the headquarters of Bayer, in Germany.
The study, The Bees' Burden: An analysis of pesticide residues in comb pollen (beebread) and trapped pollen from honey bees, is the largest of its kind, comprising more than 100 samples from 12 European countries. In total 53 different chemicals were detected.
The study is a snapshot of the toxicity of Europe's current agricultural system. It demonstrates the high concentrations and wide range of fungicides found in pollen collected around vineyards in Italy, the widespread use of bee-killing insecticides in pollen from rape fields in Poland, the detection of DDE—a derivative of DDT—a pesticide banned decades ago, and the frequent detection of the insect nerve-poison Thiacloprid, a neonicotinoid, in many samples from Germany.
"This study on contaminated pollen reveals the unbearable burden of bees and other vital pollinators," said Matthias Wüthrich, a Greenpeace ecological farming campaigner. "Bees are exposed to a cocktail of toxic pesticides. This is yet more proof that there is something fundamentally wrong in the current agricultural model which is based on the intensive use of toxic pesticides, large-scale monocultures and corporate control of farming by a few companies like Bayer, Syngenta & Co. It shows the need for a fundamental shift towards ecological farming."
The report confirms the findings of a recent study carried out by the European Food Safety Authority (EFSA). In its study, EFSA acknowledges vast knowledge gaps related to the health of bees and pollinators, including on the effects of chemical "cocktails," and calls on the EU and national governments to fill this gap with further scientific investigation.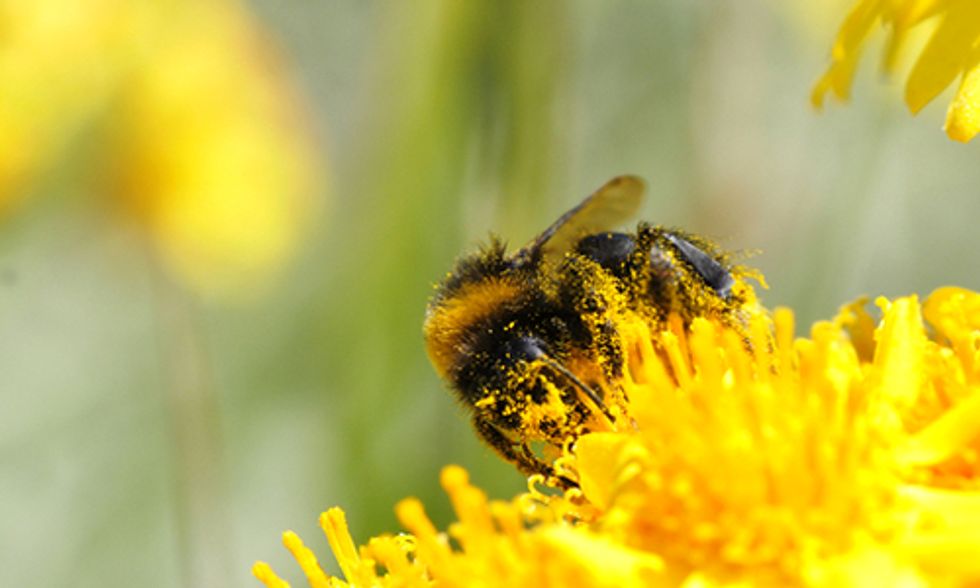 Photo courtesy of Shutterstock
In light of its findings on pollen contamination and following EFSA's recommendations, Greenpeace calls on the European Commission and policy-makers across Europe to:
Extend the scope of restrictions already imposed on the use of certain pesticides harmful to bees, namely clothianidin, imidacloprid, thiamethoxam and fipronil, so that their use is completely banned.
Fully ban all other pesticides harmful to bees and other pollinators (including chlorpyrifos, cypermethrin and deltamethrin).
Set ambitious Europe-wide action plans to better assess pesticide impacts on pollinators and reduce their use.
Encourage research and development of non-chemical alternatives to pest management and promote the widespread implementation of ecological farming practices on the ground.
--------
YOU ALSO MIGHT LIKE
Half a Million Americans Urge EPA to Protect Bees
EPA Approves Another Pesticide Highly Toxic to Bees
--------
EcoWatch Daily Newsletter
chuchart duangdaw / Moment / Getty Images
By Tim Radford
The year is less than four weeks old, but scientists already know that carbon dioxide emissions will continue to head upwards — as they have every year since measurements began — leading to a continuation of the Earth's rising heat.
Lucy Lambriex / DigitalVision / Getty Images
By Katey Davidson
Each year, an estimated 600 million people worldwide experience a foodborne illness.
While there are many causes, a major and preventable one is cross-contamination.
picture alliance / dpa / F. Rumpenhorst
By Arthur Sullivan
When was the last time you traveled by plane? Various researchers say as little as between 5 and 10 percent of the global population fly in a given year.
A Starbucks barista prepares a drink at a Starbucks Coffee Shop location in New York. Ramin Talaie / Corbis via Getty Images
By Cathy Cassata
Are you getting your fill of Starbucks' new Almondmilk Honey Flat White, Oatmilk Honey Latte, and Coconutmilk Latte, but wondering just how healthy they are?
By Sharon Kelly
Back in April last year, the Trump administration's Environmental Protection Agency decided it was "not necessary" to update the rules for toxic waste from oil and gas wells. Torrents of wastewater flow daily from the nation's 1.5 million active oil and gas wells and the agency's own research has warned it may pose risks to the country's drinking water supplies.