This website uses cookies to ensure you get the best experience while browsing it. By clicking 'Got It' you're accepting these terms.
New Report Reveals Additional Fossil Fuel Subsidies Equaling $4 Billion Each Year
Jul. 22, 2013 02:35PM EST
Energy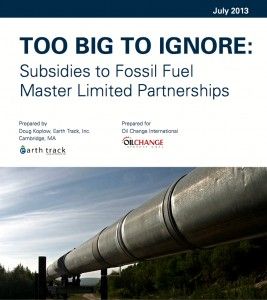 A new report released today by Oil Change International and Earth Track exposes a largely unaccounted for subsidy to the fossil fuel industry, valued at roughly $4 billion per year and growing.
New analysis quantifies the value of tax avoidance by the fossil fuel industry through a corporate structure called "master limited partnerships (MLPs)." Though eliminated for most U.S. industries more than a quarter century ago, special rules protected eligibility for fossil fuels, and have allowed a growing range of oil and gas activities to escape corporate income taxes entirely.
The report, Too Big to Ignore: Subsidies to Fossil Fuel Master Limited Partnerships, finds that the oil, gas and coal sectors have increasingly dominated the MLP universe, now comprising well over three-quarters of the total. Existing estimates of the taxpayer costs associated with fossil fuel MLPs are deceptively low, reducing the pressure to end this tax break once and for all.
MLPs, such as those created by Enbridge, Sunoco and TransCanada, not only enable firms to escape corporate income taxes on profits, but also to delay most tax payments on distributions to partners by many years. As Forbes has said, MLPs are an "income and a tax shelter rolled into one investment."
The MLP structure, according to the new report, cost the U.S. treasury as much as $13 billion in lost tax revenue between 2009 and 2012, a figure six times larger than previous estimates. Fossil fuel interests continue to convert to MLPs at an alarming rate through asset spin-offs, mergers and by seeking expanded eligibility granted not only by Congress, but also through rather secretive Internal Revenue Service (IRS) rulings.
"Not only does the U.S. oil boom imperil our communities and climate, but the increasing use of master limited partnerships allows the industry to pay even less of its share of the taxes needed to support those same communities," said David Turnbull, campaigns director of Oil Change International. "The fossil fuel industry is busy destroying our air, water, land and climate, all the while finding new ways to avoid taxes."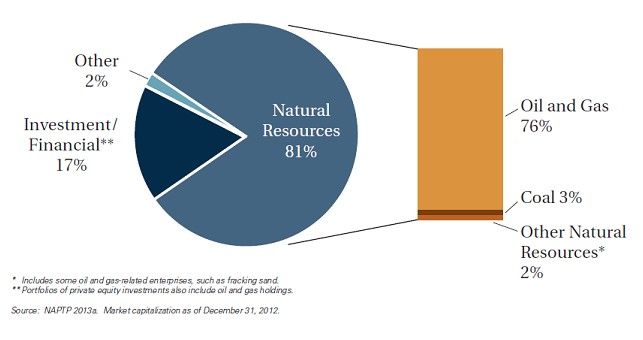 "Tax subsidies to fossil fuels through master limited partnerships go against both the fiscal and environmental interests of our country, yet are repeatedly overlooked in most federal oversight reports on subsidies," said Doug Koplow of Earth Track, the report's author. 
"Though recent efforts have looked to expand master limited partnership subsidies to some renewable energy resources, the evidence suggests that the fossil fuel sector will continue to capture the vast majority of the MLP subsidies even with an expansion," Koplow continues. "In the context of the climate crisis we face, the continuation of this subsidy to fossil fuels is inappropriate regardless of any potential benefits to new industries."
Visit EcoWatch's ENERGY page for more related news on this topic.
——–
SHARE YOUR THOUGHTS BELOW: Should these subsidies be applied to the renewable energy industry as well, or eliminated all together?
——–
EcoWatch Daily Newsletter
Ice-rich permafrost has been exposed due to coastal erosion, National Petroleum Reserve, Alaska. Brandt Meixell / USGS
By Jake Johnson
An alarming study released Tuesday found that melting Arctic permafrost could add nearly $70 trillion to the global cost of climate change unless immediate action is taken to slash carbon emissions.
According to the new research, published in the journal Nature Communications, melting permafrost caused by accelerating Arctic warming would add close to $70 trillion to the overall economic impact of climate change if the planet warms by 3°C by 2100.
Jeff Reed / NYC Council
The New York City Council on Thursday overwhelmingly passed one of the most ambitious and innovative legislative packages ever considered by any major city to combat the existential threat of climate change.

Ghazipur is a neighborhood in East Delhi. It has been one of the largest dumping site for Delhi. India is one of many countries where global warming has dragged down economic growth. Frédéric Soltan / Corbis / Getty Images
Global inequality is worse today because of climate change, finds a new study published Monday by Stanford University professors Noah Diffenbaugh and Marshall Burke in the Proceedings of the National Academy of Sciences.
A child playing with a ball from planet earth during Extinction Rebellion rally on April 18 in London, England. Brais G. Rouco / Barcroft Media / Getty Images
Earth Day 2019 just passed, but planning has already begun for Earth Day 2020, and it's going to be a big deal.
Geneva Vanderzeil, A Pair & A Spare / Flickr / CC BY 2.0
Is your closet filled with clothes you don't wear (and probably don't like anymore)? Are you buying cheap and trendy clothing you only wear once or twice? What's up with all the excess? Shifting to a more Earth-conscious wardrobe can help simplify your life, as well as curb fast fashion's toll on people and the planet.
Christine Zenino / Wikimedia Commons / CC BY 2.0

The 18th century St. Catherine of Alexandria church is seen after its bell tower was destroyed following a 6.3 magnitude earthquake that struck the town of Porac, pampanga province on April 23. TED ALJIBE / AFP / Getty Images
At least 16 people have died, 81 are injured and 14 are still missing after an earthquake struck Luzon island in the Philippines Monday, according to the latest figures from the National Disaster Risk Reduction and Management Council, as the Philippine Star tweeted Tuesday.
Climate change activists gather in front of the stage at the Extinction Rebellion group's environmental protest camp at Marble Arch in London on April 22, on the eighth day of the group's protest calling for political change to combat climate change. TOLGA AKMEN / AFP / Getty Images