New Report Reveals Additional Fossil Fuel Subsidies Equaling $4 Billion Each Year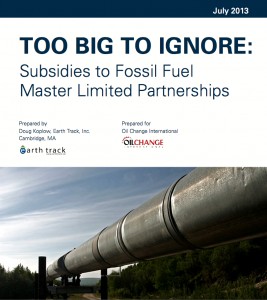 A new report released today by Oil Change International and Earth Track exposes a largely unaccounted for subsidy to the fossil fuel industry, valued at roughly $4 billion per year and growing.
New analysis quantifies the value of tax avoidance by the fossil fuel industry through a corporate structure called "master limited partnerships (MLPs)." Though eliminated for most U.S. industries more than a quarter century ago, special rules protected eligibility for fossil fuels, and have allowed a growing range of oil and gas activities to escape corporate income taxes entirely.
The report, Too Big to Ignore: Subsidies to Fossil Fuel Master Limited Partnerships, finds that the oil, gas and coal sectors have increasingly dominated the MLP universe, now comprising well over three-quarters of the total. Existing estimates of the taxpayer costs associated with fossil fuel MLPs are deceptively low, reducing the pressure to end this tax break once and for all.
MLPs, such as those created by Enbridge, Sunoco and TransCanada, not only enable firms to escape corporate income taxes on profits, but also to delay most tax payments on distributions to partners by many years. As Forbes has said, MLPs are an "income and a tax shelter rolled into one investment."
The MLP structure, according to the new report, cost the U.S. treasury as much as $13 billion in lost tax revenue between 2009 and 2012, a figure six times larger than previous estimates. Fossil fuel interests continue to convert to MLPs at an alarming rate through asset spin-offs, mergers and by seeking expanded eligibility granted not only by Congress, but also through rather secretive Internal Revenue Service (IRS) rulings.
"Not only does the U.S. oil boom imperil our communities and climate, but the increasing use of master limited partnerships allows the industry to pay even less of its share of the taxes needed to support those same communities," said David Turnbull, campaigns director of Oil Change International. "The fossil fuel industry is busy destroying our air, water, land and climate, all the while finding new ways to avoid taxes."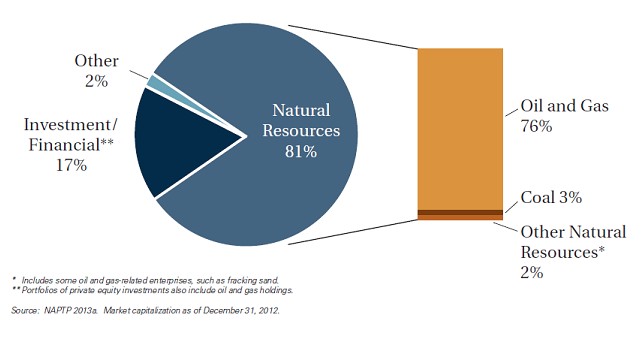 "Tax subsidies to fossil fuels through master limited partnerships go against both the fiscal and environmental interests of our country, yet are repeatedly overlooked in most federal oversight reports on subsidies," said Doug Koplow of Earth Track, the report's author. 
"Though recent efforts have looked to expand master limited partnership subsidies to some renewable energy resources, the evidence suggests that the fossil fuel sector will continue to capture the vast majority of the MLP subsidies even with an expansion," Koplow continues. "In the context of the climate crisis we face, the continuation of this subsidy to fossil fuels is inappropriate regardless of any potential benefits to new industries."
Visit EcoWatch's ENERGY page for more related news on this topic.
——–
SHARE YOUR THOUGHTS BELOW: Should these subsidies be applied to the renewable energy industry as well, or eliminated all together?
——–
www.facebook.com
Keep reading...
Show less
Keep reading...
Show less
www.elysee.fr
By Andy Rowell
There is a growing feeling within European capitals that a quiet, but deeply positive, revolution is happening under Emmanuel Macron in France.
Macron's opinion poll rating is high, especially boosted in how the young French president has reacted to Donald Trump on the international stage.
Keep reading...
Show less
Hawaii Renewable Energy Alliance
The latest issue of the U.S. Energy Information's "Electric Power Monthly" (with data through April 30) reveals that—for the first time since the beginning of the nuclear era—renewable energy sources (i.e., biomass, geothermal, hydropower, solar—inc. small-scale PV, wind) are now providing a greater share of the nation's electrical generation than nuclear power.
Keep reading...
Show less
www.youtube.com
Check out this great 360° virtual reality video by NowThis on the world's largest indoor vertical farm, AeroFarms. Located in Newark, New Jersey, AeroFarms grows more than 2 million pounds of greens a year without sunlight, soil or pesticides.
As reported by EcoWatch in July 2105, the $30 million, 70,000-square-foot AeroFarms headquarters dwarfs Japan's (already impressive) 25,000-square-foot vertical indoor farm, which had been the world's largest until now.
www.youtube.com
According to Bloomberg, "SeaWorld Entertainment Inc. received a subpoena earlier this month from regulators investigating disclosures and public statements by executives, including comments about the Blackfish documentary that caused a public backlash against the confinement of orcas.
Keep reading...
Show less
Wikipedia
By Franziska Spritzler, RD, CDE
Boosting your metabolic rate can help you lose body fat. However, most "fat-burning" supplements on the market are either unsafe, ineffective or both.
Fortunately, several natural foods and beverages have been shown to increase your metabolism and promote fat loss.
Keep reading...
Show less
Jun. 25, 2017 04:50PM EST
Monsanto, the maker of the glyphosate-based herbicide Roundup, filed a motion June 16 in U.S. District Court, Northern District of California to reconsider the chemical's addition to California's Proposition 65 list of agents known to cause cancer.
The agrochemical giant made this move based on a June 14 Reuters investigation of Dr. Aaron Blair, a lead researcher on the World Health Organization's International Agency for Research on Cancer (IARC) committee, that classified glyphosate as a "2A probable human carcinogen" in March 2015.
Keep reading...
Show less
Jun. 25, 2017 04:40PM EST
By Avery Friedman
Algae is often considered a nuisance, but for Sweden, the rapidly growing sea plant is now an asset.
As the Scandinavian country works to cut all of its greenhouse gas emissions by 2045, it's using algae to sop up the carbon emissions from cement.
Keep reading...
Show less