This website uses cookies to ensure you get the best experience while browsing it. By clicking 'Got It' you're accepting these terms.
New Report Finds Fracking Poses Health Risks to Pregnant Women and Children
Jun. 13, 2013 08:36AM EST
The Center for Environmental Health (CEH) today released a new report outlining the health risks to pregnant women and young children from harmful chemicals used in fracking. The report, Toxic and Dirty Secrets: The Truth About Fracking and Your Family's Health, shows how chemicals related to the oil and gas industry when conducting fracking operations can pollute the air and water in communities around fracking sites and pose health risks especially to pregnant women and children, who are most vulnerable to chemical exposures.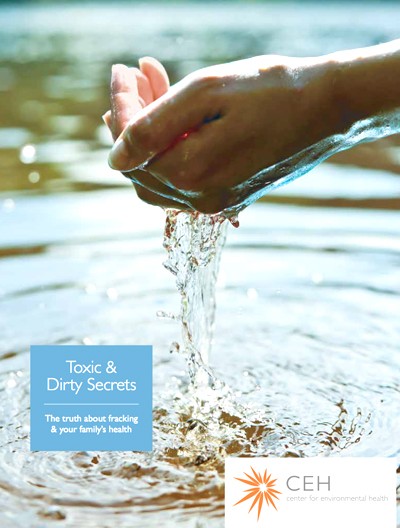 Toxic and Dirty Secrets: The Truth About Fracking and Your Family's Health
by Center for Environmental Health.
"Many harmful chemicals that we have been working so hard to eliminate from consumer products are now being used in mass quantity by fracking operations. In many instances, residents near fracking sites have already suffered from chemical pollution in their air and water," said Ansje Miller of CEH, a co-author of the report. "Current regulations allow companies to hide the fact that they are poisoning us with these chemicals under a claim of 'trade secret.' This is unacceptable, and leads to serious health risks, especially to pregnant women and children."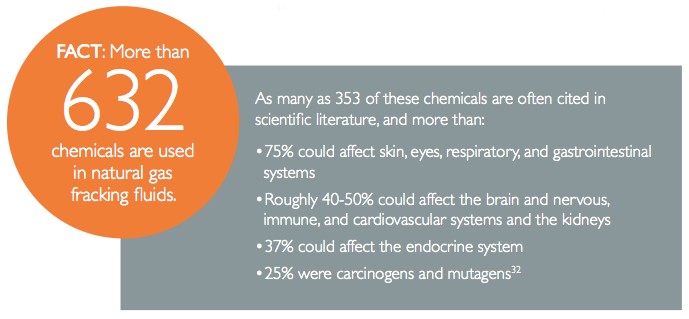 The chemicals used in fracking operations, from extraction to processing, distribution, transport and waste disposal, can pollute surrounding air and water. These harmful chemicals pose serious health risks to surrounding communities, and in particular to pregnant women and children. Just some of the harmful substances commonly used in fracking include methane, BTEX (benzene, toluene, ethylbenzene and xylenes), arsenic, radium, ozone, formaldehyde, radium, radon, nitrogen oxides, methylene chloride and silica sand. These substances are associated with low birth weight, birth defects, respiratory problems, cancer and fertility problems.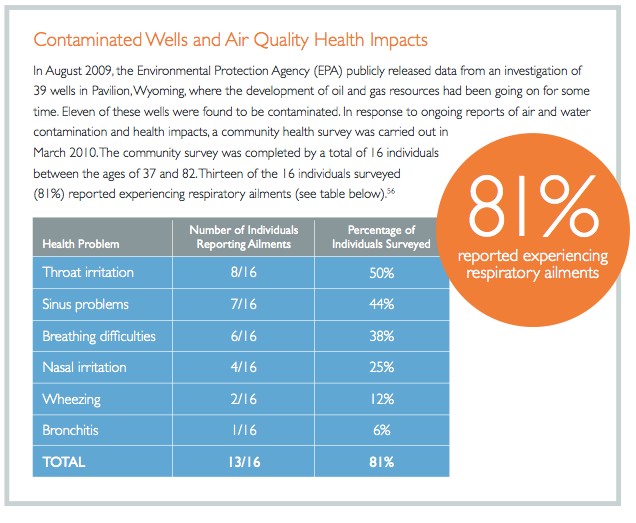 According to New York State Sen. Tony Avella, "More and more individuals are starting to realize that hydrofracking is an extremely dangerous drilling practice and its effects, both known and unknown, are too dangerous to not have a comprehensive and transparent health impact analysis. There have been a variety of illnesses associated with residents living near hydrofracking sites, such as loss of smell, memory problems, headaches, respiratory illness and stillbirths. This is why an impact study remains paramount in determining the effects of hydrofracking prior to even considering allowing fracking in our State. I commend the Center for Environmental Health for releasing this important report which further focuses on health effects on mothers and children as a direct result of hydrofracking. The evidence is simply overwhelming against this dangerous practice. I will therefore continue to advocate for the State of New York to heed these warnings."
Fracking has also been found to alter the social fabric of the communities where it occurs. The process increases road traffic, which increases stress, injuries and fatalities. Fracking also causes industrial noise, which is correlated with hypertension, sleep disturbance, cardiovascular disease, stroke, increased aggression, depression and cognitive impairment. Fracking has also caused social disruption, and has been correlated with increases in sexually transmitted diseases, substance abuse and violent crime.
"Nurses are deeply concerned about the irreparable harm fracking inflicts upon the people and communities in their care," said Kathy Curtis, LPN, Board Member of the Alliance of Nurses for Healthy Environments. "Environmental damage, diseases and disorders and negative social impacts are just part of the problem. What we don't hear much about is another chemical industry dirty little secret: much of the fracked gas will supply cheap energy and feedstock to make yet more toxic chemicals. Further, our communities will be irrevocably contaminated, not to provide inexpensive home heating as has been advertised, but to ship the gas to China."
"Fetuses and children are disproportionately vulnerable to the deleterious effects of exposure to environmental toxicants," said Dr. Sheila Bushkin, MD, MPH. "Although health impacts from industrial chemicals already exist in our population, the magnitude of risk would be greatly increased if High-volume Hydraulic Fracturing (HVHF) is permitted within the state of New York. Exposure to industrial chemicals and to ionizing radiation cause greater injury during development and early life. This may result in greater likelihood of birth defects, cognitive and behavioral development and lifelong disabilities. Likewise, environmental exposures to these substances, place pregnant women at greater risk from complications of gestation, resulting in increased maternal illnesses and mortality. From an ethical point of view, it is the responsibility of the medical community and legislative leaders to protect the health of the people of New York State and future generations. The first step would be to conduct a comprehensive Health Impact Assessment, prior to permitting the onset of HVHF activities within this beautiful state."
Visit EcoWatch's FRACKING page for more related news on this topic.
——–
Sign the petition today, telling President Obama to enact an immediate fracking moratorium:

EcoWatch Daily Newsletter
Bernie Sanders holds his first presidential campaign rally at Brooklyn College on March 02 in Brooklyn, New York. Kena Betancur / VIEWpress / Corbis. Getty Images
Bernie Sanders has become the first contender in the crowded 2020 Democratic presidential primary field to pledge to offset all of the greenhouse gas emissions released by campaign travel, The Huffington Post reported Thursday.
An aerial view of the flooding at the Camp Ashland, Nebraska on March 17. Nebraska National Guard / Staff Sgt. Herschel Talley / Flickr / CC BY 2.0
The record flooding in the Midwest that has now been blamed for four deaths could also have lasting consequences for the region's many farmers.
In tea, food, or just on your windowsill, embrace the fragrance and fantastic healing potential of herbs.
By Ana Santos Rutschman
The world of food and drug regulation was rocked earlier this month by the news of a change in leadership at the Food and Drug Administration. Commissioner Scott Gottlieb resigned and will step down in early April. His temporary replacement is Dr. Ned Sharpless, director of the National Cancer Institute.
MartinPrescott / iStock / Getty Images
On Wednesday the U.S. Environmental Protection Agency (EPA) announced the first 20 chemicals it plans to prioritize as "high priority" for assessment under the Toxic Substances Control Act. Given the EPA's record of malfeasance on chemicals policy over the past two years, it is clear that these are chemicals that EPA is prioritizing to ensure that they are not properly evaluated or regulated.
Strawberries top the Environmental Working Group's "Dirty Dozen" list of U.S. produce most contaminated with pesticides. DANIEL LEAL-OLIVAS / AFP / Getty Images
Which conventionally-grown fruits and vegetables in the U.S. are most contaminated with pesticides? That's the question that the Environmental Working Group answers every year with its "Dirty Dozen" list of produce with the highest concentration of pesticides after being washed or peeled.
A drilling rig in a Wyoming natural gas field. William Campbell / Corbis via Getty Images
A U.S. federal judge temporarily blocked oil and gas drilling on 300,000 acres of federal leases in Wyoming Tuesday, arguing that the Bureau of Land Management (BLM) "did not sufficiently consider climate change" when auctioning off the land, The Washington Post reported.
Mizina / iStock / Getty Images
Oats are widely regarded as one of the healthiest grains you can eat, as they're packed with many important vitamins, minerals, and fiber.