New Report Documents Chemical Disasters and Environmental Injustice in the U.S.
Americans who face the greatest threat from potential toxic chemical disasters are predominantly from low income and minority communities, a new report released by the Environmental Justice and Health Alliance asserts.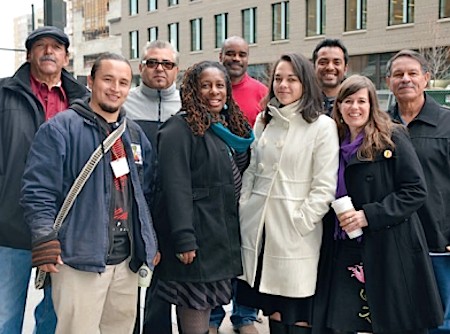 Who's in Danger?
report
In a first-of-its-kind study, the report, Who's in Danger? A Demographic Analysis of Chemical Disaster Vulnerability Zones, documents the high-risk factors of living within the vicinity of chemical facilities—including water and wastewater treatment facilities, power plants, bleach production facilities, petroleum refineries and paper mills. The report dubs these hotspots "vulnerability zones," or "fenceline zones." 
"Our government has allowed these facilities to be disproportionately located in communities of color and has allowed chemical corporations and the officials who are supposed to be protecting us to tragically fail workers and surrounding communities," explains Michele Roberts, co-author of the report. "Sadly, we have witnessed too many tragic catastrophes such as what happened in West, TX, last year, with 15 people killed; or in Elk River, WV, with toxic, contaminated water coming out of people's faucets in their homes; or Richmond, CA, where 15,000 were sent to hospitals from a Chevron refinery explosion."
"People of color communities are treated as if they are disposable human beings," Roberts continues. "This is environmental injustice and racism."
Using data from the U.S. Environmental Protection Agency and the U.S. Census Bureau, the report demonstrates that not only are these disadvantaged Americans living within disaster zones, but that industries and regulators are failing to take measures to make their situation any safer.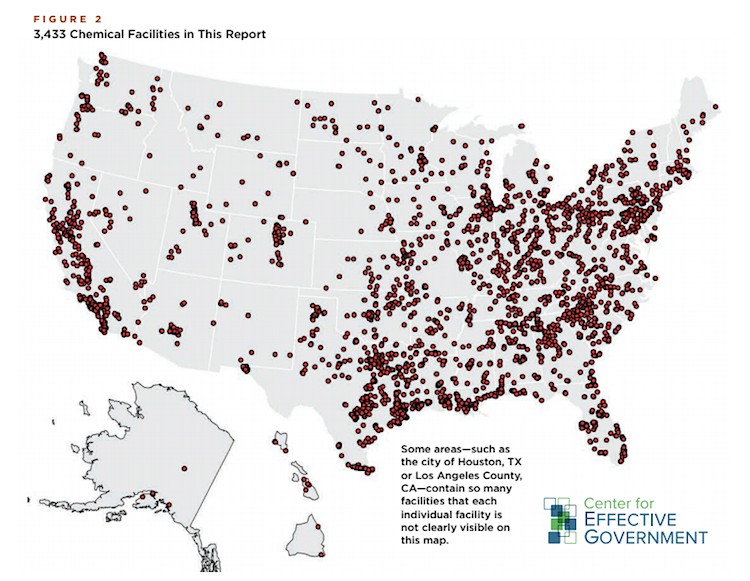 "Here in Richmond, CA, 15,000 people had to go to the hospital when the Chevron Refinery exploded and caught on fire three years ago," says Dr. Henry Clark of the West County Toxics Coalition. "All of the various investigations since then, every single one, has concluded that the community is still not safe from the same thing happening all over again. You better believe they would not have built this refinery in the wealthy white communities near by."
Some activists accuse companies of intentionally locating their chemical plants in poor communities because they know the residents don't have the resources to put up a fight.
"When a chemical facility explodes or catches fire, some of the most toxic substances made by man can be dispersed into a community, and, depending on the chemical, stay in the air, water, and soil for quite some time," says Wilma Subra, PhD, of the Subra Company in Louisiana. "Some of these chemicals—like chlorine, hydrofluoric acid, vinyl acetate, and many others—are not only immediately harmful to life and health but are linked to respiratory injury, cancer and other chronic health problems."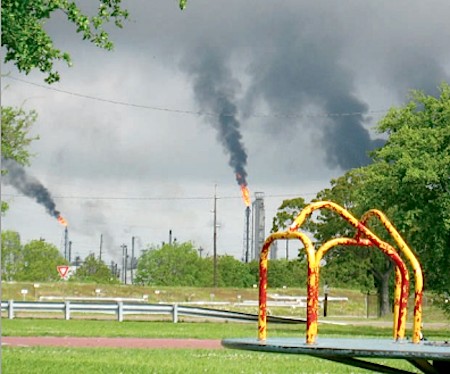 Who's in Danger?
report
The report focused on five demographic indicators (home value, household income, race and ethnicity, education level and poverty rate) and found that:
Residents of the fenceline zones closest to the facilities have average home values 33 percent below the national average and average incomes 22 percent below the national average.
The percentage of blacks in the fenceline zones is 75 percent greater than for the U.S. as a whole, and the percentage of Latinos is 60 percent greater.
The percentage of adults in the fenceline with less than a high school diploma is 46 precent greater than for the U.S. as a whole, but the percentage with a college or other post-high school degree is 27 precent lower.
The poverty rate in the fenceline zones is 50 percent higher than for the U.S. as a whole.
"The interactive maps in the report are a tool for residents, industry, and government agencies to find which communities and schools are in the danger zones around these chemical facilities," says Sean Moulton, with Center for Effective Government. "We're hoping parents, teachers, and school administrators will become more engaged and will join us in asking for much stronger protections from chemical disasters." 
--------
YOU MIGHT ALSO LIKE
A Preventable Chemical Plant Explosion May Be Closer Than You Think
Residents Seek Environmental Justice in GA by Suing City for Decades of Sewage Dumping
Toxic Dump to Expand in Low-Income Neighborhoods as Violations Persist
-------- 
Bill Maher is sick of billionaires' obsession with Mars, more like "Mars-a-Lago," he said.
In a new animation produced by ATTN:, the popular talk show host of Real Time, discusses the perils of our planet, including how "climate change is killing us."
Keep reading...
Show less
Dr. Benjamin D. Santer, research scientist
A group of prominent climate scientists have written a study explicitly refuting statements made by the U.S. Environmental Protection Agency Administrator Scott Pruitt on climate data. During his Senate confirmation hearing, Pruitt claimed in a written response that satellite data shows a "leveling off" of warming over the past two decades.
Keep reading...
Show less
By David Pomerantz
The Nevada Assembly passed a bill Wednesday that would dramatically increase the growth of renewable energy in the state, but Sheldon Adelson, the casino magnate and major donor to Donald Trump, is attempting to prevent the bill from becoming law.
Keep reading...
Show less
Matt Crossick
By Yosola Olorunshola
Whether it's through fashion or protest, Vivienne Westwood is not a woman afraid of making a statement.
On May 23, she rocked up to the residence of the Archbishop of Canterbury in London with a special guest—the Grim Reaper—to issue a strong statement on the Church of England's position on fracking.
Keep reading...
Show less
By Paul Brown
The food industry and big agricultural concerns are driving climate change and at the same time threatening to undermine efforts to feed the world's growing population, according to GRAIN, an organization that supports small farmers.
Particularly singled out for criticism are the large chemical fertilizer producers that have gained access to the United Nations talks on climate change. GRAIN accuses them of behaving like the fossil fuel companies did in the 1990s, pushing false information in the hope of delaying real action on climate change.
Keep reading...
Show less
May. 24, 2017 06:55PM EST
By Sydney Robinson
President Trump has no doubt been given a long list of extravagant, elaborate gifts in his lifetime, but the gift given to him today by Pope Francis may not make it on his most favorite list.
Keep reading...
Show less
May. 24, 2017 07:17PM EST
By John Rogers
Maybe it's because I first started working on clean energy while serving in the Peace Corps he founded, or maybe it's my years of working on these issues from his home state. But I can't help thinking about the 100th anniversary of John F. Kennedy's birth, and connecting his stirring rhetoric to the energy challenges of our times.
Here's what our 35th president might have said about the challenges of energy transition and the opportunities in clean energy:
"Change is the law of life. And those who look only to the past or present are certain to miss the future."
Keep reading...
Show less
May. 24, 2017 01:47PM EST
Keep reading...
Show less


Get EcoWatch in your inbox