This website uses cookies to ensure you get the best experience while browsing it. By clicking 'Got It' you're accepting these terms.
New Report Documents Chemical Disasters and Environmental Injustice in the U.S.
May. 05, 2014 04:50PM EST
Health + Wellness
Americans who face the greatest threat from potential toxic chemical disasters are predominantly from low income and minority communities, a new report released by the Environmental Justice and Health Alliance asserts.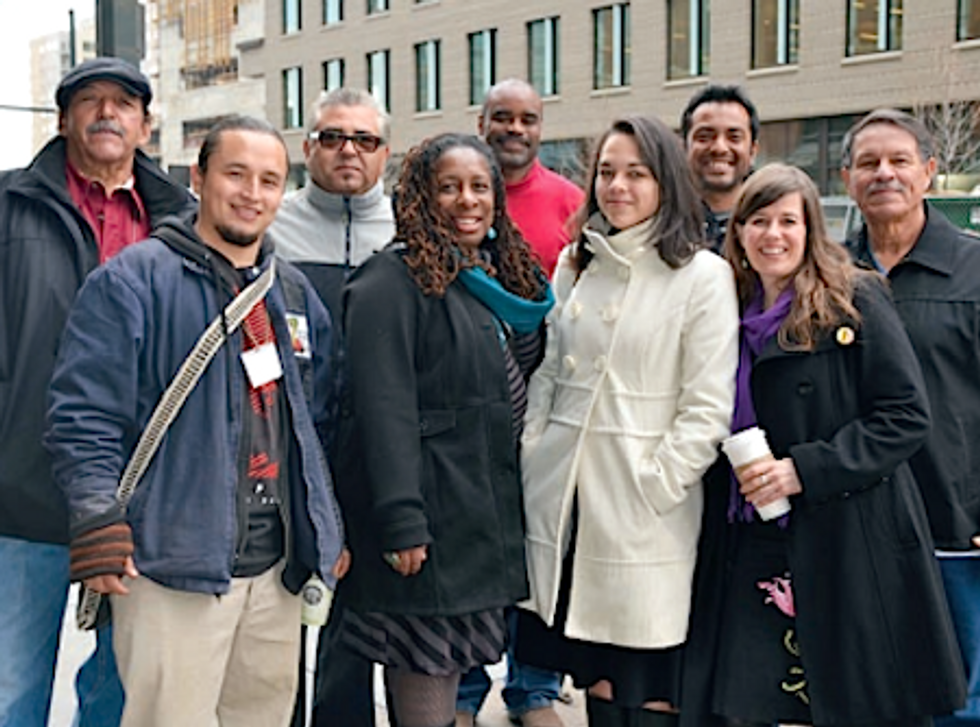 Who's in Danger?
report
In a first-of-its-kind study, the report, Who's in Danger? A Demographic Analysis of Chemical Disaster Vulnerability Zones, documents the high-risk factors of living within the vicinity of chemical facilities—including water and wastewater treatment facilities, power plants, bleach production facilities, petroleum refineries and paper mills. The report dubs these hotspots "vulnerability zones," or "fenceline zones." 
"Our government has allowed these facilities to be disproportionately located in communities of color and has allowed chemical corporations and the officials who are supposed to be protecting us to tragically fail workers and surrounding communities," explains Michele Roberts, co-author of the report. "Sadly, we have witnessed too many tragic catastrophes such as what happened in West, TX, last year, with 15 people killed; or in Elk River, WV, with toxic, contaminated water coming out of people's faucets in their homes; or Richmond, CA, where 15,000 were sent to hospitals from a Chevron refinery explosion."
"People of color communities are treated as if they are disposable human beings," Roberts continues. "This is environmental injustice and racism."
Using data from the U.S. Environmental Protection Agency and the U.S. Census Bureau, the report demonstrates that not only are these disadvantaged Americans living within disaster zones, but that industries and regulators are failing to take measures to make their situation any safer.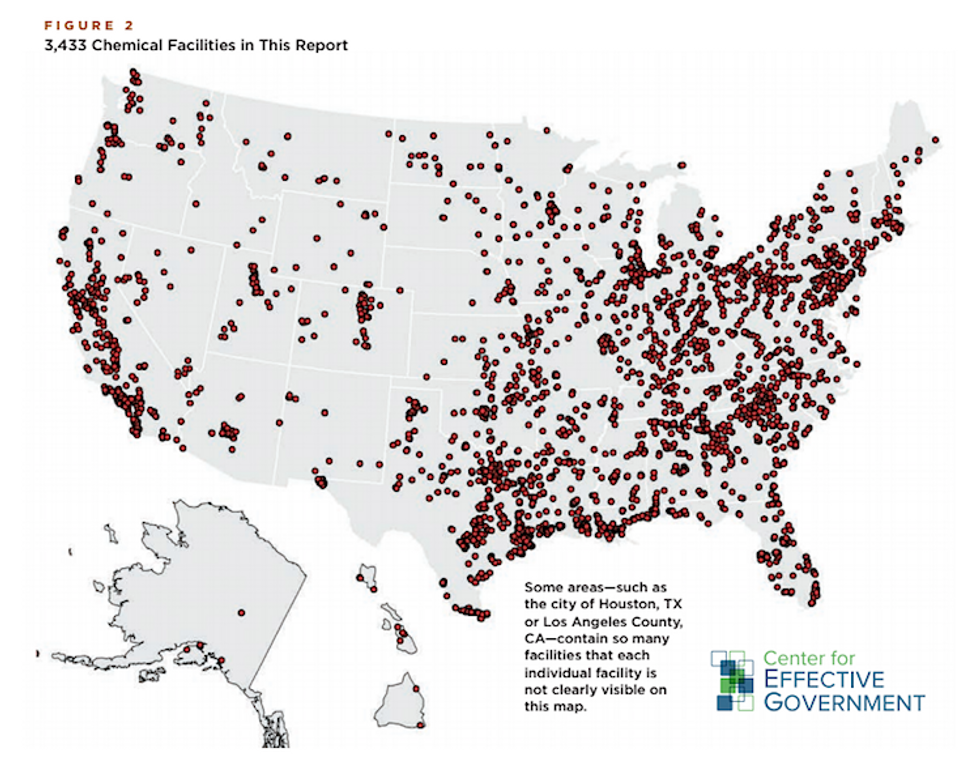 "Here in Richmond, CA, 15,000 people had to go to the hospital when the Chevron Refinery exploded and caught on fire three years ago," says Dr. Henry Clark of the West County Toxics Coalition. "All of the various investigations since then, every single one, has concluded that the community is still not safe from the same thing happening all over again. You better believe they would not have built this refinery in the wealthy white communities near by."
Some activists accuse companies of intentionally locating their chemical plants in poor communities because they know the residents don't have the resources to put up a fight.
"When a chemical facility explodes or catches fire, some of the most toxic substances made by man can be dispersed into a community, and, depending on the chemical, stay in the air, water, and soil for quite some time," says Wilma Subra, PhD, of the Subra Company in Louisiana. "Some of these chemicals—like chlorine, hydrofluoric acid, vinyl acetate, and many others—are not only immediately harmful to life and health but are linked to respiratory injury, cancer and other chronic health problems."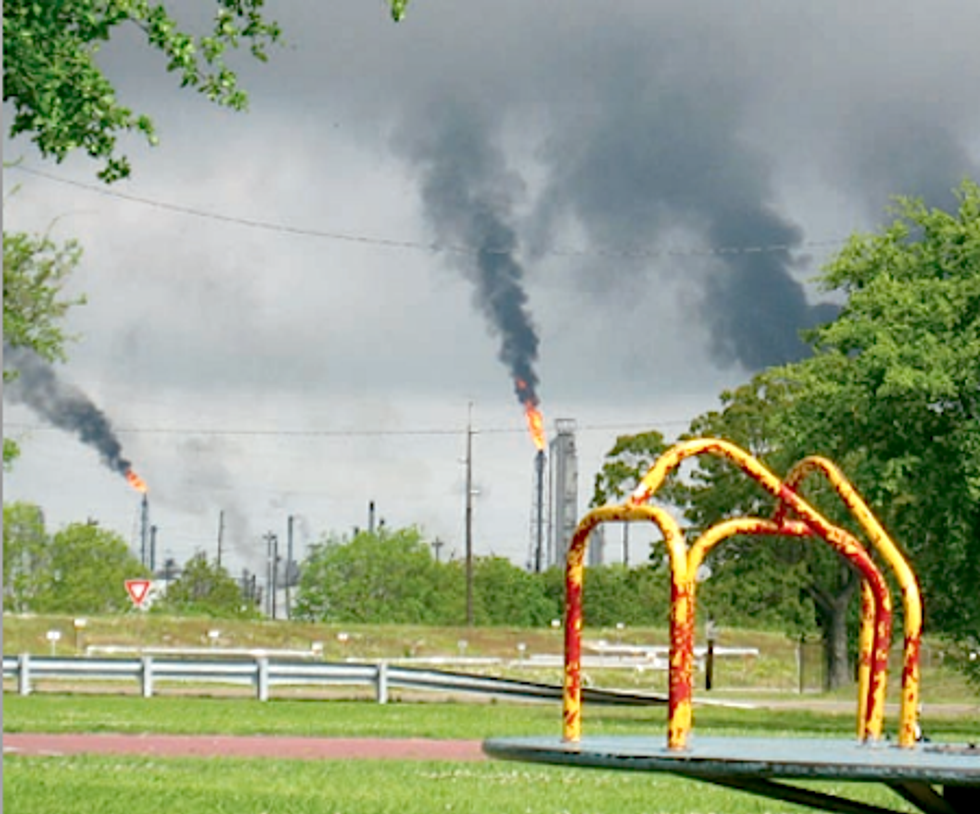 Who's in Danger?
report
The report focused on five demographic indicators (home value, household income, race and ethnicity, education level and poverty rate) and found that:
Residents of the fenceline zones closest to the facilities have average home values 33 percent below the national average and average incomes 22 percent below the national average.
The percentage of blacks in the fenceline zones is 75 percent greater than for the U.S. as a whole, and the percentage of Latinos is 60 percent greater.
The percentage of adults in the fenceline with less than a high school diploma is 46 precent greater than for the U.S. as a whole, but the percentage with a college or other post-high school degree is 27 precent lower.
The poverty rate in the fenceline zones is 50 percent higher than for the U.S. as a whole.
"The interactive maps in the report are a tool for residents, industry, and government agencies to find which communities and schools are in the danger zones around these chemical facilities," says Sean Moulton, with Center for Effective Government. "We're hoping parents, teachers, and school administrators will become more engaged and will join us in asking for much stronger protections from chemical disasters." 
--------
YOU MIGHT ALSO LIKE
A Preventable Chemical Plant Explosion May Be Closer Than You Think
Residents Seek Environmental Justice in GA by Suing City for Decades of Sewage Dumping
Toxic Dump to Expand in Low-Income Neighborhoods as Violations Persist
-------- 
EcoWatch Daily Newsletter
The CDC has emphasized that washing hands with soap and water is one of the most effective ways to prevent the spread of COVID-19. Guido Mieth / Moment / Getty Images
The Centers for Disease Control has emphasized that washing hands with soap and water is one of the most effective measures we can take in preventing the spread of COVID-19. However, millions of Americans in some of the most vulnerable communities face the prospect of having their water shut off during the lockdowns, according to The Guardian.
A California newt (Taricha torosa) from Napa County, California, USA. Connor Long /
CC BY-SA 3.0
Aerial photos of the Sierra Nevada — the long mountain range stretching down the spine of California — showed rust-colored swathes following the state's record-breaking five-year drought that ended in 2016. The 100 million dead trees were one of the most visible examples of the ecological toll the drought had wrought.
Now, a few years later, we're starting to learn about how smaller, less noticeable species were affected.
Disinfectants and cleaners claiming to sanitize against the novel coronavirus have started to flood the market.
Natthawat / Moment / Getty Images
Disinfectants and cleaners claiming to sanitize against the novel coronavirus have started to flood the market, raising concerns for the U.S. Environmental Protection Agency (EPA), which threatened legal recourse against retailers selling unregistered products, according to The New York Times.
A customer packs groceries in reusable bags at a NYC supermarket on March 1, 2020. Eduardo Munoz Alvarez/Getty Images
The global coronavirus pandemic has thrown our daily routine into disarray. Billions are housebound, social contact is off-limits and an invisible virus makes up look at the outside world with suspicion. No surprise, then, that sustainability and the climate movement aren't exactly a priority for many these days.
Ingredients are displayed for the Old School Pinto Beans from the Decolonize Your Diet cookbook by Luz Calvo and Catriona Rueda Esquibel. Melissa Renwick / Toronto Star via Getty Images
By Molly Matthews Multedo
Livestock farming contributes to global warming, so eating less meat can be better for the climate.