New Poll Shows Strong Support for Great Lakes Restoration
Jun. 05, 2012 01:28PM EST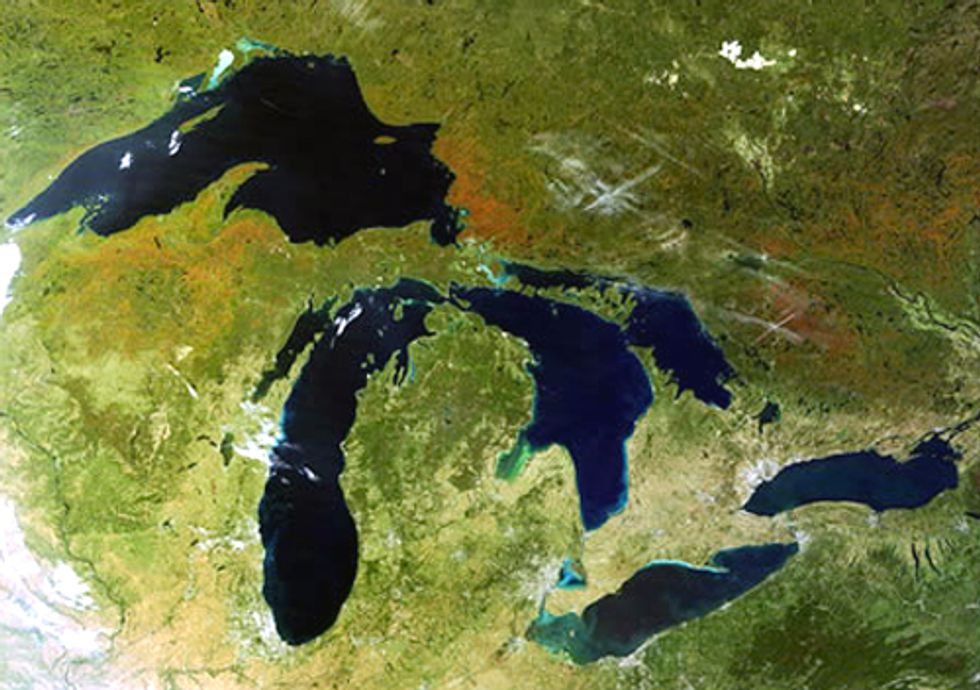 Ohioans of all political colors agree that the federal government should be protecting and spending money to restore Lake Erie and all the Great Lakes, according to a new poll released today by the Healing Our Waters-Great Lakes Coalition. Majorities of Democrats, Republicans and Independents indicate support for continued funding of Great Lakes restoration, and for an expansive view of the Clean Water Act. Further, far more Ohioans support than oppose building a barrier in the Chicago canals to prevent an Asian carp invasion into the Great Lakes.
 
"Although it is unusual to find an issue that brings voters together across the values and beliefs that divide us, such issues do exist, and in Ohio, protecting Lake Erie and the other Great Lakes is one," said Paul Fallon, president of the Columbus-based Fallon Research & Communications, Inc., which conducted the survey. "Our polling indicates that protecting Lake Erie and the other Great Lakes is one issue that unites Republicans, Democrats and Independents. Ohioans across the political spectrum want the federal government to continue its effort to restore the Great Lakes."
 
The Healing Our Waters-Great Lakes Coalition released the poll as it calls on White House aspirants to commit to supporting Great Lakes restoration and action on Asian carp.
 
"This should be a wake-up call to both Presidential campaigns that are so focused on the Buckeye State," said Emma White, senior director at Belden Russonello Strategists, LLC, a Washington, D.C.-based polling firm that wrote the poll questions. "To be successful in Ohio and other swing states candidates must not only hold their base vote but also attract independent, unaffiliated voters. From our polling, it is clear that standing up to protect Lake Erie and taking action to beat back the invasive Asian carp are winning issues among this critical constituency."
 
"Millions of people are counting on the next president of the U.S. to stand up for Lake Erie and the other Great Lakes," said Andy Buchsbaum, co-chair of the Healing Our Waters-Great Lakes Coalition. "Great Lakes programs are producing results in communities around the region—but there is more work to do. Cutting restoration funding and failing to take action on the Asian carp will cost taxpayers more money because problems will only become more difficult and expensive the longer we wait."
 
The survey of 804 general election voters was conducted by Fallon Research & Communications, Inc., of Columbus, Ohio, from questions written by Belden Russonello Strategists LLC in Washington, D.C. Highlights of the poll include:
1) A large majority of Ohio voters (72 percent) supports continuing Great Lakes restoration funding, including 63 percent of Republicans, 72 percent of independents, and 79 percent of Democrats.  Nearly half overall (47 percent) strongly support continued funding, including a majority of men (55 percent). A majority of voters (54 percent) rejects the idea that the Great Lakes should take a budget cut along with everything else.  
 
2) Although the potential entrance of Asian Carp into the Great Lakes is not something most Ohio voters have heard a great deal about, a brief description of the problem leads fully 90 percent of Ohio voters to say they would be concerned if the fish got into Lake Erie, and a majority (57 percent) to say they would be very concerned if the fish got into Lake Erie. Familiarity and concern are both higher among men, while political party makes little impact.
 
3) Half of Ohio voters (49 percent) support erecting a barrier in the Chicago River to keep out the Asian Carp while only three in ten (29 percent) oppose that idea. Two in ten (22 percent) are unsure, not a surprising finding given the unfamiliar issue. Men are more likely to favor the barrier (53 percent), but views are equal across parties (Republicans 49 percent, independents 50 percent, Democrats 48 percent).
 
4) There is broad bipartisan support for an expansive reading of the Clean Water Act. When presented with arguments on both sides, 68 percent overall say that the Clean Water Act should cover wetlands and small streams, including 55 percent of Republicans, 66 percent of independents and 79 percent of Democrats.
"Ohio voters understand how important Lake Erie is to the environment and economy," said Kristy Meyer, director of Agricultural & Clean Water Programs, Ohio Environmental Council. "We need the next president to show leadership on this issue. Great Lakes restoration is not a Democratic or Republican issue—it is an issue of national significance and utmost urgency."
 
For decades, Lake Erie has been a bellwether for the health of the Great Lakes. Once declared "dead," the lake improved following the passage of landmark environmental protections like the Clean Water Act and an infusion of federal investment to help cities modernize sewage treatment facilities.
 
Recent federal investments are producing results across Ohio:
• Removing contaminated sediments and restoring habitat along the Ashtabula River created jobs, improved water quality and made the river suitable again for maritime commerce, fishing and recreational boating.
• Restoring one mile of Big Creek in Cleveland provided a home for fish and wildlife, curtailed flooding and reduced pollution and sediments flowing into the Cuyahoga River and Lake Erie.
• Dredging and disposing of PCB-contaminated mud and dirt in Toledo's Ottawa River led to improved water quality and the lifting of some fish consumption advisories.
But there is still work to do. Sewage pollution, invasive species, loss of wetlands and run-off of manure and excessive fertilizer into waterways that feed the Lakes have led to a resurgence of problems, most notably harmful algal blooms that pose a risk to people, fish and wildlife.
 
"The problems facing Lake Erie impact me and my business," said Rick Unger, president of the Lake Erie Charter Boat Association. "If President Obama and Governor Romney only want to talk about jobs and the economy, then I've got news for them: Lake Erie is my job. If the next president drops the ball on Great Lakes restoration or allows Asian carp to get in, then I am out of a job. And so are many others. End of story."
 
Great Lakes restoration has played prominently in the last two presidential elections. In 2004, President George Bush called on the region to craft a plan to restore the Lakes. The $20 billion plan—the Great Lakes Regional Collaboration Strategy—has been widely credited with galvanizing support restoration among conservation, business, industry and civic leaders in the eight-state region of Illinois, Indiana, Michigan, Minnesota, New York, Ohio, Pennsylvania and Wisconsin.
 
In 2008, then-candidates Hillary Clinton, John McCain, Barack Obama and Mitt Romney all committed their support to restore the Great Lakes.  In his first year in the White House, President Obama launched the Great Lakes Restoration Initiative, a multi-year investment aimed at confronting urgent problems such as invasive species, habitat destruction, toxic pollution and run-off from farms and cities.
 
"Presidential leadership," said Jeff Skelding, campaign director for the Healing Our Waters-Great Lakes Coalition, "has been essential in the effort to restore and protect the Great Lakes. We're counting on the next president to carry the torch and continue to stand and deliver for the Great Lakes. The nation cannot afford not to restore the Great Lakes—more than 30 million people depend on them for drinking water."
--------
 
The Healing Our Waters-Great Lakes Coalition consists of 120 environmental, conservation, outdoor recreation organizations, zoos, aquariums and museums representing millions of people, whose common goal is to restore and protect the Great Lakes. Follow us on Twitter @healthylakes.
Visit EcoWatch's WATER page for more related news on this topic.
EcoWatch Daily Newsletter
Related Articles from EcoWatch
Recent Stories from EcoWatch