This website uses cookies to ensure you get the best experience while browsing it. By clicking 'Got It' you're accepting these terms.
New National Forest Program a Good Start
Nov. 07, 2011 09:40AM EST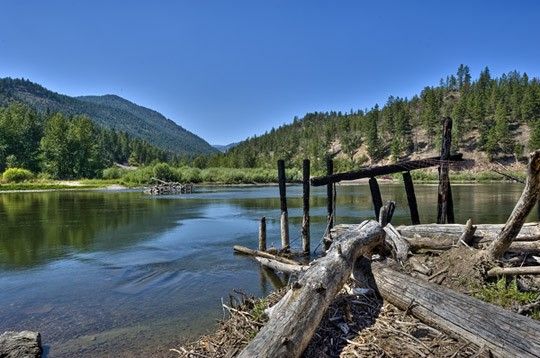 A national report released Nov. 7 on first-year results of the Collaborative Forest Landscape Restoration Program (CFLRP) revealed impressive returns for forests, jobs, water and wildlife. In 2010 the federal program split $10 million among 10 projects on National Forests throughout the country.
As identified in the report, in one year the CFLRP has:
Created and maintained 1,550 jobs
Produced 107 million board feet of timber
Generated nearly $59 million of labor income
Removed fuel for destructive mega-fires on 90,000 acres near communities
Reduced mega-fire on an additional 64,000 acres
Improved 66,000 acres of wildlife habitat
Restored 28 miles of fish habitat
Enhanced clean water supplies by remediating 163 miles of eroding roads
The results of the report were heralded by Sen. Jeff Bingaman (D-NM), original cosponsor of the act in 2009.
"The Collaborative Forest Landscape Restoration Program is bringing communities from around the country together to create jobs, to restore forest and watershed health, and to reduce the costs of wildfire suppression at impressive scales," offered Bingaman. "The program and its many supporters are charting a successful path forward for National Forest management."
CFLRP is also a political success in that it has won bipartisan support in Washington—both the Senate and House budgets for 2012 have proposed funding CFLRP at the $30 million level. Bingaman, along with Senators Mike Crapo (R-ID) and Jim Risch (R-ID), is currently circulating a "Dear Colleague" letter supporting an increase to $40 million to allow more landscapes to participate.
Observers say the program is bucking the larger downward funding trend because restoration of National Forests is the new zone of agreement where traditional adversaries in the timber industry, conservation and local county governments are working to advance common goals. This new cooperative attitude links forest jobs to forest health and has emboldened key Western Congressional representatives to cross party lines and support it.
However, without additional support the benefits of CFLRP will be limited to the existing 10 sites, when 26 more sites around the country applied for the program in 2011.
National and local partners also heralded the report, and the benefits that American forests provide the nation.
"Besides the pleasure forests give us on a personal level," offered Laura McCarthy of The Nature Conservancy, "they also cover one-third of the United States, store and filter half the nation's water supply, provide jobs to more than a million wood products workers, absorb nearly 20 percent of U.S. carbon emissions, offer 650 million acres of recreational lands that generate well over $15 billion in economic activity annually, and provide habitat for thousands of species across the country."
"This is an outstanding program because it simultaneously helps forests, water and jobs," said Kelsey Delaney of the Society of American Forests. "Sometimes a healthy environment is falsely framed against a strong economy—CFLRP is proof that isn't the case. It's a win-win-win across the board for our nation."
"CFLRP projects are cost efficient, mostly because of their long-time frame and larger scale," added Scott Brennan of The Wilderness Society. "Selected projects are assured 10 years of funding as long as appropriations are available, which provided certainty for businesses their banks and other investors, time for workers to be trained and become skilled, and for product markets to be developed and expanded."
"This program is a new, bipartisan approach with a broad base of support," said Rebecca Turner of American Forests.
Maia Enzer of Sustainable Northwest said, "CFLRP is about boots on the ground, creating jobs in rural communities. Now is the time to invest in rural communities and restore the health of our National Forests. CFLRP does exactly that."
The 10 CFLRP sites in 2010 were:
1. Four Forest Restoration Initiative, Arizona, $2 million
2. Dinkey Landscape Restoration Project, California, $829,900
3. Front Range Landscape Restoration Initiative, Colorado, $1 million
4. Uncompahgre Plateau, Colorado, $446,000
5. Accelerating Longleaf Pine Restoration, Florida, $1.17 million
6. Selway-Middle Fork Clearwater, Idaho, $1 million
7. Southwestern Crown of the Continent, Montana, $1.03 million
8. Southwest Jemez Mountains, New Mexico, $392,000
9. Deschutes Collaborative Forest, Oregon, $500,000
10. Tapash Sustainable Forest Collaborative, Washington, $1.63 million
CFLRP is especially needed now. A century of suppressing natural wildfires has resulted in unhealthy forests choked with small trees and brush that can lead to destructive mega-fires. Over the last 50 years the U.S. has only had 5 years with more than 8 million acres burned—all of them are in the last 7 years (including 2011).
Pests and pathogens are decimating wild, managed and urban forests nationwide. Bark beetles alone have killed a New Jersey-sized swath of trees.
A legacy of poorly planned logging roads, sprawling development and a changing climate with extensive droughts is further knocking forests off-balance.
The Nature Conservancy estimates 120 million acres of America's forests—an area bigger than the state of California—are in immediate need of restoration due to this perfect storm of threats.
The CFLRP annual report was produced by the CFLRP Coalition, which is comprised of 144 member organizations that includes private businesses, communities, counties, tribes, water suppliers, associations and nongovernmental organizations.
Copies of the 2010 CFLRP Annual Report can be requested from Jon Schwedler of the CFLRP Coalition at jschwedler@tnc.org
For more information, click here.
EcoWatch Daily Newsletter
Ryan Hagerty / USFWS
It's become a familiar story with the Trump administration: Scientists write a report that shows the administration's policies will cause environmental damage, then the administration buries the report and fires the scientists.
A coalition of some of the largest environmental groups in the country joined forces to file a lawsuit in federal court challenging the Trump administration's maneuver to weaken the Endangered Species Act.
beyond foto / Getty Images
By Kimberly Holland
Children who eat a lot of gluten in their earliest years may have an increased risk of developing celiac disease and gluten intolerance, according to a new study published in JAMATrusted Source.
Joe Raedle / Getty Images
By Jake Johnson
Calling the global climate crisis both the greatest threat facing the U.S. and the greatest opportunity for transformative change, Sen. Bernie Sanders unveiled today a comprehensive Green New Deal proposal that would transition the U.S. economy to 100 percent renewable energy and create 20 million well-paying union jobs over a decade.
The Parties to CITES agreed to list giraffes on Appendix II of the Convention on International Trade in Endangered Species (CITES) today at the World Wildlife Conference or CoP18 in Geneva. Such protections will ensure that all giraffe parts trade were legally acquired and not sourced from the poached giraffes trade and will require countries to make non-detriment findings before allowing giraffe exports. The listing will also enable the collection of international trade data for giraffes that might justify greater protections at both CITES and other venues in the future.

The WHO stressed that more research is needed on the potential health risks of microplastic ingestion. luchschen / iStock / Getty Images Plus
The UN's health agency on Thursday said that microplastics contained in drinking water posed a "low" risk at their current levels.
However, the World Health Organization (WHO) — in its first report on the potential health risks of microplastic ingestion — also stressed more research was needed to reassure consumers.
Brazil's right-wing President Jair Bolsonaro is giving President Trump a run for his money in the alternative facts department.
Washington Gov. Jay Inslee, who made solving the climate crisis the center of his presidential campaign, is dropping out of the 2020 Democratic primary race.