This website uses cookies to ensure you get the best experience while browsing it. By clicking 'Got It' you're accepting these terms.
New National Forest Program a Good Start
Nov. 07, 2011 09:40AM EST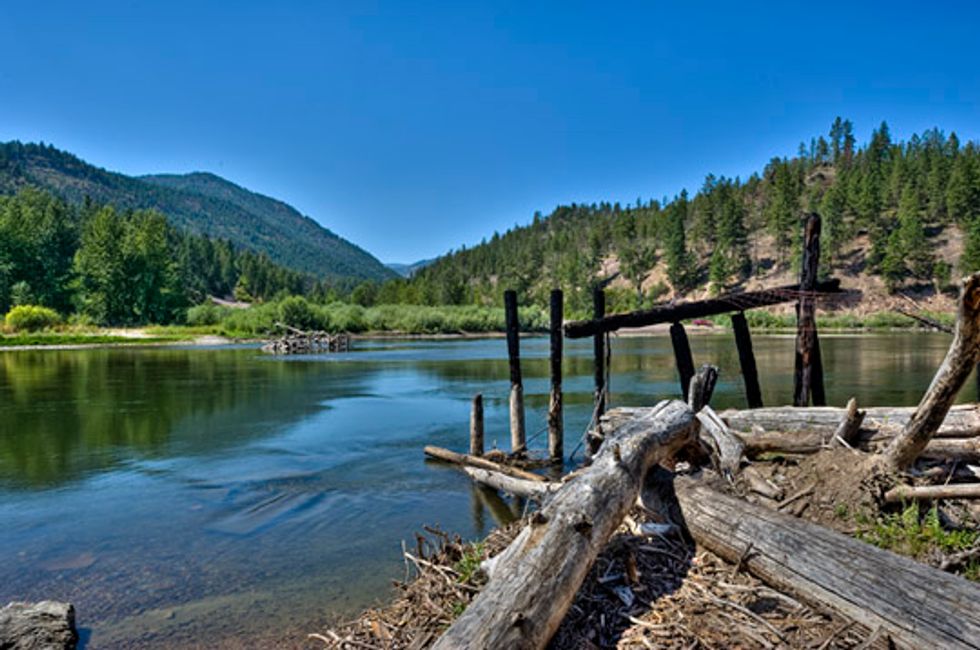 A national report released Nov. 7 on first-year results of the Collaborative Forest Landscape Restoration Program (CFLRP) revealed impressive returns for forests, jobs, water and wildlife. In 2010 the federal program split $10 million among 10 projects on National Forests throughout the country.
As identified in the report, in one year the CFLRP has:
Created and maintained 1,550 jobs
Produced 107 million board feet of timber
Generated nearly $59 million of labor income
Removed fuel for destructive mega-fires on 90,000 acres near communities
Reduced mega-fire on an additional 64,000 acres
Improved 66,000 acres of wildlife habitat
Restored 28 miles of fish habitat
Enhanced clean water supplies by remediating 163 miles of eroding roads
The results of the report were heralded by Sen. Jeff Bingaman (D-NM), original cosponsor of the act in 2009.
"The Collaborative Forest Landscape Restoration Program is bringing communities from around the country together to create jobs, to restore forest and watershed health, and to reduce the costs of wildfire suppression at impressive scales," offered Bingaman. "The program and its many supporters are charting a successful path forward for National Forest management."
CFLRP is also a political success in that it has won bipartisan support in Washington—both the Senate and House budgets for 2012 have proposed funding CFLRP at the $30 million level. Bingaman, along with Senators Mike Crapo (R-ID) and Jim Risch (R-ID), is currently circulating a "Dear Colleague" letter supporting an increase to $40 million to allow more landscapes to participate.
Observers say the program is bucking the larger downward funding trend because restoration of National Forests is the new zone of agreement where traditional adversaries in the timber industry, conservation and local county governments are working to advance common goals. This new cooperative attitude links forest jobs to forest health and has emboldened key Western Congressional representatives to cross party lines and support it.
However, without additional support the benefits of CFLRP will be limited to the existing 10 sites, when 26 more sites around the country applied for the program in 2011.
National and local partners also heralded the report, and the benefits that American forests provide the nation.
"Besides the pleasure forests give us on a personal level," offered Laura McCarthy of The Nature Conservancy, "they also cover one-third of the United States, store and filter half the nation's water supply, provide jobs to more than a million wood products workers, absorb nearly 20 percent of U.S. carbon emissions, offer 650 million acres of recreational lands that generate well over $15 billion in economic activity annually, and provide habitat for thousands of species across the country."
"This is an outstanding program because it simultaneously helps forests, water and jobs," said Kelsey Delaney of the Society of American Forests. "Sometimes a healthy environment is falsely framed against a strong economy—CFLRP is proof that isn't the case. It's a win-win-win across the board for our nation."
"CFLRP projects are cost efficient, mostly because of their long-time frame and larger scale," added Scott Brennan of The Wilderness Society. "Selected projects are assured 10 years of funding as long as appropriations are available, which provided certainty for businesses their banks and other investors, time for workers to be trained and become skilled, and for product markets to be developed and expanded."
"This program is a new, bipartisan approach with a broad base of support," said Rebecca Turner of American Forests.
Maia Enzer of Sustainable Northwest said, "CFLRP is about boots on the ground, creating jobs in rural communities. Now is the time to invest in rural communities and restore the health of our National Forests. CFLRP does exactly that."
The 10 CFLRP sites in 2010 were:
1. Four Forest Restoration Initiative, Arizona, $2 million
2. Dinkey Landscape Restoration Project, California, $829,900
3. Front Range Landscape Restoration Initiative, Colorado, $1 million
4. Uncompahgre Plateau, Colorado, $446,000
5. Accelerating Longleaf Pine Restoration, Florida, $1.17 million
6. Selway-Middle Fork Clearwater, Idaho, $1 million
7. Southwestern Crown of the Continent, Montana, $1.03 million
8. Southwest Jemez Mountains, New Mexico, $392,000
9. Deschutes Collaborative Forest, Oregon, $500,000
10. Tapash Sustainable Forest Collaborative, Washington, $1.63 million
CFLRP is especially needed now. A century of suppressing natural wildfires has resulted in unhealthy forests choked with small trees and brush that can lead to destructive mega-fires. Over the last 50 years the U.S. has only had 5 years with more than 8 million acres burned—all of them are in the last 7 years (including 2011).
Pests and pathogens are decimating wild, managed and urban forests nationwide. Bark beetles alone have killed a New Jersey-sized swath of trees.
A legacy of poorly planned logging roads, sprawling development and a changing climate with extensive droughts is further knocking forests off-balance.
The Nature Conservancy estimates 120 million acres of America's forests—an area bigger than the state of California—are in immediate need of restoration due to this perfect storm of threats.
The CFLRP annual report was produced by the CFLRP Coalition, which is comprised of 144 member organizations that includes private businesses, communities, counties, tribes, water suppliers, associations and nongovernmental organizations.
Copies of the 2010 CFLRP Annual Report can be requested from Jon Schwedler of the CFLRP Coalition at jschwedler@tnc.org
For more information, click here.
EcoWatch Daily Newsletter
A sign marks the ground covering TransCanada's Keystone I pipeline outside of Steele City, Nebraska on April 21, 2012. Lucas Oleniuk / Toronto Star via Getty Images

The company behind the controversial and long-delayed Keystone XL pipeline announced it would proceed with the project Tuesday, despite concerns about the climate impacts of the pipeline and the dangers of transporting construction crews during a pandemic.
Penguins are seen near the Great Wall station in Antarctica, Feb. 9, days after the continent measured its hottest temperature on record at nearly 65 degrees Fahrenheit. Xinhua / Liu Shiping / Getty Images
By Richard Connor
Scientists have recorded Antarctica's first documented heat wave, warning that animal and plant life on the isolated continent could be drastically affected by climate change.
The Athos I tanker was carrying crude oil from Venezuela when a collision caused oil to begin gushing into the Delaware River.
U.S. Department of the Interior
A case that has bounced around the lower courts for 13 years was finally settled yesterday when the U.S. Supreme Court upheld a lower court decision, finding oil giant Citgo liable for a clean up of a 2004 oil spill in the Delaware River, according to Reuters.
The buildings of downtown Los Angeles are partially obscured in the late afternoon on Nov. 5, 2019, as seen from Pasadena, California, a day when air quality for Los Angeles was predicted to be "unhealthy for sensitive groups." Mario Tama / Getty Images
The evidence continues to build that breathing dirty air is bad for your brain.
Wave power in Portugal. The oceans' energy potential is immense. Luis Ascenso, via Wikimedia Commons
By Paul Brown
The amount of energy generated by tides and waves in the last decade has increased tenfold. Now governments around the world are planning to scale up these ventures to tap into the oceans' vast store of blue energy.