New Mom Fears for Daughter in World Filled with Genetically Modified Food

I had a scary realization when I started my infant daughter Pearl on solid foods a few months ago. Suddenly I was placing my trust in an entire global food system—its people, processes and profit motives—to care for the health and safety of my child. Until then she was exclusively breastfed, and I was exquisitely at peace. 
Friends think I'm paranoid. We all ate Frosted Flakes and Fritos and survived, right? But while the packages looks the same, the food inside has changed dramatically. In the last two decades, genetically-modified ingredients have gone from non-existent in the food supply to being found in 80 percent of processed food in the U.S. today. That has me worried.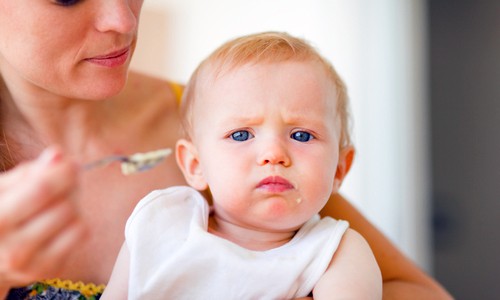 Photo courtesy of Shutterstock
GMOs [genetically modified organisms] lurk everywhere in the grocery store. It's in infant formula (GM corn and soy), ketchup (GM sugar beets), dairy (GM bovine growth hormone) and candy bars (GM soy, in the ubiquitous soy lecithin). Canola oil is almost guaranteed to be GM, while most meat animals are now fed GM feed. 
While there have been other worrisome developments in industrial food, GMOs are the scariest, as there are no GMO labeling requirements in the U.S., and, GMO opponents say, the long-term effects of GMOs on humans are largely untested. This means we as consumers cannot chose whether or not we and our children want to be guinea pigs in a genetic experiment. GMOs have been shown to be toxic and allergenic in animal studies. While there have been no long-term health studies of eating GMOs, tests on laboratory and farm animals show that GM foods can impair the digestive, reproductive and immune systems and damage the kidneys, liver and other organs.
The dramatic rise in health problems in adults and children over the last two decades spells the need for research on whether there is a GMO connection. Since GMOs were introduced, chronic childhood health problems like obesity, asthma and learning and behavioral problems have doubled. In the first seven years after GM foods were introduced, the number of food illnesses doubled. Food allergies in children grew 18 percent between 1997 and 2007. When GM soy was introduced in the United Kingdom, soy allergies soon jumped 50 percent.
Most of us today are being exposed to GM food all the time, whether we eat at a restaurant or unknowingly consume a product with GM ingredients. Even buying organic doesn't guarantee GM-free food. Certified organic foods—those which have the USDA Organic label—can sometimes contain GM ingredients since only 95 percent of the ingredients must be organic. We can be fooled by labels such as "Made with Organic" (only 70 percent organic, the rest can be GMOs) or "All Natural," which actually doesn't mean anything; the FDA has no definition of natural.
We can buy food with the new voluntary labels like "Non-GMO Verified" or the USDA certification "100% Organic," but we still likely have GM proteins in our bodies from past exposures. A recent study showed that those who ate GM foods had bacteria with the modified DNA in their digestive system, putting them at risk for antibiotic-resistant infections. 
Which brings me back to my little daughter, whose growing body is especially susceptible to toxins, and who is at risk for life-threatening allergies, developmental problems and superbugs. While I'm doing as much as I can to make sure she is eating GMO-free foods, the only way to really prevent exposure is through labeling laws or outright bans on producing and selling GMOs. More than 60 nations today have either significant restrictions or outright ban on GMOs.
When it all seems hopeless, I remember that in Europe in 1999, when just a small fraction of consumers rejected GMOs, most major companies quickly removed GM ingredients from their foods. Our food industry may rapidly follow suit if a similar tipping point in consumer rejection is reached in the U.S., which anti-GMO activist and researcher Jeffrey Smith estimates would be about five percent of consumers in North America.
While the top U.S. food retailers have yet to label or ban GMOs, smaller stores are taking a stance. Two of the largest natural food store chains, Whole Foods Market and Trader Joe's, have banned genetically-modified ingredients from their house brands, and Whole Foods has additionally vowed to label all GM foods by 2018. Smaller stores, like the natural food store in my Ohio community, are going completely GMO-free.
Until then, I have to be a diligent mom in a dangerous world while pushing for real change at the state and national levels. If only big agribusiness prioritized the health and safety of society's most vulnerable members over maximum profit, then I would have one less thing to worry about.
Visit EcoWatch's GMO page for more related news on this topic.

Disturbing footage of a snake in Goa, India vomiting an empty soft drink bottle highlights the world's mounting plastic pollution crisis.
Keep reading...
Show less
By Melissa Hellmann
When her eldest son was in elementary school in the Oakland Unified School District, Ruth Woodruff became alarmed by the meals he was being served at school. A lot of it was frozen, processed foods, packed with preservatives. At home, she was feeding her children locally sourced, organic foods.
Keep reading...
Show less
May. 28, 2017 01:33PM EST
Laurie Woolever
By James O'Hare
There are 20 million people in the world facing famine in South Sudan, Somalia, Nigeria and Yemen. In developed nations, too, people go hungry. Venezuela, for instance, is enduring food insecurity on a national level as a result of economic crisis and political corruption. In the U.S., the land of supposed excess, 12.7 percent of households were food insecure in 2015, meaning they didn't know where their next meal would come from.
Keep reading...
Show less
May. 28, 2017 01:22PM EST
Melwater, Greenland ice sheet. Diane Tuft
Artists are taking the climate crisis into frame and the results are emotional, beautiful and stirring.
So you've seen the best climate change cartoons and shared them with your friends. You've showed your family the infographics on climate change and health, infographics on how the grid works and infographics about clean, renewable energy. You've even forwarded these official National Oceanic and Atmospheric Administration graphs that explain the 10 clear indicators of climate change to your colleagues at the office.
Keep reading...
Show less
May. 27, 2017 01:11PM EST
As the Trump administration moves full speed ahead on boosting the oil and fossil fuel industry, opposition to increased pipeline construction is cropping up in different communities around the country.
Keep reading...
Show less
May. 27, 2017 01:02PM EST
Minke whale stranding near Havergate Island in Suffolk. MCGA.
By Simon Evans
Last Saturday, two dead whales washed up on the coast of Suffolk, in eastern England, and a third was spotted floating at sea.
What happened next illustrates how news can spread and evolve into misinformation, when reported by journalists rushing to publish before confirming basic facts or sourcing their own quotes.
Keep reading...
Show less
May. 27, 2017 01:22PM EST
By Monica Amarelo and Paul Pestano
Sun safety is a crucial part of any outdoor activity for kids, and sunscreen can help protect children's skin from harmful ultraviolet rays. Kids often get sunburned when they're outside unprotected for longer than expected. Parents need to plan ahead and keep sun protection handy in their cars or bags.
Keep reading...
Show less
May. 27, 2017 01:02PM EST
By Joe McCarthy
A lot of people take part in community clean-up efforts—spending a Saturday morning picking up litter in a park, mowing an overgrown field or painting a fence.
Keep reading...
Show less