This website uses cookies to ensure you get the best experience while browsing it. By clicking 'Got It' you're accepting these terms.
New Mapping Tool Shows Communities at Risk From Mountaintop Mining
Apr. 29, 2015 08:42AM EST
Energy
Coal is in the news a lot these days. The market forces and much-needed environmental and health protections cornering the dirty fuel are topics of endless interest as America's energy landscape shifts toward cleaner sources. And yes, all signs point to coal's continued decline.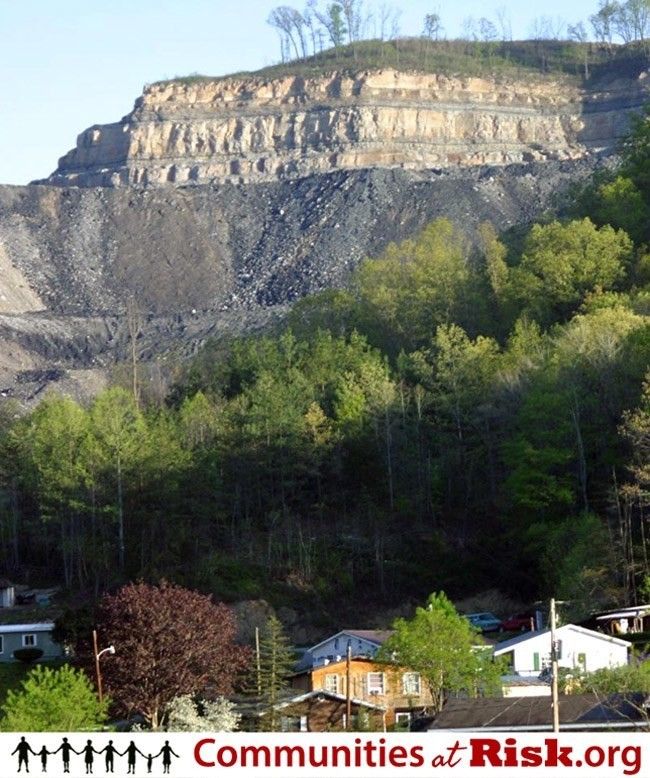 In many ways though, the forces chipping away at coal's historic dominance are overshadowing another big story—one that Appalachian citizens still need the public and policymakers to hear—about just how much the human and environmental costs of mountaintop removal coal mining persist in Central Appalachia.
That mountaintop removal is an extremely dirty and dangerous way to mine coal has never been better understood. The overwhelming body of evidence is built on a foundation of the countless personal stories found in communities near mines and bolstered by dozens of studies investigating disproportionate health problems in coal-producing counties where mountaintop removal occurs. More recently, advocates have employed technological tools to visualize complex data and add another dimension to arguments against the practice.
Appalachian Voices is committed to creating a forum for those personal stories and sharing the most up-to-date data available about the ongoing risks mountaintop removal poses to our region's communities and environment. Today, we're excited to share a web tool we developed to reveal how mining continues to close in on nearby communities and send a resounding message to President Obama that ending mountaintop removal is a must if we hope to foster economic and environmental health in Appalachia.
Explore Appalachian Communities at Risk from Mountaintop Removal on iLoveMountains.org
The centerpiece of "Communities at Risk from Mountaintop Removal" is an interactive mapping tool on iLoveMountains.org that allows anyone with Internet access to explore mountaintop removal's expansion over the past 30 years.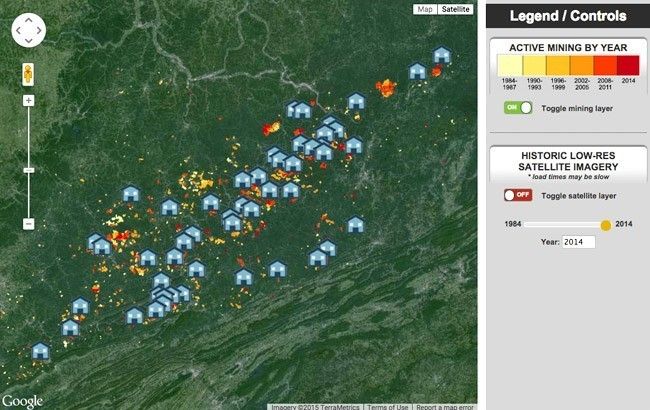 Created using Google Earth Engine, U.S. Geological Survey data, publicly available satellite imagery, and mapping data and consultation from the nonprofit SkyTruth, the tool gives users greater perspective into the decades-long scourge surface mining has had on the Appalachian landscape and generations of families that live in the region.
The Communities at Risk tool also concentrates on impacts at the community level, where the powerful personal stories that first brought mountaintop removal to the forefront of the nation's consciousness and agenda for environmental change are found.
Fifty communities spread across Kentucky, Virginia and West Virginia are identified by the tool as being the most at risk. By clicking on a community icon on the map, you can see the number of acres classified as active mining within a 1-mile radius of a particular place over time. In some communities, the number has fallen. In others, it has grown dramatically in recent years even as regional coal production has plummeted.
In the coming months, we'll take a closer look at a handful of these communities, sharing local perspectives on how the proximity of mountaintop removal has affected local livelihoods. Our first "featured community" is Inman, Va., a small town in Wise County, where residents have successfully battled back a proposed massive mountaintop removal mine while experiencing the devastating impacts of another. You'll also see stories about featured communities on AppalachianVoices.org and in upcoming issues of The Appalachian Voice newspaper.
Learn about Inman, Va., from local residents Matt Hepler and Ben Hooper
If you want a fuller picture of the data we used to create the mapping tool, check out the companion white paper, which describes the background, methods, results and implications of our initial research.
Over time, we'll work with impacted citizens in communities near active and proposed mines to expand the use of the tool and update our maps with current, high-resolution satellite imagery we'll obtain through a partnership with Google's Skybox for Good project.
Read our white paper for an in-depth look at the ways mountaintop removal continues to put Appalachian communities at risk.
The constant flow of news describing something close to the death of the Appalachian coal industry could leave outside observers with the impression that the problems of mountaintop removal have been resolved by the industry's impending collapse. That impression, however, is at odds with the personal experience of many Appalachian citizens, the visible impacts of mining in communities across the region and the data that comprises Communities at Risk.
Visit CommunitiesAtRisk.org to explore the mapping tool, learn more about the 50 most at-risk communities and tell President Obama that more must be done to protect Appalachian communities.
YOU MIGHT ALSO LIKE
Join the Movement to Ban Mountaintop Removal Coal Mining
Bernie Sanders to Run for President as a Democrat
Frack-Happy Texas Shuts Down Earthquake-Prone Injection Wells
EcoWatch Daily Newsletter
Artist's conception of solar islands in the open ocean. PNAS
Millions of solar panels clustered together to form an island could convert carbon dioxide in seawater into methanol, which can fuel airplanes and trucks, according to new research from Norway and Switzerland and published in the Proceedings of the National Academy of Sciences journal, PNAS, as NBC News reported. The floating islands could drastically reduce greenhouse gas emissions and dependence on fossil fuels.
Marcos Alves / Moment Open / Getty Images
More than 40 percent of insects could go extinct globally in the next few decades. So why did the U.S. Environmental Protection Agency (EPA) last week ok the 'emergency' use of the bee-killing pesticide sulfoxaflor on 13.9 million acres?
EcoWatch teamed up with Center for Biological Diversity via EcoWatch Live on Facebook to find out why. Environmental Health Director and Senior Attorney Lori Ann Burd explained how there is a loophole in the The Federal Insecticide, Fungicide, and Rodenticide Act under section 18, "that allows for entities and states to request emergency exemptions to spraying pesticides where they otherwise wouldn't be allowed to spray."
Simple swaps that cut down on kitchen trash.
Sponsored
By Kayla Robbins
Along with the bathroom, the kitchen is one of the most daunting areas to try and make zero waste.
View of downtown Miami, Florida from Hobie Island on Feb. 2, 2019.
Michael Muraz / Flickr
The Democratic candidates for president descended upon Miami for a two-night debate on Wednesday and Thursday. Any candidate hoping to carry the state will have to make the climate crisis central to their campaign, as The New York Times reported.
By Sharon Kelly
On Monday, the Wall Street Journal featured a profile of Scott Sheffield, CEO of Pioneer Natural Resources, whose company is known among investors for its emphasis on drawing oil and gas from the Permian basin in Texas using horizontal drilling and hydraulic fracturing, or fracking.
Pexels
By Craig K. Chandler
The federal government has available to it, should it choose to use them, a wide range of potential climate change management tools, going well beyond the traditional pollution control regulatory options. And, in some cases (not all), without new legislative authorization.
Denis Poroy / Getty Images
By Dan Gray
Processed foods, in their many delicious forms, are an American favorite.
But new research shows that despite increasing evidence on just how unhealthy processed foods are, Americans have continued to eat the products at the same rate.
By Sarah Steffen
With a profound understanding of their environmental surroundings, indigenous communities around the world are often cited as being pivotal to tackling climate change.