New IPCC Report: Fossil Fuel Divestment Must Start Now
For the second time in three weeks, a United Nations panel sent a loud-and-clear message—now is the time to divest from fossil fuels.
The Intergovernmental Panel on Climate Change (IPCC) released another addition to its Fifth Assessment Report (AR5) Sunday in Berlin, Germany, entitled Climate Change 2014: Mitigation of Climate Change, to detail how the world can keep the global warming threshold below 2 degrees Celsius.
The Working Group III (WGIII) report relied on 235 authors and 31 modeling teams around the world that provided 1,200 scenarios to the keep the world from warming beyond that limit. All of the scenarios are costly, according to a statement from the IPCC, but as the UN panel stated in March, the alternatives are much worse.
"Climate policies in line with the two degrees Celsius goal need to aim for substantial emission reductions," said Ottmar Edenhofer, a WGIII co-chair. "There is a clear message from science: To avoid dangerous interference with the climate system, we need to move away from business as usual."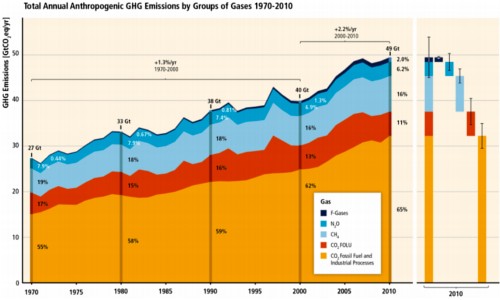 Limiting warming to 2 degrees Celsius means lowering global greenhouse gas emissions (GHG) by 40 to 70 percent, compared to 2010 levels, according to the report. That needs to happen by the middle of this century, with the recommendation of getting warming levels to net-zero by the end of the century. Clearly, that will be tough considering that annual GHG emissions grew by 2.2 percent per year from 2000 to 2010. From 1970 to 2000, the figure was 1.3 percent.
The report suggests letting go of oil and coal before it's too late. The growth of coal, particularly in Asia, was a direct pathway to the GHG boom from 2000 to 2010, the IPCC states.
The #IPCC WG3 report is clear: we have the tools we need to solve the climate crisis, but we must act quickly: http://t.co/JkSA3pq1fD

— Al Gore (@algore) April 13, 2014
"Mitigation policy could devalue fossil fuel assets, and reduce revenues for fossil fuel exporters, but differences between regions and fuels exist (high confidence)," the report summary reads. "Most mitigation scenarios are associated with reduced revenues from coal and oil trade for major exporters (high confidence)."
The report is the third of three Working Group reports. Once a Synthesis Report is released in October 2014, the AR5 will be complete. While the IPCC will make the full report available Tuesday, several organizations are largely supportive of the information within the extensive summary.
"We now know that catastrophic climate change can be averted without sacrificing living standards," 350.org wrote in a statement. "The IPCC WGIII report concludes the transformation required to a world of clean energy and the ditching of dirty fossil fuels is eminently affordable.
"Furthermore, the report states that diverting hundreds of billions of dollars from fossil fuels into renewable energy and cutting energy waste would shave just 0.06 percent off expected annual economic growth rates of 1.3 percent to 3 percent. Moreover, the analysis did not include the benefits of cutting greenhouse gas emissions, which could outweigh the costs. The benefits include reducing air pollution and improved energy security."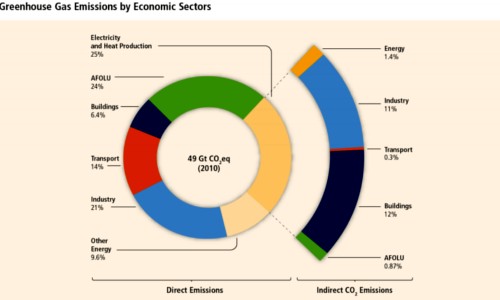 Online climate action hub TckTckTck took away several key points from the report and summary, including:
Climate change is real, caused by human activity, and requires urgent action. Sea levels are rising, precipitation patterns are changing, sea ice is declining and oceans are acidifying. This will have grave consequences for our communities, environments and economies and leave them open to risks for which we are not prepared. 
We need to accelerate climate action starting today. We are already experiencing severe impacts on every continent and across the oceans, resulting in growing economic and social costs. We have to brace ourselves for more frequent or more intense droughts, floods and storms. Civilisation as we know it at risk—unless we cut carbon pollution rapidly. 
We can keep global warming below the danger-threshold of 2 degrees C, even below 1.5 degrees of warming. But this is only possible if we make deeper and faster emissions cuts and all governments introduce ambitious policies, backed by strong investments, to enable clean and innovative energy solutions.
The report confirms the need for a complete phase out of fossil fuels and carbon dioxide emissions. It highlights the need to divest at least $30 billion dollars per year from fossil fuels over the coming decades and for annual investment in low carbon electricity supply to grow $147 billion a year.
Renewable energy can power our society, drive the economy, and give us cleaner air. Moving from fossil fuel based energy supplies to renewables will result in a wide range of benefits—including new jobs and improved public health. The clean energy transition is inevitable, people are demanding it, and it is already underway. Governments need to put in place the enabling policies so these technologies can be scaled up faster.
The longer we delay action to foster the low carbon transition, the more expensive addressing climate change will get. At a UN summit in September,world leaders must commit to deeper cuts in emissions and faster shifts in energy finance from dirty fossil fuels to clean renewables. This will lay the groundwork for the strong global climate treaty that's due in Paris in 2015.
"The core task of climate change mitigation is decoupling greenhouse gas emissions from the growth of economies and population," WGIII co-chair Youba Sokona said. "Through providing energy access and reducing local air pollution, many mitigation measures can contribute to sustainable development."
——–
YOU ALSO MIGHT LIKE
Groundbreaking UN Report Warns Climate Change a Threat to Global Security and Mankind
Watch a Climate Denier Label IPCC Report as UN's 'Perverse Priorities' on Fox News
IPCC Report Another Wake Up Call for Immediate Climate Action
——–
Wikimedia Commons
By Stacy Malkan
Neil deGrasse Tyson has inspired millions of people to care about science and imagine themselves as participants in the scientific process. What a hopeful sign it is to see young girls wearing t-shirts emblazoned with the words, "Forget princess, I want to be an astrophysicist."
Keep reading...
Show less
www.youtube.com
By Andy Rowell
Any day now we will truly witness climate change in action. Within days at worst, maybe weeks at best, scientists predict that a huge section of the Larsen C ice shelf in Antarctica will break off into the ocean, in what is called a major "carving" event.
Keep reading...
Show less
www.youtube.com
President Trump visited Cedar Rapids, Iowa on June 21 to speak to a large crowd in the U.S. Cellular Center at a political rally organized by his campaign.
As Trevor Noah noted during The Daily Show episode last night (starts at 2:25), the real reason Trump has these rallies is to "get back in front of his loyal crowds and feed of their energy." Noah believes that "Trump supporters are so on board with their dude he can say anything and they'll come along for the ride."
Keep reading...
Show less
The Kamuthi solar plant in the southern Indian state of Tamil Nadu.
The rapid growth in renewable energy continues to put a dent in the demand for coal.
Coal India, the world's biggest coal mining company and producer of 82 percent of the country's coal, announced the closure of 37 mines that are financially "unviable."
Keep reading...
Show less
www.youtube.com
By Katie O'Reilly
Two years ago—long before coal became one of the most dominant and controversial symbols of the 2016 presidential election—Bloomberg Philanthropies approached production company RadicalMedia with the idea of creating a documentary exploring the U.S. coal mining industry. Last spring, they brought on Emmy-nominated director Michael Bonfiglio, tasked with forging a compelling story out of the multitudes of facts, statistics and narratives underlying the declining industry.
Keep reading...
Show less
Mayors for 100% Clean Energy
Keep reading...
Show less
www.youtube.com
Thanks to Newsy for their coverage on Thursday's news that the U.S. Fish and Wildlife Service removed grizzly bears in the Greater Yellowstone region from the Endangered Species List.
Watch above as Newsy explains that the decision comes despite serious concerns from the environmental and scientific community, and Tribal Nations about a declining, isolated grizzly bear population with diminishing food resources and record-high mortalities.
Keep reading...
Show less
www.facebook.com
By Francine Kershaw
Seismic airguns exploding in the ocean in search for oil and gas have devastating impacts on zooplankton, which are critical food sources for marine mammals, according to a new study in Nature. The blasting decimates one of the ocean's most vital groups of organisms over huge areas and may disrupt entire ecosystems.
And this devastating news comes on the heels of the National Marine Fisheries Service's proposal to authorize more than 90,000 miles of active seismic blasting. Based on the results of this study, the affected area would be approximately 135,000 square miles.
Keep reading...
Show less
By Jill Richardson
Is coconut oil:
good for you
bad for you
neither good nor bad
scientists don't know
The subject of this question is the source of a disagreement. Initially, the question was thought to be settled decades ago, when scientist Ancel Keys declared all saturated fats unhealthy. Coconut oil, which is solid at room temperature, is a saturated fat.
Keep reading...
Show less


Get EcoWatch in your inbox