This website uses cookies to ensure you get the best experience while browsing it. By clicking 'Got It' you're accepting these terms.
New IPCC Report: Fossil Fuel Divestment Must Start Now
Apr. 14, 2014 08:52AM EST
Climate
For the second time in three weeks, a United Nations panel sent a loud-and-clear message—now is the time to divest from fossil fuels.
The Intergovernmental Panel on Climate Change (IPCC) released another addition to its Fifth Assessment Report (AR5) Sunday in Berlin, Germany, entitled Climate Change 2014: Mitigation of Climate Change, to detail how the world can keep the global warming threshold below 2 degrees Celsius.
The Working Group III (WGIII) report relied on 235 authors and 31 modeling teams around the world that provided 1,200 scenarios to the keep the world from warming beyond that limit. All of the scenarios are costly, according to a statement from the IPCC, but as the UN panel stated in March, the alternatives are much worse.
"Climate policies in line with the two degrees Celsius goal need to aim for substantial emission reductions," said Ottmar Edenhofer, a WGIII co-chair. "There is a clear message from science: To avoid dangerous interference with the climate system, we need to move away from business as usual."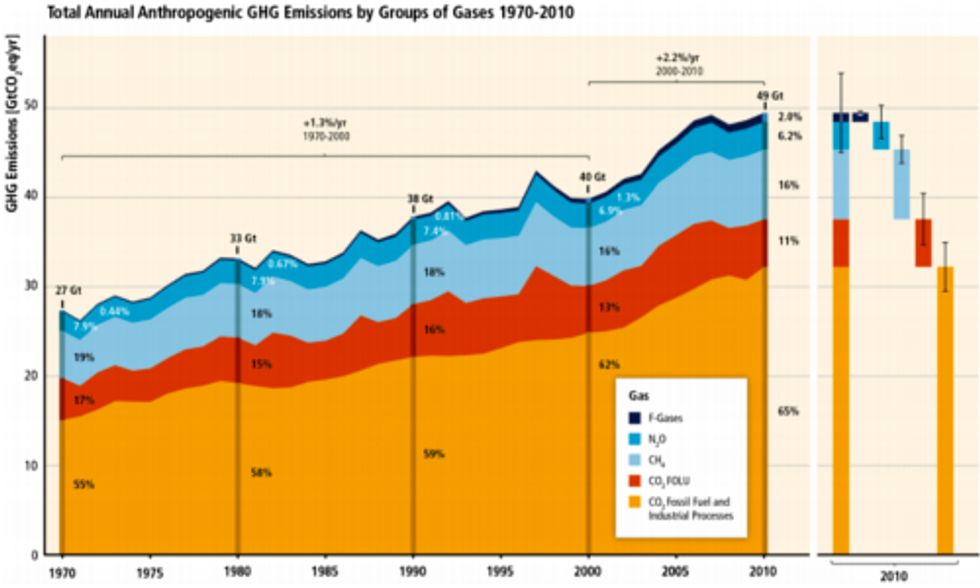 Limiting warming to 2 degrees Celsius means lowering global greenhouse gas emissions (GHG) by 40 to 70 percent, compared to 2010 levels, according to the report. That needs to happen by the middle of this century, with the recommendation of getting warming levels to net-zero by the end of the century. Clearly, that will be tough considering that annual GHG emissions grew by 2.2 percent per year from 2000 to 2010. From 1970 to 2000, the figure was 1.3 percent.
The report suggests letting go of oil and coal before it's too late. The growth of coal, particularly in Asia, was a direct pathway to the GHG boom from 2000 to 2010, the IPCC states.
The #IPCC WG3 report is clear: we have the tools we need to solve the climate crisis, but we must act quickly: http://t.co/JkSA3pq1fD

— Al Gore (@algore) April 13, 2014
"Mitigation policy could devalue fossil fuel assets, and reduce revenues for fossil fuel exporters, but differences between regions and fuels exist (high confidence)," the report summary reads. "Most mitigation scenarios are associated with reduced revenues from coal and oil trade for major exporters (high confidence)."
The report is the third of three Working Group reports. Once a Synthesis Report is released in October 2014, the AR5 will be complete. While the IPCC will make the full report available Tuesday, several organizations are largely supportive of the information within the extensive summary.
"We now know that catastrophic climate change can be averted without sacrificing living standards," 350.org wrote in a statement. "The IPCC WGIII report concludes the transformation required to a world of clean energy and the ditching of dirty fossil fuels is eminently affordable.
"Furthermore, the report states that diverting hundreds of billions of dollars from fossil fuels into renewable energy and cutting energy waste would shave just 0.06 percent off expected annual economic growth rates of 1.3 percent to 3 percent. Moreover, the analysis did not include the benefits of cutting greenhouse gas emissions, which could outweigh the costs. The benefits include reducing air pollution and improved energy security."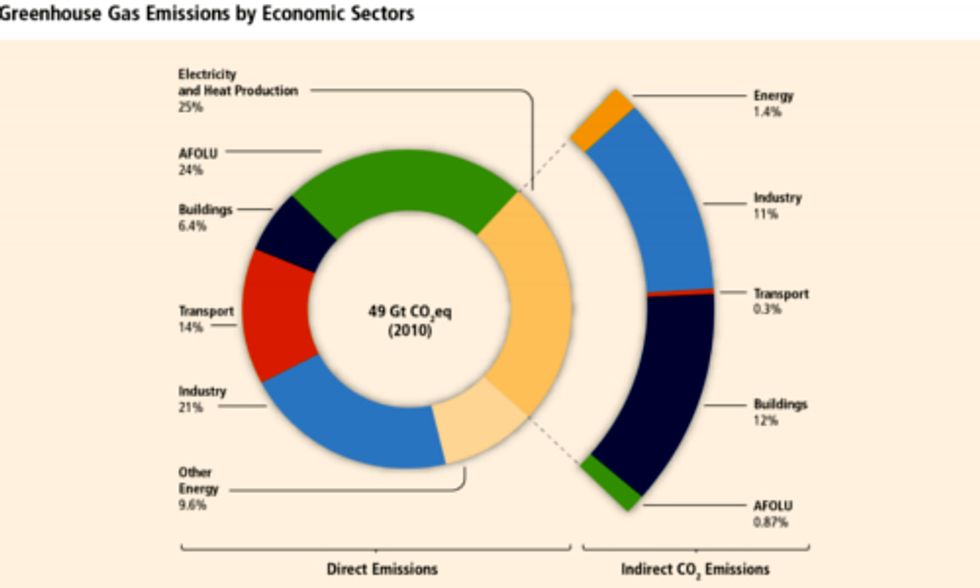 Online climate action hub TckTckTck took away several key points from the report and summary, including:
Climate change is real, caused by human activity, and requires urgent action. Sea levels are rising, precipitation patterns are changing, sea ice is declining and oceans are acidifying. This will have grave consequences for our communities, environments and economies and leave them open to risks for which we are not prepared. 
We need to accelerate climate action starting today. We are already experiencing severe impacts on every continent and across the oceans, resulting in growing economic and social costs. We have to brace ourselves for more frequent or more intense droughts, floods and storms. Civilisation as we know it at risk—unless we cut carbon pollution rapidly. 
We can keep global warming below the danger-threshold of 2 degrees C, even below 1.5 degrees of warming. But this is only possible if we make deeper and faster emissions cuts and all governments introduce ambitious policies, backed by strong investments, to enable clean and innovative energy solutions.
The report confirms the need for a complete phase out of fossil fuels and carbon dioxide emissions. It highlights the need to divest at least $30 billion dollars per year from fossil fuels over the coming decades and for annual investment in low carbon electricity supply to grow $147 billion a year.
Renewable energy can power our society, drive the economy, and give us cleaner air. Moving from fossil fuel based energy supplies to renewables will result in a wide range of benefits—including new jobs and improved public health. The clean energy transition is inevitable, people are demanding it, and it is already underway. Governments need to put in place the enabling policies so these technologies can be scaled up faster.
The longer we delay action to foster the low carbon transition, the more expensive addressing climate change will get. At a UN summit in September,world leaders must commit to deeper cuts in emissions and faster shifts in energy finance from dirty fossil fuels to clean renewables. This will lay the groundwork for the strong global climate treaty that's due in Paris in 2015.
"The core task of climate change mitigation is decoupling greenhouse gas emissions from the growth of economies and population," WGIII co-chair Youba Sokona said. "Through providing energy access and reducing local air pollution, many mitigation measures can contribute to sustainable development."
——–
YOU ALSO MIGHT LIKE
Groundbreaking UN Report Warns Climate Change a Threat to Global Security and Mankind
Watch a Climate Denier Label IPCC Report as UN's 'Perverse Priorities' on Fox News
IPCC Report Another Wake Up Call for Immediate Climate Action
——–
EcoWatch Daily Newsletter
Aerial view of Ruropolis, Para state, northen Brazil, on Sept. 6, 2019. Tthe world's biggest rainforest is under threat from wildfires and rampant deforestation. JOHANNES MYBURGH / AFP via Getty Images
By Kate Martyr
Deforestation in Brazil's Amazon rainforest last month jumped to the highest level since records began in 2015, according to government data.
A total of 563 square kilometers (217.38 square miles) of the world's largest rainforest was destroyed in November, 103% more than in the same month last year, according to Brazil's space research agency.
From January to November this year an area almost the size of the Caribbean island of Puerto Rico was destroyed — an 83% overall increase in destruction when compared with the same period last year.
The figures were released on Friday by the National Institute for Space Research (INPE), and collected through the DETER database, which uses satellite images to monitor forest fires, forest destruction and other developments affecting the rainforest.
What's Behind the Rise?
Overall, deforestation in 2019 has jumped 30% compared to last year — 9,762 square kilometers (approximately 3769 square miles) have been destroyed, despite deforestation usually slowing during November and December.
Environmental groups, researchers and activists blamed the policies of Brazil's president Jair Bolsonaro for the increase.
They say that Bolosonaro's calls for the Amazon to be developed and his weakening support for Ibama, the government's environmental agency, have led to loggers and ranchers feeling safer and braver in destroying the expansive rainforest.
His government hit back at these claims, pointing out that previous governments also cut budgets to environment agencies such as Ibama.
The report comes as Brazil came to loggerheads with the Association of Small Island States (AOSIS) over climate goals during the UN climate conference in Madrid.
AOSIS blasted Brazil, among other nations, for "a lack of ambition that also undermines ours."
Last month, a group of Brazilian lawyers called for Bolsonaro to be investigated by the International Criminal Court over his environmental policies.
Reposted with permission from DW.
The Carolina parakeet went extinct in 1918. James St. John /
CC BY 2.0
The Carolina parakeet, the only parrot species native to the U.S., went extinct in 1918 when the last bird died at the Cincinnati Zoo. Now, a little more than 100 years later, researchers have determined that humans were entirely to blame.
Pexels
Vitamin C is a very important nutrient that's abundant in many fruits and vegetables.
BLM drill seeders work to restore native grasses after wildfire on the Bowden Hills Wilderness Study Area in southeast Oregon, Dec. 14, 2018. Marcus Johnson / BLM / CC BY 2.0
By Tara Lohan
In 2017 the Thomas fire raged through 281,893 acres in Ventura and Santa Barbara counties, California, leaving in its wake a blackened expanse of land, burned vegetation, and more than 1,000 destroyed buildings.