This website uses cookies to ensure you get the best experience while browsing it. By clicking 'Got It' you're accepting these terms.
New, Improved Vegetarian and Vegan Food Pyramid
Feb. 26, 2014 10:06AM EST
We know that vegetarian and vegan aren't synonymous with healthy. Junk food vegans and vegetarians do exist. After all, you can technically get a vegetarian burger at Burger King.
Many new vegans flock to PETA's Accidentally Vegan Food List (which may or may not be entirely vegan—it depends on your personal definition of vegan) and rejoice! Per PETA's list, Mambas, Oreos and Jujubes are vegan fair game.
Like many people, just because you are a vegetarian or vegan doesn't mean that you are eating enough fruits and veggies. Delectable (and usually processed) plant-based temptations abound. Good thing vegetarians and vegans have updated food pyramid guidelines to help.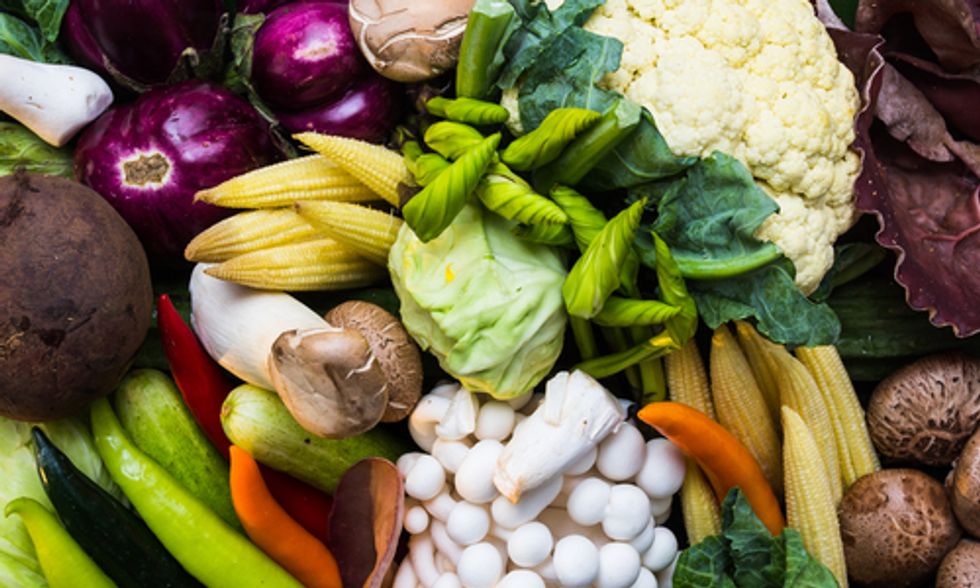 Photo courtesy of Shutterstock
Speaking of Guidelines
Yeah, vegetarians and vegans have and need dietary guidelines, too. Oldways, a "non-profit organization that promotes healthy eating based upon regional diet pyramids," proposed the first Vegetarian and Vegan Pyramid back in 1997. Now, they've updated the Pyramid and lumped vegetarians and vegans together because of the similarities.
The U.S. Department of Agriculture's MyPlate program isn't full enough for followers of a vegetarian and vegan diet. As reported in U.S. News, Sara Baer-Sinnott, Oldways' president, explained: "'Vegetarian eating is at an all-time high, and it's essential for people to realize that vegetarian diets are more than just cutting out meat. Balancing and planning are important.'"
Dietary Concerns for Vegetarians and Vegans
Fortunately, there's no protein concern, which is one of the most common concerns from non-vegs that vegetarians and vegans encounter. Iron and iron-deficiency (also a high omnivore deficiency), calcium, vitamin D, vitamin B-12 and zinc round up the highest nutrients of concern for the two veggie groups.
New and Improved Guidelines
– Fruits: 3-4 daily servings (canned and frozen fruit count!)
– Vegetables: 4-5 daily servings
– Whole Grains: 5-6 daily servings
– Beans, Peas, Lentils, Soy: 3-6 daily servings
– Nuts, Peanuts, Seeds, Peanut- or Nut Butters: 1-3 daily servings
– Herbs and Spices: Help yourself
– Plant Oils: Up to 5 daily servings
– Eggs and/or Dairy: Eggs: 4-6 weekly; Dairy: 1-3 daily servings
Going Veg Still Has Its Health Perks
Besides helping animals and the planet, vegetarianism still has health benefits. On Feb. 24, U.S. News reported how a vegetarian diet may help lower blood pressure. The Japanese research study, published in JAMA Internal Medicine, looked at 22,000 participants and "found vegetarians had blood pressure that was significantly lower than those who ate meat." Over "a review of 39 studies," researchers found that by following plant-based diet guidelines, it "could reduce a person's risk of heart attack by 9 percent and the risk [of] stroke by 14 percent if sustained over time."
And it doesn't matter what type of vegetarian you are. For instance, there weren't significant differences between vegans, vegetarians who included dairy or pescatarians (vegetarians who still eat fish). One cardiologist from the study stepped up and said that the results are "preliminary," and they are not ready to tell their patients to ditch meat.
Omnivores—Don't Clear Your Plate Just Yet
Just because the USDA's MyPlate isn't fulfilling enough for vegetarians and vegans, omnivores shouldn't automatically be satisfied with it either. As One Green Planet highlights, MyPlate isn't a plate that you should dash to clean up. For instance, MyPlate still lists a glass of 100 percent juice in the fruit category. Yet, as Dr. Andrew Weil points out, lumping fruit and fruit juice together "ignores the fact that the glycemic load—an indication of how quickly a food is converted to blood sugar—is far higher in fruit juices than in fruits." That's one glaring MyPlate mishap, but there are likely more.
Bon appétit!
EcoWatch Daily Newsletter
Protesters holding signs in solidarity with the Wet'suwet'en Nation outside the Canadian Consulate in NYC. The Indigenous Peoples Day NYC Committee (IPDNYC), a coalition of 13 Indigenous Peoples and indigenous-led organizations gathered outside the Canadian Consulate and Permanent Mission to the UN to support the Wet'suwet'en Nation in their opposition to a Coastal GasLink pipeline scheduled to enter their traditional territory in British Columbia, Canada. Erik McGregor / LightRocket / Getty Images
Tensions are continuing to rise in Canada over a controversial pipeline project as protesters enter their 12th day blockading railways, demonstrating on streets and highways, and paralyzing the nation's rail system
Horseshoe Bend (seen above) is a horseshoe-shaped meander of the Colorado River in Page, Arizona.
didier.camus
/ Flickr /
public domain
Millions of people rely on the Colorado River, but the climate crisis is causing the river to dry up, putting many at risk of "severe water shortages," according to new research, as The Guardian reported.
An alarming sign of an impending drought is the decreased snowpack in the Sierra Nevada Mountain range, as seen here in Christmas Valley, South Lake Tahoe, California on Feb. 15, 2020.
jcookfisher
/
CC BY 2.0
California is headed toward drought conditions as February, typically the state's wettest month, passes without a drop of rain. The lack of rainfall could lead to early fire conditions. With no rain predicted for the next week, it looks as if this month will be only the second time in 170 years that San Francisco has not had a drop of rain in February, according to The Weather Channel.
New and recent books explore how we can effectively respond to climate change while enhancing our health and happiness. Kei Uesugi / DigitalVision / Getty Images
A warm day in winter used to be a rare and uplifting relief.

Now such days are routine reminders of climate change – all the more foreboding when they coincide with news stories about unprecedented wildfires, record-breaking "rain bombs," or the accelerated melting of polar ice sheets.
Where, then, can one turn for hope in these dark months of the year?