New, Improved Vegetarian and Vegan Food Pyramid
We know that vegetarian and vegan aren't synonymous with healthy. Junk food vegans and vegetarians do exist. After all, you can technically get a vegetarian burger at Burger King.
Many new vegans flock to PETA's Accidentally Vegan Food List (which may or may not be entirely vegan—it depends on your personal definition of vegan) and rejoice! Per PETA's list, Mambas, Oreos and Jujubes are vegan fair game.
Like many people, just because you are a vegetarian or vegan doesn't mean that you are eating enough fruits and veggies. Delectable (and usually processed) plant-based temptations abound. Good thing vegetarians and vegans have updated food pyramid guidelines to help.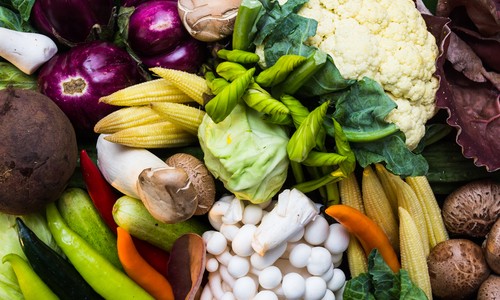 Photo courtesy of Shutterstock
Speaking of Guidelines
Yeah, vegetarians and vegans have and need dietary guidelines, too. Oldways, a "non-profit organization that promotes healthy eating based upon regional diet pyramids," proposed the first Vegetarian and Vegan Pyramid back in 1997. Now, they've updated the Pyramid and lumped vegetarians and vegans together because of the similarities.
The U.S. Department of Agriculture's MyPlate program isn't full enough for followers of a vegetarian and vegan diet. As reported in U.S. News, Sara Baer-Sinnott, Oldways' president, explained: "'Vegetarian eating is at an all-time high, and it's essential for people to realize that vegetarian diets are more than just cutting out meat. Balancing and planning are important.'"
Dietary Concerns for Vegetarians and Vegans
Fortunately, there's no protein concern, which is one of the most common concerns from non-vegs that vegetarians and vegans encounter. Iron and iron-deficiency (also a high omnivore deficiency), calcium, vitamin D, vitamin B-12 and zinc round up the highest nutrients of concern for the two veggie groups.
New and Improved Guidelines
– Fruits: 3-4 daily servings (canned and frozen fruit count!)
– Vegetables: 4-5 daily servings
– Whole Grains: 5-6 daily servings
– Beans, Peas, Lentils, Soy: 3-6 daily servings
– Nuts, Peanuts, Seeds, Peanut- or Nut Butters: 1-3 daily servings
– Herbs and Spices: Help yourself
– Plant Oils: Up to 5 daily servings
– Eggs and/or Dairy: Eggs: 4-6 weekly; Dairy: 1-3 daily servings
Going Veg Still Has Its Health Perks
Besides helping animals and the planet, vegetarianism still has health benefits. On Feb. 24, U.S. News reported how a vegetarian diet may help lower blood pressure. The Japanese research study, published in JAMA Internal Medicine, looked at 22,000 participants and "found vegetarians had blood pressure that was significantly lower than those who ate meat." Over "a review of 39 studies," researchers found that by following plant-based diet guidelines, it "could reduce a person's risk of heart attack by 9 percent and the risk [of] stroke by 14 percent if sustained over time."
And it doesn't matter what type of vegetarian you are. For instance, there weren't significant differences between vegans, vegetarians who included dairy or pescatarians (vegetarians who still eat fish). One cardiologist from the study stepped up and said that the results are "preliminary," and they are not ready to tell their patients to ditch meat.
Omnivores—Don't Clear Your Plate Just Yet
Just because the USDA's MyPlate isn't fulfilling enough for vegetarians and vegans, omnivores shouldn't automatically be satisfied with it either. As One Green Planet highlights, MyPlate isn't a plate that you should dash to clean up. For instance, MyPlate still lists a glass of 100 percent juice in the fruit category. Yet, as Dr. Andrew Weil points out, lumping fruit and fruit juice together "ignores the fact that the glycemic load—an indication of how quickly a food is converted to blood sugar—is far higher in fruit juices than in fruits." That's one glaring MyPlate mishap, but there are likely more.
Bon appétit!
Disturbing footage of a snake in Goa, India vomiting an empty soft drink bottle highlights the world's mounting plastic pollution crisis.
Keep reading...
Show less
By Melissa Hellmann
When her eldest son was in elementary school in the Oakland Unified School District, Ruth Woodruff became alarmed by the meals he was being served at school. A lot of it was frozen, processed foods, packed with preservatives. At home, she was feeding her children locally sourced, organic foods.
Keep reading...
Show less
May. 28, 2017 01:33PM EST
Laurie Woolever
By James O'Hare
There are 20 million people in the world facing famine in South Sudan, Somalia, Nigeria and Yemen. In developed nations, too, people go hungry. Venezuela, for instance, is enduring food insecurity on a national level as a result of economic crisis and political corruption. In the U.S., the land of supposed excess, 12.7 percent of households were food insecure in 2015, meaning they didn't know where their next meal would come from.
Keep reading...
Show less
May. 28, 2017 01:22PM EST
Melwater, Greenland ice sheet. Diane Tuft
Artists are taking the climate crisis into frame and the results are emotional, beautiful and stirring.
So you've seen the best climate change cartoons and shared them with your friends. You've showed your family the infographics on climate change and health, infographics on how the grid works and infographics about clean, renewable energy. You've even forwarded these official National Oceanic and Atmospheric Administration graphs that explain the 10 clear indicators of climate change to your colleagues at the office.
Keep reading...
Show less
May. 27, 2017 01:11PM EST
As the Trump administration moves full speed ahead on boosting the oil and fossil fuel industry, opposition to increased pipeline construction is cropping up in different communities around the country.
Keep reading...
Show less
May. 27, 2017 01:02PM EST
Minke whale stranding near Havergate Island in Suffolk. MCGA.
By Simon Evans
Last Saturday, two dead whales washed up on the coast of Suffolk, in eastern England, and a third was spotted floating at sea.
What happened next illustrates how news can spread and evolve into misinformation, when reported by journalists rushing to publish before confirming basic facts or sourcing their own quotes.
Keep reading...
Show less
May. 27, 2017 01:22PM EST
By Monica Amarelo and Paul Pestano
Sun safety is a crucial part of any outdoor activity for kids, and sunscreen can help protect children's skin from harmful ultraviolet rays. Kids often get sunburned when they're outside unprotected for longer than expected. Parents need to plan ahead and keep sun protection handy in their cars or bags.
Keep reading...
Show less
May. 27, 2017 01:02PM EST
By Joe McCarthy
A lot of people take part in community clean-up efforts—spending a Saturday morning picking up litter in a park, mowing an overgrown field or painting a fence.
Keep reading...
Show less