This website uses cookies to ensure you get the best experience while browsing it. By clicking 'Got It' you're accepting these terms.
New, Improved Vegetarian and Vegan Food Pyramid
Feb. 26, 2014 10:06AM EST
We know that vegetarian and vegan aren't synonymous with healthy. Junk food vegans and vegetarians do exist. After all, you can technically get a vegetarian burger at Burger King.
Many new vegans flock to PETA's Accidentally Vegan Food List (which may or may not be entirely vegan—it depends on your personal definition of vegan) and rejoice! Per PETA's list, Mambas, Oreos and Jujubes are vegan fair game.
Like many people, just because you are a vegetarian or vegan doesn't mean that you are eating enough fruits and veggies. Delectable (and usually processed) plant-based temptations abound. Good thing vegetarians and vegans have updated food pyramid guidelines to help.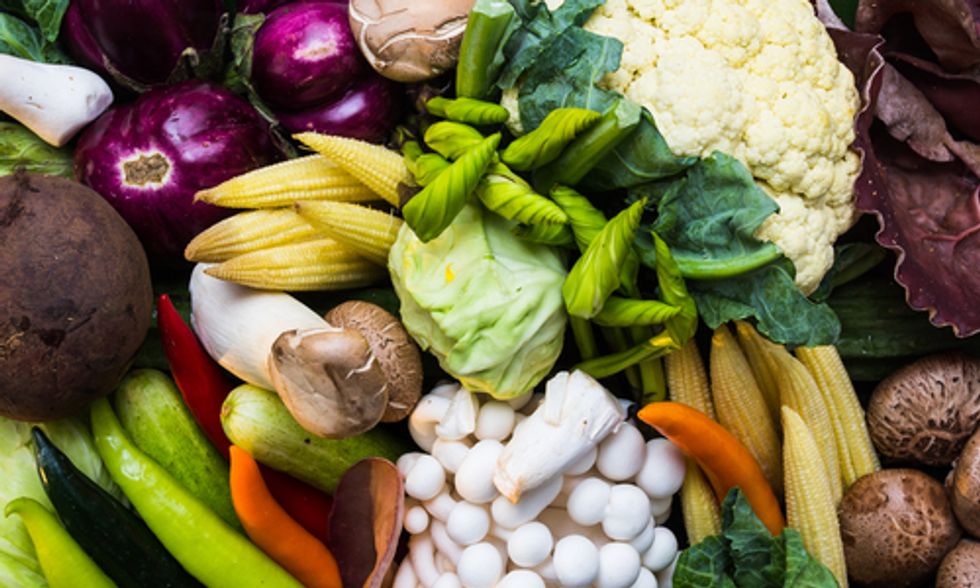 Photo courtesy of Shutterstock
Speaking of Guidelines
Yeah, vegetarians and vegans have and need dietary guidelines, too. Oldways, a "non-profit organization that promotes healthy eating based upon regional diet pyramids," proposed the first Vegetarian and Vegan Pyramid back in 1997. Now, they've updated the Pyramid and lumped vegetarians and vegans together because of the similarities.
The U.S. Department of Agriculture's MyPlate program isn't full enough for followers of a vegetarian and vegan diet. As reported in U.S. News, Sara Baer-Sinnott, Oldways' president, explained: "'Vegetarian eating is at an all-time high, and it's essential for people to realize that vegetarian diets are more than just cutting out meat. Balancing and planning are important.'"
Dietary Concerns for Vegetarians and Vegans
Fortunately, there's no protein concern, which is one of the most common concerns from non-vegs that vegetarians and vegans encounter. Iron and iron-deficiency (also a high omnivore deficiency), calcium, vitamin D, vitamin B-12 and zinc round up the highest nutrients of concern for the two veggie groups.
New and Improved Guidelines
– Fruits: 3-4 daily servings (canned and frozen fruit count!)
– Vegetables: 4-5 daily servings
– Whole Grains: 5-6 daily servings
– Beans, Peas, Lentils, Soy: 3-6 daily servings
– Nuts, Peanuts, Seeds, Peanut- or Nut Butters: 1-3 daily servings
– Herbs and Spices: Help yourself
– Plant Oils: Up to 5 daily servings
– Eggs and/or Dairy: Eggs: 4-6 weekly; Dairy: 1-3 daily servings
Going Veg Still Has Its Health Perks
Besides helping animals and the planet, vegetarianism still has health benefits. On Feb. 24, U.S. News reported how a vegetarian diet may help lower blood pressure. The Japanese research study, published in JAMA Internal Medicine, looked at 22,000 participants and "found vegetarians had blood pressure that was significantly lower than those who ate meat." Over "a review of 39 studies," researchers found that by following plant-based diet guidelines, it "could reduce a person's risk of heart attack by 9 percent and the risk [of] stroke by 14 percent if sustained over time."
And it doesn't matter what type of vegetarian you are. For instance, there weren't significant differences between vegans, vegetarians who included dairy or pescatarians (vegetarians who still eat fish). One cardiologist from the study stepped up and said that the results are "preliminary," and they are not ready to tell their patients to ditch meat.
Omnivores—Don't Clear Your Plate Just Yet
Just because the USDA's MyPlate isn't fulfilling enough for vegetarians and vegans, omnivores shouldn't automatically be satisfied with it either. As One Green Planet highlights, MyPlate isn't a plate that you should dash to clean up. For instance, MyPlate still lists a glass of 100 percent juice in the fruit category. Yet, as Dr. Andrew Weil points out, lumping fruit and fruit juice together "ignores the fact that the glycemic load—an indication of how quickly a food is converted to blood sugar—is far higher in fruit juices than in fruits." That's one glaring MyPlate mishap, but there are likely more.
Bon appétit!
EcoWatch Daily Newsletter
The CDC has emphasized that washing hands with soap and water is one of the most effective ways to prevent the spread of COVID-19. Guido Mieth / Moment / Getty Images
The Centers for Disease Control has emphasized that washing hands with soap and water is one of the most effective measures we can take in preventing the spread of COVID-19. However, millions of Americans in some of the most vulnerable communities face the prospect of having their water shut off during the lockdowns, according to The Guardian.
A California newt (Taricha torosa) from Napa County, California, USA. Connor Long /
CC BY-SA 3.0
Aerial photos of the Sierra Nevada — the long mountain range stretching down the spine of California — showed rust-colored swathes following the state's record-breaking five-year drought that ended in 2016. The 100 million dead trees were one of the most visible examples of the ecological toll the drought had wrought.
Now, a few years later, we're starting to learn about how smaller, less noticeable species were affected.
Disinfectants and cleaners claiming to sanitize against the novel coronavirus have started to flood the market.
Natthawat / Moment / Getty Images
Disinfectants and cleaners claiming to sanitize against the novel coronavirus have started to flood the market, raising concerns for the U.S. Environmental Protection Agency (EPA), which threatened legal recourse against retailers selling unregistered products, according to The New York Times.
A customer packs groceries in reusable bags at a NYC supermarket on March 1, 2020. Eduardo Munoz Alvarez/Getty Images
The global coronavirus pandemic has thrown our daily routine into disarray. Billions are housebound, social contact is off-limits and an invisible virus makes up look at the outside world with suspicion. No surprise, then, that sustainability and the climate movement aren't exactly a priority for many these days.
Ingredients are displayed for the Old School Pinto Beans from the Decolonize Your Diet cookbook by Luz Calvo and Catriona Rueda Esquibel. Melissa Renwick / Toronto Star via Getty Images
By Molly Matthews Multedo
Livestock farming contributes to global warming, so eating less meat can be better for the climate.