This website uses cookies to ensure you get the best experience while browsing it. By clicking 'Got It' you're accepting these terms.
New Greenpeace Website Exposes Financier Behind Huge Coal Project Proposals in Pacific Northwest
Feb. 25, 2014 12:06PM EST
Business
A new website developed by Greenpeace seeks to expose the lengths a private equity investor has gone to support those who want to export coal from the Northwest U.S. to Asia.
RossBhappu.com chronicles Ross Bhappu's key role in coal export proposals in Oregon and Washington, bankrolling Australia-based Ambre Energy—a company that one day hopes to export more than 40 million tons of coal each year with a facility in Longview, WA.
In addition to a 68 percent stake in that proposal, Ambre also has stakes in the Morrow Pacific coal export proposal, a project that would push coal down the Columbia River, as well as in the lawsuit-and layoff-laden Decker coal mine in Montana.
Through his Denver-based venture capital firm Resource Capital Funds (RCF), Bhappu financed Ambre to the tune of $110 million. Bhappu also sits on the company's board. In December, Ambre's board approved a deal that could ultimately give RCF up to a 55-percent share of the company.
The website, which is a collaboration between researchers, activists, artists facilitated by Greenpeace, illustrates its point by both a caricature of Bhappu seemingly covered in coal and key quote from Oregon Gov. John Kitzhaber.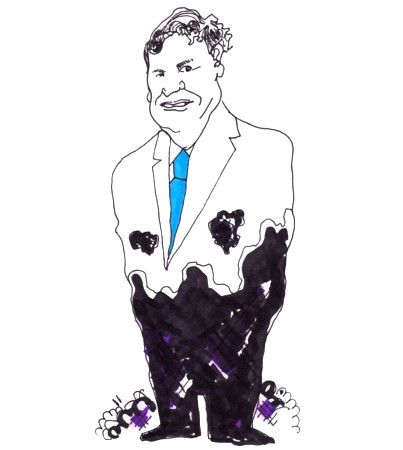 "In the absence of a clear federal policy, it's too easy to decide by not deciding, and lock ourselves into a coal-dependent future for our ports and for Asia—and that is not a course I am willing to pursue," Kitzhaber said in November.
"Oregon will continue to press for a national debate so we make a conscious decision about our energy future rather than leaving critical questions up to the whims of investors and speculators who are removed from the practical and moral implications of climate change."
The website also details how an independent auditor managed to consider the Ambre-RCF deal as "not fair," yet ultimately "reasonable." Ambre had struggled to attract other investors.
The deal took place as Pacific Northwest residents banded together to stop coal exports with campaigns and websites like Power Past Coal that scrutinize financiers' roles in such proposals.
In late January, Greenpeace and nine other organizations wrote a letter asking Bhappu to withdraw his Ambre investment. The groups tried to level with him by pointing out that Goldman Sachs withdrew its investment in Carrix, the company behind the proposed Gateway Pacific Terminal. That occurred six months after the company released a report entitled, The Window for Thermal Coal Investment is Closing.
"Ambre Energy's proposed export facilities along the Columbia River, Morrow Pacific Project and Millennium Bulk Terminal, would cause significant, harmful impacts to the air, water, marine environment, fish and wildlife, economics, public health, culture, and communities across our region. Many of these impacts cannot be mitigated," the letter reads before discussing those impacts.
According to Greenpeace, an online advertising campaign will accompany the website to ensure that potential investors, policymakers and communities are informed about Bhappu and project proposals.
Visit EcoWatch's COAL page for more related news on this topic.

EcoWatch Daily Newsletter
Large food companies are following in the footsteps of fast-food restaurants such as Burger King and KFC by offering meat alternatives. Getty Images
By Elizabeth Pratt
Hormel, Kellogg's, and Kroger are among the large companies now planning to offer "fake meat" products at grocery stores.
Experts say the trend toward plant-based meats coincides with consumers' desires to eat less meat.
However, experts urge consumers to closely check package labels as a product isn't necessarily healthy just because it's described as plant-based.
In grocery stores and fast-food outlets around the U.S., a revolution is taking place.
Colombia rainforest. Marcel Oosterwijk / CC BY-SA 2.0
Many of us think of the Amazon as an untouched wilderness, but people have been thriving in these diverse environments for millennia. Due to this long history, the knowledge that Indigenous and forest communities pass between generations about plants, animals and forest ecology is incredibly rich and detailed and easily dwarfs that of any expert.
picture-alliance / Newscom / R. Ben Ari
By Wesley Rahn
Plastic byproducts were found in 97 percent of blood and urine samples from 2,500 children tested between 2014 and 2017, according to a study by the German Environment Ministry and the Robert Koch Institute.

Pexels
Medically reviewed by Daniel Bubnis, MS, NASM-CPT, NASE Level II-CSS
Hot yoga has become a popular exercise in recent years. It offers many of the same benefits as traditional yoga, such as stress reduction, improved strength, and flexibility.
Lara Hata / iStock / Getty Images
By SaVanna Shoemaker, MS, RDN, LD
Rice is a staple in many people's diets. It's filling, inexpensive, and a great mild-tasting addition to flavorful dishes.
An image of the trans-alaskan oil pipeline that carries oil from the northern part of Alaska all the way to valdez. This shot is right near the arctic national wildlife refuge. kyletperry / iStock / Getty Images Plus
The Trump administration has initialized the final steps to open up nearly 1.6 million acres of the protected Alaskan National Wildlife Refuge to allow oil and gas drilling.