New Fracking Standards Not Supported by Environmental Organizations
Mar. 23, 2013 12:12PM EST
Energy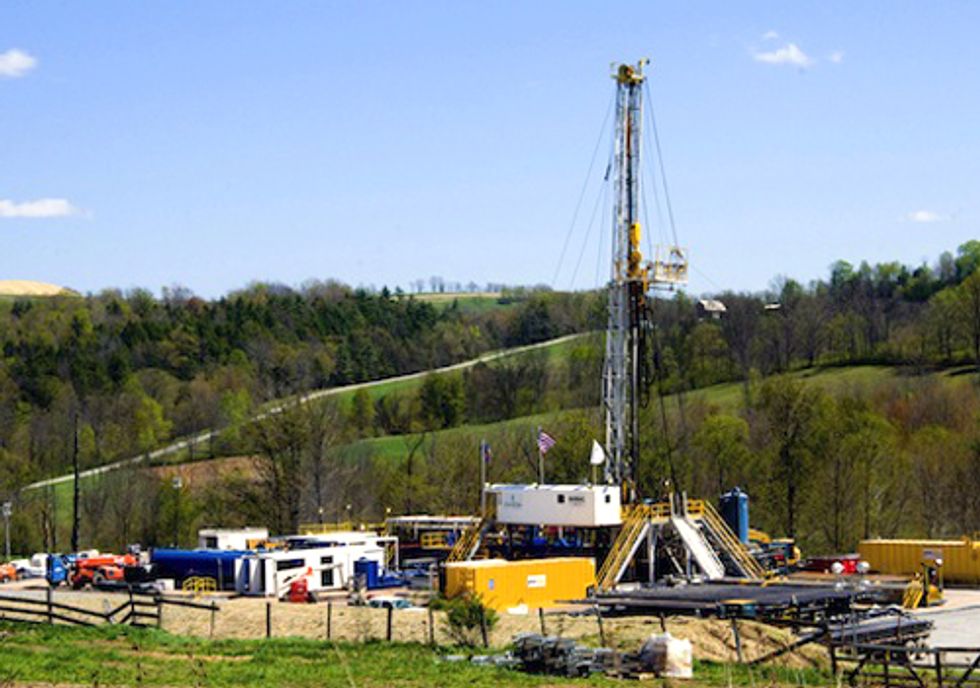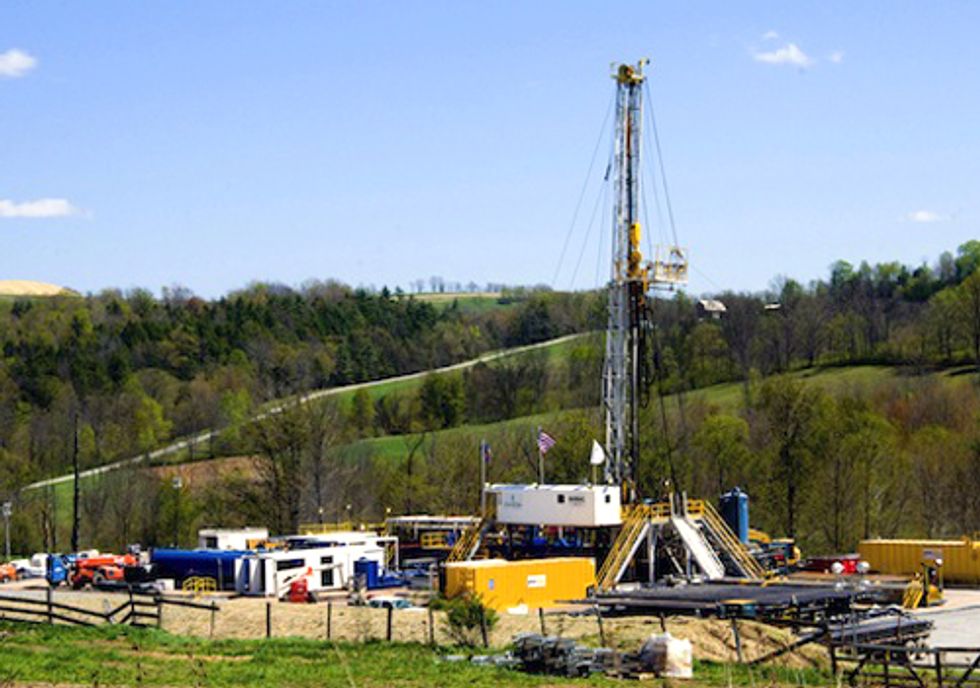 Environmental organizations are objecting to a misleading announcement coming from the oil and gas industry that says they have "made peace" with environmentalists by agreeing to voluntary fracking standards.
According to the announcement made, the oil and gas industry believes the new standards "could ease or avert some of the ferocious battles over fracking that have been waged in statehouses and city halls." They're wrong. In fact, the anti-fracking movement is large and getting larger as evidence mounts that fracking cannot be done safely, contributes to climate change, endangers the human and animal health and safety, tears apart communities, and pollutes our air and water.
"The cynical intentions of the drillers are stated clearly in the announcement. They say they want to 'hasten the expansion of fracking.' They say they want to 'bypass the often turbulent legislative process altogether.' They say they want to make 'drilling more acceptable to states and communities that fear the environmental consequences.'  Making drilling more acceptable and making drilling safer is not the same thing. These statements reveal the industry's self-serving attitude known all too well to those whose lives have been impacted by drilling," said Karen Feridun, founder of Berks Gas Truth.
The voluntary standards are listed on the oxymoronically-named website sustainableshale.org. The so-called "tough new standards" don't appear to be substantially different from the corresponding regulations the industry has been blatantly disregarding for years. In addition, they fail to address many issues including radioactivity, methane migration, drill cuttings, community disruption, forest fragmentation, LNG, and compressor stations, to name but a few.
"The overwhelming harm of gas development on communities being drilled and our natural environment demands real action, not limp attempts at 'management' that just rearrange the deck chairs on a sinking ship," said Tracy Carluccio, deputy director, Delaware Riverkeeper Network. "First, we need a nationwide moratorium on drilling, then we need to let science and health professionals fully examine and expose the truth about the inherently polluting fracking process, while we work as a nation to replace these deadly resource extraction industries with energy efficiency and clean, truly sustainable energy sources,"
"The only way for the fracking industry to self-regulate itself in a fashion that protects the people of Pennsylvania is to kindly end its operations in Pennsylvania and exit our state," said Sam Bernhardt, Pennsylvania organizer at Food & Water Watch. "Pennsylvania needs a ban on fracking, and it needs it now."
This may be the most cynical aspect of all—a newly-created Center for Sustainable Shale Development would be comprised of a 12-member board tasked with overseeing the voluntary standards program.
"The center's proposed 2013 budget is $800,000, with the two sides expected to contribute equal amounts," says the program's interim leader. It would appear that the obscenely wealthy oil and gas companies are only putting up half of the money and that the rest would come from those who would otherwise be funding efforts to fight on behalf of the environment and communities.
"Experience has shown that large, industry-oriented environmental groups do not necessarily  represent the interests of grassroots, community-based organizations," said Melissa Troutman, outreach coordinator of Mountain Watershed Association. "If you read the book Managing Activism: PR Advice for Neutralizing Democracy, author Denise Deegan advises that this sort of 'dialogue' is industry's most effective method for managing activists. In our experience, this is true."
The anti-fracking movement extends far beyond the environmental community to include religious groups, sportsmen's associations, health organizations, social justice organizations, renewable energy organizations, political groups, farming associations, and others. The groups the industry worked with on this project are not generally considered to be among the hundreds of groups in the movement in Pennsylvania, as they have maintained an industry-friendly stance on drilling.
Jay Sweeney, chair of the Green Party of Pennsylvania said, "I was flabbergasted to read the article saying the oil & gas industry had made peace with environmentalists. I read the article looking to find out exactly what environmentalists had been consulted and found none. The Green Party of Pennsylvania stands by our position that fracking must be banned!"
"This brilliant propaganda on the part of the gas industry and national groups that are not so much environmental organizations as they are greenwashing collaborators only serves to underscore the collective fear they have of how organized, how effective, how nimble, and how truly threatening the grassroots coalition against fracking has become to the interests of the corporate profit agenda of the fossil fuel barons," said Julie Edgar, organizer of Lehigh Valley Gas Truth. "We stand united—we will not be co-opted—we will not be mollified by what amounts to no more than a crock of radioactive fracking sludge."
Pennsylvania anti-fracking groups are not the only ones speaking out against these voluntary fracking standards. Josh Fox on behalf of Americans Against Fracking, said:
"The Center for Sustainable Shale Development, a new greenwashing group backed by the oil and gas industry, will not mitigate the economic, environmental and public health threats posed by hydraulic fracturing (fracking). That is because no amount of regulations can ever make fracking safe. It is an inherently dangerous practice.
"Americans Against Fracking, a coalition representing over 190 organizations dedicated to protecting Americans from the devastating effects of fracking, urges the public and policy makers to see this endeavor for what it is: a thinly veiled attempt to mask the irreparable damage posed by a practice that has been linked to air and water contamination, cardiovascular disease and the industrialization of rural communities.
"This center does not represent the interests of the environmental community, and very few members of the movement to protect communities and their vital resources from fracking were consulted in the development of the center's so-called 'standards.' In fact, there is a growing movement that recognizes that fracking must be banned. Partnerships such as this only set the stage to escalate fracking activity, while reinforcing our addiction to fossil fuels.
"This initiative is brought to us by the same industry that negotiated exemptions from key environmental protections such as the Clean Air Act, the Clean Water Act and the Safe Drinking Water Act. We can't trust them to take the physical or economic safety of Americans to heart."
Visit EcoWatch's FRACKING page for more related news on this topic.
——–
Sign the petition today, telling President Obama to enact an immediate fracking moratorium:

EcoWatch Daily Newsletter
Recent Stories from EcoWatch