This website uses cookies to ensure you get the best experience while browsing it. By clicking 'Got It' you're accepting these terms.
New Ethanol Blend Puts Millions of Engine Warranties At Risk
Feb. 17, 2012 08:30AM EST
Energy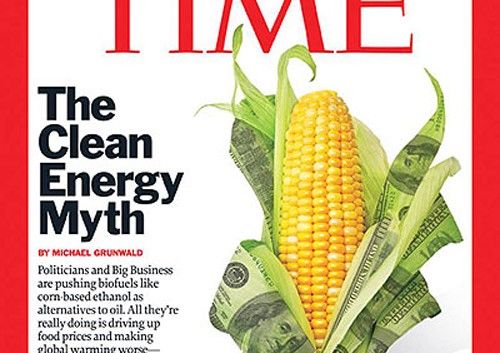 The U.S. Environmental Protection Agency's (EPA) decision to allow the sale of gasoline blended with up to 15 percent ethanol will be a nightmare for car owners who improperly fuel their gas tanks. Every major automaker has warned that millions of vehicle warranties will be voided if drivers fill up with E15.
The approval of E15 for use in vehicles manufactured after 2000 means consumers will pull into gas stations that could have as many as four pumps with different kinds of fuel—one for E10 (up to 10 percent ethanol); one for E15; possibly one for E85 (between 70 and 85 percent ethanol); and maybe one for old-fashioned gasoline. Some gas station pumps might not even have labels specifying which ethanol blend is which because not every state requires them.
"It is going to be extremely confusing and dangerous for consumers," said Sheila Karpf, a legislative analyst at the Environmental Working Group (EWG). "If they make a mistake and put E15 into an older car or small engine, there's a good chance they'll ruin their engine and the manufacturer's warranty won't cover the damage."
To advance consumer safety, EWG analysts have created an Ethanol Blends Guide and Fact Sheet to help drivers choose the right fuel for their vehicles. The analysis provides more information about the new E15 label requirements.
Ethanol is more corrosive and burns hotter than gasoline, properties that could cause some engines to stall, misfire and overheat. Fuel with higher ethanol blends emits more nitrous oxide and formaldehyde than gasoline, lowers mileage and damages fuel tanks and pumps.
"Instead of approving a fuel that will pose health and safety hazards and damage engines, the U.S. should invest in energy efficiency measures and research and development for truly sustainable biofuels," said Karpf. "The high cost of replacing or repairing engines will be tacked onto corn ethanol's other costs—including higher food prices, increased soil erosion and polluted water supplies."
To be safe, EWG recommends that consumers stick with E10 or regular unleaded gasoline if they can find it. If gas pumps are not labeled, consumers should ask a service station employee for more information about the fuel and the amount of ethanol it contains. Consumers should check with their engine manufacturers or mechanics to find out if their cars or small engines can safely run on E15 or other ethanol blends.
Here are other tips for consumers to cut the economic and environmental costs of driving:
Maintain your vehicle properly:
- Keep tires inflated to the recommended pressure.
- Use the right grade of motor oil (check the manual).
- Replace air filters when you change oil (your engine will run more efficiently).
- Replace worn spark plugs.
- Repair leaks from engine oil or other fluids.
Drive the speed limit and don't accelerate too fast or brake too hard.
Minimize air conditioner use.
Turn your engine off when idling for long periods.
Get rid of excess weight in your vehicle.
Drive less.
Walk, run, or bike.
For more information, click here.
EcoWatch Daily Newsletter
A vegan diet can improve your health, but experts say it's important to keep track of nutrients and protein. Getty Images
By Dan Gray
Research shows that 16 weeks of a vegan diet can boost the gut microbiome, helping with weight loss and overall health.
A healthy microbiome is a diverse microbiome. A plant-based diet is the best way to achieve this.
It isn't necessary to opt for a strictly vegan diet, but it's beneficial to limit meat intake.
New research shows that following a vegan diet for about 4 months can boost your gut microbiome. In turn, that can lead to improvements in body weight and blood sugar management.
Students gathered at the National Mall in Washington DC, Sept. 20. NRDC
By Jeff Turrentine
Nearly 20 years have passed since the journalist Malcolm Gladwell popularized the term tipping point, in his best-selling book of the same name. The phrase denotes the moment that a certain idea, behavior, or practice catches on exponentially and gains widespread currency throughout a culture. Having transcended its roots in sociological theory, the tipping point is now part of our everyday vernacular. We use it in scientific contexts to describe, for instance, the climatological point of no return that we'll hit if we allow average global temperatures to rise more than 2 degrees Celsius above preindustrial levels. But we also use it to describe everything from resistance movements to the disenchantment of hockey fans when their team is on a losing streak.
samael334 / iStock / Getty Images
Berries are small, soft, round fruit of various colors — mainly blue, red, or purple.
A glacier is seen in the Kenai Mountains on Sept. 6, near Primrose, Alaska. Scientists from the U.S. Geological Survey have been studying the glaciers in the area since 1966 and their studies show that the warming climate has resulted in sustained glacial mass loss as melting outpaced the accumulation of new snow and ice. Joe Raedle / Getty Images
By Mark Mancini
On Aug. 18, Iceland held a funeral for the first glacier lost to climate change. The deceased party was Okjökull, a historic body of ice that covered 14.6 square miles (38 square kilometers) in the Icelandic Highlands at the turn of the 20th century. But its glory days are long gone. In 2014, having dwindled to less than 1/15 its former size, Okjökull lost its status as an official glacier.
Members of Chicago Democratic Socialists of America table at the Logan Square Farmers Market on Aug. 18. Alex Schwartz
By Alex Schwartz
Among the many vendors at the Logan Square Farmers Market on Aug. 18 sat three young people peddling neither organic vegetables, gourmet cheese nor handmade crafts. Instead, they offered liberation from capitalism.
Hackney primary school students went to the Town Hall on May 24 in London after school to protest about the climate emergency. Jenny Matthews / In Pictures / Getty Images
Bird watching in the U.S. may be a lot harder than it once was, since bird populations are dropping off in droves, according to a new study.