This website uses cookies to ensure you get the best experience while browsing it. By clicking 'Got It' you're accepting these terms.
New Ethanol Blend Puts Millions of Engine Warranties At Risk
Feb. 17, 2012 08:30AM EST
Energy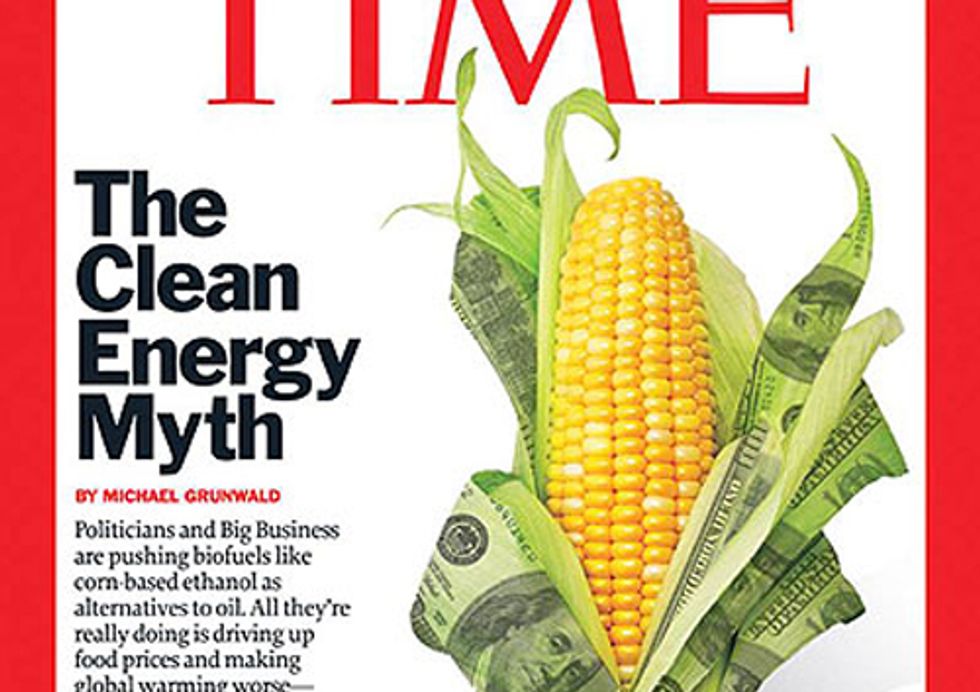 The U.S. Environmental Protection Agency's (EPA) decision to allow the sale of gasoline blended with up to 15 percent ethanol will be a nightmare for car owners who improperly fuel their gas tanks. Every major automaker has warned that millions of vehicle warranties will be voided if drivers fill up with E15.
The approval of E15 for use in vehicles manufactured after 2000 means consumers will pull into gas stations that could have as many as four pumps with different kinds of fuel—one for E10 (up to 10 percent ethanol); one for E15; possibly one for E85 (between 70 and 85 percent ethanol); and maybe one for old-fashioned gasoline. Some gas station pumps might not even have labels specifying which ethanol blend is which because not every state requires them.
"It is going to be extremely confusing and dangerous for consumers," said Sheila Karpf, a legislative analyst at the Environmental Working Group (EWG). "If they make a mistake and put E15 into an older car or small engine, there's a good chance they'll ruin their engine and the manufacturer's warranty won't cover the damage."
To advance consumer safety, EWG analysts have created an Ethanol Blends Guide and Fact Sheet to help drivers choose the right fuel for their vehicles. The analysis provides more information about the new E15 label requirements.
Ethanol is more corrosive and burns hotter than gasoline, properties that could cause some engines to stall, misfire and overheat. Fuel with higher ethanol blends emits more nitrous oxide and formaldehyde than gasoline, lowers mileage and damages fuel tanks and pumps.
"Instead of approving a fuel that will pose health and safety hazards and damage engines, the U.S. should invest in energy efficiency measures and research and development for truly sustainable biofuels," said Karpf. "The high cost of replacing or repairing engines will be tacked onto corn ethanol's other costs—including higher food prices, increased soil erosion and polluted water supplies."
To be safe, EWG recommends that consumers stick with E10 or regular unleaded gasoline if they can find it. If gas pumps are not labeled, consumers should ask a service station employee for more information about the fuel and the amount of ethanol it contains. Consumers should check with their engine manufacturers or mechanics to find out if their cars or small engines can safely run on E15 or other ethanol blends.
Here are other tips for consumers to cut the economic and environmental costs of driving:
Maintain your vehicle properly:
- Keep tires inflated to the recommended pressure.
- Use the right grade of motor oil (check the manual).
- Replace air filters when you change oil (your engine will run more efficiently).
- Replace worn spark plugs.
- Repair leaks from engine oil or other fluids.
Drive the speed limit and don't accelerate too fast or brake too hard.
Minimize air conditioner use.
Turn your engine off when idling for long periods.
Get rid of excess weight in your vehicle.
Drive less.
Walk, run, or bike.
For more information, click here.
EcoWatch Daily Newsletter
Deserted view of NH24 near Akshardham Temple on day nine of the 21-day nationwide lockdown to curb the spread of coronavirus on April 2, 2020 in New Delhi, India. Raj K Raj / Hindustan Times via Getty Images
A Unicef social mobilizer uses a speaker as she carries out public health awareness to prevent the spread and detect the symptoms of the COVID-19 coronavirus by UNICEF at Mangateen IDP camp in Juba, South Sudan on April 2. ALEX MCBRIDE / AFP / Getty Images
By Eddie Ndopu
South Africa is ground zero for the coronavirus pandemic in Africa.
Its townships are typical of high-density neighbourhoods across the continent where self-isolation will be extremely challenging.
The failure to eradicate extreme poverty is a threat beyond the countries in question.
The outside of the Food and Drug Administration headquarters in White Oak, Md. on Nov. 9, 2015. Al Drago / CQ Roll Call
The U.S. Food and Drug Administration has approved the use of two malarial drugs to treat and prevent COVID-19, the respiratory infection caused by the SARS-CoV-2 coronavirus, despite only anecdotal evidence that either is proven effective in treating or slowing the progression of the disease in seriously ill patients.

Some
speculate
that the dissemination of the Antarctic beeches or Nothofagus moorei (seen above in Australia) dates to the time when
Antarctica
, Australia and
South America
were connected. Auscape / Universal Images Group / Getty Images
A team of scientists drilled into the ground near the South Pole to discover forest and fossils from the Cretaceous nearly 90 million years ago, which is the time when dinosaurs roamed the Earth, as the BBC reported.
The recovery of elephant seals is one of the "signs of hope" that scientists say show the oceans can recover swiftly if we let them. NOAA /
CC BY 2.0