This website uses cookies to ensure you get the best experience while browsing it. By clicking 'Got It' you're accepting these terms.
New EPA Study Shows Largest Greenhouse Gas Emitters—Are They in Your Backyard?
Feb. 06, 2013 09:05AM EST
Climate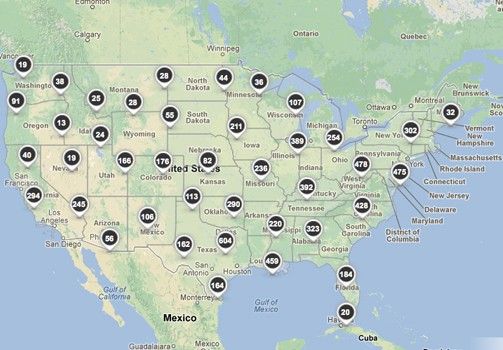 The U.S. Environmental Protection Agency (EPA) yesterday released plant-by-plant data on 2011 emissions of carbon dioxide and other heat-trapping air pollutants. The data show once again that power plants are the number one source of the carbon pollution that drives climate change, churning out more than 2.2 billion metric tons of carbon dioxide to the atmosphere in 2011. 
The new data confirm that cleaning up the nation's fleet of power plants should be the centerpiece of President Obama's actions to reduce the threat of climate change. 
In his inaugural address two weeks ago, the president vowed: "We will respond to the threat of climate change, knowing that the failure to do so would betray our children and future generations." 
Power plants are far and away the number one source of carbon pollution, responsible for two-thirds of the 3.3 billion metric tons reported by all large industrial facilities, and for 40 percent of the nation's overall CO2 emissions. (Overall U.S. emissions of CO2 and other heat-trapping pollutants total about 6.8 billion metric tons, including those from transportation, other industries, and smaller sources.)
Total power plant CO2 emissions in 2011 were down about 4.5 percent from 2010, reflecting the shift towards burning more natural gas and less coal (a trend that continued in 2012—see here, p.87—and will show up in the plant-by-plant pollution reports EPA publishes next year).
Renewables and efficiency are growing fast—renewable investments increased by 23 percent from 2010 to 2011 according to the Energy Information Administration, and electric efficiency program budgets, for example, rose from $2.7 billion to $6.8 billion between 2007 and 2011. 
Natural Resources Defense Council (NRDC) issued an innovative plan in December showing how the president can use the Clean Air Act to cut the dangerous carbon pollution from the nation's existing power plants, slowing climate change, saving lives, creating jobs and growing the economy.
Our plan achieves huge health and climate benefits at surprisingly low cost, is fair and flexible for each state and power company, holds power bills down and triggers huge job-creating clean energy investments that can't be outsourced.  
The NRDC plan cuts overall power sector carbon emissions 26 percent in 2020 and 35 percent in 2025, from 2005 levels. Because of its fair and flexible design features, our plan achieves enormous climate protection and public health benefits worth $26-60 billion in 2020, at a reasonable cost of $4 billion.
You can check out which of the nation's 1,594 power plants is in your backyard, and how much carbon pollution it puts out, using EPA's handy map-based emission data website, which includes data from about 8,000 large facilities in nine industrial sectors. 
You can search for power plants in your state or county, or look up any specific power station. You can see which states, which plants and which companies are the biggest polluters, and you can compare 2011 emissions with those from 2010, which EPA published last year. You can also look up the emissions of the other big polluters: oil and gas production facilities, refineries, chemical plants and other industries.
Just as examples, I've listed the top 20 states and the power plants that emit more than 10 million tons per year in the following two tables.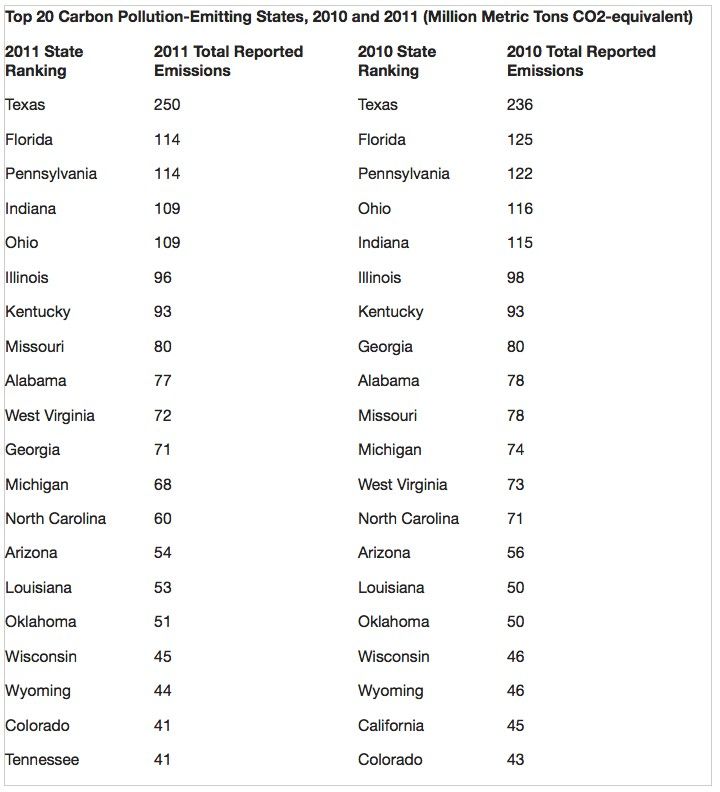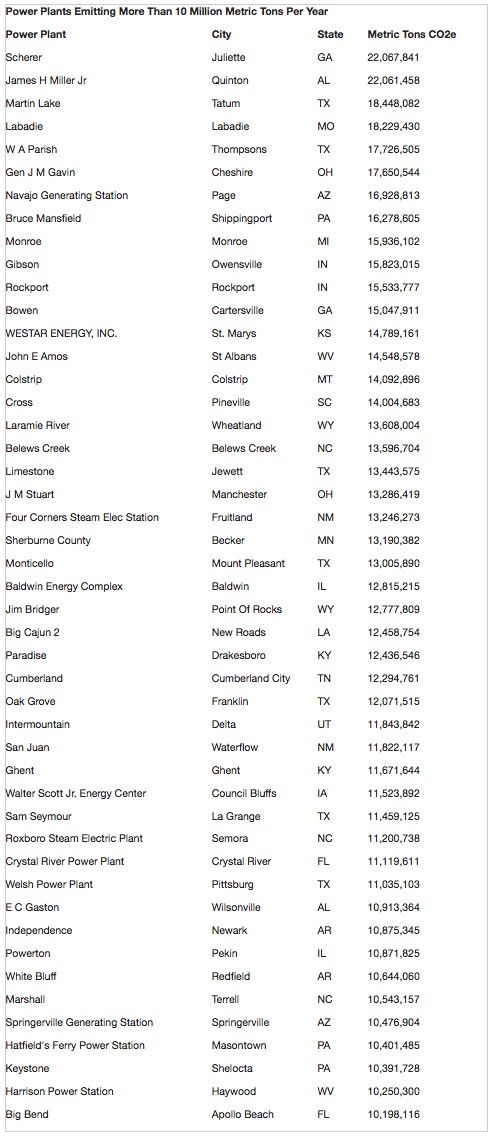 We have this invaluable "right to know" information because Congress, in 2008 legislation, directed EPA to collect carbon pollution data from every large industrial facility, and to make it publicly available in an easy-to-use form. 
So, thanks to EPA's greenhouse gas emission database, we know exactly where the carbon pollution is coming from. And following NRDC's power plant plan, we know how we can cut it down to size. 
President Obama said eloquently in his inaugural address that "our obligations as Americans are not just to ourselves, but to all posterity," and he spoke of our duty to "preserve our planet, commanded to our care by God." 
Now, as he prepares his State of the Union address, we look to the president to launch specific plans to curb the carbon pollution from the power plant fleet, and from other big industries, using the laws Congress has already entrusted him to enforce.
Visit EcoWatch's COAL page for more related news on this topic.
——–
Click here to tell Congress to Expedite Renewable Energy.

EcoWatch Daily Newsletter
Oil palm plantations in northeastern Borneo, state of Sabah, Malaysia. Recently planted oil palms can be seen in the bright green grassy areas and a tiny bit of natural rainforest still struggles for survival farther away. Vaara / E+ / Getty Images
A fuel truck carries fuel into a fracking site past the warning signs Jan. 27, 2016 near Stillwater, Oklahoma. J Pat Carter / Getty Images
By Jessica Corbett
For more than three decades, the U.S. government has mismanaged toxic oil and gas waste containing carcinogens, heavy metals and radioactive materials, according to a new Earthworks report — and with the country on track to continue drilling and fracking for fossil fuels, the advocacy group warns of growing threats to the planet and public health.
European Union blue and gold flags flying at the European Commission building in Brussels, Belgium. 35007/ iStock / Getty Images Plus
Newly adopted guidelines set forth by the European Commission Tuesday aim to tackle climate change by way of the financial sector. The move comes to bolster the success of the Sustainable Action Plan published last year to reorient capital flows toward sustainable investment and manage financial risks from climate change, environmental degradation and social issues.
Prime Minister Justin Trudeau delivering remarks to supporters at a Liberal Climate Action Rally in Toronto, Ontario on March 4. Arindam Shivaani / NurPhoto / Getty Images
Canadian Prime Minister Justin Trudeau announced Tuesday that his government would once again approve the expansion of the Trans Mountain pipeline, which would triple the amount of oil transported from Alberta's tar sands to the coast of British Columbia (BC).
An exhausted polar bear wanders the streets of Norilsk, a Siberian city hundreds of miles from its natural habitat. IRINA YARINSKAYA / AFP / Getty Images

An exhausted, starving polar bear has been spotted wandering around the Siberian city of Norilsk, Reuters reported Tuesday. It is the first time a polar bear has entered the city in more than 40 years.
Bumblebees flying and pollinating a creeping thyme flower. emeliemaria / iStock / Getty Images
It pays to pollinate in Minnesota.