This website uses cookies to ensure you get the best experience while browsing it. By clicking 'Got It' you're accepting these terms.
New EPA Regulations Address Fracking…in 2015
Apr. 23, 2012 08:55AM EST
Energy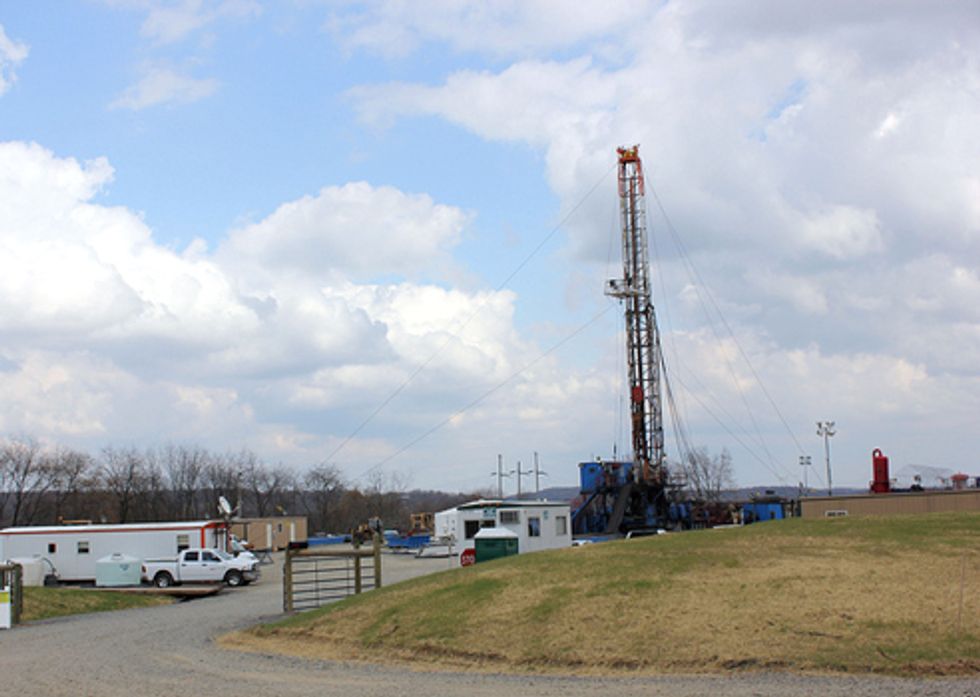 By Karen Showalter
Some good news—The U.S. Environmental Protection Agency (EPA) issued important rules to address air pollution from natural gas drilling, primarily fracking.
Less good news—Bending to pressure from Big Oil, the measures won't go into effect until 2015.
The regulations will require that new wells capture certain smog-forming compounds, as well as methane, which is a highly potent greenhouse gas. The leakage of large quantities of methane is the reason fracked gas has been cited as potentially being worse for climate change than burning coal. Capture will happen through a process known as "green completions." These primarily occur during the "flow back" period, when fracking chemicals and water injected into the ground return to the surface along with newly-released gas.
It's a good move for the industry as well as the public. The EPA has estimated that companies may make as much as $11-$19 million/year from selling the captured gas.
Critics contend the regulations have disturbing loopholes. For example, existing facilities can still release up to 1 ton of benzene per year from specific equipment.
We must also remember that air pollution is just one of several concerns with fracking. The chemicals used during the process have the potential to devastate local water supplies. Yet fracking is still exempt from the Safe Water Drinking Act.
Most disturbingly, the measures take effect on Jan. 1, 2015—two and a half years from now. Although the EPA proposed implementing the safeguards in as little as 60 days, the industry pushed back, claiming there wasn't enough equipment on the market to enable them to make the change. Companies are allowed to continue flaring the gases until then, and there are incentives for adopting the measures early.
Two and a half years is a virtual lifetime in the fracking world. Consider the case of Ohio, one of the hotbeds of the fracking boom. In 2009, the state issued one fracking permit. In 2010, it issued two. In 2011, it issued 42 permits, 27 of which were issued between July and September. The Ohio Oil and Gas Association expects that by 2015, the state will have gained at least $14 billion in income.
All of this considered, giving the industry a 2.5 year window to adopt to the new regulations doesn't add up. The natural gas boom, and fracking in particular, is a hugely profitable enterprise, expanding at a rapid pace. Our ability to regulate the very clear impacts on communities and the environment should proceed just as quickly.
For more information, click here.
—————
Stay up-to-date on the latest fracking news by clicking here.
EcoWatch Daily Newsletter
U.S. President Donald Trump listens as Anthony Fauci, Director of the National Institute of Allergy and Infectious Diseases speaks in the Rose Garden for the daily coronavirus briefing at the White House on March 29 in Washington, DC. Tasos Katopodis / Getty Images
By Jake Johnson
Just over a month after proclaiming that the number of coronavirus cases in the U.S. would soon "be down to close to zero," President Donald Trump said during a press briefing on the White House lawn Sunday that limiting U.S. deaths from the pandemic to between 100,000 and 200,000 people would mean his administration and the country as a whole did "a very good job."
Dicamba is having a devastating impact in Arkansas and neighboring states. A farmer in Mississippi County, Arkansas looks at rows of soybean plants affected by dicamba. The Washington Post / Getty Images
Documents unearthed in a lawsuit brought by a Missouri farmer who claimed that Monsanto and German chemical maker BASF's dicamba herbicide ruined his peach orchard revealed that the two companies knew their new agricultural seed and chemical system would likely damage many U.S. farms, according to documents seen by The Guardian.
Washington State Governor Jay Inslee and other leaders speak to the press on March 28, 2020 in Seattle. Karen Ducey / Getty Images
A bushfire burns outside the Perth Cricket Stadium in Perth, Australia on Dec. 13, 2019. PETER PARKS / AFP via Getty Images

By Albert Van Dijk, Luigi Renzullo, Marta Yebra and Shoshana Rapley
2019 was the year Australians confronted the fact that a healthy environment is more than just a pretty waterfall in a national park; a nice extra we can do without. We do not survive without air to breathe, water to drink, soil to grow food and weather we can cope with.
By Fino Menezes
Everyone adores dolphins. Intelligent, inquisitive and playful, these special creatures have captivated humans since the dawn of time. But dolphins didn't get to where they are by accident — they needed to develop some pretty amazing superpowers to cope with their environment.