This website uses cookies to ensure you get the best experience while browsing it. By clicking 'Got It' you're accepting these terms.
New England's Cod in Crisis
Aug. 06, 2014 02:23PM EST
The already bad news about Atlantic cod in New England just got worse. Scientists at the National Oceanic and Atmospheric Administration's Fisheries Service have found that the cod population in the Gulf of Maine is at an all-time low. Virtually every indicator of the stock condition declined in the past year, to the point that the total of adult fish, known as spawning biomass, is estimated to be just 3 or 4 percent of a healthy, sustainable population. Researchers also found very few young fish, another bad sign. In a notice issued Aug. 1, scientists warned fishery managers in the region that the new analysis presented "a grim picture for the recovery of this iconic fish."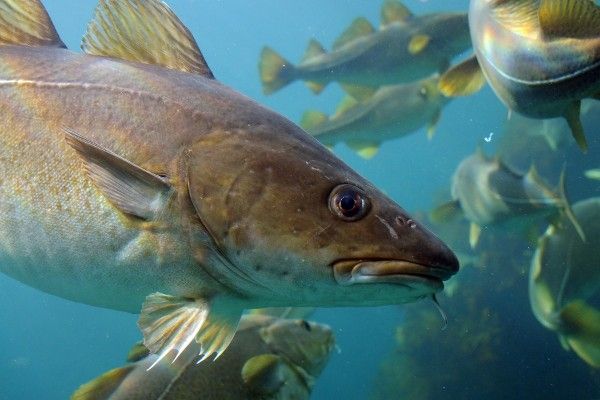 A solid body of science shows that protecting habitat areas in New England waters has resulted in more large female cod. Credit: Joachim Muller / talkingfish.org
This is a serious blow to fishermen and fishing communities that depend on cod. Previous estimates showing this cod population at about 20 percent of target numbers had already made it necessary to sharply reduce the allowable catch. The Commerce Department declared the fishery a disaster in 2012, and some $33 million in federal aid is being distributed to New England fishermen.
Fishermen and fishery managers begrudgingly reduced fishing pressure, hoping it would bring a recovery. But it is now clear that the damage inflicted through decades of chronic overfishing and harm to ocean habitats is so great that more is needed.
First, we must stop degrading sensitive fish habitat with bottom-trawl fishing, scallop dredges and other high-impact gear. Fish need places where they can safely find food and shelter, grow and reproduce. A solid body of science shows that protecting habitat areas in New England waters has resulted in more large female cod, which are crucial to the reproductive success of the population.
Second, officials should implement the method of fishing regulation that scientists have long been calling for—ecosystem-based fisheries management. This approach keeps track not just of one species at a time, but also allows managers to account for how fish interact as part of an intricate food web. Science shows it is crucial, for instance, to incorporate the important relationships between predators and prey, and how changes in the ocean environment affect fish. New England's fishery management council has taken the first tentative steps toward putting this big picture approach to work. The crisis with cod provides strong impetus to speed that process.
Yet, some in the fishing industry persist in questioning the science, saying what they see on the water tells a different story. Scientists have carefully explained in a recent study why some fishermen may enjoy a temporary abundance of fish even while the larger population is in sharp decline. In short, those fishermen are catching the last remaining pockets of cod as the fish gather densely within small areas of prime feeding habitat. Overall, however, fishermen have not been able to find enough cod in recent years to even fill their quota.
And, unfortunately, this council is also preparing to gut protections for ocean habitat before they have had a chance to take effect. An industry-supported proposal currently under consideration would slash habitat protection by some 70 percent, allowing damaging forms of fishing in a combined area the size of Connecticut. Cutting habitat protections now defies logic and almost certainly sets us on a path to eliminating these fish from New England's waters.
What we do now will resonate for generations. The fishery managers for New England must pivot to ecosystem-based fisheries management and commit to leaving habitat protections in place to ensure fish for future generations.
You Might Also Like
Pacific Bluefin Tuna Population at Brink of Collapse
9 of the Dirtiest U.S. Fisheries Exposed
Salmon vs. Gold at Alaska's Pebble Mine
EcoWatch Daily Newsletter
Artist's conception of solar islands in the open ocean. PNAS
Millions of solar panels clustered together to form an island could convert carbon dioxide in seawater into methanol, which can fuel airplanes and trucks, according to new research from Norway and Switzerland and published in the Proceedings of the National Academy of Sciences journal, PNAS, as NBC News reported. The floating islands could drastically reduce greenhouse gas emissions and dependence on fossil fuels.
Marcos Alves / Moment Open / Getty Images
More than 40 percent of insects could go extinct globally in the next few decades. So why did the U.S. Environmental Protection Agency (EPA) last week OK the 'emergency' use of the bee-killing pesticide sulfoxaflor on 13.9 million acres?
EcoWatch teamed up with Center for Biological Diversity via EcoWatch Live on Facebook to find out why. Environmental Health Director and Senior Attorney Lori Ann Burd explained how there is a loophole in the The Federal Insecticide, Fungicide, and Rodenticide Act under section 18, "that allows for entities and states to request emergency exemptions to spraying pesticides where they otherwise wouldn't be allowed to spray."
Simple swaps that cut down on kitchen trash.
Sponsored
By Kayla Robbins
Along with the bathroom, the kitchen is one of the most daunting areas to try and make zero waste.
View of downtown Miami, Florida from Hobie Island on Feb. 2, 2019.
Michael Muraz / Flickr
The Democratic candidates for president descended upon Miami for a two-night debate on Wednesday and Thursday. Any candidate hoping to carry the state will have to make the climate crisis central to their campaign, as The New York Times reported.
By Sharon Kelly
On Monday, the Wall Street Journal featured a profile of Scott Sheffield, CEO of Pioneer Natural Resources, whose company is known among investors for its emphasis on drawing oil and gas from the Permian basin in Texas using horizontal drilling and hydraulic fracturing, or fracking.
Pexels
By Craig K. Chandler
The federal government has available to it, should it choose to use them, a wide range of potential climate change management tools, going well beyond the traditional pollution control regulatory options. And, in some cases (not all), without new legislative authorization.
Denis Poroy / Getty Images
By Dan Gray
Processed foods, in their many delicious forms, are an American favorite.
But new research shows that despite increasing evidence on just how unhealthy processed foods are, Americans have continued to eat the products at the same rate.
By Sarah Steffen
With a profound understanding of their environmental surroundings, indigenous communities around the world are often cited as being pivotal to tackling climate change.