New Documentary Follows Two Boys Fighting Big Oil Over Ecuadorian Rainforest Destruction
Sep. 15, 2014 01:51PM EST
Energy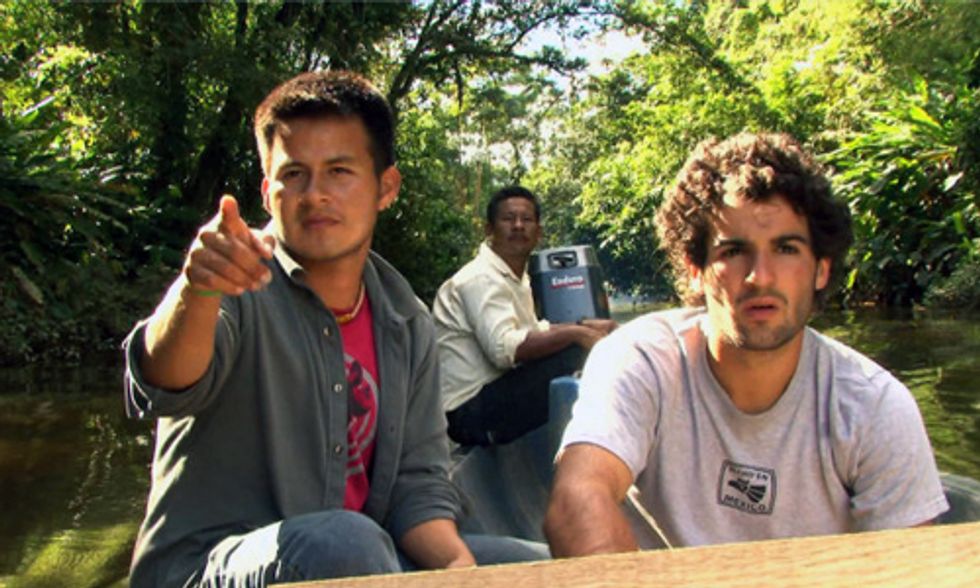 The South American country of Ecuador may not be on many people's radars. But a large-scale disaster with ongoing health and environmental impacts occurred there that's been dubbed a "rainforest Chernobyl."
Filmmakers Francine Strickwerda and Laurel Spellman Smith have made a new documentary Oil & Water telling the story of two teenagers—one American, one Ecuadorian—fighting to restore the country's rainforests and seeking justice for the indigenous peoples damaged by the effects of oil exploration and drilling. It depicts the challenges faced by the young men and their allies as they fight the power of a Big Oil company, Texaco (now Chevron), that for 28 years poisoned drinking water, destroyed the landscape and pushed the indigenous people to the edges of their lands as it drilled for oil.
David Poritz learned about what was happening in Ecuador when he was a sixth grader in Massachusetts and immediately began his work to fight back. Hugo Lucitante was sent at age 10 from Ecuador to Seattle by his tribe to be educated, hopeful that he would return as a tribal leader. He met Poritz while he was in Ecuador touring the health impacts of massive dumps of oil sludge and toxic wastewater into the Amazon basin. The two joined together to raise international awareness of the situation and spur action.
The filmmakers learned about Lucitante from a news article about his graduation from a Seattle high school. Looking into his background, they found out about the oil drilling affecting his tribal lands. They later learned about Poritz and his involvement in a legal case against Chevron.
"We saw many parallels in Hugo and David's stories," said the filmmakers. "Here were two boys, each with a mythic backstory, who almost seemed to have traded places in the universe. They were taking on a Goliath of our times. Hugo and David were both deeply affected by what had happened in Ecuador, and we wondered if we could tell the story of the disaster through their experience."
National Public Radio's Here & Now talked with the filmmakers about the project. Listen below:
YOU MIGHT ALSO LIKE
Oil Spills Increased by 17% in 2013
Chevron Hides Evidence That Proves Guilt in Ecuador Rainforest Contamination Case
EcoWatch Daily Newsletter