This website uses cookies to ensure you get the best experience while browsing it. By clicking 'Got It' you're accepting these terms.
New Concerns Confirm N.Y. Not Ready for Fracking as Comment Period Closes
Jan. 11, 2012 11:55AM EST
Energy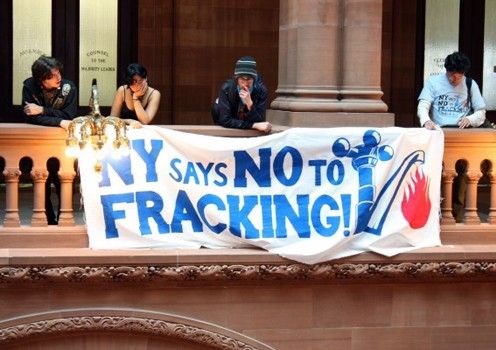 By Kate Sinding
Used with permission of NRDC - Switchboard
Jan. 11 marks the last official moment for New Yorkers across the state to speak up and have their opinions heard about the current proposal for the expansion of fracking here. The public comment period for the state's environmental impact study (known by its full name as the revised draft Supplemental Generic Environmental Impact Statement, or RDSGEIS) and proposed regulations on fracking is coming to a close.
As the deadline approaches, Natural Resources Defense Council (NRDC) is putting the finishing touches on more than 500 pages of detailed technical and legal comments—both from scientific experts and our own expert legal staff—to add to the more than 20,800 comments the state has received so far, and the thousands more expected tomorrow. (A link to our full comments will be made available as soon as they are submitted.) 
Although it would be impossible to give a complete rundown of what we will be submitting, I wanted to share just a few of our top-line takeaways.
First and foremost, although there were some notable improvements and it's clear that the Department of Environmental Conservation (DEC) has done some hard work since the last review, there are still significant deficiencies in both the impact study and the regulations, demonstrating that the state is not prepared to move forward with fracking.
The bottom line—when you rush, you make mistakes, and that is exactly what happened here. Not only are critical analyses still missing and/or incomplete, but the decision to release the impact study together with the draft regulations has resulted in many of the proposed mitigation measures getting lost in translation.
Since July, we've gathered a team of experts—covering the fields of hydrology, geology, toxicology, petroleum engineering, water quality, air quality, health and others—who have provided an in-depth review and critique of the state's findings and have likewise confirmed that there are significant parts of the review where the state needs to go back, re-do the review properly, and reissue it for public review and comment.
On top of the issues we have previously identified, this in-depth technical analysis has identified a host of additional deficiencies. Here are just five of our most pressing new concerns, each one of which, on its own, demonstrates that the environmental review process is far from complete:
There's no plan at all to deal with toxic wastewater.  The wastewater generated from fracking operations is among the worst our expert toxicologist has ever seen. Yet the state has absolutely no plan whatsoever for how the vast amounts of toxic wastewater expected from fracking operations would be managed.  We've seen the impacts of improper wastewater management elsewhere—including contaminated rivers from treatment in municipal sewage plants in Pennsylvania and earthquakes from improper deep well injection in Ohio—and it is inexcusable for the state not to have some plan in place before allowing new fracking here.
The scope of the action is too broad. The current version of the impact study and proposed regulations purport not only to address fracking in the Marcellus shale region, but also shale formations such as the much deeper Utica Shale, yet the study only directly looks at the impacts of drilling in the Marcellus. As our experts point out, every shale formation is different, and so are the environmental concerns with developing different regions. Separate shale formations demand their own environmental reviews. Until that happens, drilling in these other formations should be off the table.
Health risks are omitted entirely. There's next to zero exploration of the health impacts fracking could have on New Yorkers. Yet it is increasingly recognized that a full health impact assessment is a critical component of a thorough examination of the potential risks of fracking. Just last Thursday, the nation's top environmental health expert called out the need for comprehensive new analysis of the health risks of fracking.
Flawed socio-economic analysis doesn't calculate negative impacts. The state itself has acknowledged that it needs to re-do its socio-economic analysis because of glaring omissions. Most significantly, while overstating potential economic benefits, the report includes only seven pages out of more than 250 on the potential negative economic impacts, when we know that there are real and substantial economic risks associated with fracking.
Fracking could be allowed in flood zones and other critical vulnerable areas. The analysis fails to consider how the effects of climate change could result in fracking operations taking place in major flood plains, including places that were under water during Hurricane Irene last year. This presents serious pollution risks, particularly as drilling is proposed to occur in and around flood-prone communities.
Over and over, we've told the state to slow down, yet the Fracking Express keeps barreling forward. Gov. Andrew Cuomo (D-NY) rushed to push out the environmental impact study and proposed regulations after only six months in office, and the result is huge gaps in the proposed regulatory program. These are gaps that would make moving forward with new fracking not only dangerous, but contrary to the purpose of the environmental law that requires the study's creation (the New York State Environmental Quality Review Act, aka SEQRA).
We recognize that there is significant pressure from industry to move forward, but taking the time to undertake a complete, legally sufficient consideration of the impacts of fracking is not too much to ask when the risks involved could have grave, lasting—if not permanent—effects on New Yorkers and communities statewide. One needs only to look next-door to Pennsylvania to see that's true. Fracking is the biggest environmental issue facing New York in a generation, and Gov. Cuomo must stay true to his word that he will not authorize any new fracking unless the risks have been properly and fully evaluated, and necessary safeguards identified and implemented.
For more information, click here.
EcoWatch Daily Newsletter
Ryan Hagerty / USFWS
It's become a familiar story with the Trump administration: Scientists write a report that shows the administration's policies will cause environmental damage, then the administration buries the report and fires the scientists.
A coalition of some of the largest environmental groups in the country joined forces to file a lawsuit in federal court challenging the Trump administration's maneuver to weaken the Endangered Species Act.
beyond foto / Getty Images
By Kimberly Holland
Children who eat a lot of gluten in their earliest years may have an increased risk of developing celiac disease and gluten intolerance, according to a new study published in JAMATrusted Source.
Joe Raedle / Getty Images
By Jake Johnson
Calling the global climate crisis both the greatest threat facing the U.S. and the greatest opportunity for transformative change, Sen. Bernie Sanders unveiled today a comprehensive Green New Deal proposal that would transition the U.S. economy to 100 percent renewable energy and create 20 million well-paying union jobs over a decade.
The Parties to CITES agreed to list giraffes on Appendix II of the Convention on International Trade in Endangered Species (CITES) today at the World Wildlife Conference or CoP18 in Geneva. Such protections will ensure that all giraffe parts trade were legally acquired and not sourced from the poached giraffes trade and will require countries to make non-detriment findings before allowing giraffe exports. The listing will also enable the collection of international trade data for giraffes that might justify greater protections at both CITES and other venues in the future.

The WHO stressed that more research is needed on the potential health risks of microplastic ingestion. luchschen / iStock / Getty Images Plus
The UN's health agency on Thursday said that microplastics contained in drinking water posed a "low" risk at their current levels.
However, the World Health Organization (WHO) — in its first report on the potential health risks of microplastic ingestion — also stressed more research was needed to reassure consumers.
Brazil's right-wing President Jair Bolsonaro is giving President Trump a run for his money in the alternative facts department.
Washington Gov. Jay Inslee, who made solving the climate crisis the center of his presidential campaign, is dropping out of the 2020 Democratic primary race.