New Auto Emissions Standards Could Save $19 Billion in Health Care Costs
By Peter Lehner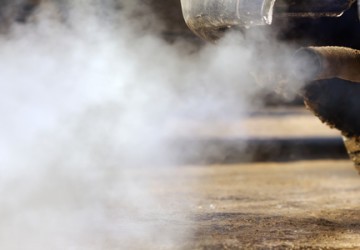 Photo courtesy of Shutterstock
When I worked for the City of New York, I often asked people what they felt was the worst environmental problem. Many said tailpipe pollution. Emissions from the tailpipes of cars and trucks seemed particularly insulting because—as we all walked our kids to school—the tailpipes seemed to be spewing black smoke just at the level of our kids' heads. 
Our cars and trucks have become a lot cleaner since then, but exhaust from vehicle tailpipes is still a major source of air pollution, responsible for up to 45 percent of soot and smog-forming pollution in many areas of the country. Air pollution still sends thousands of kids and adults to the emergency room every year with asthma attacks or breathing difficulty, and keeps hundreds of thousands more home from school or work; it can even shorten the lives of people with heart or lung trouble. The latest set of tailpipe and clean gasoline standards announced today by the U.S. Environmental Protection Agency (EPA) will help reduce smog and soot and clear the air for millions of Americans, saving thousands of lives and up to $19 billion in health costs each year.
The EPA's new standards will reduce the amount of sulfur in gasoline by two-thirds. This will have an immediate impact on air quality. Sulfur, in addition to being a source of air pollution, builds up in your car's exhaust system and makes emissions control less effective. When every gas-powered car on the road fills up with cleaner, lower-sulfur gasoline, they'll all start running cleaner—even older vehicles. Smog-forming pollution is expected drop by 260,000 tons by 2018, a year after the new standards take effect--that's the equivalent of replacing roughly 30 million of today's cars with zero-emission vehicles.
With less sulfur in the fuel tank to gum up the works, automakers can move ahead with cleaner engines and exhaust systems optimized for cleaner gasoline. Vehicles built in 2017 and beyond will produce 80 percent less smog-forming pollution and 70 percent less particle pollution, or soot, than cars built under today's tailpipe standards. Soot is a particularly harmful type of air pollution, because very tiny particles can lodge deep in the lungs or even enter the bloodstream. It's been linked to premature death, heart attacks, aggravated asthma and other heart and lung problems.
The American public has expressed strong support for the new standards, which will prevent, according to EPA estimates, as many as 2,000 premature deaths each year, as well as thousands of hospital visits and 1.4 million days of missed work, school absences, or activity restrictions. By 2030, these standards will save Americans anywhere from $6.7 billion to $19 billion in health costs each year. The additional cost for cleaner gasoline will be less than a penny a gallon.
Automakers, eager to move forward with more clean car technologies, support the new standards as well. The oil industry, however, has been a major roadblock against getting these standards through, protesting that meeting them would be prohibitively expensive. But analysis from the EPA, and even some oil industry analysts, showed their numbers didn't add up.
The oil industry voiced similar concerns about earlier sulfur reductions, which were achieved successfully, as well objecting to the removal of lead from gasoline, which NRDC began advocating for in the 1970s. Lead standards, which NRDC helped push through in the U.S.and then worked to expand globally, have effectively gotten rid of lead in gasoline around the world, resulting in a remarkable 90 percent drop in blood lead levels globally, and an estimated $2.4 trillion in annual health, societal and economic benefits. This is truly amazing public health victory, achieved at a fraction of the cost the industry claimed.
Like removing lead from gasoline, reducing sulfur and tailpipe emissions is an important win for clean air and public health. Clearing the air of lung-damaging pollution will save thousands of lives. It means fewer trips to the emergency room with an acute asthma attack or irregular heartbeat; fewer days when asthmatic kids can't go outside and play.
These are cost-effective, health-protective standards that will produce real benefits for millions of Americans who can look forward to breathing cleaner air.
This post was originally posted on the NRDC's Switchboard Blog.
Visit EcoWatch's TRANSPORTATION page for more related news on this topic.

Dow CEO Andrew Liveris and President Donald Trump in February.
U.S. Environmental Protection Agency (EPA) administrator Scott Pruitt met with Dow Chemical CEO Andrew Liveris before deciding to reverse an earlier EPA decision to ban the company's toxic and widely used pesticide, chlorpyrifos.
According to records obtained by the Associated Press, the EPA boss met with Liveris for about 30 minutes at a Houston hotel on March 9. Later that month, Pruitt announced that he would no longer pursue a ban on chlorpyrifos from being used on food, ignoring his agency's own review that even small amounts of the pesticide could impact fetus and infant brain development.
Keep reading...
Show less
www.facebook.com
Native communities and environmental justice advocates in Louisiana opened a new resistance camp Saturday to oppose the proposed Bayou Bridge Pipeline project. Called L'eau Est La Vie, or Water is Life, the camp will consist of floating indigenous art structures on rafts and constant prayer ceremonies during its first two weeks.
Keep reading...
Show less
Continuing its march toward elimination of key Clean Water Act protections, the U.S. Environmental Protection Agency (EPA) on Tuesday issued a formal notice of withdrawal of the Obama administration's rule defining which waters can be protected against pollution and destruction under federal law.
Keep reading...
Show less
The U.S. Environmental Protection Agency (EPA) is not doing enough to prevent weed resistance to the herbicide glyphosate (Roundup) says a new report from the EPA's Inspector General's Office, which draws in part on a report from the agbiotech company, Pioneer: Weed Management in the Era of Glyphosate Resistance.
Keep reading...
Show less
SUMR
When it comes to the latest wind turbine technologies, size matters. A group of six institutions and universities is designing an offshore wind turbine that will stand 500 meters in height. That's taller than the Eiffel Tower and the Empire State Building.
The research team, led by researchers at the University of Virginia, believes that its wind turbine concept will produce 50 megawatts of peak power, or about 10 times more powerful than conventional wind turbines.
Keep reading...
Show less
www.facebook.com
Natural gas is often considered the cleanest fossil fuel, but could it actually be dirtier than coal?
Watch as New York Times reporter Mark Bittman, in the above Year's of Living Dangerously video, investigates how much methane is leaking at fracking wells. Find out how the natural gas industry's claims compare to what scientists are reporting.
See what happens when Gaby Petron, an atmospheric scientist with NOAA, converts her van into a mobile methane detector and sets out across northeastern Colorado for two years, taking thousands of readings to uncover the truth.
www.youtube.com
Adrian Grenier was named UN Goodwill Ambassador earlier this month. The Hollywood actor, best known for his iconic role of A-list movie star Vincent Chase in the HBO smash hit and film Entourage, will advocate for drastically reducing single-use plastic and protection of marine species, and encourage his followers to make conscious consumer choices to reduce their environmental footprint, according to the UN Environment announcement.
"Together we must usher in a new era of compassion and carefulness through forward thinking environmental programs to drive measurable change," Grenier said. "I am personally committed to creating ways in which the global community can come together to help solve our most critical climate crises through routine, collective action.
"The more we connect to nature in our daily lives, the more dedicated we will become to our individual commitments. Together, I believe we can go further, faster in our race to achieve the UN Sustainable Development Goals by 2030."
Watch the video above to learn more.
The last week has seen a flood of stories on clean energy's prospects—stories that make your head spin with their conflicting tales of renewable energy's prospects of ending our dangerous addiction to fossil fuel power from coal and gas.
Keep reading...
Show less


Get EcoWatch in your inbox