This website uses cookies to ensure you get the best experience while browsing it. By clicking 'Got It' you're accepting these terms.
New App Helps You Eat Healthier
Nov. 01, 2014 11:32AM EST
Food
There's so much information out there about what foods are good for you and what foods are bad that as hard as you try, it's hard to sort through it all. Which cereals have the most sugar? Which fruits tend to have pesticide residue? What's the best source of vitamin C? Nonprofit research and advocacy organization Environmental Working Group (EWG) has come to your rescue with a new tool to help you eat healthier.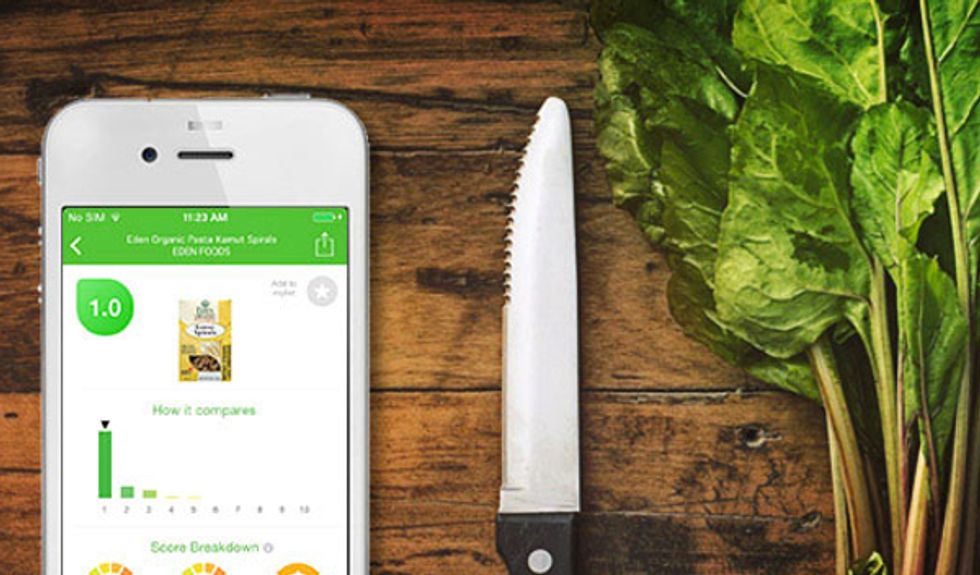 Its new database and mobile app, Food Scores: Rate Your Plate, provides searchable information about more than 80,000 foods from 1,500 brands. The mobile app allows users to scan a barcode at the grocery and get instant information on that product's nutritional value, its ingredients (including additives and contaminants such as pesticides) and degree of processing—how much original ingredients have been altered and artificial ingredients introduced. You can search by product name, company and food category, and even find better options.
"When you think about healthy food, you have to think beyond the Nutrition Facts panel," said EWG's director of research Renee Sharp. "It doesn't always tell the whole story. EWG's Food Scores shows that certain foods that we think are good for us may actually be much less so because they contain questionable food additives or toxic contaminants."
Each food is given an overall score from one (the lowest "concern") to ten (the highest), as well as a separate score in each of the three categories. Each has a profile that offers a closer look, describing what nutrients and what additives it contains.
For instance, Whole Foods' 365 Everyday Value Chocolate Chip Cookies gets a score of 7 overall—making it a product of fairly high concern. Its biggest liability is its lack of nutritional value. But come on, it's a cookie! As a certified organic product, it scores low in ingredient concern, and it's in the middle in processing concern. You can learn further that it contains one questionable ingredient, the non-specific "flavor," and a high level of saturated fat. You can click on complete information about saturated fats to learn why that's not good. So you can make the decision that, if you limit your intake of these cookies to an occasional treat, they might not be the worst choice you can make. Or you can click to find brands with a lower score, like Tasty Brand Organic Chocolate Chip Cookies, with a score of 5. And if you're really being good, you'll find plenty of packaged organic fruit products that snag a score of 1!
Food Scores also tags meat and dairy products likely to contain growth hormones and antibiotics and fruits and vegetables more likely to have pesticide residue. In addition, users can customize the information by their age, gender and life stage, including pregnancy or limit their searches to only organic, GMO-free or gluten-free products.
Its initial product release found that only 18 percent of the products they scored fell in the one-3.5 category, and 25 percent scored in the bottom category, earning 8-10. The bulk fell in the middle. Among the revelations: how many products you buy at the grocery have added sugar—nearly 60 percent. it found that more than 90 percent of granola products and trail mix bars—items generally assumed to be healthy—have added sugar. Stuffing mixes, deli meats and salad dressings all came in high in the number that had added sugar.
"We developed EWG's Food Scores in recognition of two trends," said EWG's president and co-founder Ken Cook."First, Americans are becoming increasingly concerned about excessive amounts of sugar, salt, fat and other unhealthy ingredients in supermarket food. Second, they no longer trust big food companies or popular brands to put health before profits, not even the health of our kids. With EWG's Food Scores, shoppers can quickly see what food companies are really putting into their food. EWG's Food Scores will empower people to shop for healthier products and reward the companies that make them."
YOU MIGHT ALSO LIKE
Why Antioxidants in Superfoods Are Essential to Your Diet
Report Finds 34 Pesticides in Tea From India
EcoWatch Daily Newsletter
Aerial shot top view Garbage trucks unload garbage to a recycle in the vicinity of the city of Bangkok, Thailand. bugto / Moment / Getty Images
German researchers have identified a strain of bacterium that not only breaks down toxic plastic, but also uses it as food to fuel the process, according to The Guardian.
The Environmental Protection Agency (EPA) issued a policy memo yesterday that is an expansive relaxation of legally mandated regulations on polluting industries, saying that industries may have trouble adhering to the regulations while they are short-staffed during the coronavirus global pandemic, according to the AP.
Hurricane Dorian was one of the 2019 Atlantic hurricane season's most devastating storms. NASA
2019 marked the fourth year in a row that the Atlantic hurricane season saw above-average activity, and it doesn't look like 2020 will provide any relief.
The deep, open ocean may seem like an inhospitable environment, but many species like human-sized Humboldt squids are well-adapted to the harsh conditions. 1,500 feet below the ocean's surface, these voracious predators could be having complex conversations by glowing and changing patterns on their skin that researchers are just beginning to decipher.
A worker distributes disinfection wipes at a farmers market at Richard Tucker Park in New York City on March 21, 2020. Lev Radin / Pacific Press / LightRocket via Getty Images
Not many restaurants will be able to survive coronavirus, and this is a personal, social and national tragedy.
I'm worried about farmers markets too.