Never Say Never: Maryland Fracking Moratorium Becomes Law

"You'll never get a fracking moratorium through the Maryland Legislature" was the common refrain I heard as we at Food & Water Watch joined with more than 100 groups from throughout the state to work on preventing fracking in Maryland. But we didn't let that stop us. And today, thanks to the tireless efforts of business owners, health professionals, activists and countless concerned Maryland residents, we proved those naysayers wrong.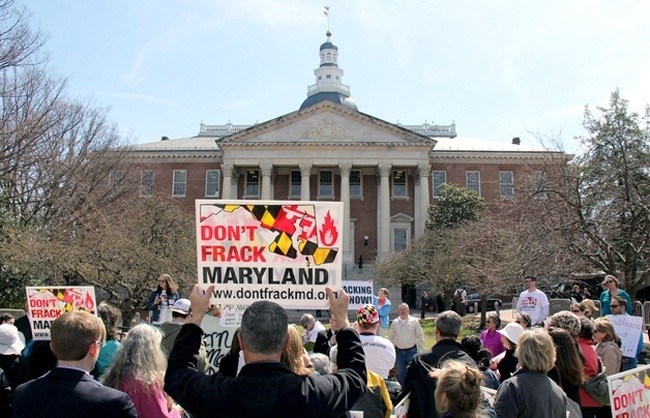 Today, a two and a half year fracking moratorium became law in Maryland. Over Memorial Day weekend, Gov. Hogan let it be known that he would not veto the bill. At the end of March, the Maryland General Assembly passed a bill, originally introduced by Delegate David Fraser-Hidalgo and Senator Karen Montgomery, which would prohibit any permits for fracking in the state for two and a half years. The bill passed with veto-proof majorities in each house.
This critical moratorium was made possible by a coalition of more than 100 community and advocacy groups who don't want to see Maryland fracked. The Don't Frack Maryland Coalition worked throughout the 2015 legislative session to carry the message that Marylanders do not want fracking in their state. The organizing efforts of the coalition came in waves over several months.
More than 100 Maryland health professionals had expressed concern about the unknown long-term health effects of fracking on human and environmental health. The evidence for the potential short and long-term health effects continues to grow. In fact, two new studies were published just this month, one showing that air-pollution from fracking in neighboring Pennsylvania, Ohio and West Virginia has contaminated the air across state lines into Maryland and other areas, and the other found a chemical commonly used in drilling in Pennsylvania drinking water. The health risks alone are enough to want to press the pause button on fracking, but it didn't stop there.
More than 100 Western Maryland business owners and more than 50 restaurant owners, chefs, winemakers and farmers from across the state also came together to voice their concerns about how fracking would impact their livelihoods. The risks to local business of allowing fracking in Maryland far outweigh the potential profits of out-of-state gas companies. The gas industry will decimate formerly rural and pristine areas by marring landscapes with service roads, roaring fracking rigs and leveled foliage replaced by well pads. Existing industries that are vital to the growing, long-term economy of Western Maryland, such as tourism, agriculture, organic farming, hunting, fishing and second homes, are likely to decline as these industries are not compatible with an industrial landscape. Not to mention the threat of water, air and land contamination. The Baltimore Sun even editorialized, "There's simply no reason for Maryland to embrace such a risk to health, safety or livelihood right now."
The Don't Frack Maryland Coalition even had some help from a celebrity. A radio ad recorded by actor and Maryland native, Edward Norton, targeted the Governor to sign the bill. All of these efforts combined, brought us to where we are now.
The fact that Governor Hogan, who comes from a political party that routinely panders to the oil and gas industry, felt so much political pressure to prevent fracking from entering his state at this time, is a sign that the movement to protect against the dangers of fracking is growing stronger and gaining momentum. Protecting the health, safety and livelihoods of the people is not a partisan issue, and this moratorium is a sign that the tide is changing on fracking.
YOU MIGHT ALSO LIKE
Robert F. Kennedy, Jr. Joins Farmers and Ranchers to Call on Gov. Brown to Reject LNG Exports
It's Official: Texas Prohibits Local Fracking Bans
A coalition of conservation groups and others announced Thursday that a historic number of comments and petitions of support have been submitted to the U.S. Department of the Interior in support of Bears Ears National Monument. Despite the entirely inadequate 15-day comment period ending on May 26, more than 685,000 comments in support of Bears Ears National Monument have been collected.
Keep reading...
Show less
Rink Glacier in western Greenland, with a meltwater lake visible center. NASA/OIB
Scientists have had their eyes on Greenland as its iconic glaciers have begun disappearing due to a warming climate. But, what they didn't expect to see was a whole new type of melting.
Keep reading...
Show less
Mountain View Fire
By Lena Moffitt
An oil tanker in Mead, Colorado exploded, killing one and injuring three on Thursday. Authorities are continuing to investigate the cause of the explosion.
Keep reading...
Show less
Banner created by Alliance for Climate Education
Keep reading...
Show less
Twenty-two GOP senators sent a letter Thursday urging Donald Trump to pull out of the Paris agreement. They argued remaining in the deal could "upend" the administration's ability "to fulfill its goal of rescinding the Clean Power Plan."
Keep reading...
Show less
By Cheryl Johncox
The Federal Energy Regulatory Commission (FERC) rejected on Thursday Energy Transfer Partners' request to resume horizontal directional drilling at two sites for its Rover fracked gas pipeline. This rejection comes after numerous leaks into Ohio's wetlands, and Clean Air and Clean Water act violations. FERC has halted the process at only eight locations of the 32 where drilling is taking place under Ohio's wetlands and streams.
Keep reading...
Show less
By Nadia Prupis
A majority of people in eight countries say they are ready to change their lifestyles if it would prevent climate catastrophe, a survey on global threats released Wednesday found.
Keep reading...
Show less
May. 25, 2017 01:55PM EST
Bill Maher is sick of billionaires' obsession with Mars, more like "Mars-a-Lago," he said.
In a new animation produced by ATTN:, the popular talk show host of Real Time, discusses the perils of our planet, including how "climate change is killing us."
Keep reading...
Show less