Nestle, Pepsi Fined for Concealing GMOs as Campbell Soup Announces Voluntary Label
As the food fight over genetically modified food (GMOs) rages on in the U.S., six major food manufacturers—including Nestle, PepsiCo and Mexican baking company Grupo Bimbo—have been slapped with fines by the Brazilian Ministry of Justice for concealing the presence of GMOs in their products.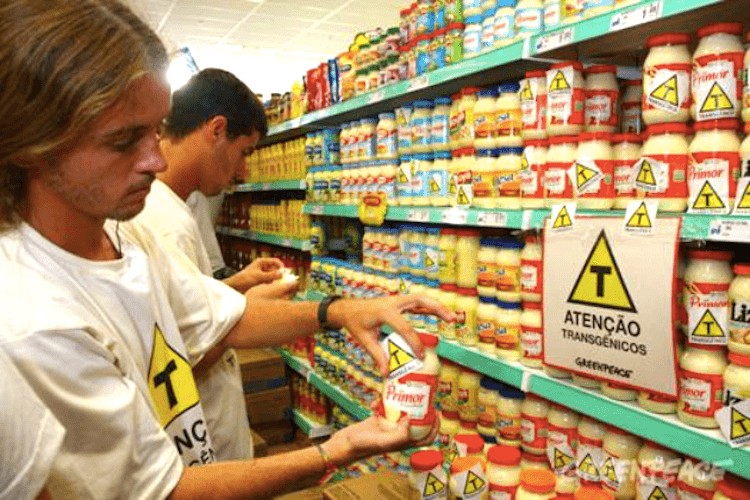 Greenpeace
According to teleSUR, the respective companies are facing fines ranging from $277,400 to just over $1 million, amounting to $3 million in total.
The ministry's decision came after a 2010 investigation carried out by Brazil's Consumer Protection Agency, Senacon, which detected GMOs in various food products sold by the companies in Brazilian markets.
Senacon accused the companies of violating Brazilian consumer rights, including the right to information, freedom of choice and the right for protection against abusive corporate practices, teleSUR reported.
Since 2003, Brazilian law has required food products containing more than 1 percent of GMOs to carry a warning label—a yellow triangle with the letter "T" inside, standing for "transgenic."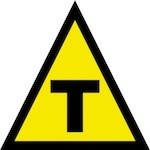 Brazilian Institute of Consumer Defense researcher Ana Paula Bortoletto praised the ministry's decision to enforce GMO labels.
"The decision confirms the Ministry of Justice's commitment to require all products that use genetically modified ingredients to include this information on their labels," she said.
Although the ministry's decision spells victory for Brazilian consumers demanding food transparency, the country's relationship with GMOs has been fraught with contention in recent decades.
GMOs in the South American country were initially banned after the Institute of Consumer Defense won a lawsuit in 1998. In the ensuing years, however, black market GMO seeds spread widely into the agricultural space and ultimately forced the nation into adopting the technology in 2003. As Reuters described back in a 2005 report:
So sought after is the cost-cutting technology on the black market that over a third of Brazil's massive soybean crop—the main farm export worth 10 percent of total trade revenues—is seen planted with pirated GMO seeds. And nearly all the country's cotton seed has been contaminated by GMOs.
"There is strong demand, industrially and scientifically, for biotechnology in Brazil," Jorge Guimaraes, president of Brazil's CTNBio biotechnology regulator, told Reuters.
In 2003, faced with cracking down on the entire No.3 soy producing state of Rio Grande do Sul and thousands of other producers in other states, the government of President Luiz Inacio Lula da Silva after taking office opted to push for legalization and regulation of GMOs.
GMOs are now rampant in the country—Brazil is currently the second largest grower of GMO crops in the world after the U.S. According to the Genetic Literacy Project, Brazil had 104 million acres of GMO crops in production in 2014, and "more than than 93 percent of the country's soybean crop is GM and almost 90 percent of the corn crop. GM cotton, more recently introduced, makes up 65.1 percent."
While producers of bioengineered seeds tout its resistance to certain pathogens over organic seeds, as EcoWatch reported in 2014, Brazilian farmers found that "Bt corn" no longer repelled the destructive caterpillars it was genetically modified to protect against. In turn, farmers were forced to apply extra coats of insecticides, racking up additional environmental and financial costs.
The Association of Soybean and Corn Producers of the Mato Grosso region called on Monsanto, DuPont, Syngenta and Dow companies to offer solutions as well as compensate the farmers for their losses, who spent the equivalent of $54 per hectare to spray extra pesticides.
As for how the Brazilian public feels about GMOs, a 2014 study from the University of São Paulo suggests that despite the major presence of GMOs in the country, many consumers are skeptical of the food.
The authors of the study concluded that even after Brazil imposed the GMO label law, "the majority of Brazilians consumers still do not have a positive image of genetically modified foods, and do not consider it a buying option."
The negative reputation of GMOs in Brazil could perhaps explain why Nestle, PepsiCo and the others decided to skirt the country's label law.
Over in the U.S., one food company has decided to take the GMO label debate into their own hands. Campbell Soup Co., the world's largest soup maker, has initiated plans to include a GMO label on its products.
Campbell is the first major food company to respond to growing calls for food transparency spurred by food safety advocates and concerned consumers, as well as states such as Vermont, Maine and Connecticut that have passed mandatory GMO labeling laws.
According to Just Label It, 89 percent of American voters are in support of mandatory GMO labeling.
The Camden, New Jersey company said in a statement that it will support federal legislation mandating all foods and beverages regulated by the U.S. Food and Drug Administration and the U.S. Department of Agriculture to be clearly labeled for GMOs.
Campbell "continues to oppose a patchwork of state-by-state labeling laws, which it believes are incomplete, impractical and create unnecessary confusion for customers," according to the statement.
The company "continues to recognize that GMOs are safe, as the science indicates that foods derived from crops grown using genetically modified seeds are not nutritionally different from other foods."
As EcoWatch exclusively reported, food industry groups have heavily lobbied politicians and spent millions in court to block states from mandating GMO labels.
In December, Congress decided not to include a policy rider in the federal omnibus spending bill that would have blocked states from implementing mandatory genetically engineered food labeling laws.
YOU MIGHT ALSO LIKE 
Organic Farmers Win GMO Fight in Jackson County, Oregon
Monsanto and Gates Foundation Pressure Kenya to Lift Ban on GMOs
We Have a Right to Know What's in Our Food!
Laurie Woolever
By James O'Hare
There are 20 million people in the world facing famine in South Sudan, Somalia, Nigeria and Yemen. In developed nations, too, people go hungry. Venezuela, for instance, is enduring food insecurity on a national level as a result of economic crisis and political corruption. In the U.S., the land of supposed excess, 12.7 percent of households were food insecure in 2015, meaning they didn't know where their next meal would come from.
Keep reading...
Show less
Melwater, Greenland ice sheet. Diane Tuft
Artists are taking the climate crisis into frame and the results are emotional, beautiful and stirring.
So you've seen the best climate change cartoons and shared them with your friends. You've showed your family the infographics on climate change and health, infographics on how the grid works and infographics about clean, renewable energy. You've even forwarded these official National Oceanic and Atmospheric Administration graphs that explain the 10 clear indicators of climate change to your colleagues at the office.
Keep reading...
Show less
May. 27, 2017 01:11PM EST
As the Trump administration moves full speed ahead on boosting the oil and fossil fuel industry, opposition to increased pipeline construction is cropping up in different communities around the country.
Keep reading...
Show less
May. 27, 2017 01:02PM EST
Minke whale stranding near Havergate Island in Suffolk. MCGA.
By Simon Evans
Last Saturday, two dead whales washed up on the coast of Suffolk, in eastern England, and a third was spotted floating at sea.
What happened next illustrates how news can spread and evolve into misinformation, when reported by journalists rushing to publish before confirming basic facts or sourcing their own quotes.
Keep reading...
Show less
May. 27, 2017 01:22PM EST
By Monica Amarelo and Paul Pestano
Sun safety is a crucial part of any outdoor activity for kids, and sunscreen can help protect children's skin from harmful ultraviolet rays. Kids often get sunburned when they're outside unprotected for longer than expected. Parents need to plan ahead and keep sun protection handy in their cars or bags.
Keep reading...
Show less
May. 27, 2017 01:02PM EST
By Joe McCarthy
A lot of people take part in community clean-up efforts—spending a Saturday morning picking up litter in a park, mowing an overgrown field or painting a fence.
Keep reading...
Show less
May. 26, 2017 03:22PM EST
Rink Glacier in western Greenland, with a meltwater lake visible center. NASA/OIB
Scientists have had their eyes on Greenland as its iconic glaciers have begun disappearing due to a warming climate. But, what they didn't expect to see was a whole new type of melting.
Keep reading...
Show less
May. 26, 2017 03:40PM EST
A coalition of conservation groups and others announced Thursday that a historic number of comments and petitions of support have been submitted to the U.S. Department of the Interior in support of Bears Ears National Monument. Despite the entirely inadequate 15-day comment period ending on May 26, more than 685,000 comments in support of Bears Ears National Monument have been collected.
Keep reading...
Show less


Get EcoWatch in your inbox