Food
Jan. 08, 2016 04:08PM EST
Nestle, Pepsi Fined for Concealing GMOs as Campbell Soup Announces Voluntary Label
As the food fight over genetically modified food (GMOs) rages on in the U.S., six major food manufacturers—including Nestle, PepsiCo and Mexican baking company Grupo Bimbo—have been slapped with fines by the Brazilian Ministry of Justice for concealing the presence of GMOs in their products.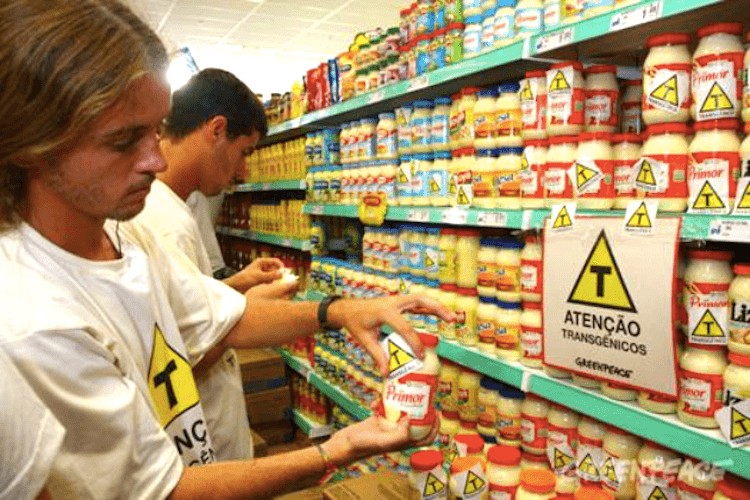 Greenpeace
According to teleSUR, the respective companies are facing fines ranging from $277,400 to just over $1 million, amounting to $3 million in total.
The ministry's decision came after a 2010 investigation carried out by Brazil's Consumer Protection Agency, Senacon, which detected GMOs in various food products sold by the companies in Brazilian markets.
Senacon accused the companies of violating Brazilian consumer rights, including the right to information, freedom of choice and the right for protection against abusive corporate practices, teleSUR reported.
Since 2003, Brazilian law has required food products containing more than 1 percent of GMOs to carry a warning label—a yellow triangle with the letter "T" inside, standing for "transgenic."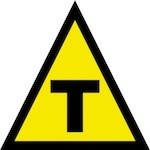 Brazilian Institute of Consumer Defense researcher Ana Paula Bortoletto praised the ministry's decision to enforce GMO labels.
"The decision confirms the Ministry of Justice's commitment to require all products that use genetically modified ingredients to include this information on their labels," she said.
Although the ministry's decision spells victory for Brazilian consumers demanding food transparency, the country's relationship with GMOs has been fraught with contention in recent decades.
GMOs in the South American country were initially banned after the Institute of Consumer Defense won a lawsuit in 1998. In the ensuing years, however, black market GMO seeds spread widely into the agricultural space and ultimately forced the nation into adopting the technology in 2003. As Reuters described back in a 2005 report:
So sought after is the cost-cutting technology on the black market that over a third of Brazil's massive soybean crop—the main farm export worth 10 percent of total trade revenues—is seen planted with pirated GMO seeds. And nearly all the country's cotton seed has been contaminated by GMOs.
"There is strong demand, industrially and scientifically, for biotechnology in Brazil," Jorge Guimaraes, president of Brazil's CTNBio biotechnology regulator, told Reuters.
In 2003, faced with cracking down on the entire No.3 soy producing state of Rio Grande do Sul and thousands of other producers in other states, the government of President Luiz Inacio Lula da Silva after taking office opted to push for legalization and regulation of GMOs.
GMOs are now rampant in the country—Brazil is currently the second largest grower of GMO crops in the world after the U.S. According to the Genetic Literacy Project, Brazil had 104 million acres of GMO crops in production in 2014, and "more than than 93 percent of the country's soybean crop is GM and almost 90 percent of the corn crop. GM cotton, more recently introduced, makes up 65.1 percent."
While producers of bioengineered seeds tout its resistance to certain pathogens over organic seeds, as EcoWatch reported in 2014, Brazilian farmers found that "Bt corn" no longer repelled the destructive caterpillars it was genetically modified to protect against. In turn, farmers were forced to apply extra coats of insecticides, racking up additional environmental and financial costs.
The Association of Soybean and Corn Producers of the Mato Grosso region called on Monsanto, DuPont, Syngenta and Dow companies to offer solutions as well as compensate the farmers for their losses, who spent the equivalent of $54 per hectare to spray extra pesticides.
As for how the Brazilian public feels about GMOs, a 2014 study from the University of São Paulo suggests that despite the major presence of GMOs in the country, many consumers are skeptical of the food.
The authors of the study concluded that even after Brazil imposed the GMO label law, "the majority of Brazilians consumers still do not have a positive image of genetically modified foods, and do not consider it a buying option."
The negative reputation of GMOs in Brazil could perhaps explain why Nestle, PepsiCo and the others decided to skirt the country's label law.
Over in the U.S., one food company has decided to take the GMO label debate into their own hands. Campbell Soup Co., the world's largest soup maker, has initiated plans to include a GMO label on its products.
Campbell is the first major food company to respond to growing calls for food transparency spurred by food safety advocates and concerned consumers, as well as states such as Vermont, Maine and Connecticut that have passed mandatory GMO labeling laws.
According to Just Label It, 89 percent of American voters are in support of mandatory GMO labeling.
The Camden, New Jersey company said in a statement that it will support federal legislation mandating all foods and beverages regulated by the U.S. Food and Drug Administration and the U.S. Department of Agriculture to be clearly labeled for GMOs.
Campbell "continues to oppose a patchwork of state-by-state labeling laws, which it believes are incomplete, impractical and create unnecessary confusion for customers," according to the statement.
The company "continues to recognize that GMOs are safe, as the science indicates that foods derived from crops grown using genetically modified seeds are not nutritionally different from other foods."
As EcoWatch exclusively reported, food industry groups have heavily lobbied politicians and spent millions in court to block states from mandating GMO labels.
In December, Congress decided not to include a policy rider in the federal omnibus spending bill that would have blocked states from implementing mandatory genetically engineered food labeling laws.
YOU MIGHT ALSO LIKE 
Organic Farmers Win GMO Fight in Jackson County, Oregon
Monsanto and Gates Foundation Pressure Kenya to Lift Ban on GMOs
We Have a Right to Know What's in Our Food!
Jul. 21, 2017 01:50PM EST
Will Rose / Greenpeace
Eleven peaceful activists from the Greenpeace ship Arctic Sunrise have taken to the water in inflatable boats with handheld banners to oppose the Statoil Songa Enabler oil rig, 275 km North off the Norwegian coast, in the Arctic Barents sea.
The banners say: "People Vs. Arctic Oil" and are directed at Statoil and the Norwegian government, which has opened a new, aggressive search for oil in the waters of the Barents Sea.
Keep reading...
Show less
Jul. 21, 2017 10:34AM EST
Dominion Pipeline Monitoring Coalition
The Federal Energy Regulatory Commission (FERC) paved the way Friday for the 600-mile, 42-inch fracked gas Atlantic Coast Pipeline to proceed when it issued the final environmental impact statement (FEIS). A joint project of utility giants Duke Energy and Dominion Energy, the Atlantic Coast Pipeline would move fracked gas from West Virginia into Virginia and North Carolina.
In April, the Sierra Club submitted more than 500 pages of legal and technical comments on FERC's draft EIS, which were joined by more than 18,000 individual comments detailing opposition to the project. The pipeline has been met with widespread opposition, with more than 1,000 people participating in public hearings across the three affected states. The Sierra Club recently requested that FERC issue a new environmental review document analyzing information that came in after or late in, the public comment process.
Keep reading...
Show less
Jul. 21, 2017 08:25AM EST
Greenpeace / PolluterWatch
By Jessica Corbett
"It's time Rex Tillerson step down or be removed," said Gigi Kellett of Corporate Accountability International, following an announcement on Thursday that ExxonMobil will pay $2 million for violating U.S. sanctions against Russian officials while the now-secretary of state was the company's CEO.
"ExxonMobil demonstrated reckless disregard for U.S. sanction requirements," according to enforcement filing released by the Treasury Department's Office of Foreign Assets Control (OFAC), which issued the penalty. Though the fine is reportedly the maximum penalty allowed, it's pittance to one of the world's most profitable and powerful corporations, which last year reported a profit of $7.8 billion.
Keep reading...
Show less
Jul. 21, 2017 11:15AM EST
New analysis from Amory B. Lovins debunks the notion that highly unprofitable, economically distressed nuclear plants should be further subsi­dized to meet financial, security, reliability and climate goals. The analysis, which will appear shortly in The Electricity Journal, shows that closing costly-to-run nuclear plants and reinvesting their saved operating costs in energy efficiency provides cheaper elec­tricity, increases grid reliability and security, reduces more carbon, and preserves (not distorts) market integrity—all without subsidies.

Keep reading...
Show less
Jul. 21, 2017 08:44AM EST
Oil Change International / Twitter
By Christian Detisch and Seth Gladstone
In the wake of Senate Republicans' ever-deepening debacle over their flailing attempts to strip health insurance from 22 million people, Majority Leader Mitch McConnell is desperate to do something—anything—to show that he can get legislation passed. To this end, he's bypassing the standard committee review process to push a complex 850+ page energy bill straight to the full Senate floor. Perhaps not surprisingly, this legislation, the Energy and Natural Resources Act of 2017, would be a disaster for public health and our climate.
Keep reading...
Show less
Jul. 21, 2017 08:11AM EST
Rooftop solar panels on a beach house in southern Florida. TAI VIINIKKA / CC BY-NC-ND 2.0
A new law passed this week in South Miami will require all new homes built in the city to install solar panels. The measure, which was inspired by a proposal from a teenage climate activist, will go into effect in September.
The text of the ordinance details the climate impacts facing South Miami.
Keep reading...
Show less
Jul. 21, 2017 10:27AM EST
www.youtube.com
Keep reading...
Show less
Jul. 21, 2017 08:49AM EST
iStock
By Katherine Paul and Ronnie Cummins
A recent series of articles by a Washington Post reporter could have some consumers questioning the value of the U.S. Department of Agriculture's (USDA) organic seal. But are a few bad eggs representative of an entire industry?
Consumers are all for cracking down on the fraudulent few who, with the help of Big Food, big retail chains and questionable certifiers give organics a bad name. But they also want stronger standards, and better enforcement—not a plan to weaken standards to accommodate "Factory Farm Organic."
Keep reading...
Show less


Get EcoWatch in your inbox