This website uses cookies to ensure you get the best experience while browsing it. By clicking 'Got It' you're accepting these terms.
Nestle, Pepsi Fined for Concealing GMOs as Campbell Soup Announces Voluntary Label
Jan. 08, 2016 04:08PM EST
As the food fight over genetically modified food (GMOs) rages on in the U.S., six major food manufacturers—including Nestle, PepsiCo and Mexican baking company Grupo Bimbo—have been slapped with fines by the Brazilian Ministry of Justice for concealing the presence of GMOs in their products.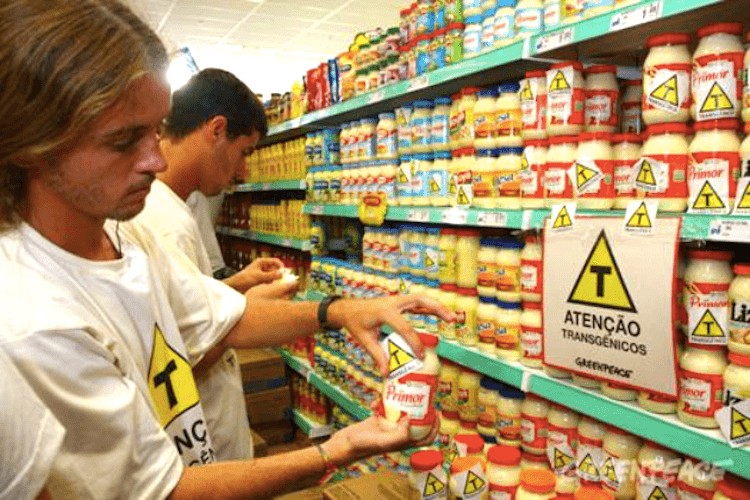 Greenpeace
According to teleSUR, the respective companies are facing fines ranging from $277,400 to just over $1 million, amounting to $3 million in total.
The ministry's decision came after a 2010 investigation carried out by Brazil's Consumer Protection Agency, Senacon, which detected GMOs in various food products sold by the companies in Brazilian markets.
Senacon accused the companies of violating Brazilian consumer rights, including the right to information, freedom of choice and the right for protection against abusive corporate practices, teleSUR reported.
Since 2003, Brazilian law has required food products containing more than 1 percent of GMOs to carry a warning label—a yellow triangle with the letter "T" inside, standing for "transgenic."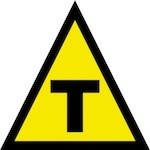 Brazilian Institute of Consumer Defense researcher Ana Paula Bortoletto praised the ministry's decision to enforce GMO labels.
"The decision confirms the Ministry of Justice's commitment to require all products that use genetically modified ingredients to include this information on their labels," she said.
Although the ministry's decision spells victory for Brazilian consumers demanding food transparency, the country's relationship with GMOs has been fraught with contention in recent decades.
GMOs in the South American country were initially banned after the Institute of Consumer Defense won a lawsuit in 1998. In the ensuing years, however, black market GMO seeds spread widely into the agricultural space and ultimately forced the nation into adopting the technology in 2003. As Reuters described back in a 2005 report:
So sought after is the cost-cutting technology on the black market that over a third of Brazil's massive soybean crop—the main farm export worth 10 percent of total trade revenues—is seen planted with pirated GMO seeds. And nearly all the country's cotton seed has been contaminated by GMOs.
"There is strong demand, industrially and scientifically, for biotechnology in Brazil," Jorge Guimaraes, president of Brazil's CTNBio biotechnology regulator, told Reuters.
In 2003, faced with cracking down on the entire No.3 soy producing state of Rio Grande do Sul and thousands of other producers in other states, the government of President Luiz Inacio Lula da Silva after taking office opted to push for legalization and regulation of GMOs.
GMOs are now rampant in the country—Brazil is currently the second largest grower of GMO crops in the world after the U.S. According to the Genetic Literacy Project, Brazil had 104 million acres of GMO crops in production in 2014, and "more than than 93 percent of the country's soybean crop is GM and almost 90 percent of the corn crop. GM cotton, more recently introduced, makes up 65.1 percent."
While producers of bioengineered seeds tout its resistance to certain pathogens over organic seeds, as EcoWatch reported in 2014, Brazilian farmers found that "Bt corn" no longer repelled the destructive caterpillars it was genetically modified to protect against. In turn, farmers were forced to apply extra coats of insecticides, racking up additional environmental and financial costs.
The Association of Soybean and Corn Producers of the Mato Grosso region called on Monsanto, DuPont, Syngenta and Dow companies to offer solutions as well as compensate the farmers for their losses, who spent the equivalent of $54 per hectare to spray extra pesticides.
As for how the Brazilian public feels about GMOs, a 2014 study from the University of São Paulo suggests that despite the major presence of GMOs in the country, many consumers are skeptical of the food.
The authors of the study concluded that even after Brazil imposed the GMO label law, "the majority of Brazilians consumers still do not have a positive image of genetically modified foods, and do not consider it a buying option."
The negative reputation of GMOs in Brazil could perhaps explain why Nestle, PepsiCo and the others decided to skirt the country's label law.
Over in the U.S., one food company has decided to take the GMO label debate into their own hands. Campbell Soup Co., the world's largest soup maker, has initiated plans to include a GMO label on its products.
Campbell is the first major food company to respond to growing calls for food transparency spurred by food safety advocates and concerned consumers, as well as states such as Vermont, Maine and Connecticut that have passed mandatory GMO labeling laws.
According to Just Label It, 89 percent of American voters are in support of mandatory GMO labeling.
The Camden, New Jersey company said in a statement that it will support federal legislation mandating all foods and beverages regulated by the U.S. Food and Drug Administration and the U.S. Department of Agriculture to be clearly labeled for GMOs.
Campbell "continues to oppose a patchwork of state-by-state labeling laws, which it believes are incomplete, impractical and create unnecessary confusion for customers," according to the statement.
The company "continues to recognize that GMOs are safe, as the science indicates that foods derived from crops grown using genetically modified seeds are not nutritionally different from other foods."
As EcoWatch exclusively reported, food industry groups have heavily lobbied politicians and spent millions in court to block states from mandating GMO labels.
In December, Congress decided not to include a policy rider in the federal omnibus spending bill that would have blocked states from implementing mandatory genetically engineered food labeling laws.
YOU MIGHT ALSO LIKE 
Organic Farmers Win GMO Fight in Jackson County, Oregon
Monsanto and Gates Foundation Pressure Kenya to Lift Ban on GMOs
We Have a Right to Know What's in Our Food!
Prince William and British naturalist David Attenborough attend converse during the World Economic Forum annual meeting, on January 22 in Davos, Switzerland. Fabrice Cofferini /AFP / Getty Images
Britain's Prince William interviewed famed broadcaster David Attenborough on Tuesday at the World Economic Forum's annual meeting in Switzerland.
During the sit-down, the 92-year-old naturalist advised the world leaders and business elite gathered in Davos this week that we must respect and protect the natural world, adding that the future of its survival—as well as humanity's survival—is in our hands.
Electric vehicle sales took off in 2018, with a record two million units sold around the world, according to a new Deloitte analysis.
What's more, the accounting firm predicts that another 21 million electric cars will be on the road globally over the next decade due to growing market demand for clean transportation, government subsidies, as well as bans on fossil fuel cars.
Teenager Alex Weber and friends collected nearly 40,000 golf balls hit into the ocean from a handful of California golf courses.
Alex Weber /
CC BY-ND
Southwest Greenland had the most consistent ice loss from 2003 to 2012. Eqalugaarsuit, Ostgronland, Greenland on Aug. 1, 2018.
Rob Oo / CC BY 2.0
Greenland is melting about four times faster than it was in 2003, a new study published Monday in the Proceedings of the National Academy of Sciences found, a discovery with frightening implications for the pace and extent of future sea level rise.
"We're going to see faster and faster sea level rise for the foreseeable future," study lead author and Ohio State University geodynamics professor Dr. Michael Bevis said in a press release. "Once you hit that tipping point, the only question is: How severe does it get?"
Finally, some good news about the otherwise terrible partial government shutdown. A federal judge ruled that the Trump administration cannot issue permits to conduct seismic testing during the government impasse.
The Justice Department sought to delay—or stay—a motion filed by a range of coastal cities, businesses and conservation organizations that are suing the Trump administration over offshore oil drilling, Reuters reported. The department argued that it did not have the resources it needed to work on the case due to the shutdown.
Most people have heard of the Amazon, South America's famed rainforest and hub of biological diversity. Less well known, though no less critical, is the Pantanal, the world's largest tropical wetland.
Like the Amazon, the Pantanal is ecologically important and imperiled. Located primarily in Brazil, it also stretches into neighboring Bolivia and Paraguay. Covering an area larger than England at more than 70,000 square miles, the massive wetland provides irreplaceable ecosystem services that include the regulation of floodwaters, nutrient renewal, river flow for navigability, groundwater recharge and carbon sequestration. The wetland also supports the economies of the four South American states it covers.
Demonstrators participate in a protest march over agricultural policy on Jan. 19 in Berlin, Germany. Carsten Koall / Getty Images Europe
By Andrea Germanos
Organizers said 35,000 people marched through the streets of the German capital on Saturday to say they're "fed up" with industrial agriculture and call for a transformation to a system that instead supports the welfare of the environment, animals and rural farmers.

The fire that erupted after a pipeline explosion in Mexico Friday. FRANCISCO VILLEDA / AFP / Getty Images
By Patrick Rogers
If you have ever considered making the switch to an environmentally friendly electric vehicle, don't drag your feet. Though EV prices are falling, and states are unveiling more and more public charging stations and plug-in-ready parking spots, the federal government is doing everything it can to slam the brakes on our progress away from gas-burning internal combustion engines. President Trump, likely pressured by his allies in the fossil fuel industry, has threatened to end the federal tax credits that have already helped put hundreds of thousands of EVs on the road—a move bound to harm not only our environment but our economy, too. After all, the manufacturing and sale of EVs, hybrids, and plug-in hybrids supported 197,000 jobs in 2017, according to the most recent U.S. Energy and Employment Report.