Nepal's Extinct Bird Spotted After Disappearing for 178 Years
A team of bird-watchers stumbled upon a bird that hasn't been seen in eastern Nepal for almost 200 years.
The red-faced liocichla (Liocichla phoenicea) hasn't been spotted for 178 years and was thought to be locally extinct, according to Australian Geographic. A group of ornithologists spotted the bird on a 10-day bird watching tour.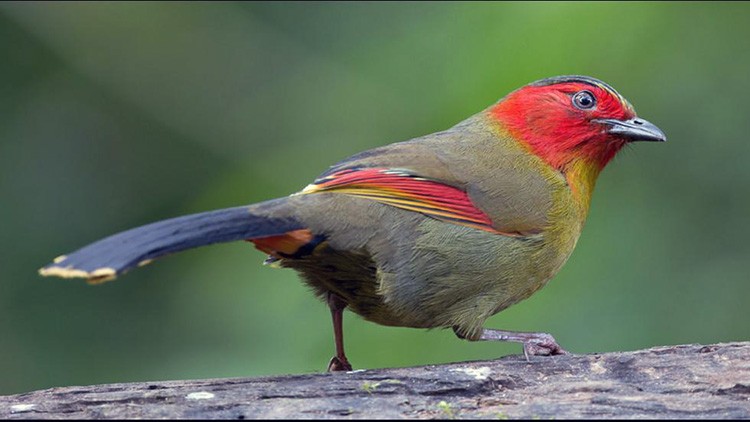 Photo credit: Paulo Coteriano, Flickr
"We were excited when we first spotted a pair of red-faced liocichla in the forest," Hem Sagar Baral, of the Zoological Society London and leader of the tour, told the Kathmandu Post. "The sighting of the bird after more than a century and a half has raised hopes of finding more such species that have not been sighted for a very long time."
The bird-watching group originally saw just two red-faced liocichlas, but when they returned to the spot the next day, they saw eight birds, including a male-female pair, Australian Geographic reported.
"When we confirmed it was the red-faced liocichla we all felt so happy—we were so excited," Tikaram Giri, a senior field ornithologist, said. "We never thought and never expected to see it so easily."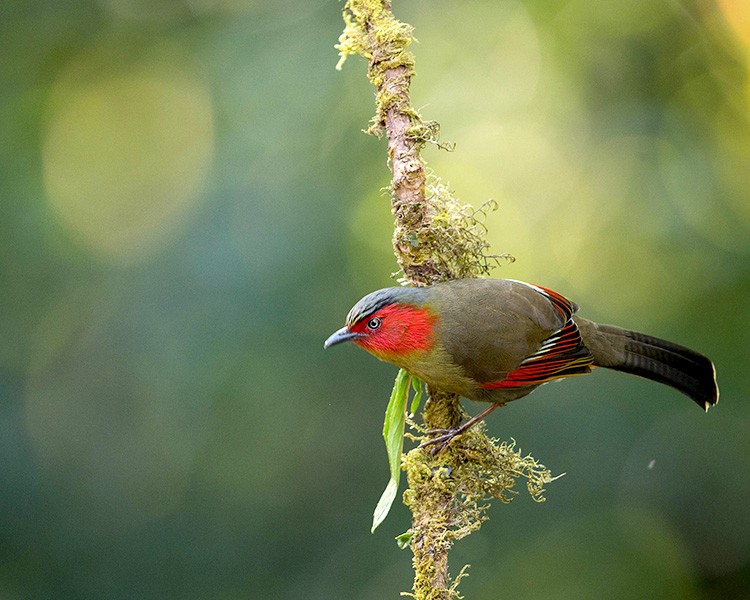 Photo credit: Jason Thompson, Flickr
The red-faced liocichla is widely distributed throughout Vietnam, Bhutan, Laos, Myanmar and Bangladesh.
Discoveries of species previously thought to be extinct are not uncommon, Australian Geographic said. Several species of birds, mammals, insects, reptiles and plants have been rediscovered after years of no sightings.
Diana Fisher, University of Queensland fellow, said about a third of all mammals ever feared to be extinct have been rediscovered.
"There are large numbers of poorly known species around the world only known from a single museum specimen as well," Fisher told Australia Geographic. "So it is hard to know anything much about them or where they exist."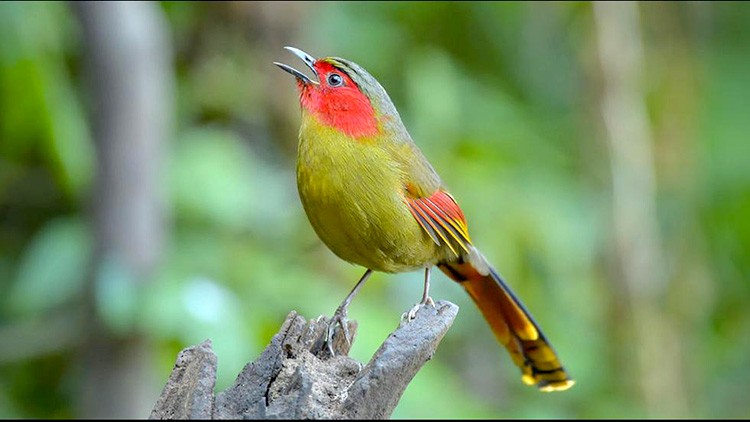 Photo credit: Bob Du, Flickr
But there is still reason for the bird-watching group in Nepal to celebrate.
Nepal is home to 878 species of birds, 8 percent of the world's known birds. Even with the abundance, a lot of the species are close to being labeled as threatened.
"Nearly 20 percent of Nepal's birds (167 species) are threatened with extinction in the country including 37 species which are threatened on a global scale," the Zoological Society London wrote.
Another 62 species are closing in on having a threatened status, the Weather Channel reported. Nine species are believed to be extinct in Nepal because they have not been spotted since the 19th century.
YOU MIGHT ALSO LIKE:
First Mammal Goes Extinct Due to Human-Caused Climate Change
World's First 'Spotty Dog' and Cow-Like Sheep Created Using Gene Editing
Is it Too Soon to Consider Removing Giant Pandas From the Endangered Species List?
Glyphosate, the main ingredient in Monsanto's widely used herbicide Roundup, will be added July 7 to California's list of chemicals known to the state to cause cancer, according to a Reuters report Tuesday. This news comes after the company's unsuccessful attempt to block the listing in trial court and requests for stay were denied by a state appellate court and California's Supreme Court.
California's Office of Environmental Health Hazard Assessment (OEHHA) announced the designation on Monday under the Safe Drinking Water and Toxic Enforcement Act of 1986, or Proposition 65.
Keep reading...
Show less
www.facebook.com
Keep reading...
Show less
Researchers from the Marine Animal Response Society examine one of the dead right whales. Marine Animal Response Society
Canadian government officials and marine biologists are investigating the mysterious deaths of six North American right whales. The endangered animals all turned up dead between June 6 and June 23 in the Gulf of St. Lawrence, off Canada's southeastern coast.
North Atlantic right whales are the rarest of all large whale species and among the rarest of all marine mammal species, with only about 450 right whales in the North Atlantic.
Keep reading...
Show less
Scott Pruitt testifies during his Senate confirmation hearing for EPA administrator, January 2017.
The U.S. Environmental Protection Agency's (EPA) chief of staff pressured the leader of its Board of Scientific Counselors to change her congressional testimony to downplay the impact of the agency's mass dismissal of scientists from the board, the New York Times reports.
Keep reading...
Show less
By Jason Mark
Sequoiadendron giganteum. That's the scientific name for the giant sequoia: the mammoth trees found in California's Sierra Nevada that are the largest organisms on Earth, and among the longest-lived. Biologists estimate that about half of all sequoias live in Giant Sequoia National Monument, a 328,000-acre preserve in the Southern Sierra Nevada established by President Clinton in 2000.
Now that national monument is in jeopardy.
Keep reading...
Show less
By Andy Rowell
Donald Trump this week is launching an "energy week," pushing the argument that the U.S. will become a net exporter of oil and gas.
The president and his cronies are talking about a new era of "U.S. energy dominance," which could stretch for decades to come. However, no one believes the president anymore.
Keep reading...
Show less
UN
By Colleen Curry
The United Nations has designated 23 new sites around the world to its World Network of Biosphere reserves—stunning natural landscapes that balance environmental and human concerns and strive for sustainability.
The forests, beaches and waterways were added to the list this year at the International Coordinating Council of the Man and the Biosphere Programme meeting in Paris earlier this month.
Keep reading...
Show less
Jun. 26, 2017 01:48PM EST
www.elysee.fr
By Andy Rowell
There is a growing feeling within European capitals that a quiet, but deeply positive, revolution is happening under Emmanuel Macron in France.
Macron's opinion poll rating is high, especially boosted in how the young French president has reacted to Donald Trump on the international stage.
Keep reading...
Show less
Jun. 26, 2017 12:32PM EST
www.facebook.com
Keep reading...
Show less